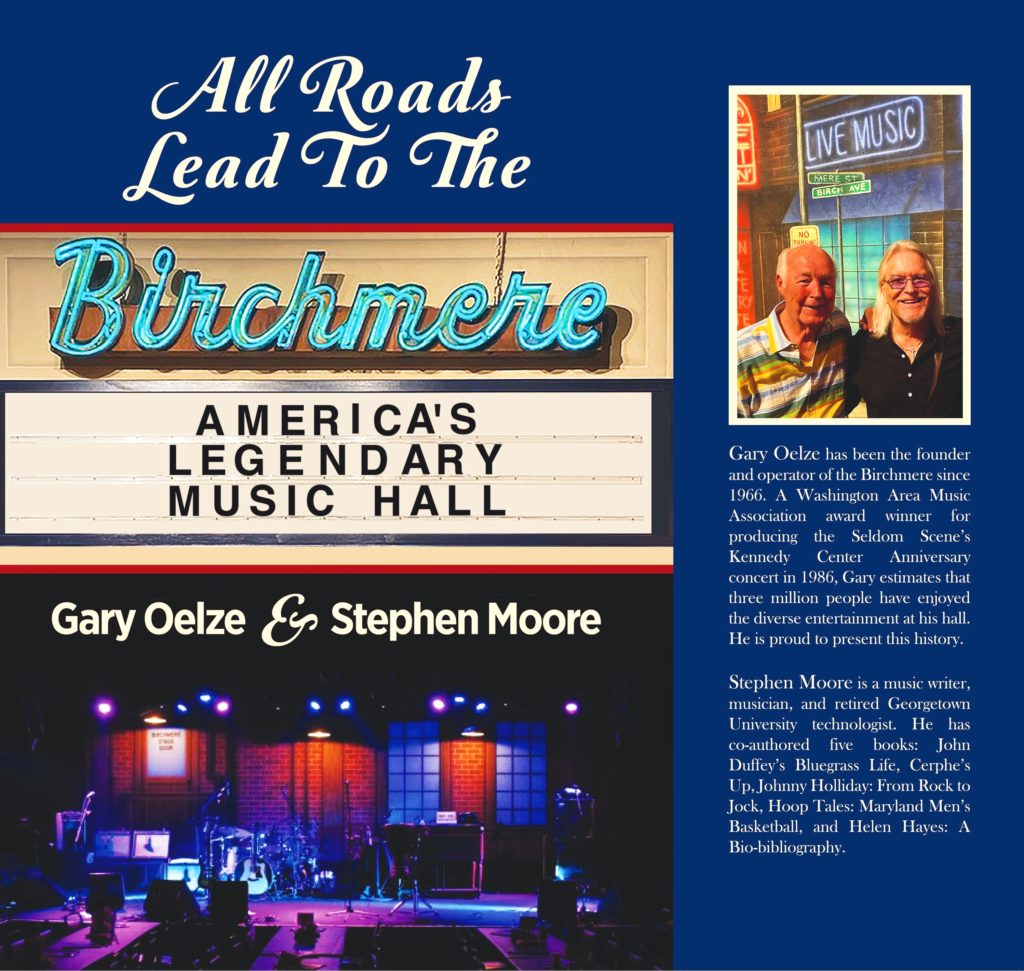 By Steve Houk, Living On Music
In the 19 months that I have hosted Living On Music on the Zebra Press' Z-TV, I have heard four words from nearly every one of the 90 or so musicians I have interviewed. Four words that always bring resounding smiles, that cause robust recollections of joyful times performing live. Plus, they all adore the amazing gang who runs the joint; I mean, 22-time Grammy-award winner Vince Gill said, "The Birchmere has the feel of a family."
The four magic words that people keep saying on my shows are…"I love The Birchmere," the legendary Alexandria venue where nearly all of my guests plus countless other well-known artists have played and along with music fans, endlessly revere. And now, thanks to a collaboration between local author Stephen Moore and longtime Birchmere owner Gary Oelze, their biography All Roads Lead To The Birchmere is a rousing chance for all who relish The Birchmere to absorb the fascinating, compelling and yes, big-name-laden history of this epic place. Plus there are over 250 previously unpublished photos in the book to bask in as well. The book's hardcover version is already the #10 best selling Country Music book on Amazon.
"Gary Oelze and I spent the last two years writing this Birchmere history," said Moore, who's written books about Johnny Holliday, Cerphe Colwell, John Duffey and Helen Hayes. "And we are enormously proud of the performers, staff, journalists and patrons who shared their experiences. The deep dive in assembling this story was revelatory, exhilarating and fun."
Among a slew of notable entertainment personalities who are part of the Birchmere story, Bob Schieffer, who hosted Face The Nation on CBS for 24 years, said of the new bio, "I'm so glad this book was done to summarize the Birchmere's remarkable run, and honor the performers who 'arrived' by playing this legendary hall. Again, I never did, and I regret it. If not on stage, thanks for including me in the story."
Among stories involving all sorts of music genres, the book also includes a bluegrass swath with a long chapter on John Duffey and longtime Birchmere pals The Seldom Scene, including content that didn't appear in Moore's bio "John Duffey's Bluegrass Life," as well as touching profile of Hazel Dickens by Ron Thomason. There are also contributions from Patty Larkin, Don Côqayohômuwôk Chapman, The Whispers, Junior Brown, Mark Benson (1964: The Tribute's John Lennon), and Shawn Colvin, among many others.
Gill, who has a presence in the book and holds the Birchmere as one of his most treasured venues ever, said, "When you're a gypsy like me, you look forward to being around people who are like-minded. I smile when I see (a Birchmere) booking on my tour calendar. I love their open mind and willingness to present all genres of great music."
Get your copy of All Roads Lead To The Birchmere now at  https://booklocker.com/books/12062.html
MORE: The Birchmere Interview During the Pandemic–Intimate and Revealing