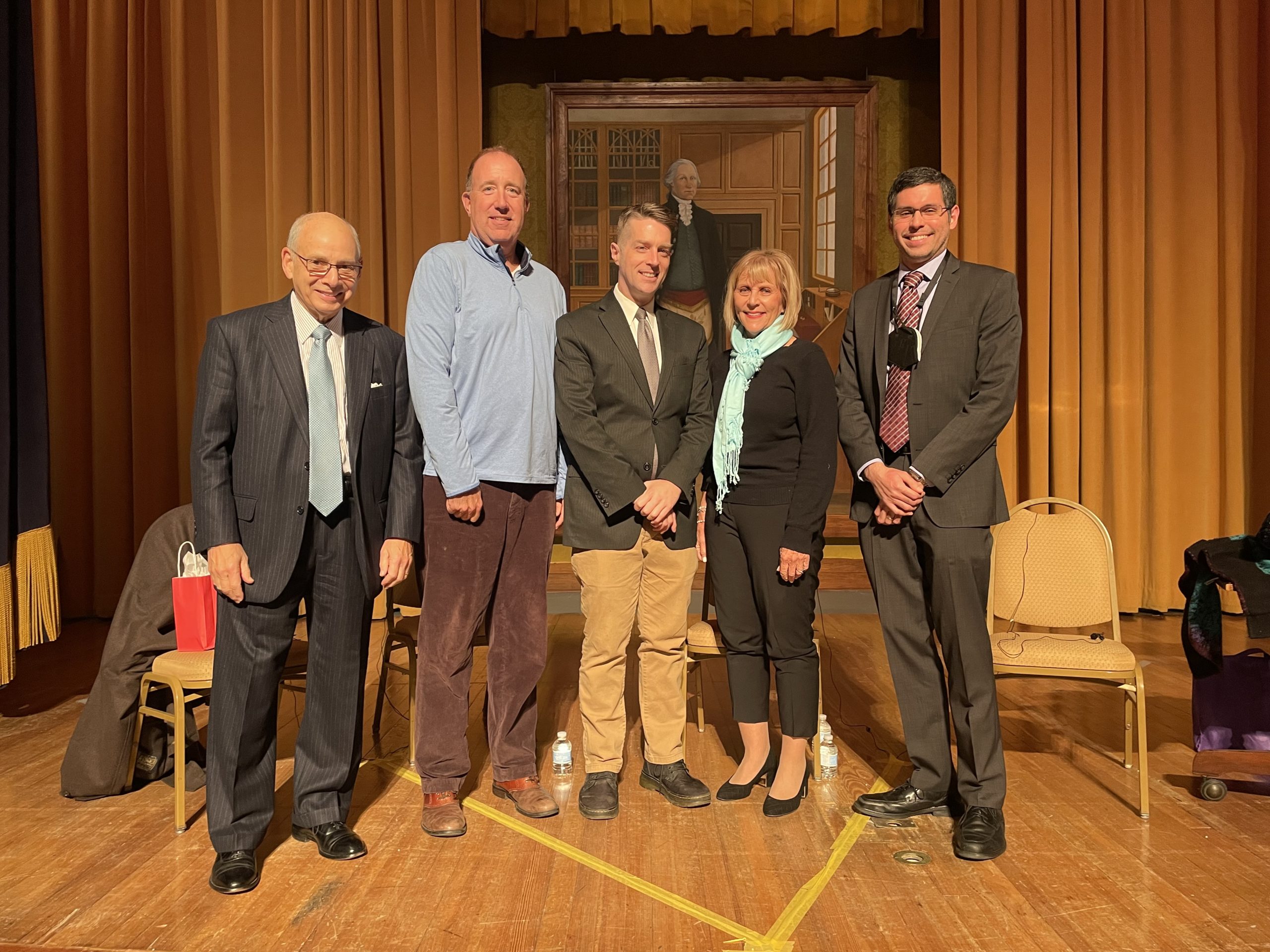 Alexandria, VA – Agenda: Alexandria is celebrating the return of in-person programming at two historic landmarks: The Lyceum and the George Washington Masonic National Memorial. This year's programs addressed timely issues ranging from education, infrastructure, and governance. We significantly increased our membership to near pre-pandemic levels, proving how important our organization's mission remains for our community.
"This was a particularly busy fall season for Agenda: Alexandria. We were able to return to in-person programming while also strengthening our live-streaming component thanks in part to our partnership with Zebra Media," says Ricardo Alfaro, chair for the 2021-2022 season.
Agenda: Alexandria started the season in September by discussing the reality of the "new normal" as students returned to in-person teaching at our public schools. Sindy Carballo Garcia from Youth Organizer, Tenants and Workers United, Kathryn Grassmeyer PT/DPT from Open ACPS, the Director of The Center for Children & Families, Dr. Stacey Hardy-Chandler and Dr. Terri H. Mozingo, Chief of Teaching, Learning & Leadership, Alexandria City Public Schools participated in the discussion.
In October, Agenda did a deep dive into Alexandria's water bill and infrastructure. Participating in this discussion were the CEO of Alexandria Renew Enterprises, Karen Pallansch, the Vice-President of VA/MD American Water, Casey Allen, and the Deputy Director of Alexandria Infrastructure & Environmental Quality, William J. Skrabak.
This year ended with a discussion about the role of the city manager. The panel consisted of former City Manager Phil Sunderland, former City Councilman and Agenda: Alexandria founding member David Speck, and former city official and board member Janet Barnett.
Between these flagship programs, Agenda published podcasts about the redevelopment of Landmark Mall, had a conversation with outgoing City Manager Mark Jinks, and discussed aspirations for the next city manager with former Director of the Center for State and Local Leadership at George Mason University, Frank Shafroth.
"We were truly honored to have experts of this caliber participate in these carefully curated discussions throughout the year. It speaks volumes about the work of Executive Director Pat Miller and our board. We look forward to resuming our programming on January 24 at the George Washington Masonic National Memorial. Our members are what makes this organization thrive. There has been and is no better time than now to renew or join," added Alfaro. Anyone in our community can watch these programs or become a member online at AgendaAlexandria.org.
Agenda: Alexandria is a registered 501(c)(3) nonpartisan organization that encourages informed debate and discussion on a wide range of local issues without taking a position. We host in-person and digital programs on topics of interest to the residents of the City of Alexandria
ICYMI: City of Alexandria Receives Perfect Score on 2021 Municipal Equality Index