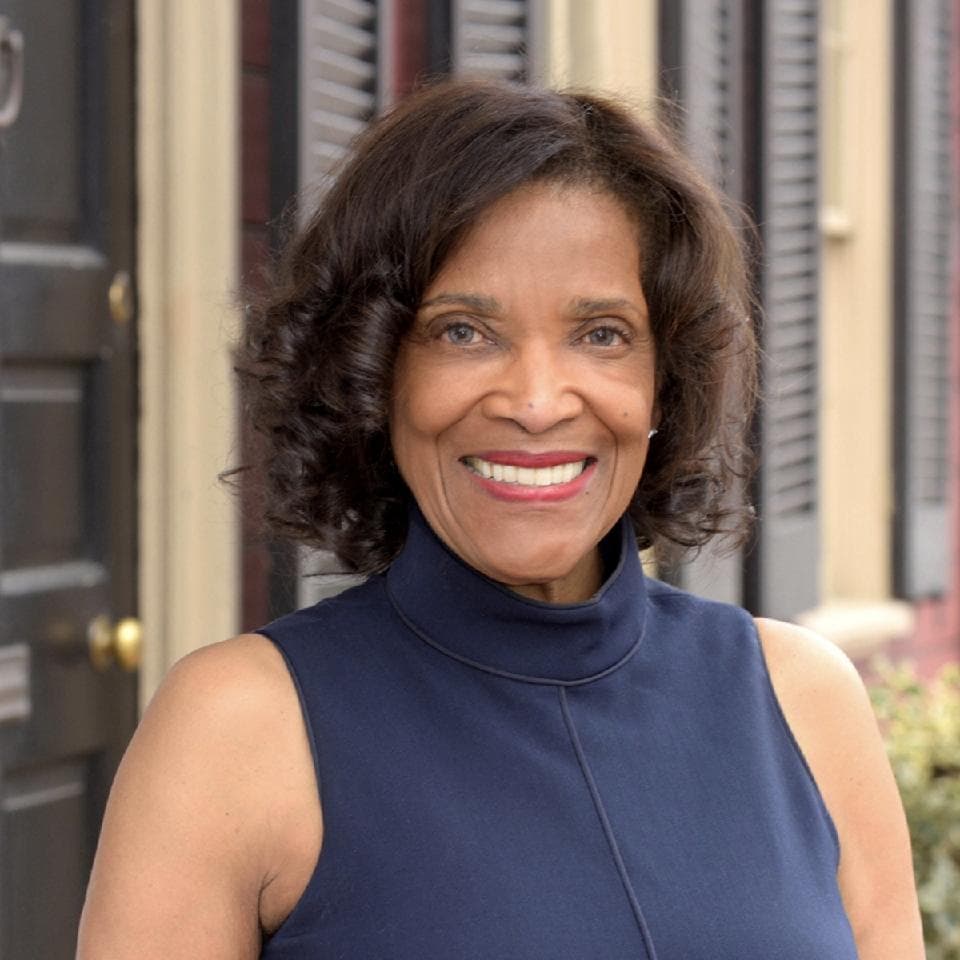 ALEXANDRIA, VA – Following a brief illness, Florence King, 74, passed away at her Alexandria home on December 9, 2021. It came as a devastating loss to the community. Shocked by her sudden passing, King's many friends and acquaintances reached out to share their remembrances.
"Florence and I were going to attend the governor's inaugural, and I was making reservations and buying tickets for us when it occurred to me [that] I had not heard from her in a few days," said good friend Brenda Alford. "She always returns calls and texts, even if she is in a meeting. So I started calling hospitals."
Alford found Florence at the Alexandria Hospital and visited a few days before she died. King was keeping her condition private. Those closest to her said she did not want to bother everyone during the holidays.
"If ever there was an appointed Ambassador for Alexandria, Florence King would be that person," said Alford. "She introduced numerous people to the city, as business owners and residents, and certainly many visitors. It is the rare entrepreneur who operates continuously and successfully for 30 years."
"What an unthinkable and shocking loss. I'm so saddened," wrote former Mayor Allison Silberberg on Facebook. "Florence has made a phenomenal difference here in countless ways, and she was a friend to all. My deepest sympathies to all who knew and loved her, especially her family. Her life was a blessing, and she will be sorely missed."
"I'm in shock… so sad… had so many great conversations with Florence—mostly listening to her incredible stories… loved her! What a loss," said J.V. Powers. "Truly shocking. Unbelievable," said Kevin Peck.
"This is terrible news to wake up to," wrote Rod Kukro on Facebook. "I served on a nonprofit board with Florence and was always impressed at how prepared she was and willing to leverage her extensive network. She was gracious, kind, and funny. Will be missed by so many whose lives she touched."
Excelling Despite Segregation
During the more than three decades she called the Port City home, King touched the lives of thousands. News of her death has hit Alexandria especially hard because she just ran a prominent, although unsuccessful, campaign as an Independent for a seat on the City Council.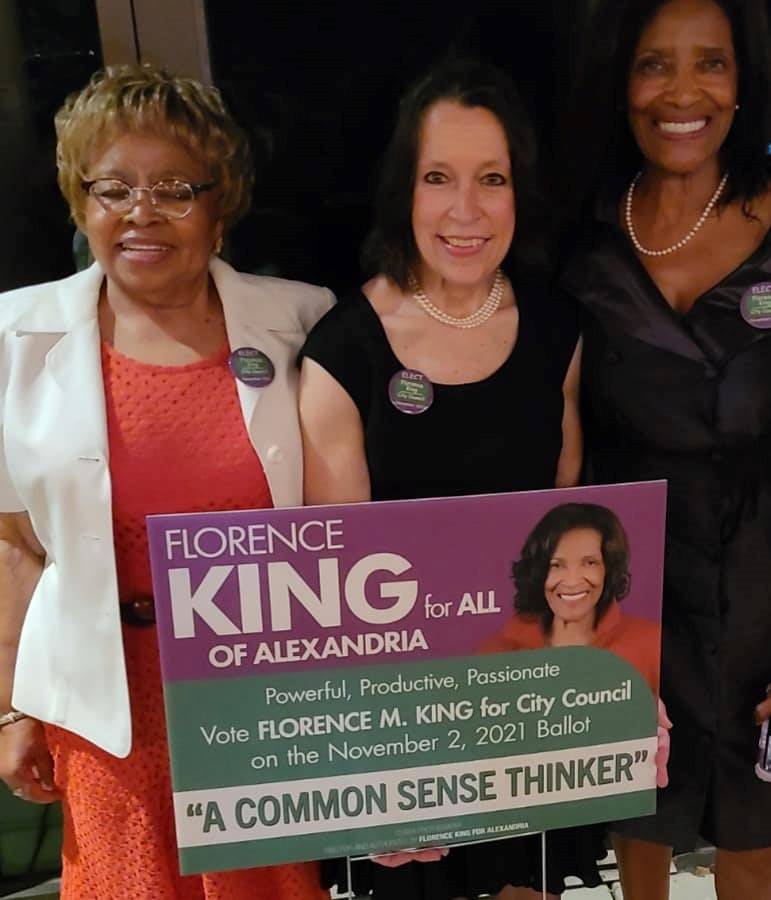 "I'm running as an Independent because I have allegiance to the City," King told The Zebra in an interview about the election. "I'm not here to bolster my political resume. I'm running because I care about Alexandria."
Florence King was one of ten children raised in Franconia in Fairfax County. She was the great-granddaughter of Thornton Gray, a freed slave on the Mount Vernon plantation, and the great-great-granddaughter of Thomasina Gray, who was enslaved at Mount Vernon until emancipated by General Washington in 1812.
Florence attended Luther Jackson High School in Tysons, Virginia. After high school, she earned a degree in sociology with a minor in business administration from George Mason University. In  2021, King told Zebra, "I was able to excel despite segregation."
King's early government career began with the Army National Guard Personnel Center at the Pentagon, where she was recognized with the agency's Meritorious Services award and promoted as Chief of the Military Personnel Records Branch. She transferred to the Federal Emergency Management Agency and became a highly qualified professional in recruitment, qualification analysis, selection, and placement.
After years of government service, King returned to the private sector as the vice president of administration for the accounting firm of Gregory K. Washington, CPA. She then worked several years for a leader in credit reporting, Equifax Inc., and developed expertise in credit services.
Becoming the Credit Master
In 1991, King founded FMK Credit Services, Inc. and served as president and chief executive officer for 14 years. The company specialized in budget analysis, financial management, tax preparation, and credit restoration.
She developed expertise in the nonprofit sector while working with the American Red Cross during the great national crisis of 9/11. Hired as a temporary consultant in the aftermath of the terrorist attack, Florence allocated millions of dollars in disaster relief funds to the families of victims who died in the World Trade Center.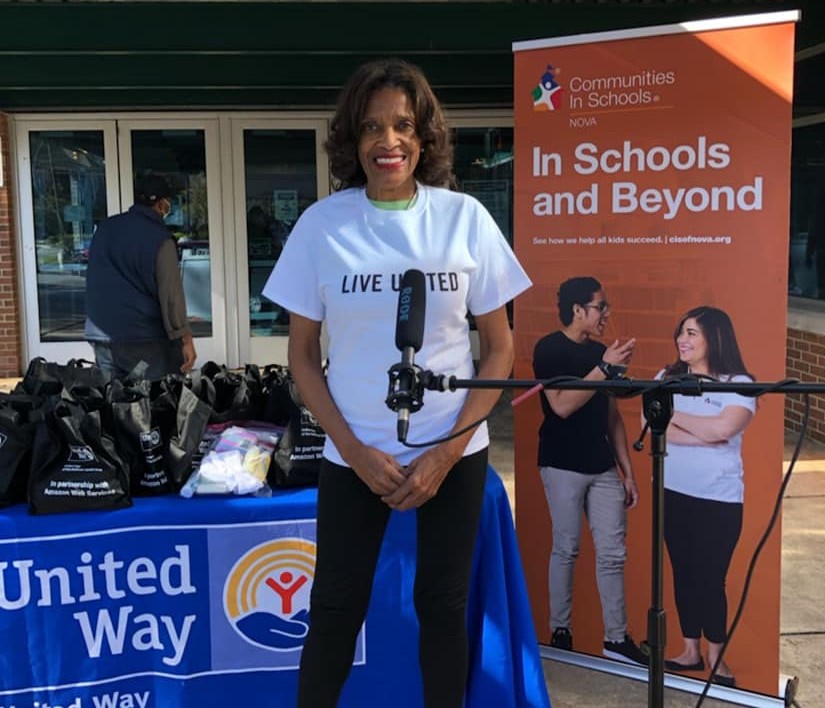 In April 2005, King founded FMK Credit Education Center, which educated consumers on financial practices and credit issues. Recognized numerous times as a woman/minority-owned business leader in the City of Alexandria, Florence King utilized her extensive professional financial experience to provide 10,000+ local citizens, businesses, and nonprofit organizations with high-quality financial literacy and solutions.
In June 2016, King started the FMK Financial Literacy Center to help disadvantaged families and senior citizens improve their financial footing through self-sufficiency and homeownership. She wrote an e-book entitled Credit Survivor, a book about how credit scores are calculated, with an in-depth explanation of the practices and methods used by the credit industry.
A Lifetime of Giving Back
Florence King was dedicated to public service. She served as an Alexandria City Elections Officer for 25 Years, vice chair of the Alexandria Historical Resources Commission for 15 years, chairwoman of the City's Commission on Employment, and the Alexandria Freedman's Cemetery Steering Committee. She was on the board of directors for Laurel Grove School Association, which maintains the historic schoolhouse that served the Black children of Franconia until 1932, called the Laurel Grove Colored School. It is the only remaining African American schoolhouse in Northern Virginia.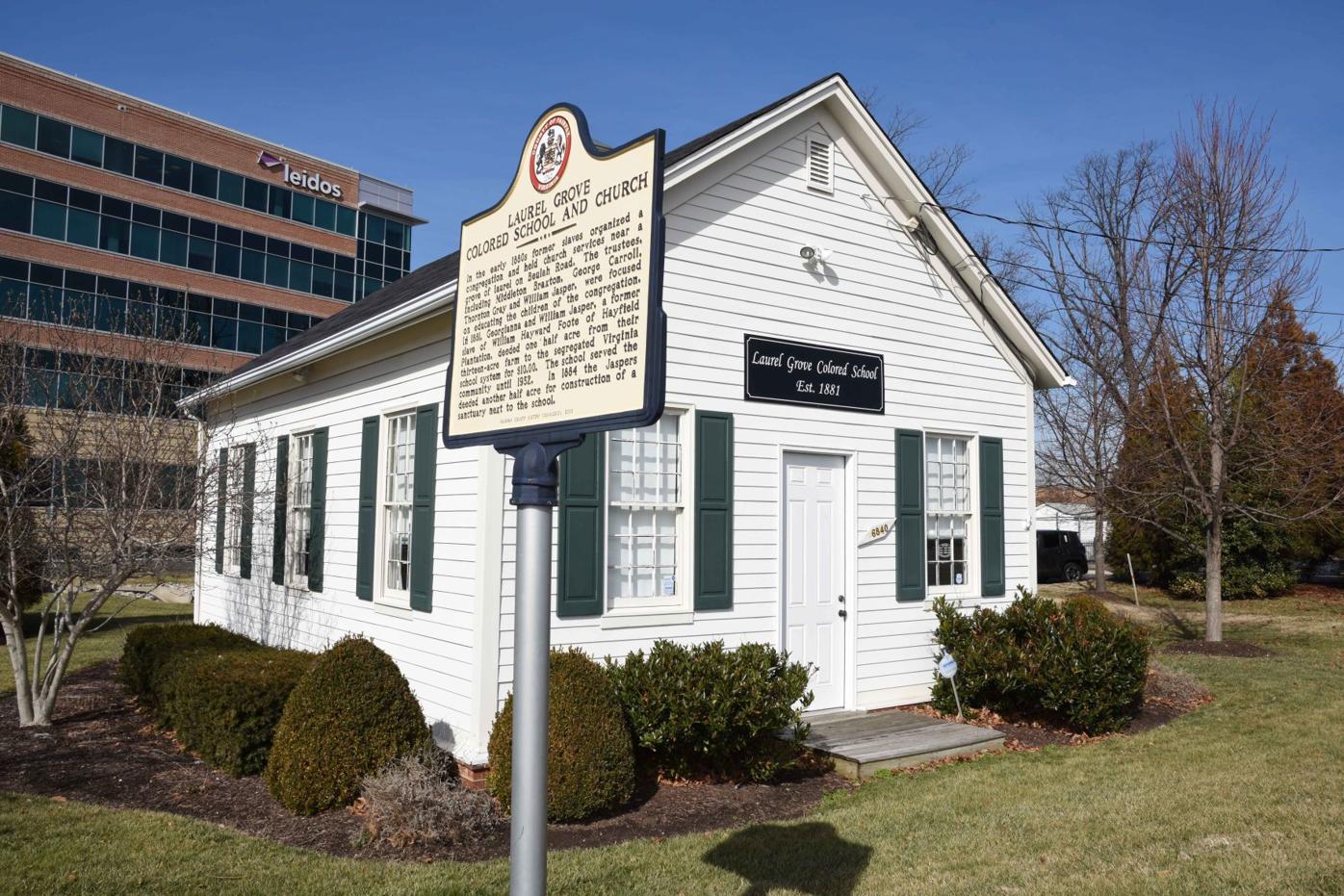 Florence served as vice chair of Agenda: Alexandria. This nonpartisan, nonprofit organization presents monthly programs with an unbiased multi-faceted view of controversial topics in Alexandria. She also served as vice president of the Northern Virginia Urban League Guild and was an active board member of the Alexandria Symphony Orchestra and the Living Legends of Alexandria.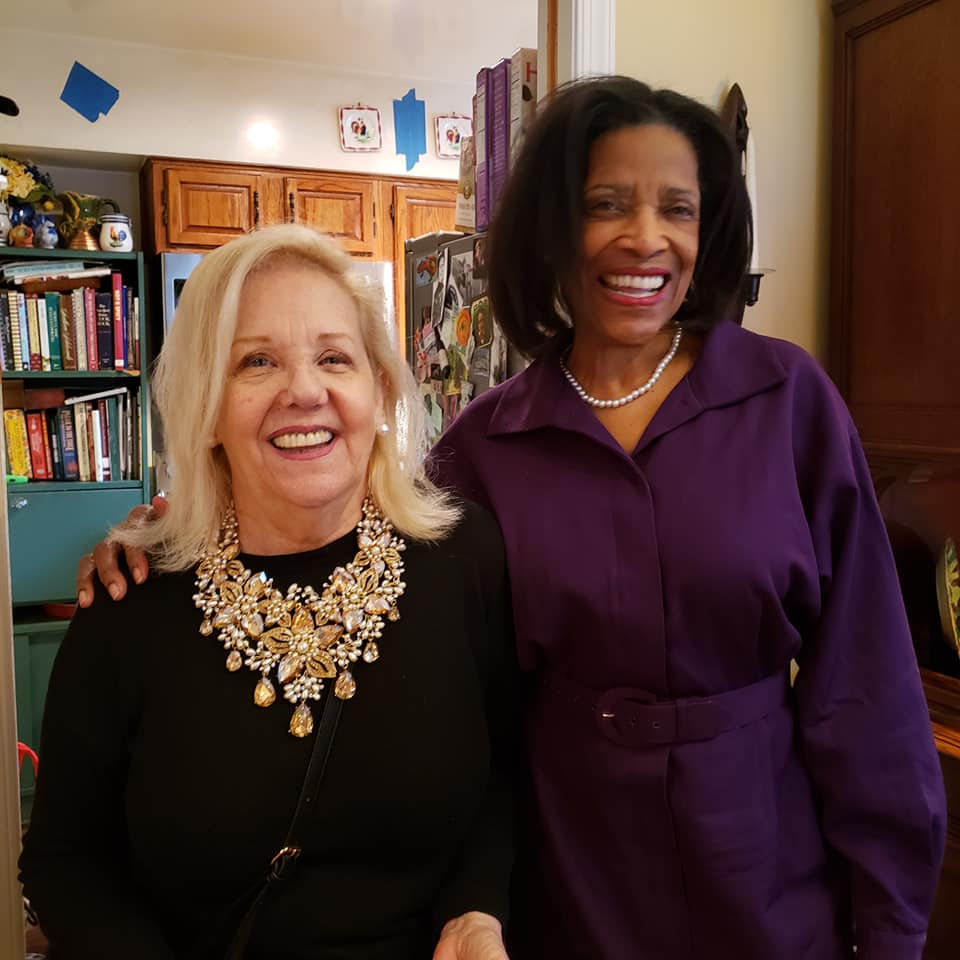 "Florence King was the whole package," said Jordan Wright. "Those who knew Florence knew how deeply committed she was to the City of Alexandria. She worked tirelessly on multiple boards and committees to ensure that her fellow residents had the resources they deserved. She was a friend and soulmate, and I will miss her dearly."
WEBA (West End Business Association) Vice President Mary Ann Burstein told Zebra, "Florence King was a valued WEBA member and community leader. She was always a positive light and an advocate for the West End. As a legend, a leader, an advocate, a businesswoman, a friend, and a beautiful person, I will miss her smile, energy, and vibrant personality."
A Living Legend of Alexandria
"Florence King was recognized as a Living Legend of Alexandria in 2018," said Nina Tisara, founder of the Living Legends of Alexandria. "I say 'recognized' because Florence was a Living Legend in the very fabric of her soul, as evidenced by her long service on many Alexandria boards and commissions. Florence was a gift to all who knew her."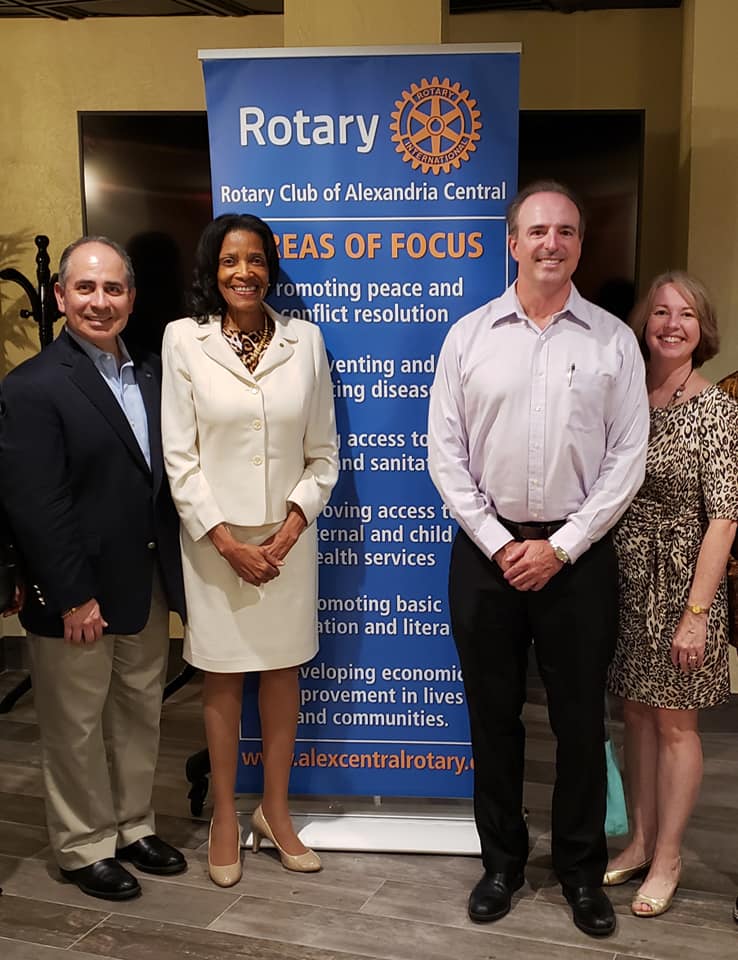 Living Legends of Alexandria recognizes and honors a small number of community champions each year, chronicling the lives of people making history in Alexandria.
Florence King is survived by one son and two daughters, a brother and three sisters. The family has requested privacy at this time and will announce a date and more information regarding a memorial service soon.
RELATED: Florence King Joins Race for Alexandria City Council