Health & Wellness
Local High School Sophomore Trains at Alexandria Gym for a Shot at NBA
Even in the Midst of a Major Set-Back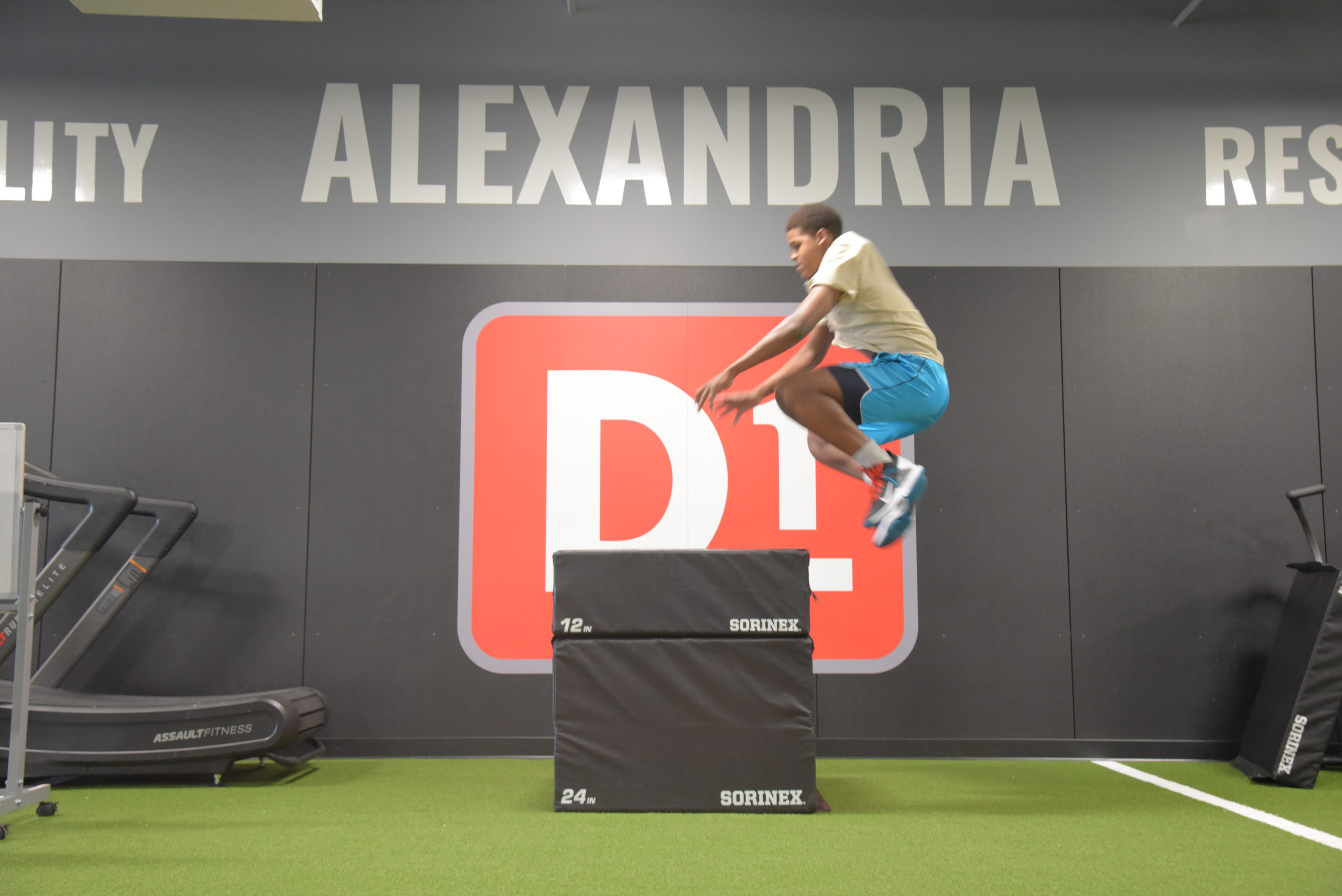 ALEXANDRIA, VA–Darnell Thomas is one month into 2022, and his New Year's resolution is still holding strong. He is a high school sophomore aiming for a shot at a Division 1 basketball scholarship, so he has some goals to hit.
He drives down Little River Turnpike and then walks through the spotless glass doors of D1 Training Alexandria. "I have played basketball since I was eight-years-old," says Thomas. "But I wasn't always the most athletic kid on the court, so in high school I started taking it seriously."
Thomas is home schooled and lives with his father in Alexandria. While most other students are still in the classroom, every afternoon Thomas is in the D1 weight room, reaching closer and closer to his collegiate (and hopefully NBA) goals.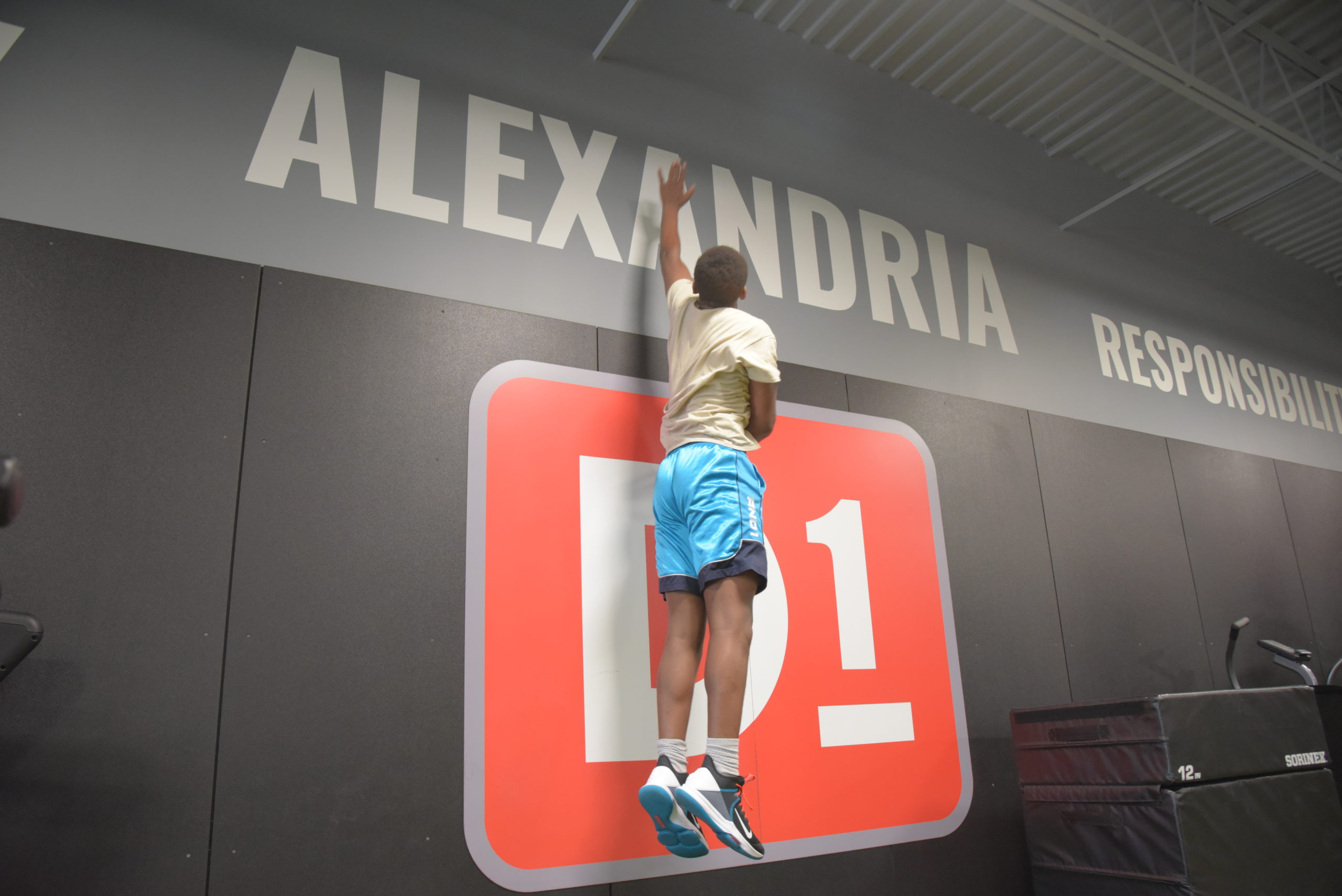 Katharine Weintraub, a former college rower, has already achieved what Thomas is striving for. Her athletic goals now look a little different. She has been training with D1 Alexandria since its opening in October 2021, attending the adult group classes around her consulting position with Booz Allen Hamilton.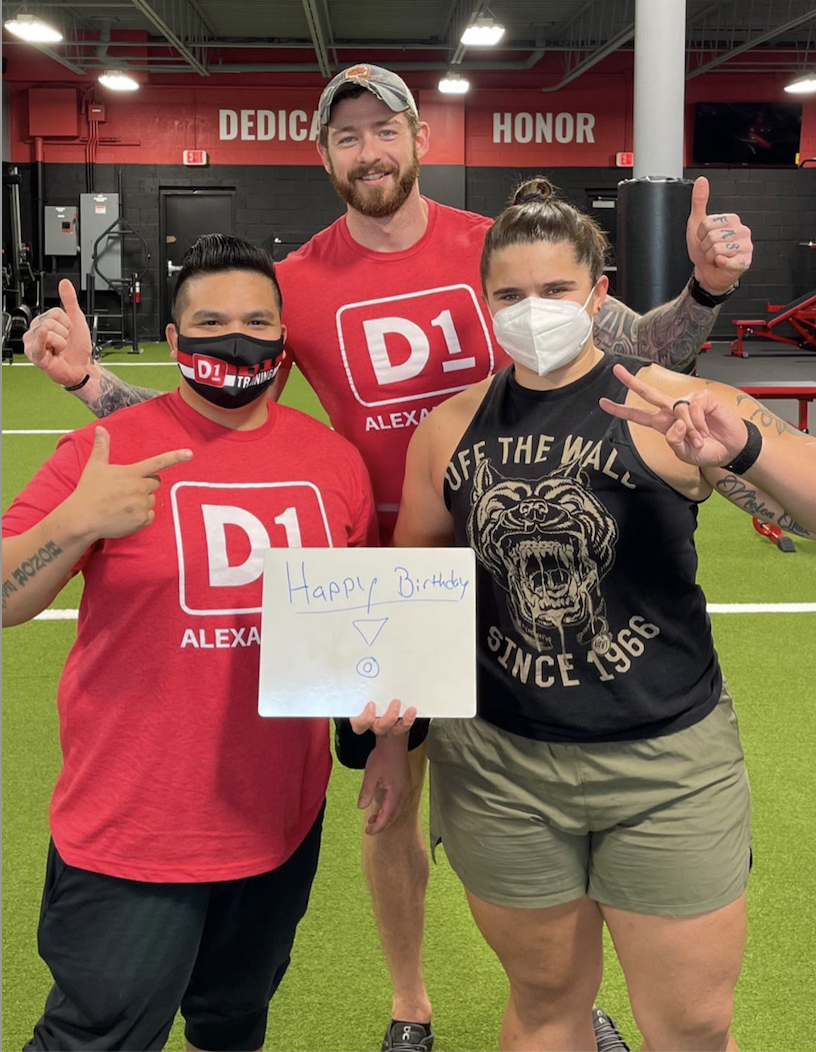 Weintraub rowed for George Mason University until her graduation in 2014. Then her life looked like that many other former athletes: get out of the gym, get into a job. Of course, Katharine has always tried to maintain a certain level of physical fitness, but any former athlete will tell you, it is never the same as when you were in college, which is exactly why she turned to D1 Training: to train like a D1 athlete again.
Weintraub's fitness goals now consist of simply getting back into powerlifting, and getting healthy again, mentally and physically. For over a year now, she has been battling a knee cap injury, but the D1 coaches have never once batted an eye at this.
"My knee is still a little iffy, but I can go into the trainer and talk. They are great about adjustments," she explains.
Nor did the trainers bat an eye at Thomas when he came to them with an injury of his own: a deep bone bruise on his thigh.
"When I first told the trainers about it, they told me to take a couple days off," recounts Thomas. "When it was still hurting, they gave me exercises, like leg extensions with a band. After a week it felt way better, and they still help me with different stretches."
Thomas has been training with D1 for approximately four months now, and despite his setback for injury, has already seen major progress, hitting personal records (PRs) in the Romanian Deadlift: 180 pounds; and in the box jump: 48 inches. "I'd love to be able to eventually hit 300 pounds and 60 inches," expresses Thomas.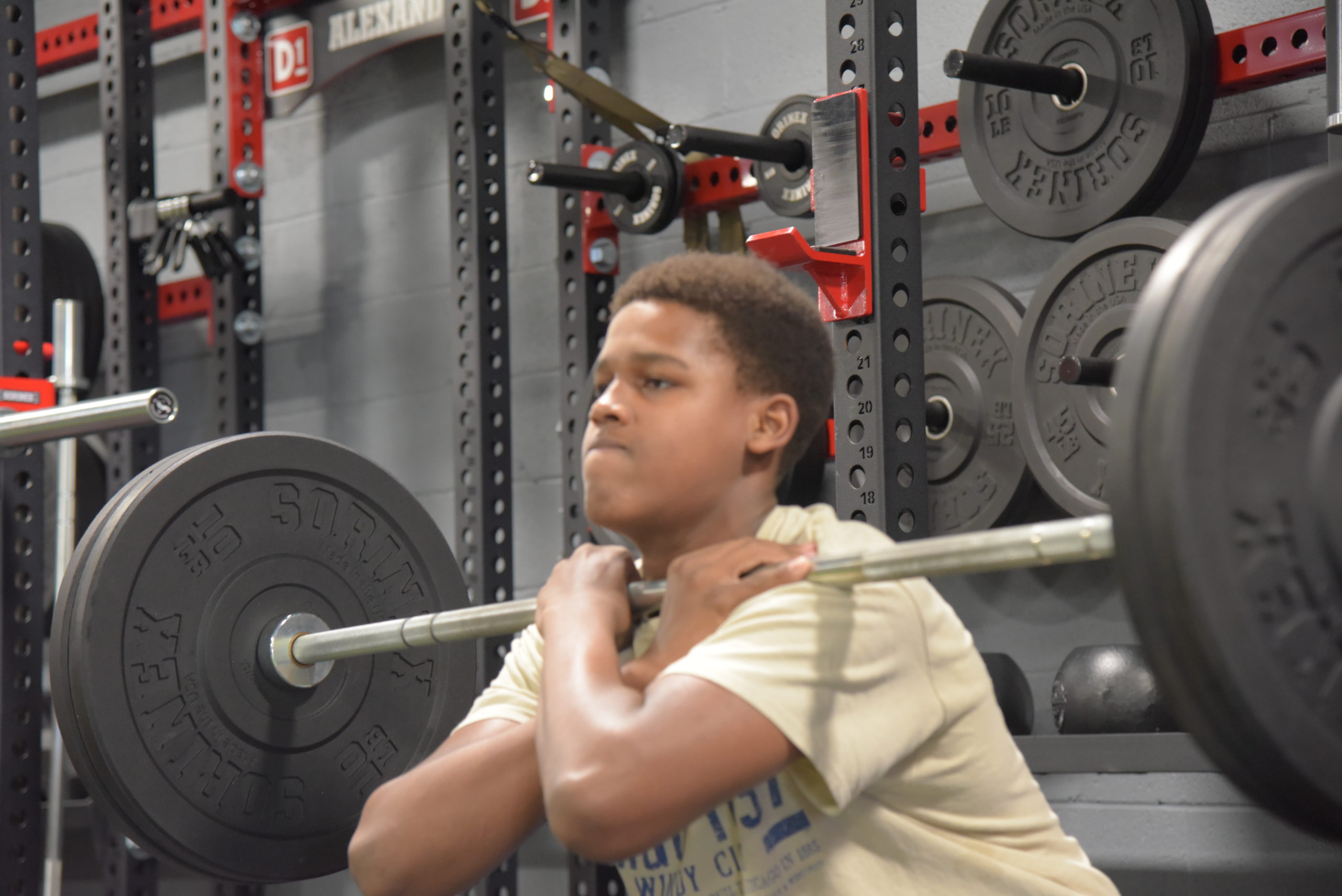 For Thomas, these gains in the gym have translated to the court. He plays in a men's basketball league and is no longer knocked around by the grown men who face him, and he can reach above the rim when he dunks the ball. His friends and family have even commented on his slimmer, stronger frame.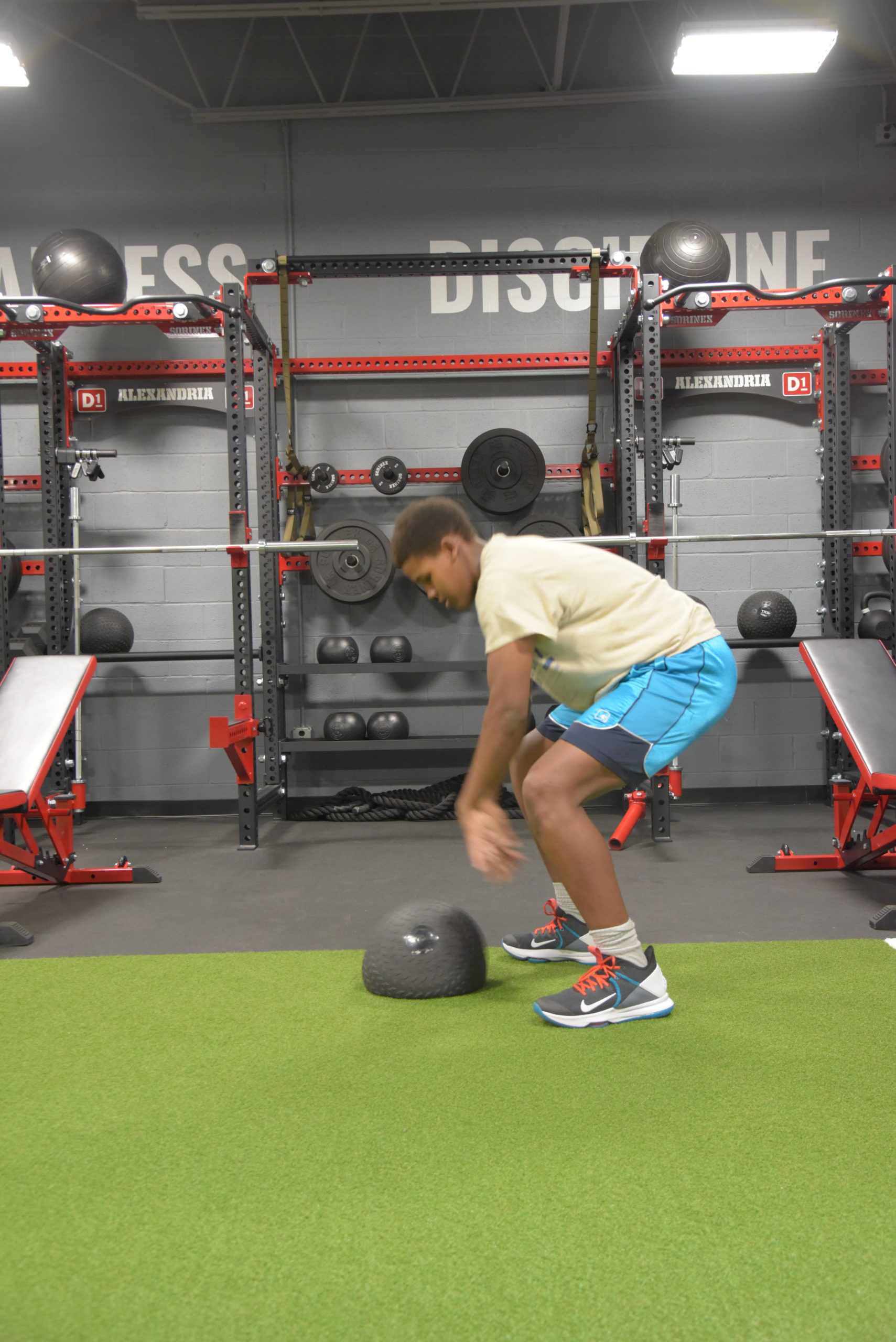 Weintraub has seen progress of her own, too. Much of the exercises that are in the D1 program she is familiar with, like the rowing machine, the free weights, and the squat racks, thanks to her college training. These familiar movements are modified, however, to accommodate her injury. "My favorite thing is that all the coaches are knowledgeable and certified," she states. "They are very good at scaling and adjusting a workout if needed."
With the help of her coaches, Weintraub has learned to perfect her technique in every motion, allowing her to progress in strength and confidence while protecting her knee.
"My strength has come back, and my cardiac conditioning has come back, too. I am getting close to my old PR's," she noted back in December.
As Weintraub moves closer to her old college records, Thomas is still aiming to set his. By the end of his senior year, he hopes to have secured a D1 scholarship and maybe even to have drawn the eye of some NBA scouts.
For now, he is determined to remain consistent with his training, coming into D1 every week day to improve not only his physical health but also his mental health. "I have never been the most confident person," notes Thomas. "I get in my head a lot, but the coaches here help give you words of encouragement and that has helped me tremendously. In basketball, I'm starting to look more confident on the court."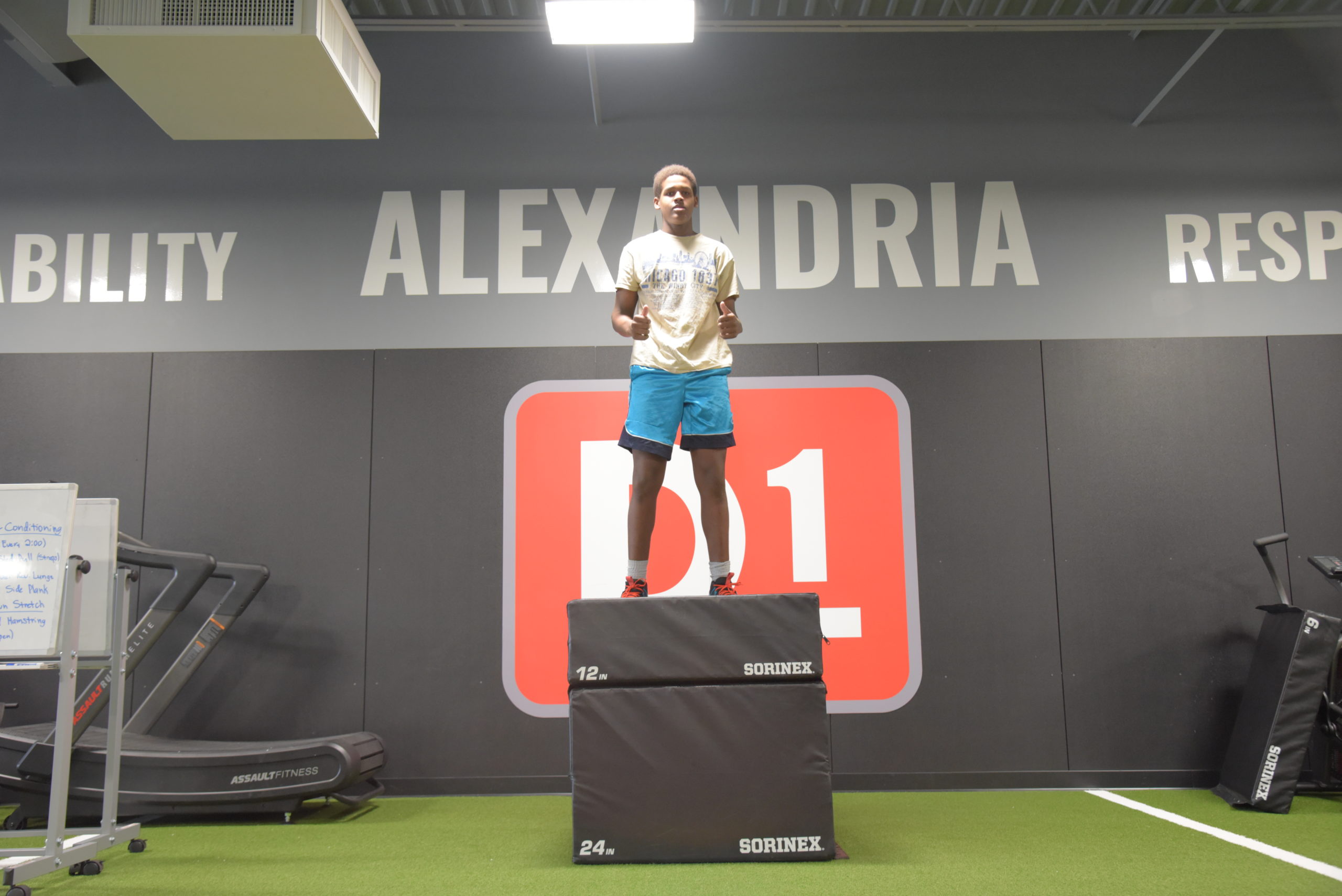 They say confidence radiates, and it must be true, because Thomas is already looking at playing for a few schools, or rather, they are looking at him. Now all he has to do is keep doing what he has been doing every day.
That is where most people go wrong with resolutions: they try to make one major change all at once, rather than chipping away small chunks each and every day. When you fail to make that major change all at once, you lose inspiration and sight of your goal.
Katharine Weintraub is a great example of finding inspiration every day. She has certainly been set back with her injury, but she has not lost sight of her goal. "My plan is to keep up with D1 classes as long as the gym is still open considering the pandemic. It's not overcrowded, the equipment is solid, you get good attention from the coaches. D1 is more attuned to where I'd like to be, and it is a top notch facility," Weintraub lauds.
At D1, you don't need to be motivated every day, because the coaches provide that for you. You don't need to be a professional athlete, because the coaches instill that knowledge. At D1, the trainers help you set your goals, they help you set a plan, they help you stick to your plan, then they help you achieve your goals (yes, even if that goal is a New Year's resolutions).
With consistency comes progress, comes confidence, comes motivation. To find yours, visit d1training.com/Alexandria.