Obituaries
OBITUARY: Virginia Frances Vaughan Collins, 102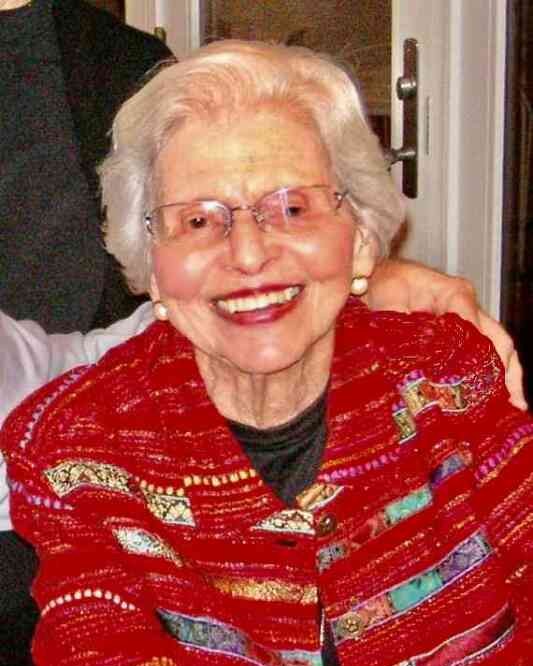 ALEXANDRIA, VA – Virginia Frances Vaughan Collins died peacefully with her daughter by her side on January 24, 2022, at the age of 102, leaving a legacy of faith, hope and love for all whose lives she touched.
She was the only and treasured child of James E. and Margaret E. Vaughan. She and her late husband, John D. Collins, Jr., who predeceased her in August 2003, moved to Alexandria, Virginia, in 1966, for an Air Force assignment at the Pentagon.  After John retired in 1973, they made it their permanent residence.  Virginia moved to Berryville, Virginia, for assisted care in 2015 but always considered Alexandria her home.
Born and raised in Houston, Texas, Virginia graduated from The University of Texas at Austin, Plan II Honors Program, Phi Beta Kappa, in 1941.  She married John on November 10, 1945, ten days after his return from WWII as a B-17 bomber pilot having served in Chelveston, England for 2 ½ years.
They had three children, John, Susan and Jim, and moved to several military assignments in Virginia, Florida and Naples, Italy.  Virginia was the consummate "support activity," adapting to new places and people with gracious ease and making lifelong friends along the way.  Her son, John, remarkable in so many ways was greatly physically disabled, requiring enormous tender loving care, which she selflessly provided all his life until his death at age 41.  What a testament to her patience, courage and love it was!
Virginia clearly excelled as a leader, serving as president of organizations, such as, Alpha Chi Omega sorority at UT-Austin, the Officers' Wives Clubs at Langley AFB and MacDill AFB, and in several church positions.  Her diplomatic abilities were not obvious, which is why they were so effective.  After a discussion, you might come away thinking the best idea had been yours all along, when the seed was actually planted by Virginia.  She didn't seek recognition but wanted to lift others to be the best they could be.
Her dedication to family, friends and her faith was evident to all who knew her.  Her hospitality, good cooking and enjoyment of people were renowned.  Her gracious presence and comforting manner soothed and lifted many people's hearts.  Virginia's annual Christmas letter was anticipated and welcomed for its wit, wisdom, brevity (!) and reminder of the true reason for Christmas.  She found a way to help each person she met in whatever manner they needed and was truly beloved. Her gifts of love, encouragement and forgiveness were trademarks of her character and, by living her beliefs, she was a walking sermon and role model, although she would shun that description.
She leaves many to cherish her memory and to try to live up to her example, including: her daughter, Susan Collins, of Alexandria, Virginia; her grandson, Philip Lehr and his wife, Meghan, of Austin, Texas, and their children, Connor, Henry and Griffin; her granddaughter, Katherine Lehr, of Los Angeles, California; her granddaughter, Ashby Collins and fiancé, Buck Rawlings, of Norfolk, Virginia, and her children, Alexander Hawley, Jacob Rawlings and David Rawlings; and her grandson, John Collins of Alexandria, Virginia; along with beloved nieces, nephews, great nephews and great nieces and dear friends.
A celebration of her life will be held on Saturday, February 5th, at 11 a.m. at Trinity United Methodist Church, 2911 Cameron Mills Road, Alexandria, VA 22302, with burial at the Trinity Cemetery immediately following.  For those who cannot attend, the service will be live-streamed on www.trinityalexandria.org.  In lieu of flowers, donations in her memory may be made to Trinity UMC, please see link below.