Community News
Commonwealth Republican Women's Club Donates To Alexandria Police Foundation for National Law Enforcement Appreciation Day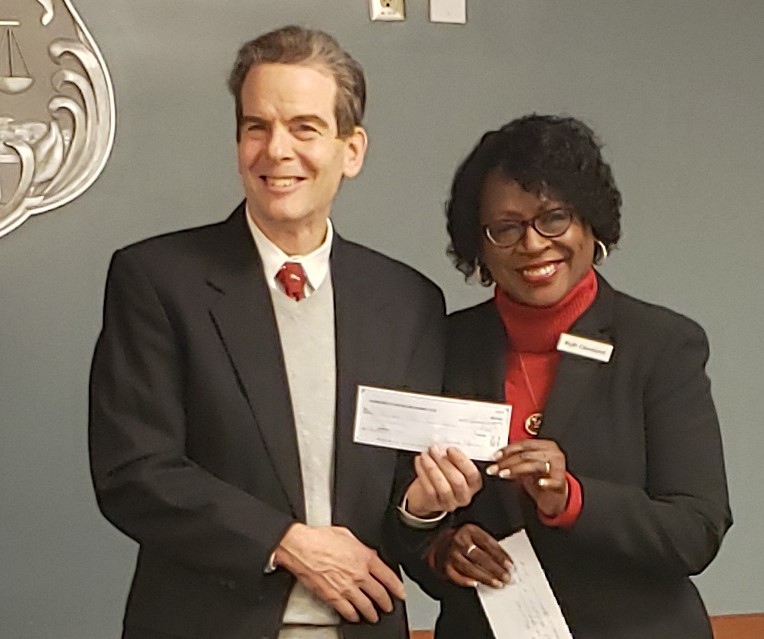 ALEXANDRIA, VA – The Commonwealth Republican Women's Club (CRWC) celebrated National Law Enforcement Appreciation Day on Jan. 9 by recognizing the work of the Alexandria Police Department officers at its January meeting.
Ruth Cleveland, CRWC Outreach Chair and wife of former Alexandria Vice-Mayor Bill Cleveland, presented a generous club donation to the Alexandria Police Foundation. Gordon Kromberg, a Director at the Foundation, accepted the check on their behalf.
The mission of the Foundation, a non-profit charitable organization, is to improve officer performance, morale, and effectiveness and ensure the care of police dogs. Mr. Kromberg said funds are also used for special programs such as a summer camp for Alexandria youngsters. CRWC President Susie Miller said, "CRWC appreciates the vital work of the Police Department in protecting the safety of our community."
After the presentation, CRWC began the new year with a special "get to know our members" program. Connie Cantrell, VP for Membership, said "CRWC was privileged to have so many members that are talented and politically engaged." This year, CRWC plans to support the policies of Governor Youngkin, promote the Republican nominee for the 8th District Congressional seat, and magnify the voices of conservative thought in Alexandria on local issues.
CRWC is the Alexandria chapter of both the Virginia and the National Federation of Republican Women (VFRW and NFRW). More information is available at www.AlexandriaCRWC.org .
City of Alexandria Hosting Virtual Symposium To Raise HIV Awareness on Feb. 7