Eatz
Trot on over to The Light Horse for a Meal you Cant(er) Miss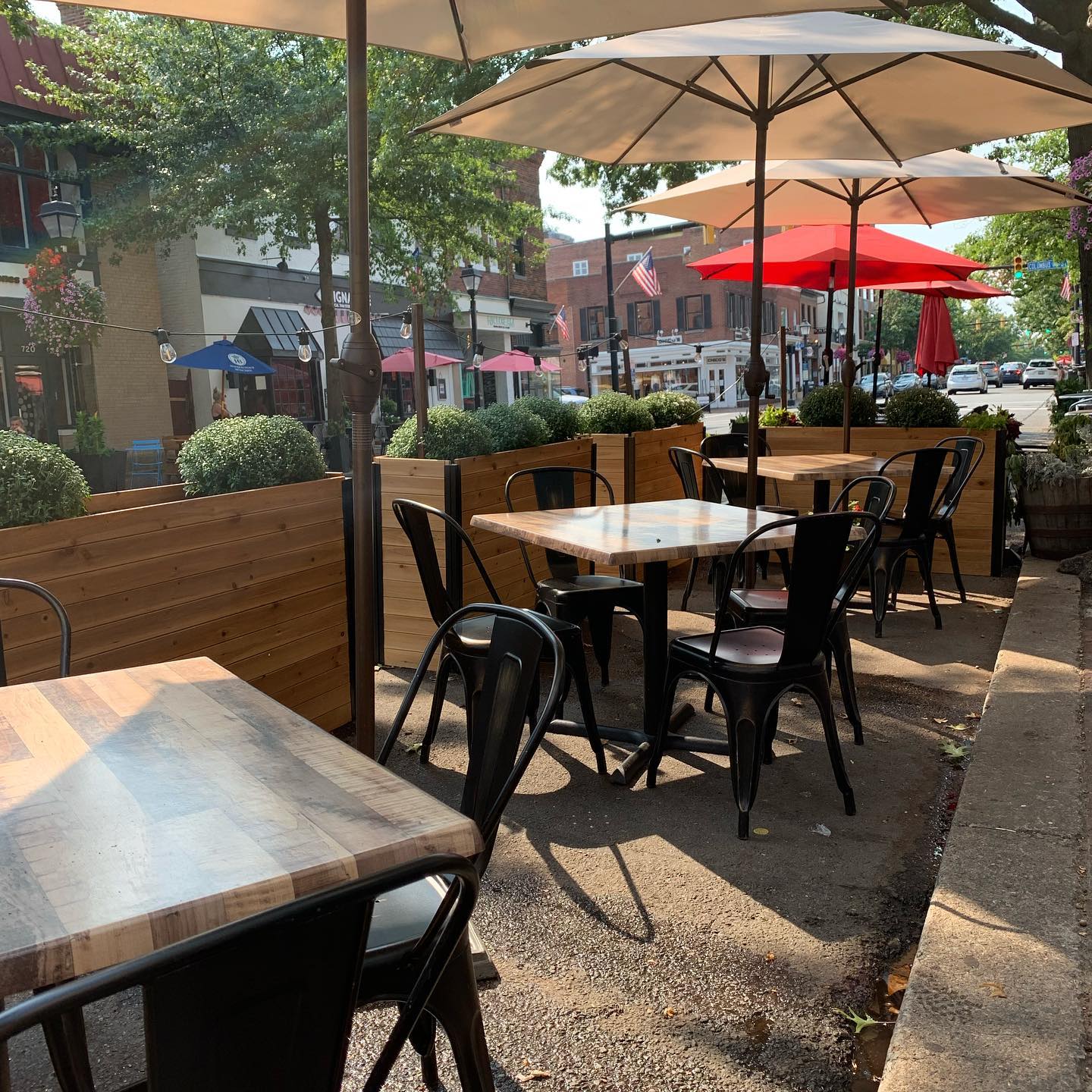 Alexandria, VA – Did you know that The Light Horse at 715 King St in Old Town offers fine dining? I'm here to tell you they do! The restaurant/bar on the first floor features an outside patio and a newly renovated first floor featuring a fresh, seasonal menu, great beer (19 drafts on tap at last count), a nicely curated wine selection, and live entertainment.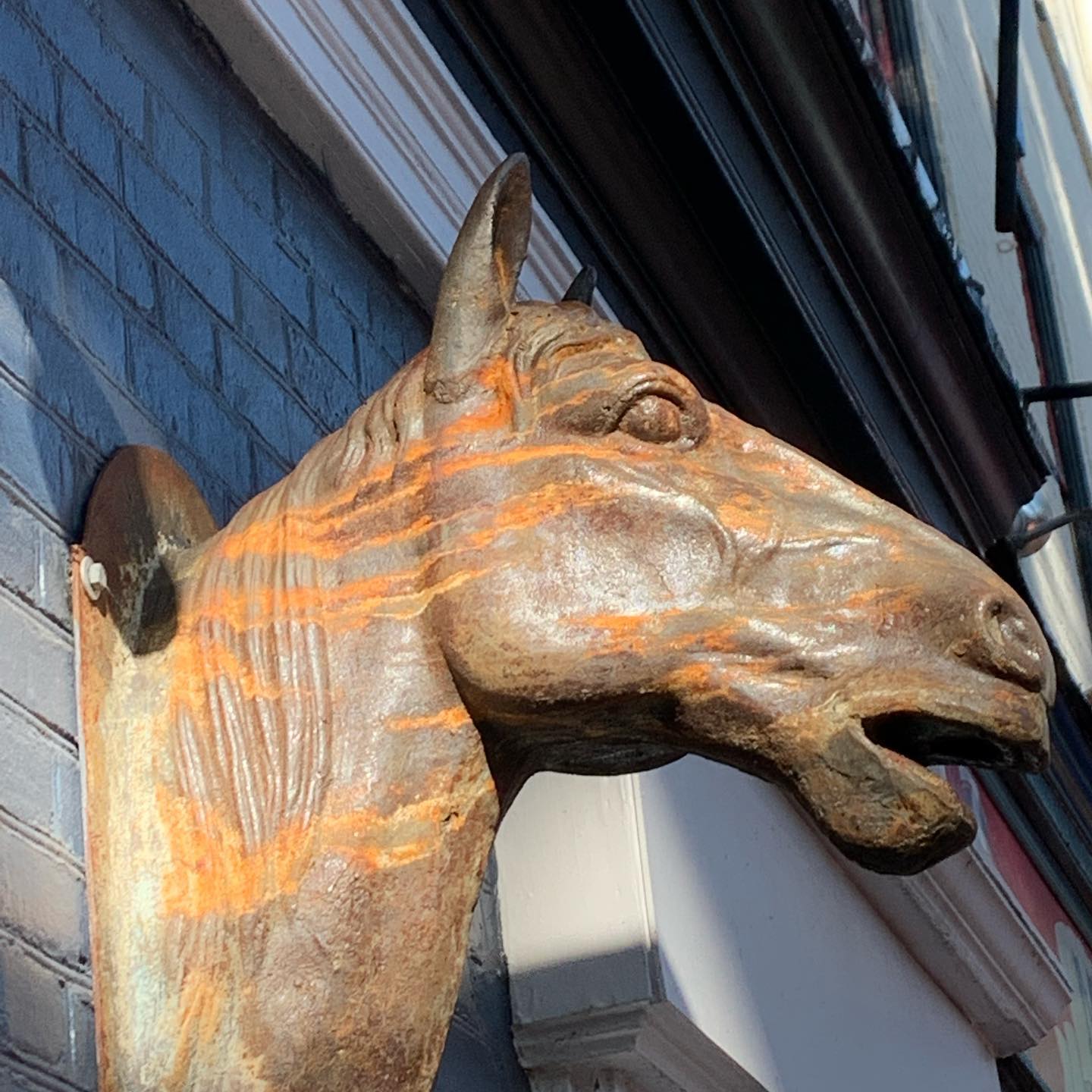 The second floor offers great food, drinks, live music, NFL and college team football, games in a neighborhood gathering place, sports bar, and late-night destination. The owner has installed hospital-grade filters and UV light air purifiers on the HVAC system. All staff wear masks to keep you safe during the pandemic.
Ably hosted by Kenny Mitchell and served by the delightful Kelsey, a group of us feasted on various menu items! We were first guided through the list of beverages. After questioning our likes and dislikes, Kelsey and Kenny helped make our selections.
I rarely discuss my beverage choices, but the Frosty Paloma is fantastic. It's made with Omeca Altos Plata tequila, house-made grapefruit sorbet, and lime juice poured into a salt-rimmed glass. I highly recommend it. My guests enjoyed a variety of drafts, including a Black & Tan made with a Christmas Ale and Guinness Stout.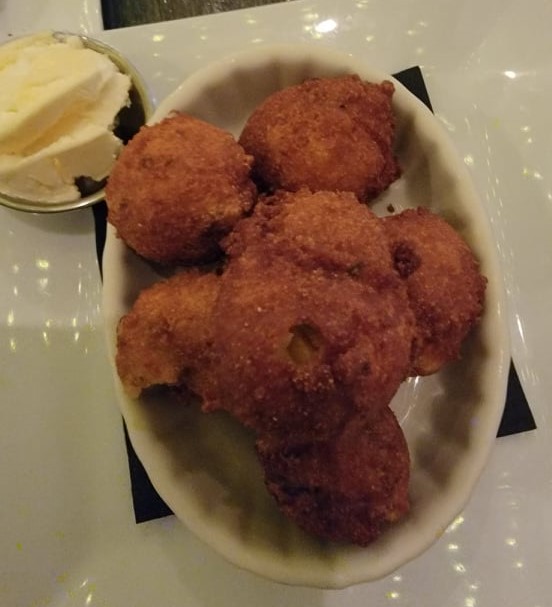 The best place to start is with the small plates and appetizers. Our table was flooded with an assortment of dishes. Hushpuppies are a must-order, made with fresh corn, jalapenos, and served with honey butter. Wow! Crisp on the outside, tender on the inside, the honey butter was like putting frosting on a cake.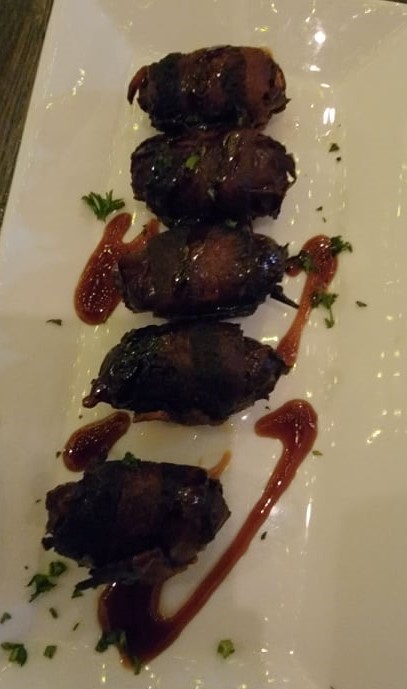 We dived into the Bacon-Wrapped Dates. Stuffed with goat cheese, wrapped with bacon, and drizzled with a balsamic reduction, they were a perfect two-bite delight. We then made room on the table for the Fried Crab Deviled Eggs. Who doesn't like a deviled egg topped with crab? OMG. They're another must order.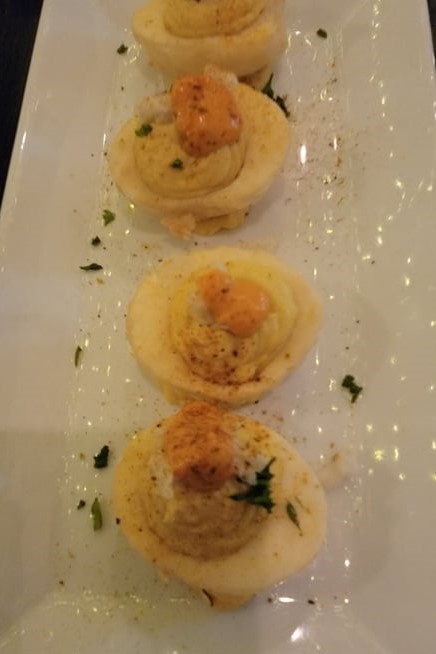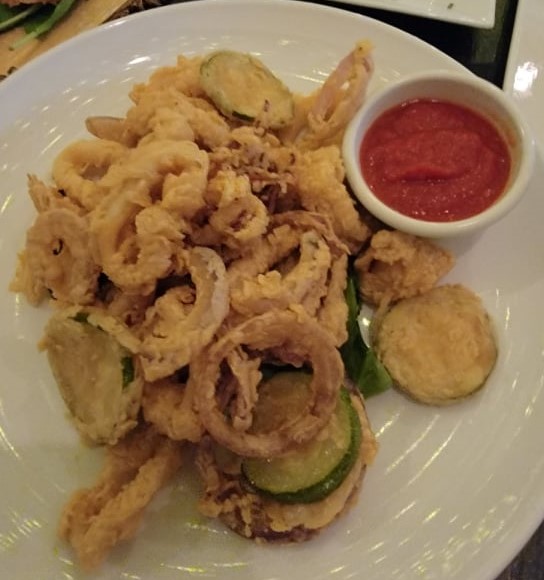 But then, you might have to order the Fried Calamari. Made with tender calamari, fried onions, and zucchini, with a side of marinara for dipping – Mama Mia – gimme more!!! And they did – the Balsamic Glazed Brussels Sprouts! This was the coup de gras of appetizers. We reeled from the bright flavors.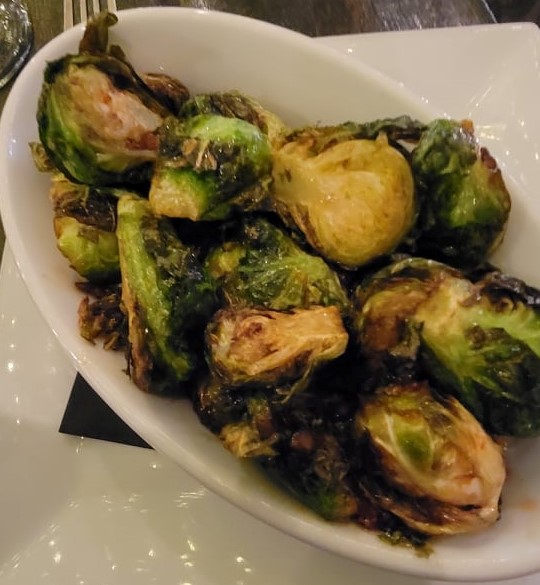 Which would I recommend? All of them! By the way, the Brussels Sprouts, Hushpuppies, and Bacon Wrapped Dates are on the Winter Restaurant Week menu.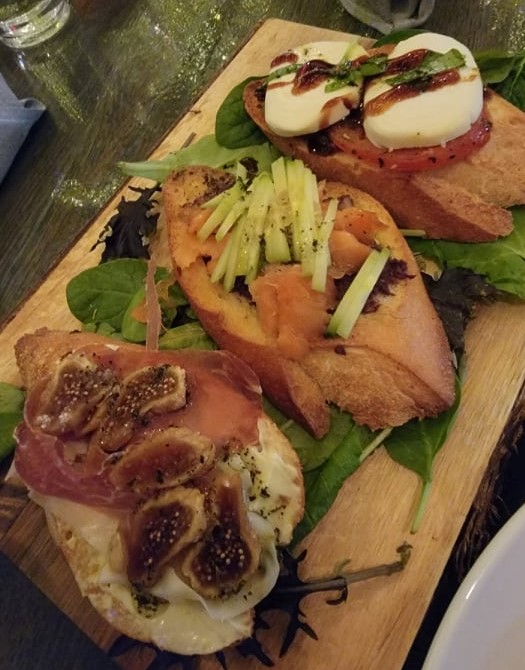 Not to be missed is the Bruschetta. Available with five different flavors, we tried three of them. The serving dish was overflowing. The Mediterranean features a tapenade with smoked salmon, cucumber batons, and chives. The Prosciutto was topped with brie, prosciutto, figs, and a drizzle of olive oil. The Margherita was topped with house-made marinara, roasted tomatoes, mozzarella, pesto, fresh basil and topped with a drizzle of balsamic reduction.
I can't single out a favorite because they were all scrumptious. Each had a touch of salt, acid, and sweetness and was made with the freshest of toppings. Everyone, including vegetarians and vegans, can enjoy one made with Calamata olives, cucumber, red onions, tomatoes, and green peppers.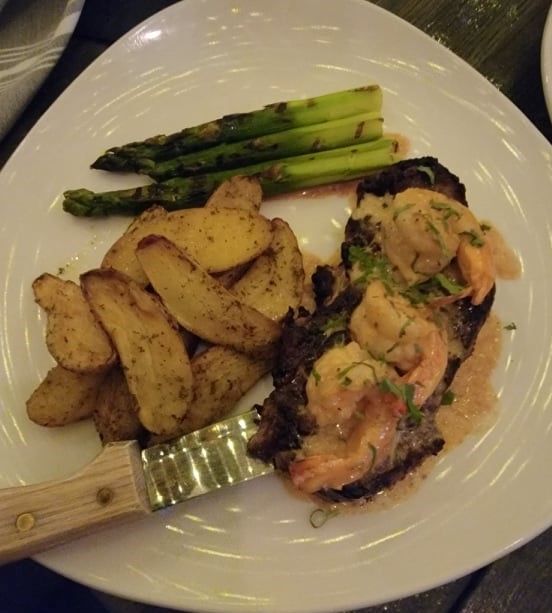 Kenny and company were not finished delighting us. Next, we were treated to several entrees, including the fabulous Surf & Turf combination of New York strip steak topped with shrimp and served with fingerling potatoes and grilled asparagus. The generously sized steak was tender, flavorful, and served at a perfect medium-rare. The asparagus was tender; the potato slices were perfect. Again this was absolutely a must-order dish for all of us.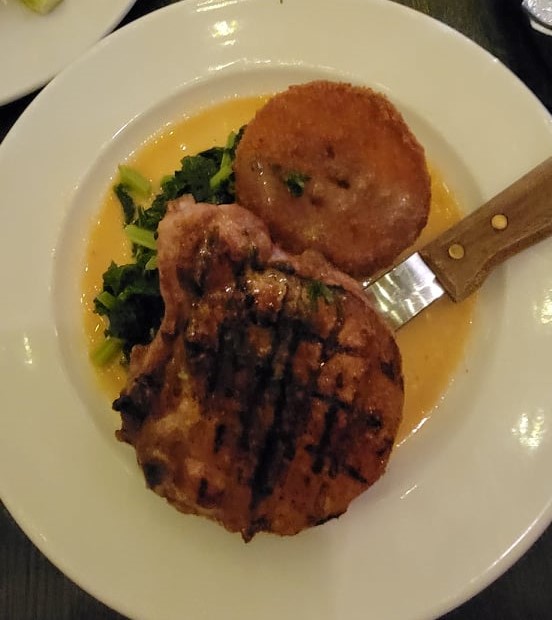 I decided long ago that a thick grilled pork shop is better than a steak any day. The Light Horse chop confirmed my decision. The bone-in pork chop was blackened on the grill and served with a cheddar risotto cake, braised greens, and a poblano pepper sauce. We all loved the juicy and flavorful pork, but the risotto cake stole the show. I would happily make a meal of risotto cakes. It was a perfect combination of flavors well tied together with the sauce.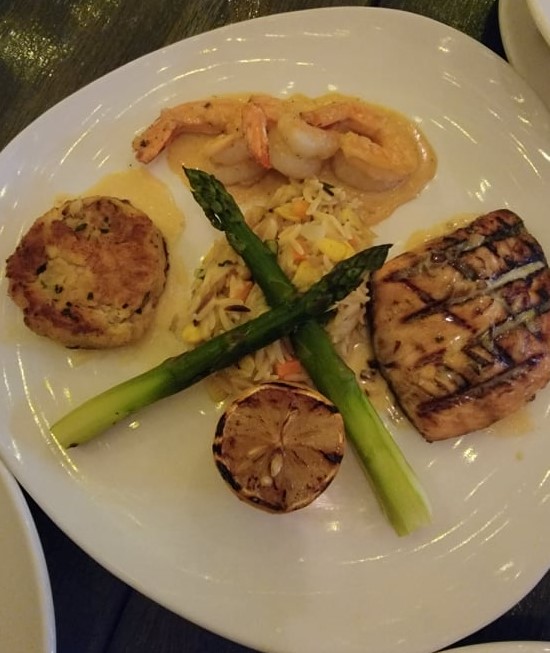 And as if we weren't already satisfied, out came a Seafood Mixed Grill, a platter of shrimp, salmon, and broiled crabcake with a lemon butter shallot sauce and accompanied by veggie orzo and grilled asparagus. Fresh shrimp, salmon, and crab – what could be wrong? Nothing! The sauce was a gift to tie it all together and make each bite even better.
Not to be left out, the Veggie Gnocci will satisfy any vegetarian or gnocchi lover. Fresh gnocchi served with fresh seasonal vegetables, pesto, and parmesan highlighted with a balsamic reduction. Everything was cooked to perfection, so fresh, so wonderful. The pork chop, surf & turf, and gnocchi are on the Restaurant Week menu.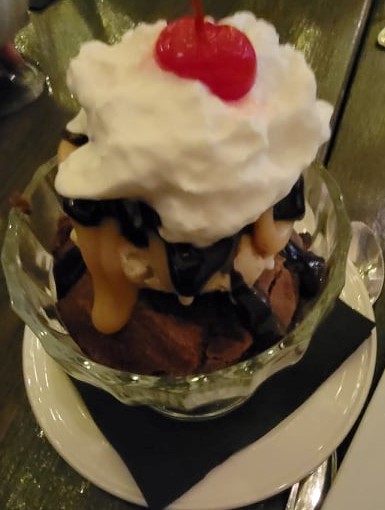 We were in tears by the time desserts appeared. How can you say no to a homemade brownie sundae served with house-made vanilla ice cream perched on a rich chocolate brownie smothered by salted caramel, chocolate sauce, and whipped cream? I cannot tell a lie—we gobbled it up.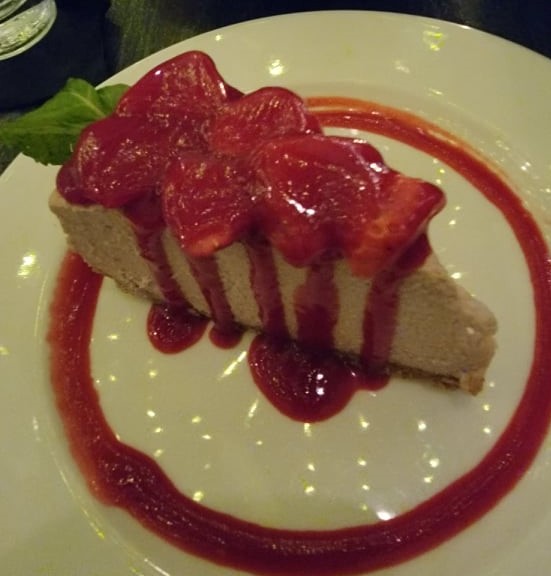 But we also faced another hard-to-ignore plate with Mean Morgan's Cheesecake. Cheesecake is one of my all-time favorite desserts and this one was top-notch, flavored with strawberry and topped with a fresh strawberry sauce. The taste was over the top. Even though I couldn't eat more than a bite or two, I knew that I would order either dessert every time.
Just a thought: You could finish your meal with a liquid treat, hot cocoa laced with Captain Morgan rum, Bulleit Bourbon, Stoli Vanil, Tito's vodka, or my choice, Jameson Irish Whiskey.
There are many more choices available. Next time I will try the Steak Sandwich, made with shaved ribeye, Monterrey jack cheese, caramelized onions, and served with a beef au jus and horseradish cream. With a choice of French fries, sweet potato fries, or a salad, it's definitely going to be great. Or, I may try one of The Light Horse's many Mac N Cheese dishes offering pasta with a three-cheese blend, garlic bread crumbs, and a choice of additional toppings like bacon, tomato, asparagus, mushrooms, zucchini, broccoli, or onions. They offer shrimp, crab cake, salmon, chicken, or steak as toppings too.
I also look forward to trying one of their Roseda Farms dry-aged beef burgers, topped with American cheese, garlic & dill pickles, lettuce, red onions, and tomato slices. Or I might try the double grilled cheeseburger where the bun is a grilled cheese sandwich. Either one should be a winner.
Whether you join the fun downstairs or upstairs, be prepared to be wowed by lots of enjoyable food choices. Would you like your restaurant reviewed? Contact [email protected]