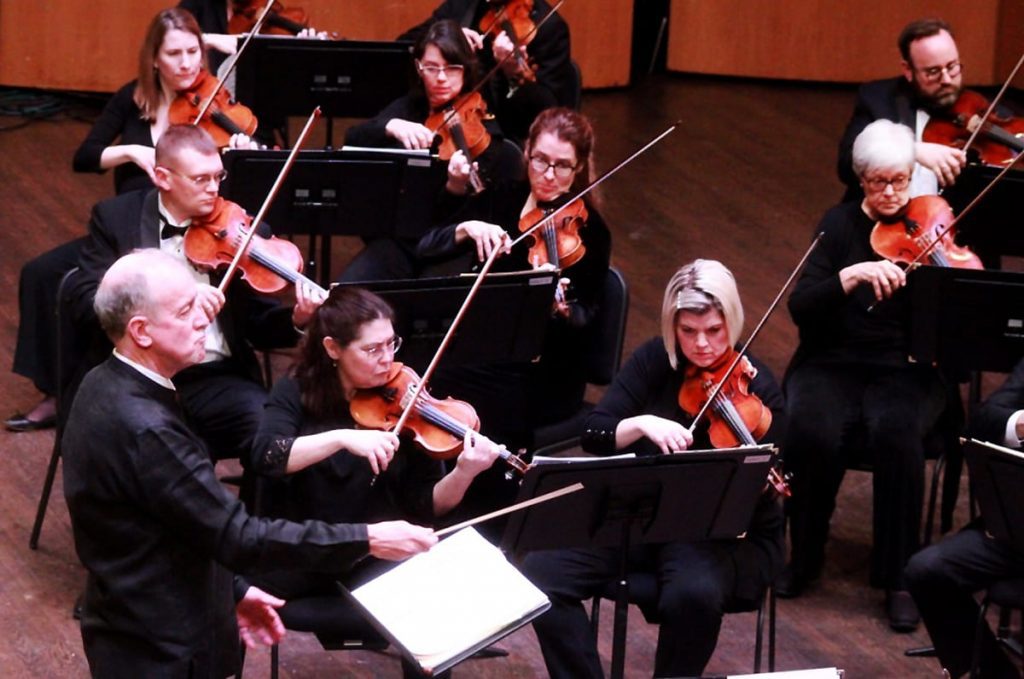 ALEXANDRIA, VA – The Alexandria Symphony Orchestra (ASO) presents a special chamber orchestra concert Brandenburg, Vivaldi & Tango on Saturday, March 19, 2022 at 7:30 p.m. at St. Paul's Episcopal Church in Alexandria. Under the direction of Music Director James Ross, members of the Alexandria Symphony Orchestra will present music by Bach, Vivaldi and Piazzolla.
The ASO will perform Bach's Brandenburg Concerto No. 6 with principals from the orchestra as soloists. The concerto features two violas and several period instruments, including a harpsichord. Bach composed the six concertos as a pseudo-job application as a demonstration of his finest work, and they are still regarded as some of the foremost orchestral compositions from the Baroque era.
Also on the program, Bach's Concerto for Violin and Oboe, where both instruments are featured and closely entangled. Both himself an accomplished violinist and the master of solo concerti, Vivaldi's Concerto for Four Violins is worthy of its dedication to royalty, and attendees will discover why it bears the title of "Harmonic Inspiration." (Bach was inspired by Vivaldi's concerto and arranged the piece for harpsichord in a different key.) Likewise, Vivaldi's beloved Four Seasons was the inspiration for Astor Piazzolla's The Four Seasons of Buenos Aires. The audience will enjoy the tango-infused "Summer" and "Spring" movements from Piazzolla's suite.
Alexandria Symphony Appoints New Director for Sympatico Program
"Bach wrote the best dance music of his time, and Astor Piazzolla, the tango king, is positively Baroque in his music's adaptability and finely chiseled flourishes," says Maestro Ross. "Every piece on this program features multiple soloists in an embodiment of democratic values and lively conversation. And with our performance of the sixth concerto, the ASO has now completed its first cycle through the Brandenburgs—these unlikely masterworks. I can't wait to start the next pass!"
Audience members, musicians, staff, and volunteers are required to wear a mask while inside the venue and during performances. ASO recommends N95-style masks for maximum protection; a limited supply will be available. ASO is also requiring all attendees, musicians, volunteers and staff be fully-vaccinated, including a booster, if applicable. ASO will communicate with ticket buyers well in advance of the performance to establish what specific safety measures will be required to attend.
All seats are general admission. Adult tickets $45, student $15, youth $5 (18 and under). To order tickets, click HERE. For more info, visit ASO's website or call (703) 548-0885.
BRANDENBURG, VIVALDI & TANGO
James Ross, Music Director
Featuring soloists from the Alexandria Symphony
BACH: Concerto No. 6 in B-flat major
BACH: Concerto for Violin and Oboe in C minor
VIVALDI: Concerto in B minor for Four Violins
PIAZZOLLA: "Spring" and "Summer" from The Four Seasons of Buenos Aires
Saturday, March 19, 2022 at 7:30 p.m.
St. Paul's Episcopal Church
228 S. Pitt Street
Alexandria, VA  22314
Tickets: $45 adult/$15 student (with ID)/$5 youth (age 18 and under). Purchase online at www.alexsym.org or call 703-548-0885.
Street parking is available on adjacent streets. St. Paul's Episcopal Church is accessible by Metro bus lines 10A, 10B and 28A, as well as DASH bus lines AT2, AT7, AT8 and the King Street Trolley.
Honoring the 6888th: The Only Black Female Battalion To Serve Overseas During World War II