Press Release
Gadsby's Tavern Seeking Applicants for Junior Docent Program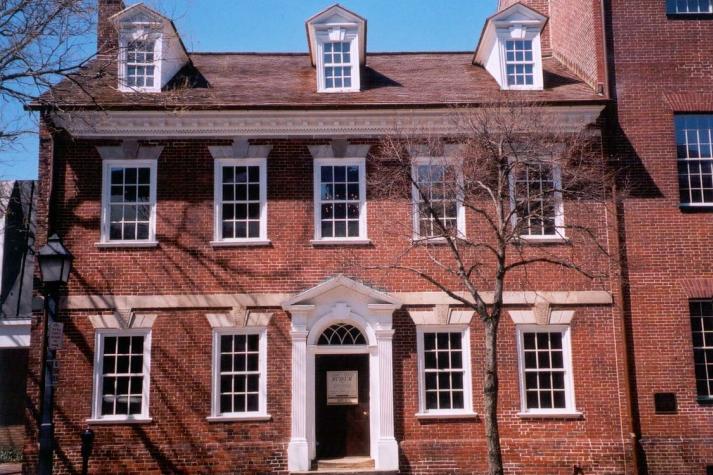 ALEXANDRIA, VA – Do you know a child or student who enjoys learning about history and talking about what they know?  Gadsby's Tavern Museum's Junior Docent Program is a wonderful way to encourage their interest and enthusiasm! Students accepted into the program are trained in museum information and presentation skills. Then, they provide tours in 18th-century clothing Sunday afternoons during the summer (based on student availability), practicing their speaking skills and engaging visitors of all ages and sharing their interest in history.
Applications are now being accepted from 4th, 5th, 6th, and 7th grade students. To be considered, students must complete the application, available at alexandriava.gov/gadsbystavern and return it to the Museum no later than Friday, March 25. Applicants must also attend an audition on Sunday, March 27, where the child will have the chance to give a short presentation on a historical topic of their choosing. Application includes information about required training classes. Questions should be directed to the Assistant Director at 703.746.4739.
About Gadsby's Tavern Museum
As America began as a nation during the late 18th century and emerged in the 19th century, Gadsby's Tavern was the center of social and political life in Alexandria as well as the new Federal City of Washington. The tavern served as the premier gathering place for residents – including George Washington – and visitors to eat, drink, learn, and influence history.  Tavern keepers John Wise and John Gadsby hosted balls, performances, and meetings, and their accommodations were known as the best by travelers near and far. Gadsby's Tavern Museum is located at 134 North Royal Street in the heart of Old Town Alexandria and is owned and operated by the City of Alexandria. For more information, please call 703.746.4242 or visit alexandriava.gov/gadsbystavern. 
About the Office of Historic Alexandria (OHA):
The Office of Historic Alexandria preserves and shares the past to enrich the present and inspire the future. OHA shares these stories through museums and landscapes as well as tours, exhibitions, and a variety of public programs. Museums include the Alexandria Archaeology Museum, Alexandria Black History Museum, Alexandria's History Museum at the Lyceum, Fort Ward Museum & Historic Site, Freedom House Museum, Friendship Firehouse Museum, Gadsby's Tavern Museum, and the Stabler-Leadbeater Apothecary Museum. Additional spaces including the African American Heritage Park, Archives and Records Center, Contrabands and Freedmen Cemetery, Murray-Dick-Fawcett House, Lloyd House, and Union Station collectively tell the story of the City. Urban archaeology also plays an active role in uncovering and interpreting Alexandria's history, recovering artifacts before they are lost to construction. OHA enhances the quality of life for City residents and visitors and is a partner in the City's equity and inclusion initiatives. For more information about the Office of Historic Alexandria, visit alexandriava.gov/Historic.
Via City of Alexandria