Community News
Alexandria's Flooding Problem To Be Addressed Through Variety of Improvement, Maintenance Projects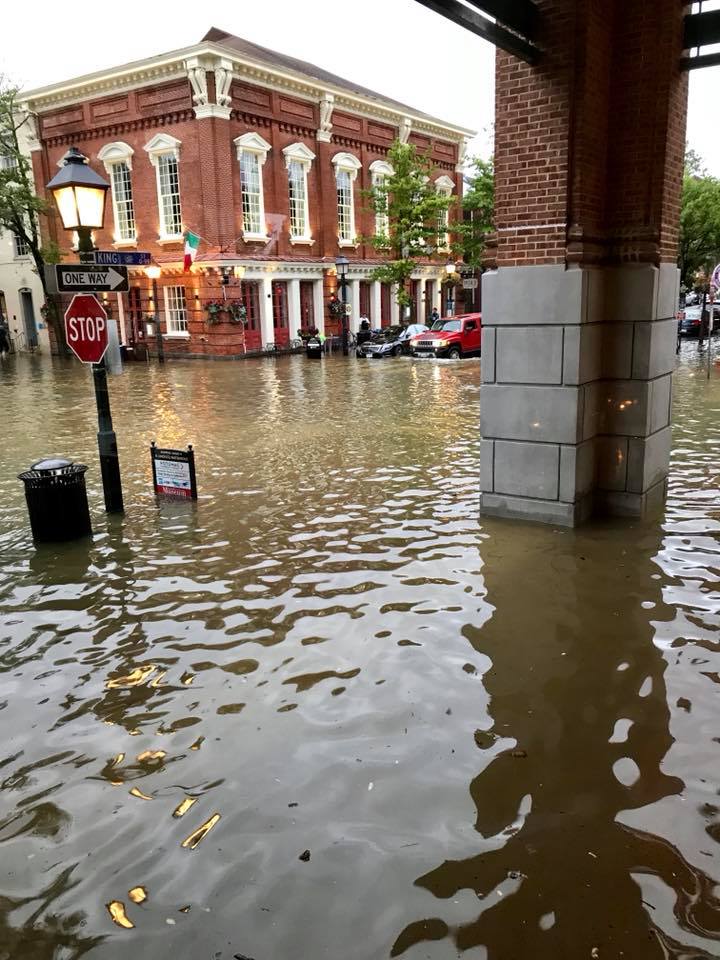 ALEXANDRIA, VA – Flooding is a concern of many in Alexandria, and work is being done to address the issue. In this month's edition of the Council Connection newsletter, Mayor Justin Wilson wrote "immediate and sustained action" is necessary in the following areas: 1) Infrastructure Investment and Maintenance, 2) Financial and Technical Assistance To Residents, and 3) Development Policy Reform.
In late March, City Council received an update on efforts to reduce the instances of flooding in Alexandria in the short term, and improve infrastructure over time to eliminate a problem exacerbated by a changing climate.
Flood Action Alexandria, a program created to find a solution to recent flooding experinced by residents and businesses alike, is divided into five parts: Large Capacity Projects, Spot Improvements Projects, Stream and Channel Maintenance, Infrastructure Maintenance, and Water Quality Projects.
The city is already at work, currently in the design phase for fixes to Glebe Road and Commonwealth Avenue, and Glebe Road and Ashbey Street.
Large capacity projects – such as Hume Avenue – are expected to have construction costs of $87.6 million from FY 2023 to FY 2025.
The decade-long plan of improvement calls for the inspection and cleaning of storm lines every three to five years, as well as before storms. Stormwater infrastructure will also be repaired as necessary, and sewer inspection will take place via CCTV.
In order to increase the resources available for storm sewer infarastructure, last year City Council voted unanimously to adopt an ordinance that doubles Alexandria's Stormwater Utility Fee. The revenue, wrote the mayor, "will allow for an acceleration of major capacity projects and 'spot improvements,' an increase in channel maintenance, new 'state-of-good repair' investments, property owner grants, and new staffing in support of these projects and the system."
State legistlation, sponsored by Sen. Adam Ebbin (D-VA) at the city's request, has been enacted to provide flexibility in how resources are used to address flooding.
Alexandria Symphony Orchestra Performing Barber & Brahms April 23 and 24