Community News
Eatz
Foodie Newz
Alexandrians Now Can Drink in Polynesia at the Tiki Bar in Del Ray
The flavor bomb of the night was the Sandy Island Shrimp Ceviche.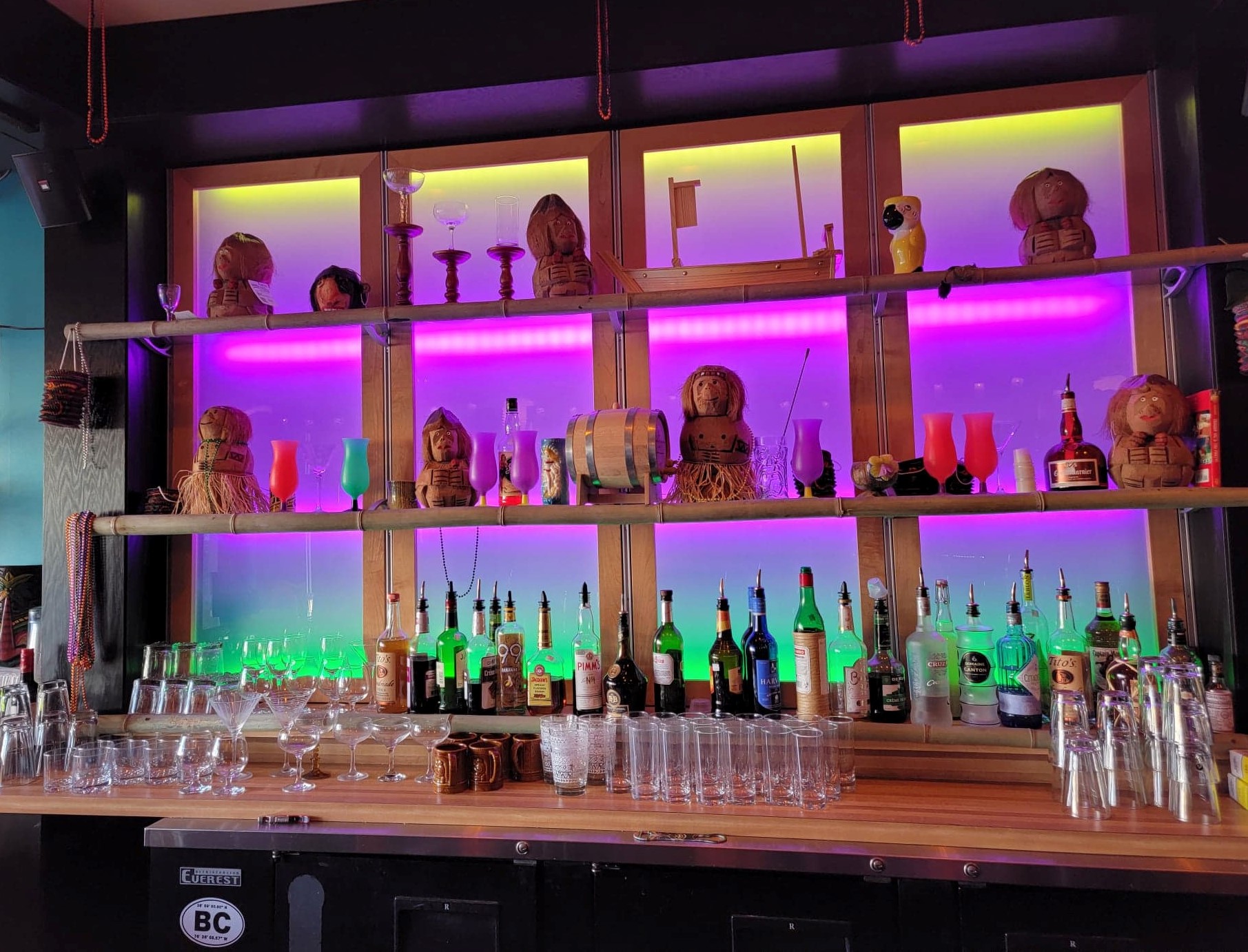 Alexandria, VA – A trip to Tahiti will cost anywhere from $1600 to $6200 and take around 16-20 hours. Take a shortcut and visit the Tiki Bar at 2312 Mount Vernon Avenue in the Del Ray neighborhood in Alexandria. Be surrounded by grass huts, coconuts, and surf boards without the time, expense and sand in your bathing suit while enjoying a host of tropical delights. Throw on a pair of board shorts and flip flops and join the fun.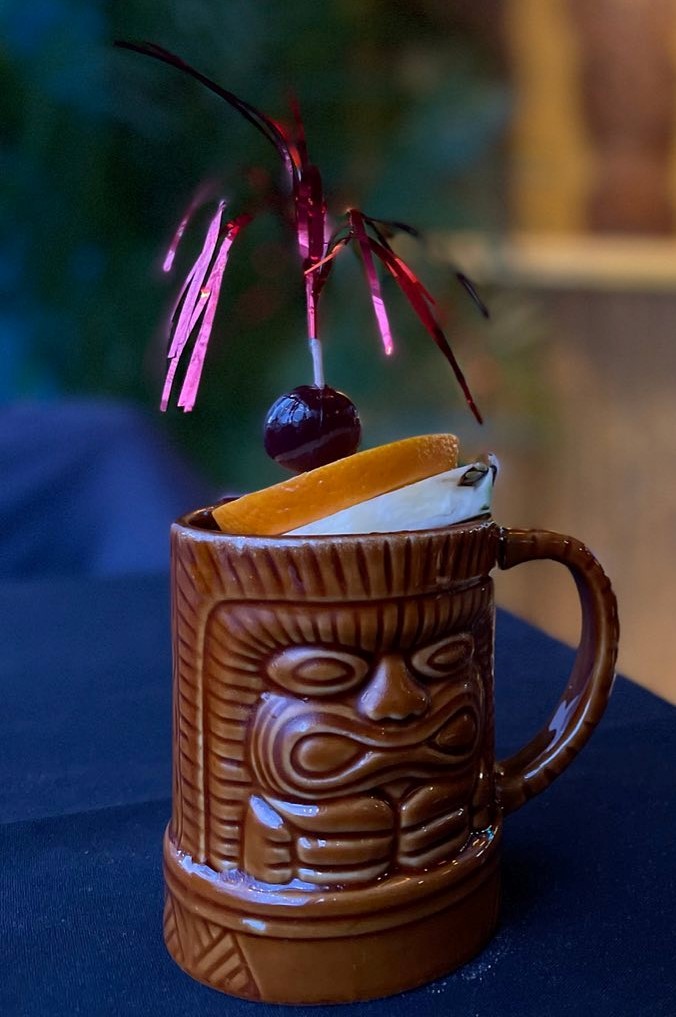 The Tiki Bar is the latest brainchild of Bill Blackburn and Mike Anderson, located in the space once occupied by The Sushi Bar and pop-up Joy on the Avenue. Reminiscent of Mango Mikes and Trader Vic's, the menu is filled with tastes of Polynesia in both food and drinks.
For those not old enough to remember, Mango Mike's was the beloved tropical paradise that earned Mike Anderson his nickname, Mango Mike. According to Tiki history, every Tiki bar has at least one legendary drink devised by a longtime regular bartender when a customer asked for something fruity made with mangoes, or it was the favorite of a craggy old barfly. Names like the Beachcomber, Suffering Bastard, and Puka Puka Punch celebrate the islands and pack a pandemic punch.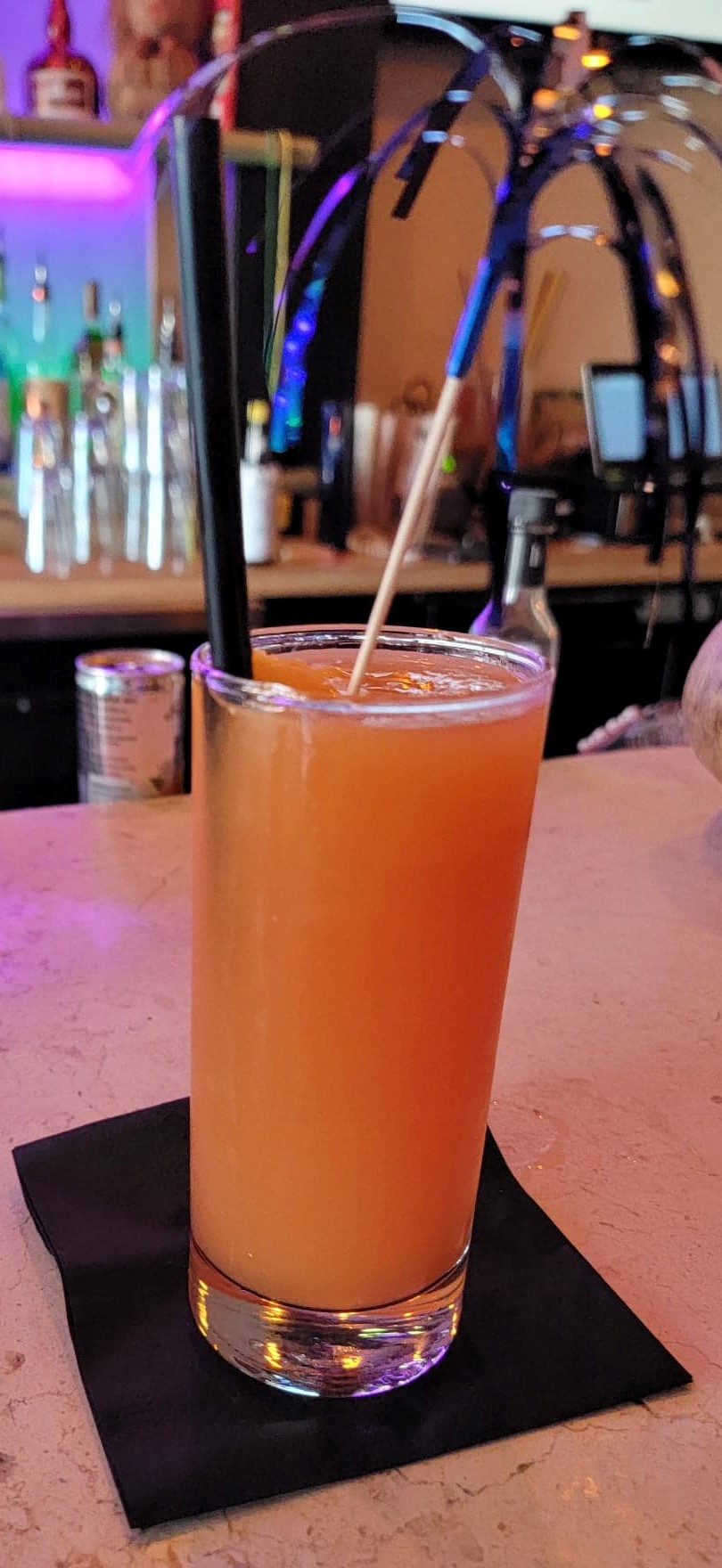 The Tiki Bar pays homage by serving the ever popular, long remembered Original Mango Mike's Hibiscus Mangorita. The classic cocktail is served frozen with a Chambord float. You will love it. Like many of us of a certain age, it was a magnificent trip down memory lane. Rum is a staple of Tiki drinks and it is well represented with a Trader Vic's classic, the Zombie. Made with flavorful Wray and Nephew Rum, Appleton Estate Rum from Jamaica, Bocador 151 Rum, Falernum (a liqueur with the flavors of ginger, lime, and almond, and frequently cloves or allspice), grenadine, lime and grapefruit juices, Pernod (a pungent, strong anise liqueur), bitters and simple syrup. With three rums and two liqueurs, more than one will make a Zombie out of you, it is absolutely delicious.
Another knockout is the Blue Hawaiian, another well-loved traditional Tiki drink. The drink has been updated to included Wray and Nephew Rum, Coco Lopez coconut cream, Blue Curaçao (a Caribbean liqueur made using the dried peel of the Laraha citrus fruit.), and lemon juice. The drink is a vibrant blue and just asks for you to drink it down.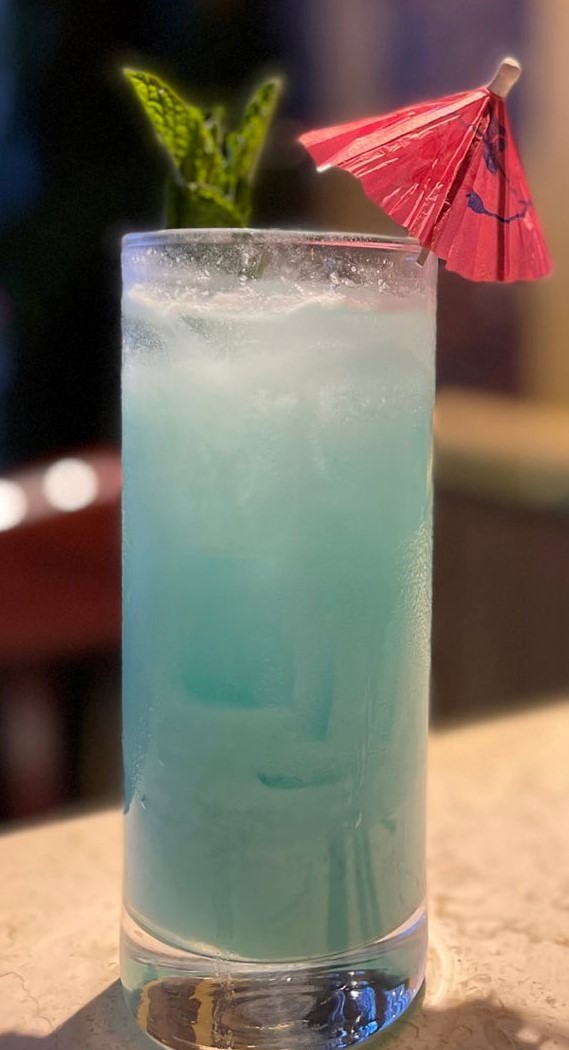 The Tiki Old Fashion is a new take on an old favorite and is made with aged 20 year rum, coconut rum, simple syrup, and bitters. Garnished with a fresh orange slice and a luxardo cherry. This is so good it might just join the liturgy of tropical drinks. Need a bigger drink to celebrate with your friends?
Try the Flaming Puka Puka. The drink is brought to the table flaming – note the bartender's singed eyebrows – and is a tropical treat made with Wray and Nephew Rum, Appleton Estate Rum, Juaquin's Apricot Brandy, and Bocador 151. Grab a straw and sip in. It's a definite WOW!
Want a souvenir of your island respite? Order the Pineapple Upside-Down Cake Tiki Shooter and keep the ceramic Tiki Shooter glass. It's made with Vanilla Vodka, pineapple juice, and grenadine. You might consider collecting a set over several visits or plan on a ride-share to get home.
Another souvenir drink is the Parrot Punch. Made with Calypso Rum, St. Elder Liqueur, (made from fresh elder flower blossoms with a light, sweetly floral, and fragrant taste with notes of citrus, pear, and passionfruit), simple syrup, lime juice, grenadine, pineapple and orange juices, and ginger bitters. You get to keep the ceramic parrot glass. Another souvenir choice is the Youngblood Exploding Bamboo made with Goslings Dark Rum, Pimm's Cup, Orgeat (an almond liqueur), orange juice, and pineapple juice, served in an angry Tiki glass.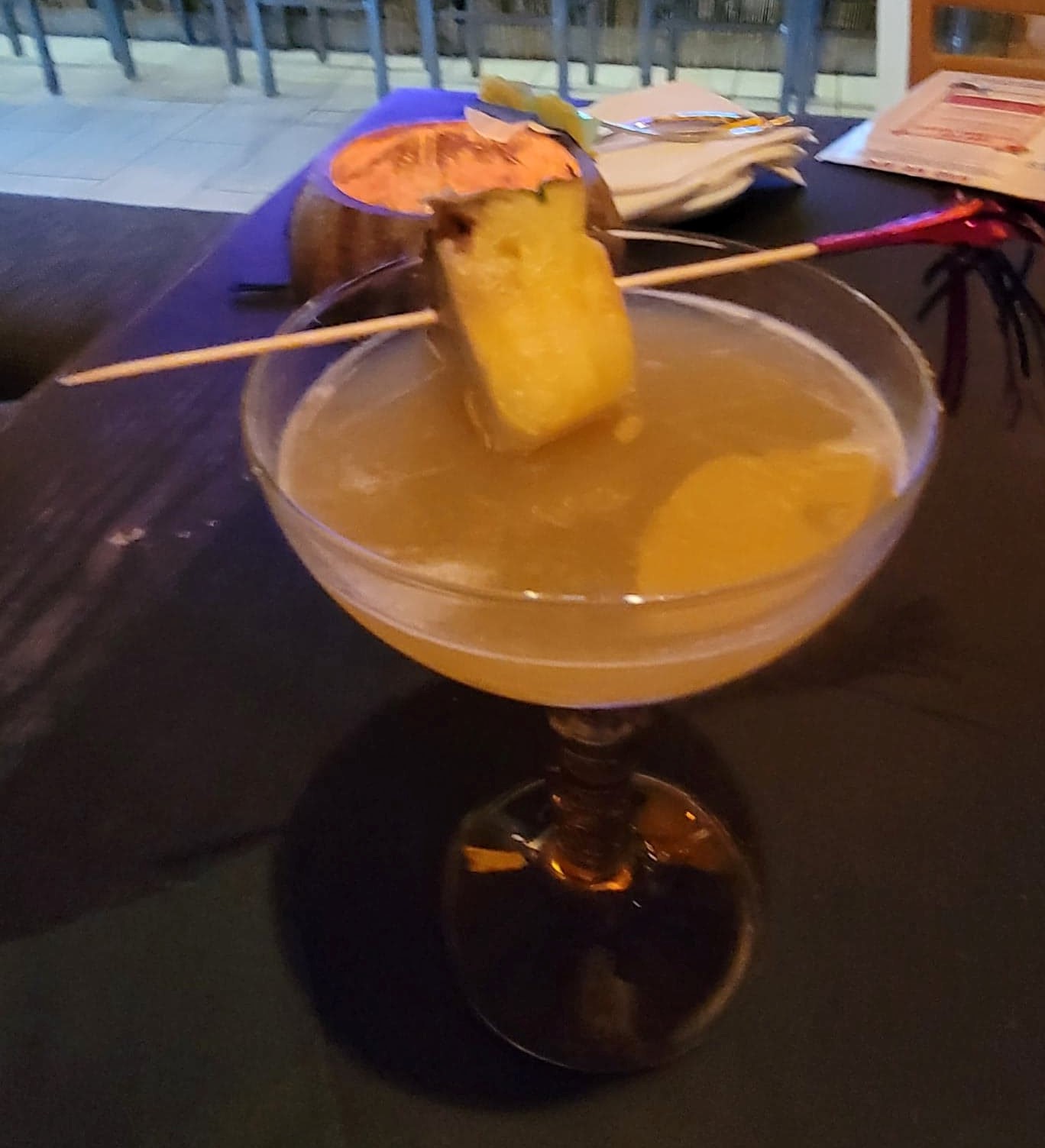 Most tropical drinks are made with rum. Not into rum, try the Rye Pineapple Coupe, made with Bulliet Rye whiskey, pineapple juice, Canton liqueur (a brandy-based ginger liqueur with a brilliant sweet and spicy flavor accented by vanilla and honey), lime juice, and bitters. This one packs a punch and is definitely a rye lover's drink of choice.
Or, I also recommend the Miss Susie, an improvement on the traditional gin and tonic made with Citadelle Gin, fresh lime juice, tonic, and garnished with a lime wheel. A couple of these with a tableful of blue crabs is a summer day made in heaven! Tiki Bar offers several beers from the tropics including Red Stripe, Carib, and Kona Big Wave, and local Lost Boy Cider. Several white, red, and rose wines are also available by the glass.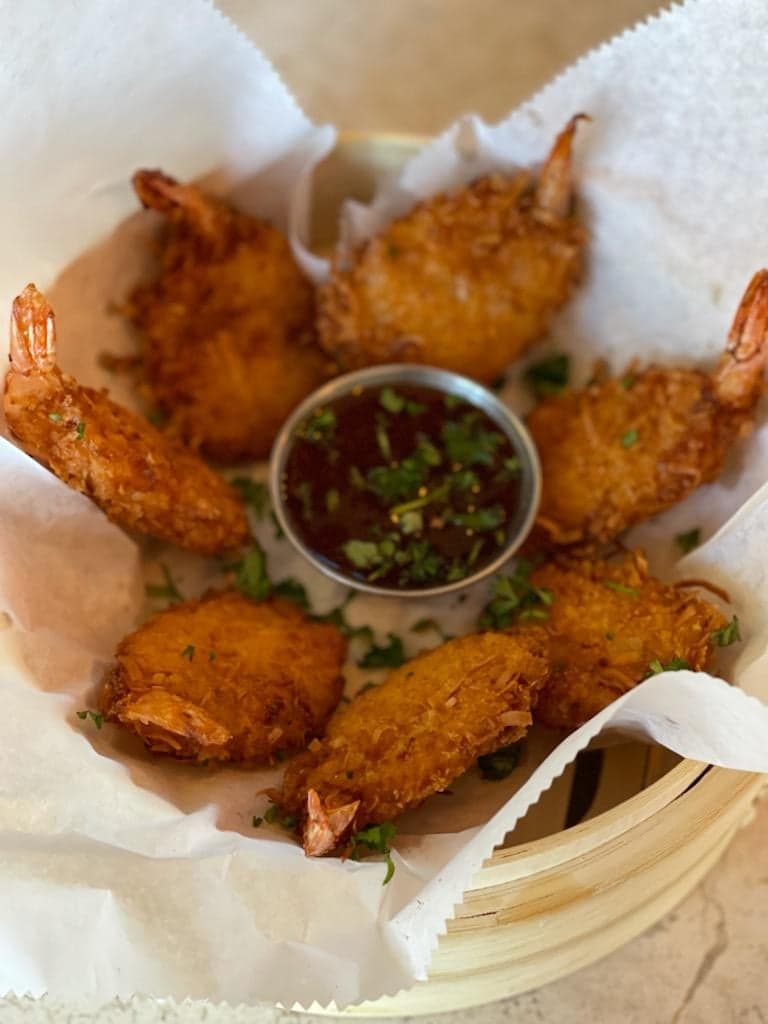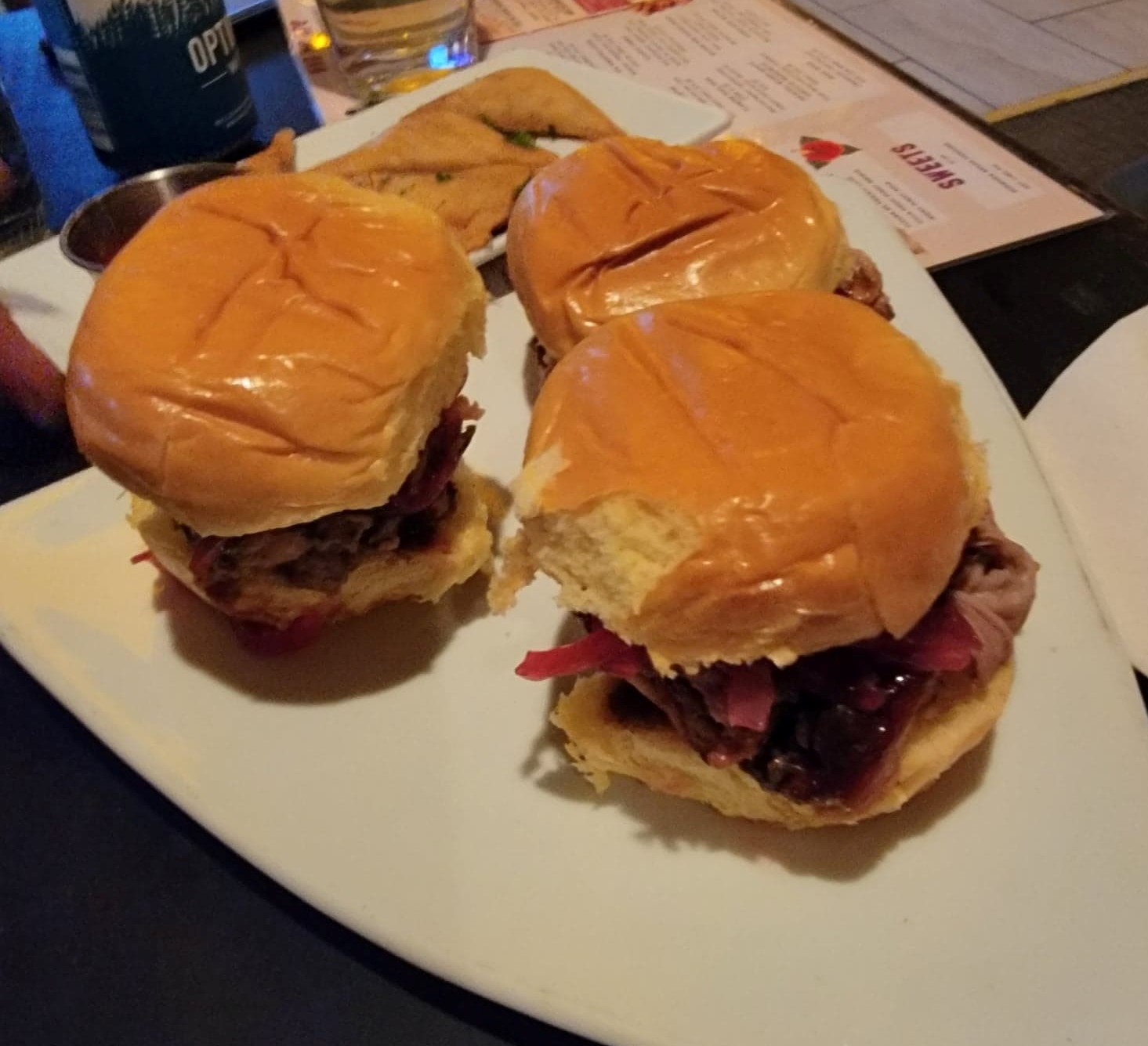 So, you're thinking I need something to soak up all this booze… Never fear, there are several Bites available that are perfect to tame your appetite. I'm not fond of coconut shrimp but I could eat the Cocoloconut Shrimp all the time. Gulf shrimp are encrusted with a coconut batter, deep fried, and served with an orange dipping sauce. Love, love, love the combination. The shrimp are fantastic and are made even better with that dipping sauce!
The Jamming Jerk BBQ Sliders starts with the best pork BBQ from Pork Barrel, with jerk seasoning of the islands and served with pickled red onions on top. The problem with these sliders is that they are so good, you don't want to share them with anyone else. You should share them so you can eat some of the best wings around.
The Jerk Wings are a not to be missed dish. Take some chicken wings, smoke them, fry them, and toss them with the Tiki jerk rub. Dip in the blue cheese dressing and repeat. My guests and I had to bargain with each other as to who would get the last one!
The flavor bomb of the night was the Sandy Island Shrimp Ceviche. With the classic ceviche flavor of Peru, the dish is made from raw fresh shrimp marinated in lemon and/or lime citrus juices that cook the shrimp. The dish is loaded with pieces of shrimp, chopped tomatoes, onion, and herbs. It's served with tortilla chips to use as a spoon to scoop up all the goodness. The ceviche pickling liquid is so good with the citrus and touch of heat, I would eat this dish all the time.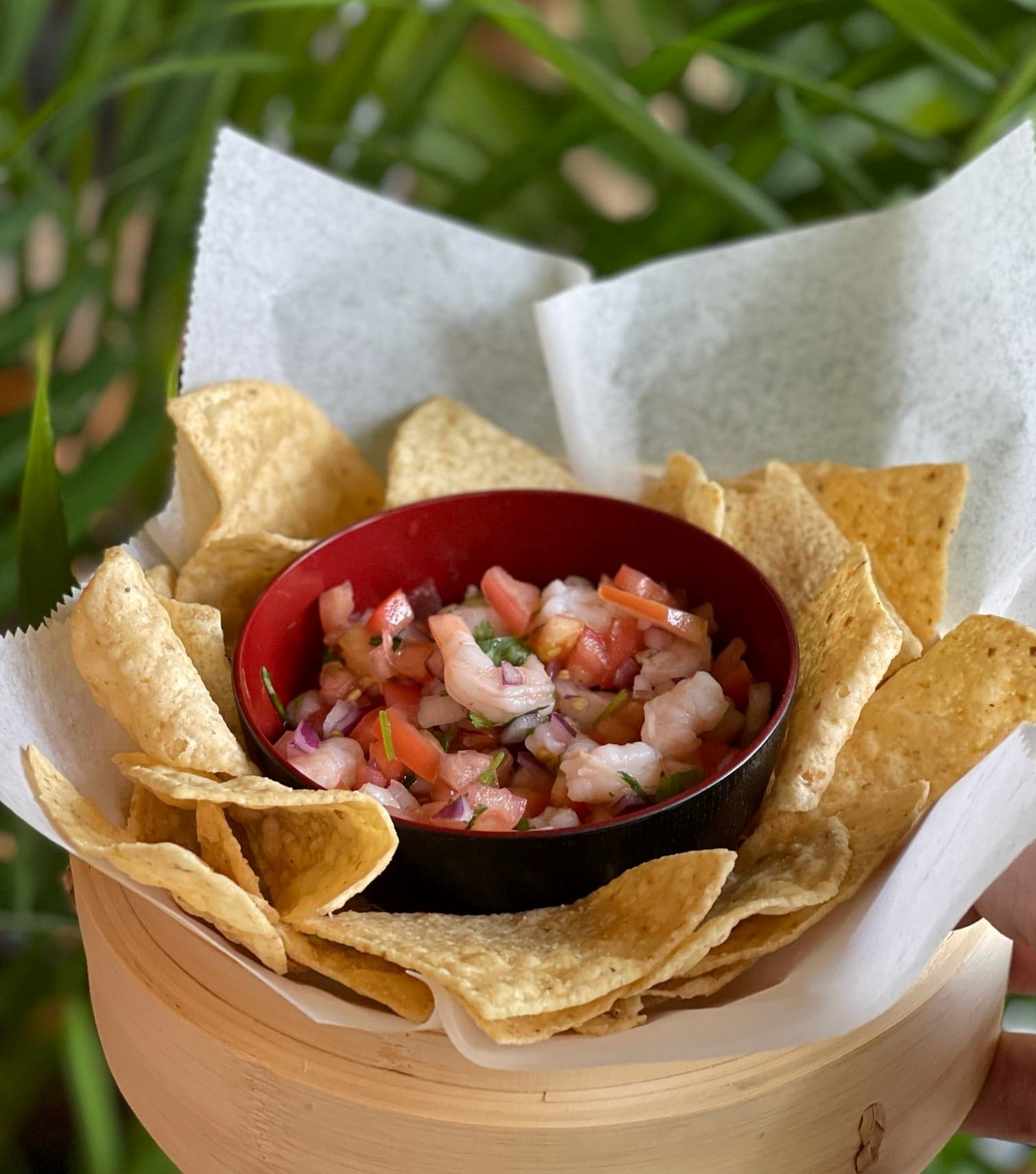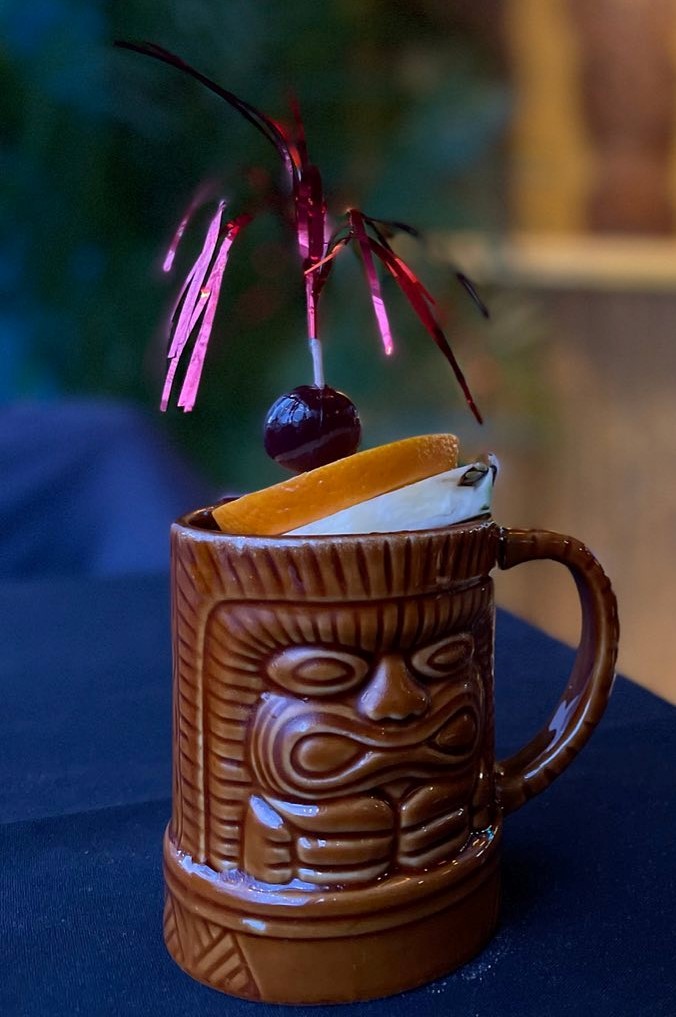 One last touch to top off your evening, dessert. The Bermuda Bread Pudding is all that and more. It's big enough to share too. Continue the tropical vibe with a slice of Key Lime Pie. Put your order in early as it is so good, they often run out. My favorite is the cheesecake. Served with a drizzle of chocolate sauce, I was truly happy I had a piece all to myself. It was definitely a clean plate moment.
The Tiki Bar is another great offering On the Avenue. Open from 5 PM to 11 PM nightly, it's a great place to party with great drinks and small bites. There is plenty of parking available in the lot behind the building or across the street. It you want some fun at the beach, come on over!
Would you like your restaurant reviewed? Contact [email protected]