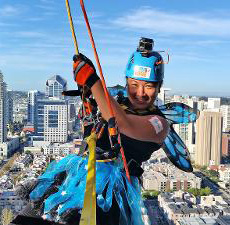 By Marlene Miller, Mt. Vernon Editor
MOUNT VERNON, VA – New Hope Housing (NHH), based in Mount Vernon, brings hope and housing and shelters to so many of the area's homeless but sometimes they need an infusion of hope themselves, not to mention funding. And this year, they are going way "Over the Edge" to find both.
When covid cancelled their major fundraiser in spring of 2020, New Hope had already paid deposits or in full and instead of raising money, they lost nearly $20,000 instead.
As the pandemic continued, they have been forced to rely on virtual events but 2022, they decided, was the time to go big and go outside.
On May 6, with the goal of raising at least $200,000 according to Jan Sacharko, NHH Director of Development, New Hope Housing will encourage supporters to "Go Over the Edge," literally, of the 14-story Hilton Crystal City, 2399 Richmond Highway, Arlington.
Seventy fundraisers will earn a spot to rappell down the hotel by raising a minimum of $1,000 from those who sponsor him or her. Already over 60 have signed up to fill the 70 spots, raising the money either as individuals or as teams. As of April 7, over $85,000 has been raised, said Sacharko.
Supporters are encouraged to gather down below at "The Landing Zone" anytime between 9 am and 5 pm for snacks, food, drinks, giveaways and to cheer the rappellers on.
Presenting partners are Hilton Crystal City & Keller Williams MetroCenter.
It is still possible to earn a spot as a rappeller or become an event sponsor. For details visit www.newhopehousing.org
Alexandria Tutoring Consortium Seeking Donations, Volunteers To Help Young Readers