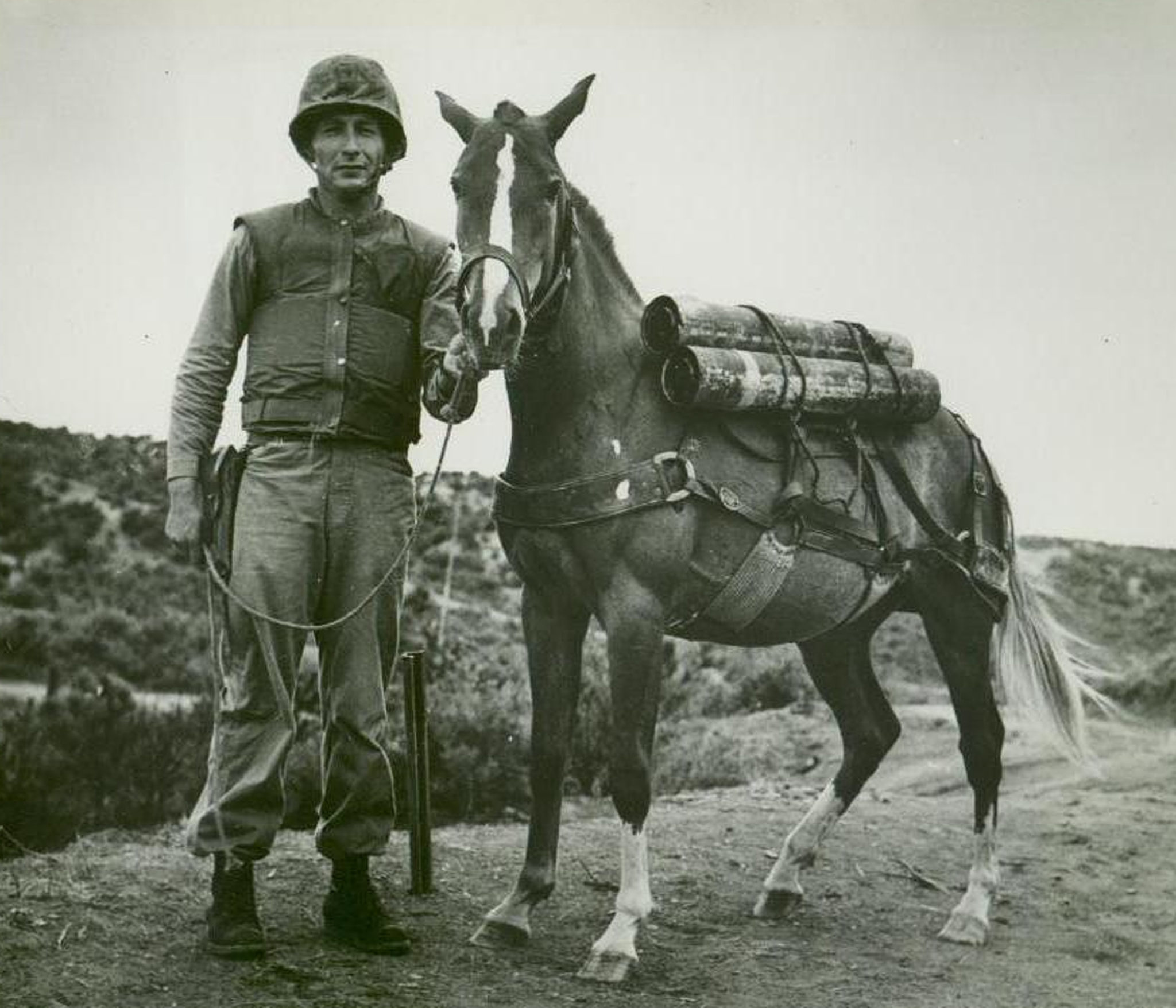 By Louise Krafft
Alexandria, VA – The Animals in War and Peace second medal ceremony on Capitol Hill, recognizing six brave animals and their handlers or families that served with them, was missing an individual who cared deeply about the animals that have served our country in war and on the home front. His knowledge and passion were recognized and underscored at this year's event, leaving a legacy for years to come.
The late Senator John W. Warner (VA) wanted to ensure that animals were recognized for their brave achievements by attending the first Animals in War and Peace Medal Ceremony in 2019. As a Korean War veteran, Senator Warner understood how important it was to honor our heroes, such as Staff Sergeant Reckless, a Korean War horse. "Let the record show: Sergeant Reckless was a lot more courageous than I," the former senator said when he awarded the Animals in War and Peace Medal of Bravery #1 to the revered horse.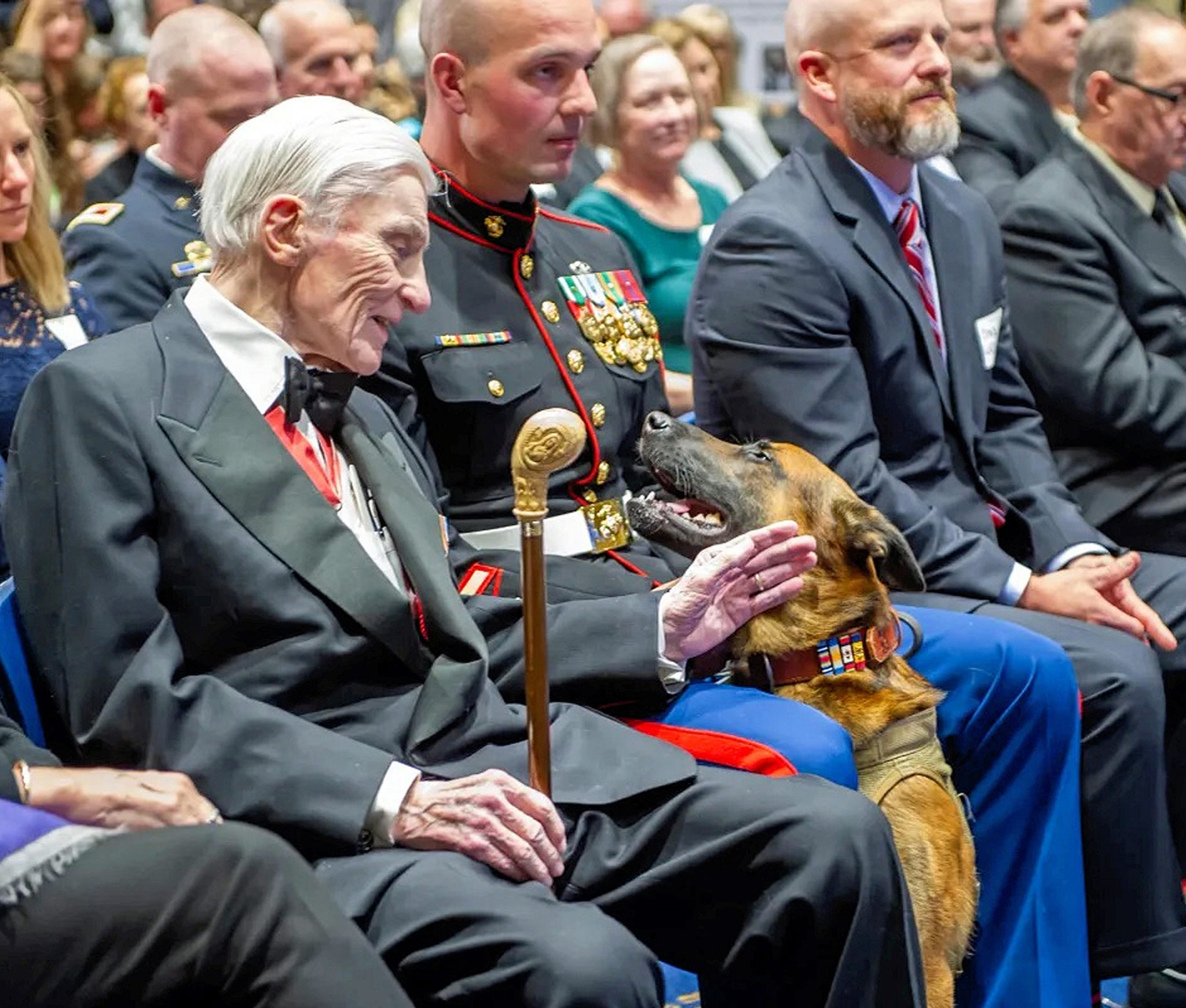 Sergeant Reckless braved minefields and shrapnel to deliver ammunition to gun sites. She was awarded two Purple Hearts for valor and promoted to staff sergeant. This distinction was never bestowed upon an animal before or since.
While Sergeant Reckless was awarded the British PDSA Dickin Medal, the "Victoria Cross for Animals," she was never recognized in the United States. Since 1943, the United Kingdom has been the only country to honor animals for gallantry and bravery with its PDSA Dickin Medal. Seargent Reckless died in 1968.
The United States does not have a Congressional Medal of Bravery for animals yet. The efforts of two individuals, one in Virginia and one in California, may change that. Just this past Congress, Mari Lou Livingood (The Livingood Group) in Alexandria and Robin Hutton (Angels Without Wings, Inc.) in California were able to secure a Congressional Resolution in the House of Representatives.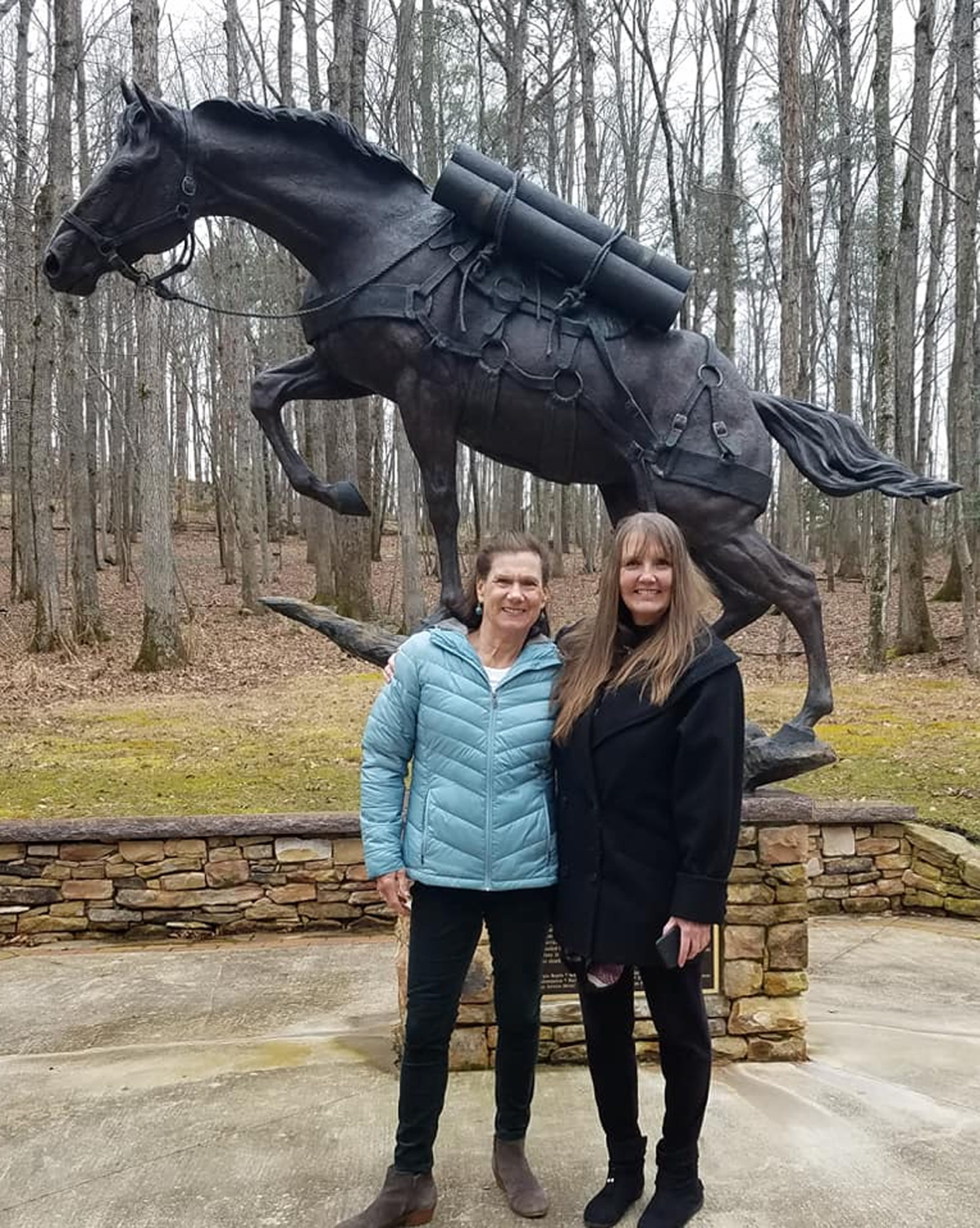 They then began the long slog toward introducing a bill to create public policy that animals should be honored for their courage and distinguished service with the highest award an animal may receive during war and peacetime, just as Senator Warner insisted.
Congresswoman Lucille Roybal-Allard (CA) introduced House Resolution 935 on February 18, 2022, with 11 original co-sponsors in the House of Representatives. The Resolution was referred to the Committee on Armed Services. Work is cut out for these two women in bringing this legislation to law, but with the current sentiment and data on war and service animals, there should be a strong case for the United States to have its own medal.
There are currently over 3,000 military working dogs in the U.S., with increasing need, proven worth, and success in their various services and working capacities. Since September 11, 2001, Air Force security forces have trained some 500 military working dogs annually for the Department of Defense. An estimated 2,300 military working dogs are deployed worldwide to support the Global War on Terror, helping to safeguard military bases and activities and detect bombs and explosives before they inflict harm.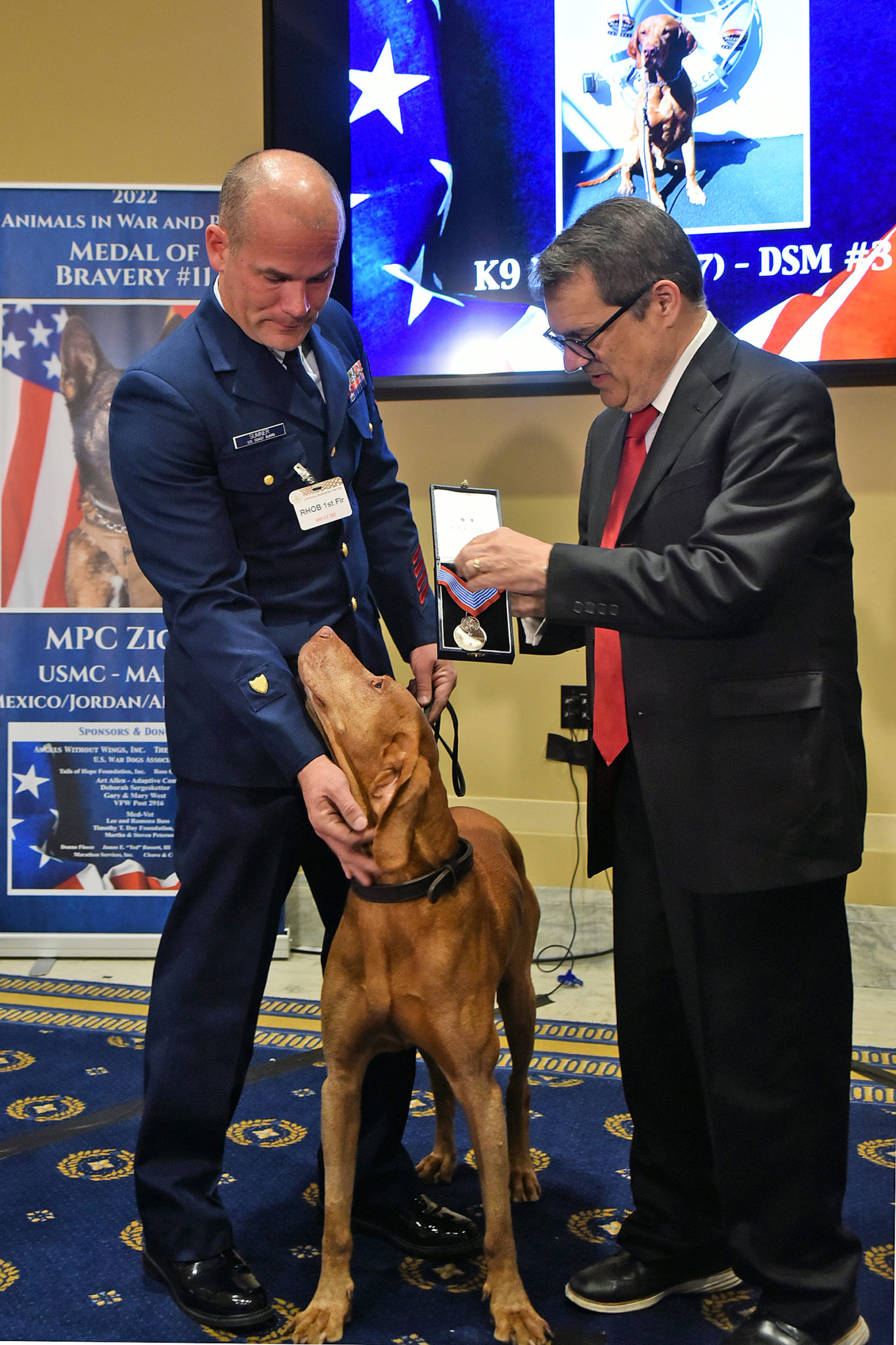 The Animals in War and Peace Medal of Bravery was instituted in 2019 by Mari Lou and Robin and awarded to the inaugural eight recipients at a medal ceremony attended by dignitaries like Senator John W. Warner and Members of Congress. The second ceremony was held on March 9, 2022. It awarded six canines with a new Distinguished Service Medal or a Medal of Bravery for their brave and selfless service to the United States.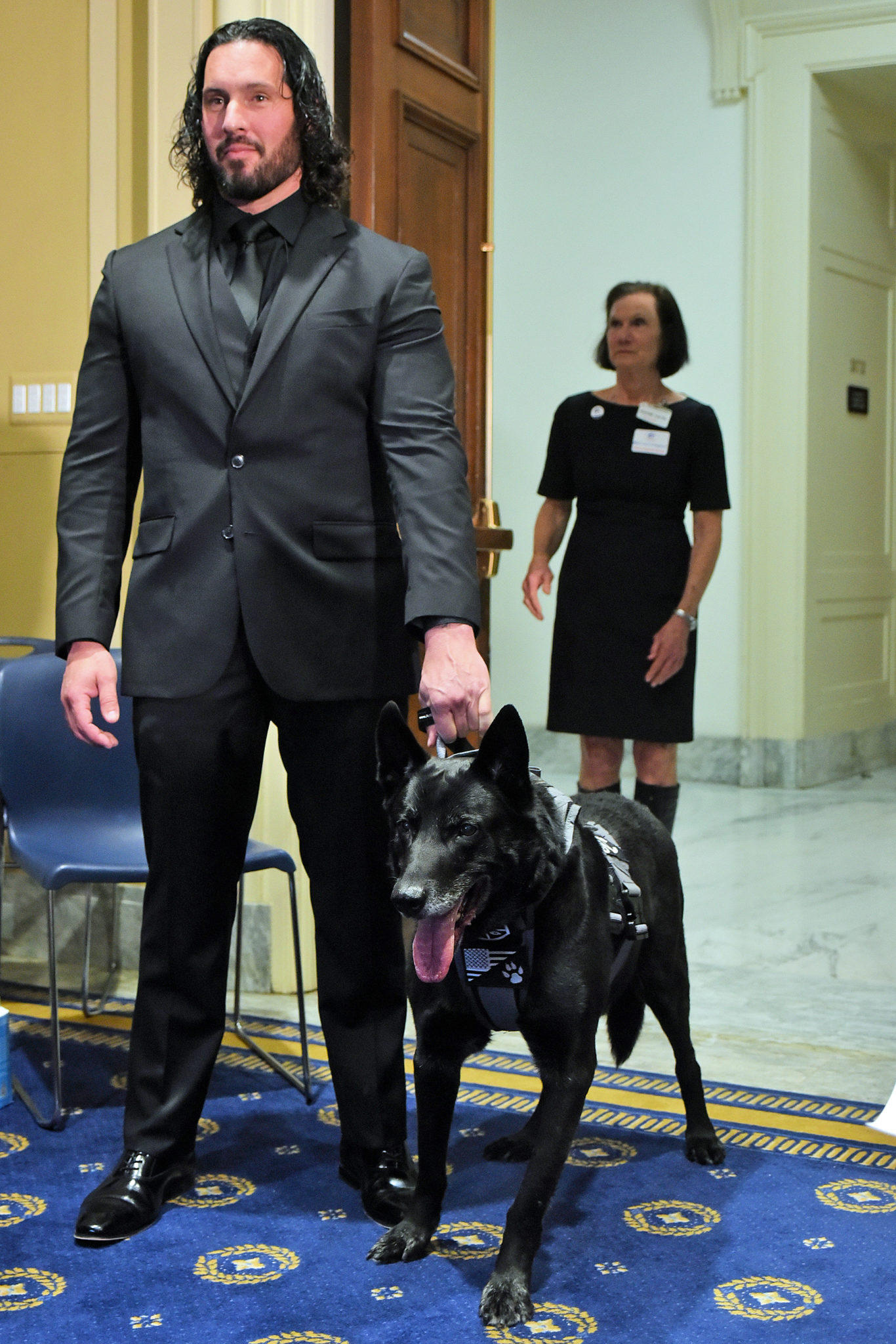 The next ceremony is planned for March 2023. The committee will seek animals who should be recognized in the United States. The creation of an annual process to nominate animals for the Medal of Bravery and Distinguished Service Medal will eventually be signed into law with the determination of these two women in Virginia and California and the legacy of Senator John Warner.
To nominate an animal or learn more about the Animals in War and Peace, visit the website at animalsinwarandpeace.org/medal-of-bravery.
ICYMI: Dogs of Del Ray Mural Part 2 Will be Painted on From Head to Tail Grooming Spa in Potomac Yard