Arts
June Brings Fantastic New Art Exhibits to Alexandria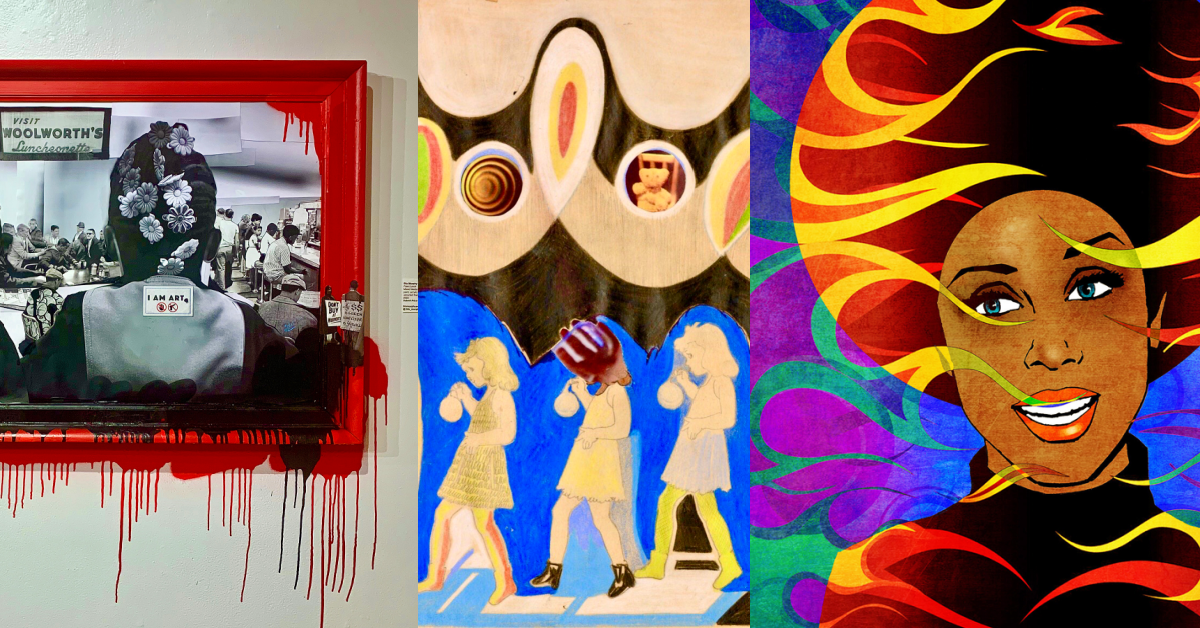 Alexandria, VA – *Art League ~ June 2022 Landscape Exhibit, June 8- July 3. Juried by Theisa Way and Sahar Coston Hardy. New artwork explores artists' sense of space. Landscape traditions in the visual arts, from the classic to the progressive and pastoral to urban, are represented.
June 2022 Solo Exhibit ~ June 9 – July 3. Beverly Valdez exhibits semi-abstract paintings celebrating the exuberant colors and spirit of Trinidad and Tobago's Carnival culture focusing on the history, symbolism, myth, magic, and iconic themes feting the biggest party of the year. The Art League Gallery of the Torpedo Factory Art Center is open 11 am- 5 pm Wednesday – Sunday. Masks are encouraged.
*Athenaeum ~ 201 Prince Street, Alexandria. This is What Freedom Looks Like to Me, June 15 – August 15. In recognition of Juneteenth, the Athenaeum Gallery has organized an online exhibition of young African American and Black artists who were asked to convey their interpretation of freedom: freedom of speech and expression, freedom of dress and hairstyle, freedom from oppression, suppression, and aggression. The exhibit will also explore reflections on the history of the Juneteenth celebration and its impact on modern cultural movements in the African American community. All visual-arts media is presented, including poetic expression and video art. Gallery hours are Thursday-Sunday 12-4 pm. For more information, call 703-548- 0035 or go to nvaa.org
Celebrate Juneteenth with Carlyle House Historic Park and the Athenaeum on June 19, 12-5 pm. This free community event offers live music, hands-on creative activities, art, and poetry held on the grounds of the historic Carlyle House. The event marks the date upon which news of the Emancipation Proclamation reached the last enslaved people in the United States – two years after it had become law! The Carlyle House Historic Park is located at 121 North Fairfax Street, Old Town Alexandria.
*Del Ray Artisans ~ Afros and Abstract curated by Maria Hart from June 3 – June 25. The iconic afro is explored as a metaphor for African-American exaltation and Black excellence juxtaposed with examinations in the abstract of empowerment and freedom via the expressive use of line, shape, movement, and color. A sneak preview of the exhibit is Thursday, June 2. The gallery stays open late until 9 pm for First Thursday Del Ray when family-fun activities are scheduled. This month channel your inner superhero with Black Panther mask making and Wakanda mural-screen photo ops! The gallery, located at 2704 Mount Vernon Avenue, is open to the public. First Thursday activities are free for all. Hours are Thursday 12-6 pm (until 9 pm for First Thursday in Del Ray events), Friday 12-6 pm (open until 9 pm for exhibit openings), and Saturday and Sunday 12-6 pm. 
*Galactic Panther ~ 1303 King Street, Alexandria. Fatherless Print Posse opened May 28. Upcoming events at the über-cool gallery include Panther Party art workshops every Thursday and Sunday. Comedy every Wednesday and Friday at 9 pm. Conscious Gatherings & Open Mic every other Sunday immediately following Panther Parties at 6:30 pm. Gallery hours are Thursday/Friday 12-6 pm and Saturday /Sunday 12-7 pm.
*Gallery Underground ~ 2100 Crystal Drive (in the Crystal City Shops), Arlington. The Arlington Artists Alliance, headquartered at Gallery Underground, is sponsoring an exhibit organized by the Arlington Career Center students. The June exhibition, Destruction, delves into the psyche of high-school students exposing what the act and consequences of destruction mean to them. Alliance members mentored the participating students in curating and all aspects of managing a professional gallery show. The exhibit's title was inspired by the famous Picasso quote: Every act of creation is first an act of destruction.
Artwork exhibited is created by first destroying already created art by classmates, which is then turned into something new. Media represented is exclusively photography, painting, and collage. The gallery is open Monday-Friday 10 am – 6 pm, or by appointment.
*Potomac Fiber Arts Gallery ~ June 7 – July 10. National Parks Revisited. One of the more challenging textile themes returns to the first artisanal group of fiber artists in the DMV. This unique celebration of our magnificent parks is explored in all fiber media. You'll be amazed by the versatile expression of silk, wool, cotton, hemp – even silver and gold- spun, stitched, quilted, woven, sewn, knotted, or macraméd.
*Principle Gallery ~ 208 King Street. The allegorical art of GC Myers is the featured solo exhibit for June. Depths and Light opens with a reception on June 3, 6-8:30 pm. Myers' work draws from Eastern philosophy and aesthetics and American and Modernist painting traditions. Myers is a favorite featured Principle Gallery artist whose compositions, with expressive line and effusive palette, are like jumping into a beloved storybook or fairy tale.
*Printmakers Inc. Gallery ~ A flagship gallery of the Torpedo Factory with an over 40-year tenure in the historic art center is now on the first floor. Working artists are in the studio for you to observe their creativity in the print-making process and meet the artists represented. Patrick Sargent's solo show Local Heroes, showcasing persons who have made an impact socially, is on exhibit through June.
*Target Gallery ~ Le Drip: The Uncontainable Sauce of Black Essence, a solo exhibition by Blu Murphy, continues through July 17. Blu Murphy is a Washington, DC-based artist who utilizes powerful photographic portraits of disenfranchised African Americans to present profiles of pride, courage, and expansive joy. Le Drip refers to the color-coordinated paint drips covering the artwork, the up-cycled framing, and the industrial white Target Gallery walls, which as a backdrop are a visual metaphor for the vacancy of privilege dominating urban communities. The drips, the walls, the framing, and the images dialogue: What do you qualify as art? What do you view as valuable? Juried by installation and performance artist Maps Glover, curator at the Virginia Museum of Contemporary Art Heather Hakimzadeh, and Maryland-based curator and collector Thomas James. A show not to be missed! Check the Target Gallery website for upcoming events with the artist, email or call: 703-746-4590. The space is open Wednesday – Sunday from 10 am – 6 pm.
*Torpedo Factory @Mosaic ~ Hernan Munro paintings and works from the Regional Paper Works Competition 2022. The Torpedo Factory Artists Association (TFAA) satellite gallery space is located in the Mosaic District in the Merrifield section of Fairfax County. Two and three-dimensional artwork by Torpedo Factory Art Center artists is on view alongside outstanding examples of one-of-a-kind fine jewelry craftsmanship.
ICYMI: The Art of Japanese Floral Arrangement Returns to Alexandria's Art League Gallery