Eatz
What Happens When You Take Italy + Argentina? La Fiamma!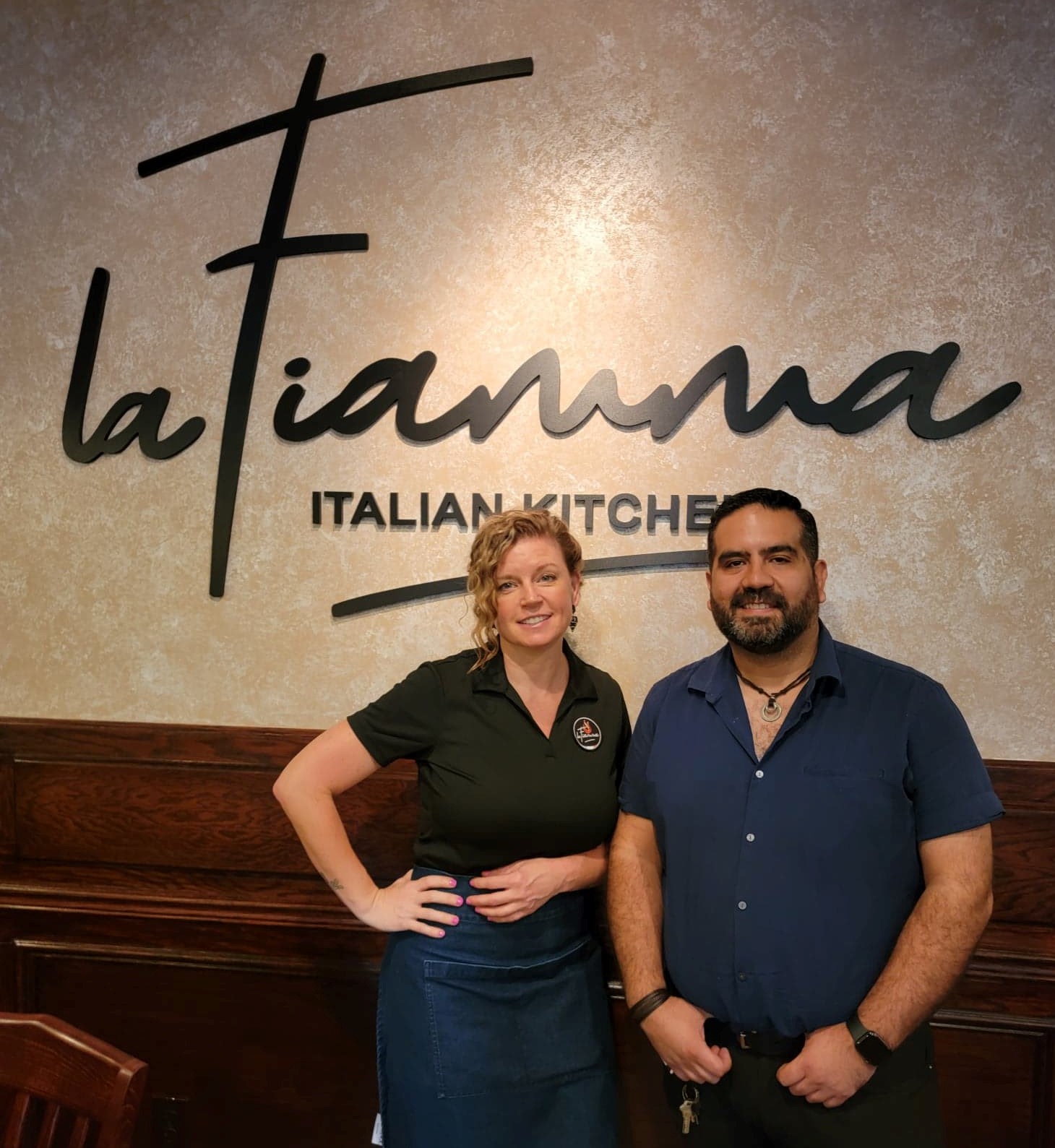 Alexandria, VA – You may have known Melina Pardo's parents and their restaurant Paradiso on Franconia Rd. When they decided to retire, Melina and her husband Gonzalo, who she met at Paradiso, jumped at the opportunity to take over the restaurant and make it their own.  You can taste the difference. Gonzalo is from Argentina and his influence is apparent in many of the traditional and new takes on menu items you have always loved.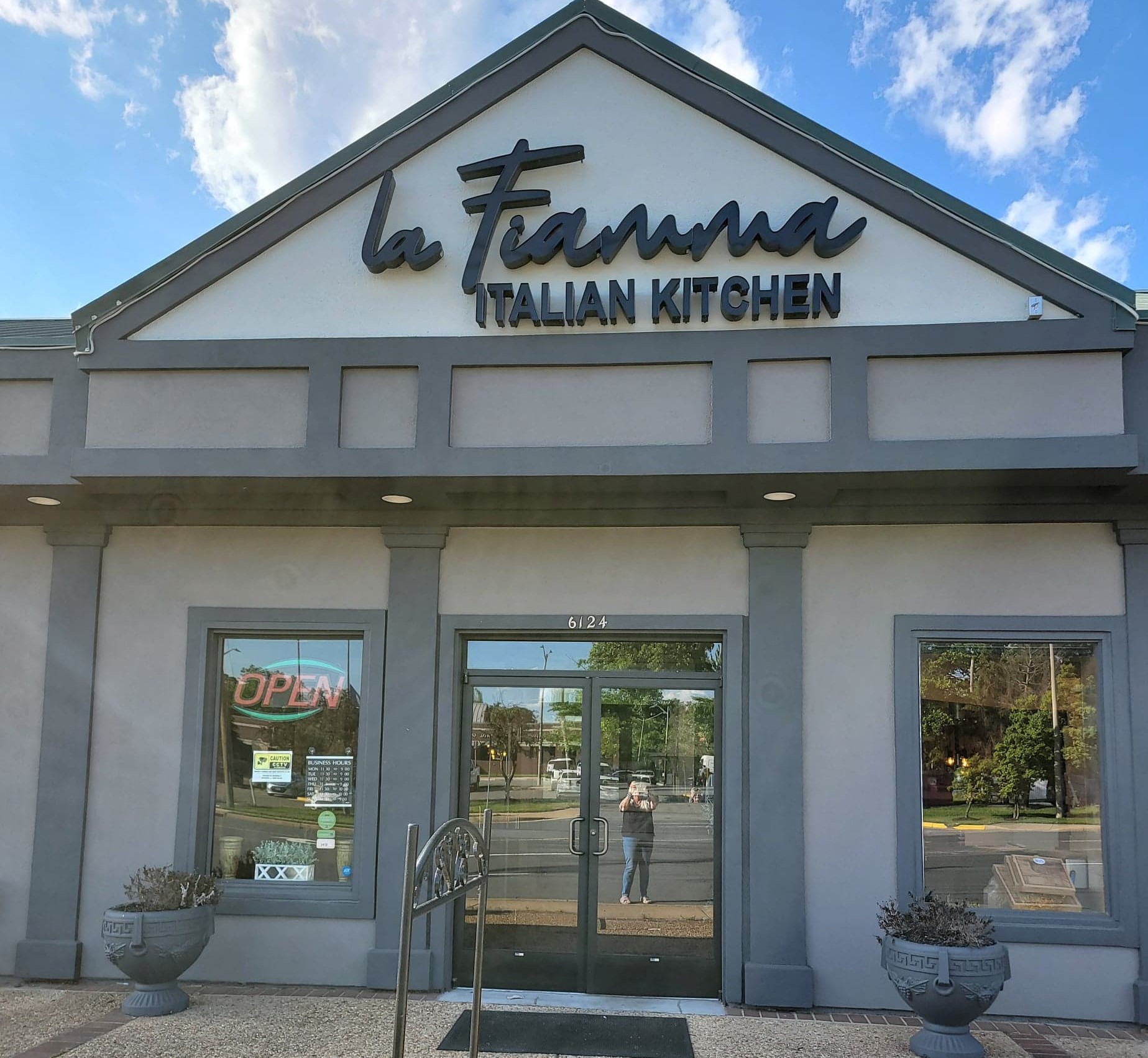 The restaurant underwent a complete renovation resulting in a beautifully appointed yet comfortable place to enjoy lunch, dinner, and brunch. New tables were just installed this month. The 'Kid's Room' has returned and expect karaoke and trivia nights to follow in the future.
The bar menu features specialty drinks that change every few weeks.  These handcrafted cocktails are delicious – showing wondrous creativity. There are craft beers and wines served by the glass or bottle.  And, you can enjoy many of these offerings during happy hour from 3 pm to 6 pm. I'm a sucker for a good margarita and loved the Unpredictable. It featured Corralejo Reposado tequila, Cointreau, wild berry puree, and lime. It was so refreshing and easy to sip. Another great drink is the English Mule made with Botanist Botanical Gin, cucumbers, lime, simple syrup, and topped with ginger beer – served in a traditional copper mule mug. Definitely a smart choice. For non-drinkers, check out the Elderflower Mocktail made with elderflower syrup, lime, club soda, sliced limes, and mint.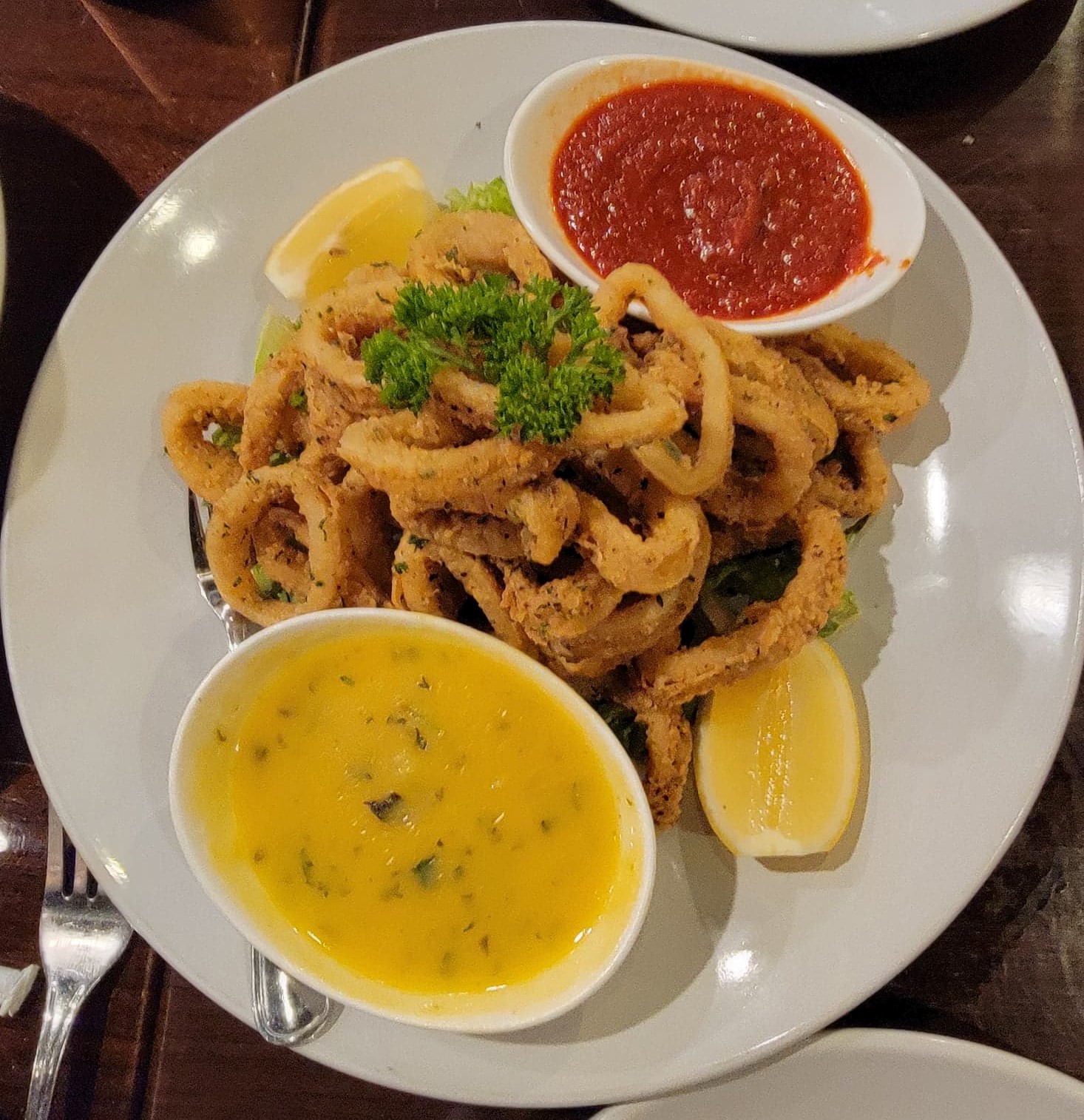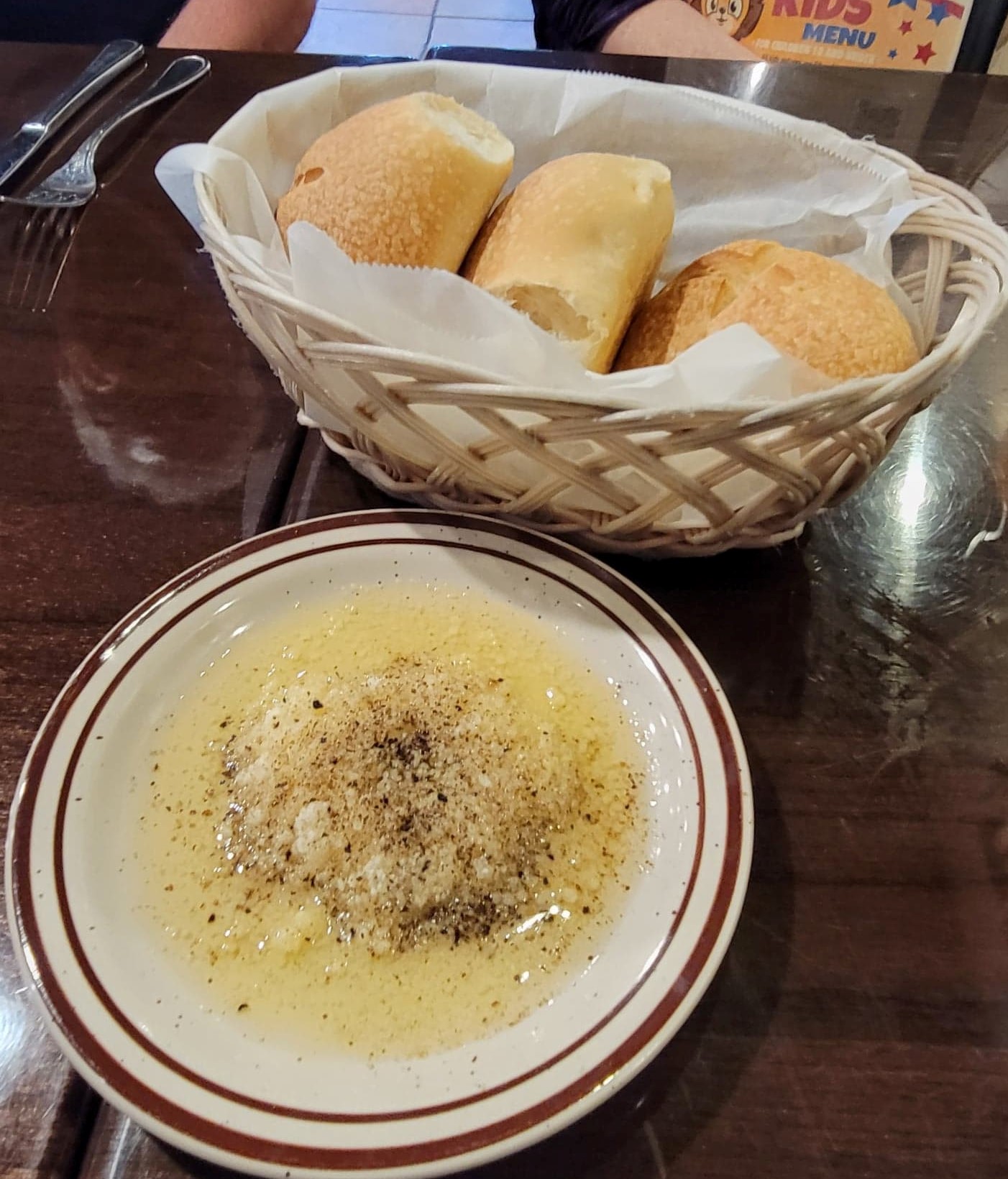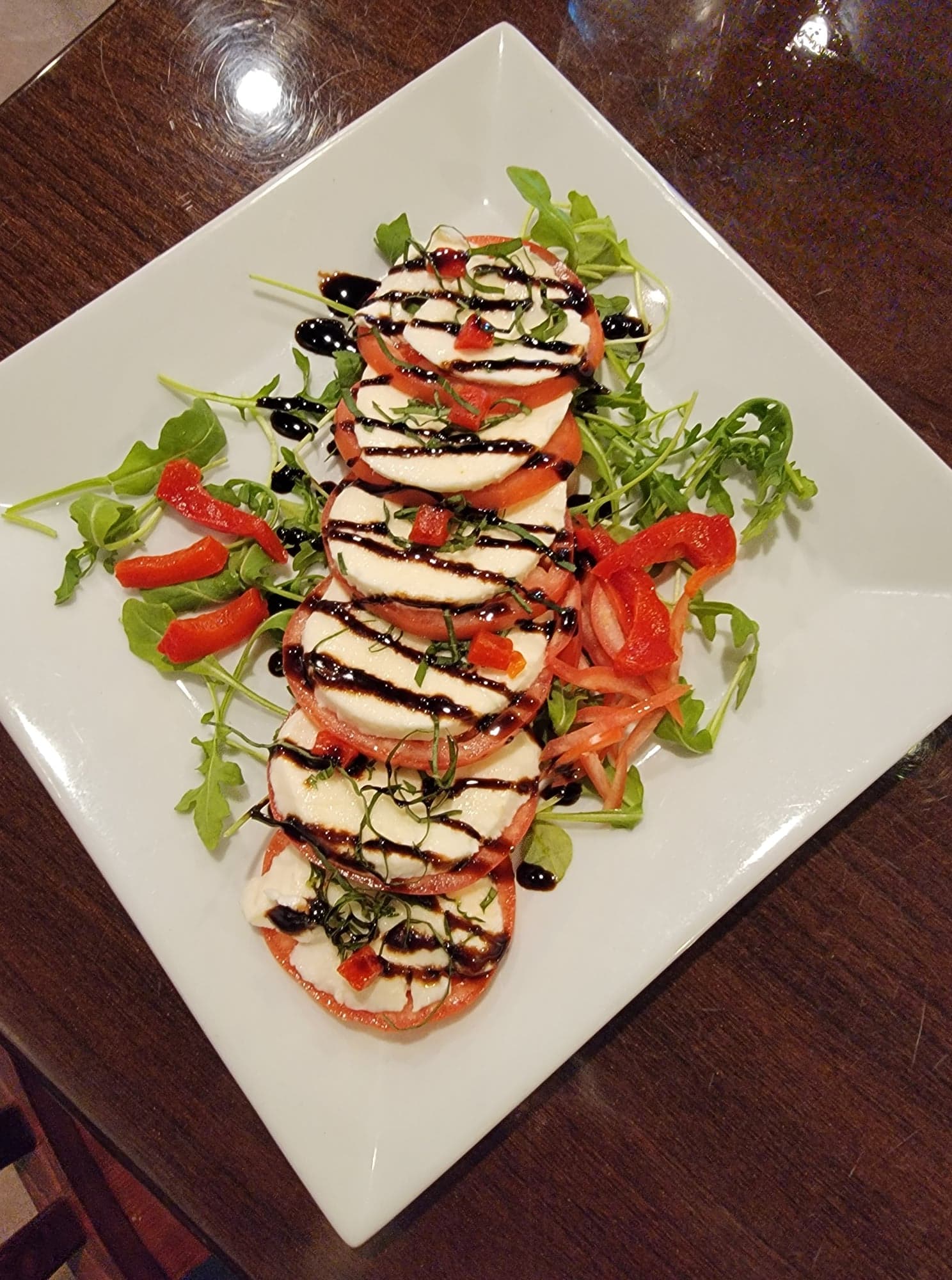 We started our dinner with antipasti including a plate of delicious calamari that had been marinated for tenderness, then seasoned, floured, and flash fried. They were served with both a classic marinara and a lemon sauce. They were spectacular, so much so that the sauce wasn't even needed. The plate went back to the kitchen empty. Also delicious was the bruschetta. The crunchy toasted pieces of garlicy home-baked rolls were topped with fresh diced tomatoes, more garlic, parmesan, and drizzled with extra virgin olive oil (EVOO). They were flavor bombs. The delightful antipasto of Mozzarella Caprese came with fresh sliced tomatoes were topped with fresh mozzarella and served over arugula. They tomatoes were drizzled with a balsamic glaze and garnished with roasted red peppers. I don't know where these tomatoes came from but they tasted so fresh. Always a good choice is the Charcuterie Tavola suitable for sharing. It is a groaning board of an assortment of cured meats, selected cheeses, and supplemented with olives, pepperoncini, and artichoke hearts.  We also shared a Caesar salad that checked all the boxes. The romaine lettuce was tossed with their homemade Caesar dressing and topped with croutons and shaved Pecorino. Delicious! Did I mention that the antipasti were accompanied with house made rolls and a dipping sauce of EVOO and grated Parmesan. Vegetarians will enjoy the Insalata Tre Colori made with arugula, radicchio, endive, fennel, and cremini mushrooms and topped with roasted walnuts and garnished with shaved Pecorino Romano cheese and a balsamic vinaigrette.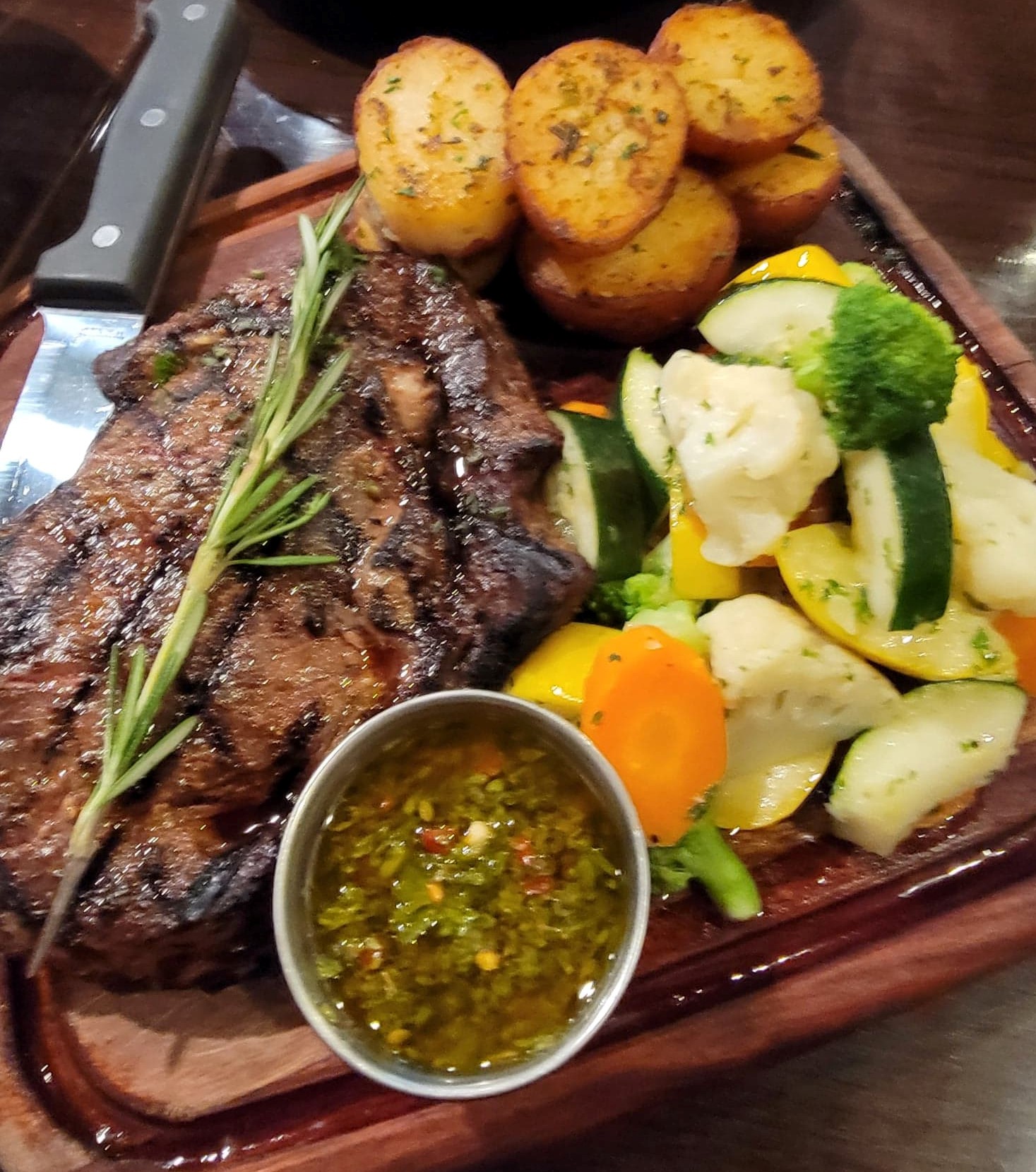 Let the dinner begin! Gonzalo's Argentinian roots comes into play. As a rule, you don't come to an Italian restaurant for steak but you must know that every rule has it's exception. All of us around the table agreed that the grilled Bistecca Alla Fiamma was one of the best steaks we had ever had. The 16-ounce hand-cut ribeye was grilled to a spectacular medium rare. I must say it was better than most steaks served at some steak houses. It was surrounded by roasted potatoes and a mix of fresh vegetables. The side of homemade chimichurri was the perfect accompaniment. The steak was crusty from the grill while as tender as could be. If you want to eat steak, check out this one! We were all very polite as we tried to share even though we didn't want to. I want to go back and have more of that steak and try some of the other grilled items like the Braciola Di Maiale Alla Brace, a hand-cut grilled Frenched pork shop topped with a mushroom burgundy sauce and served with garlic mashed potatoes and sauteed broccoli. I want to try the Rack of Lamb that calls to me as it is grilled to order with a cremini mushroom burgundy demi-glace and served with roasted garlic mashed potatoes and spinach sautéed with garlic and olive oil.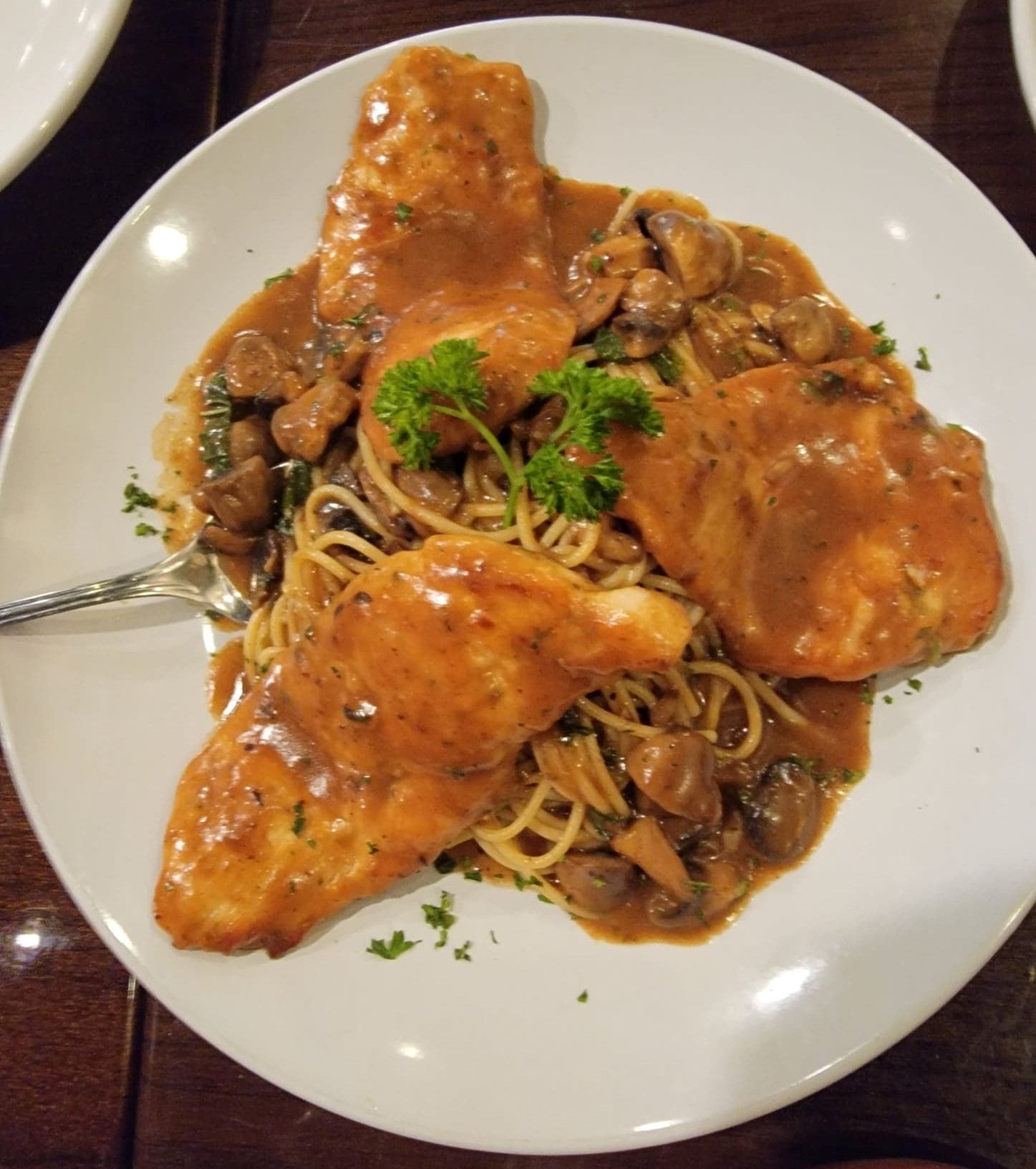 On the other hand, if I skipped the Chicken Marsala, I would have been very sorry. Anything made with Marsala is a winner in my book. The pan seared chicken was finished in a Marsala wine mushroom sauce served over pasta. The flavor of the sauce was intense, the chicken moist, and the pasta soaked up the sauce so not a drop was wasted. The same dish is available with veal if you prefer. Seafood lovers will enjoy the Pasta Pescattore. Linguine pasta was tossed with clams, mussels, shrimp, and scallops that were cooked in spices and herbs, then tossed with a garlic white wine sauce. OMG – I can't imagine a better way to eat this assortment of seafood. If you prefer, order it with a red sauce. Pescatarians will enjoy the Red Snapper Alla Piccata with a pan seared red snapper filet topped with capers and served in a white wine sauce over capellini tossed with fresh spinach, EVOO, and garlic. There's also Ravioli Di Aragosta, lobster-filled ravioli served in a cream sauce with asparagus and fresh diced tomatoes.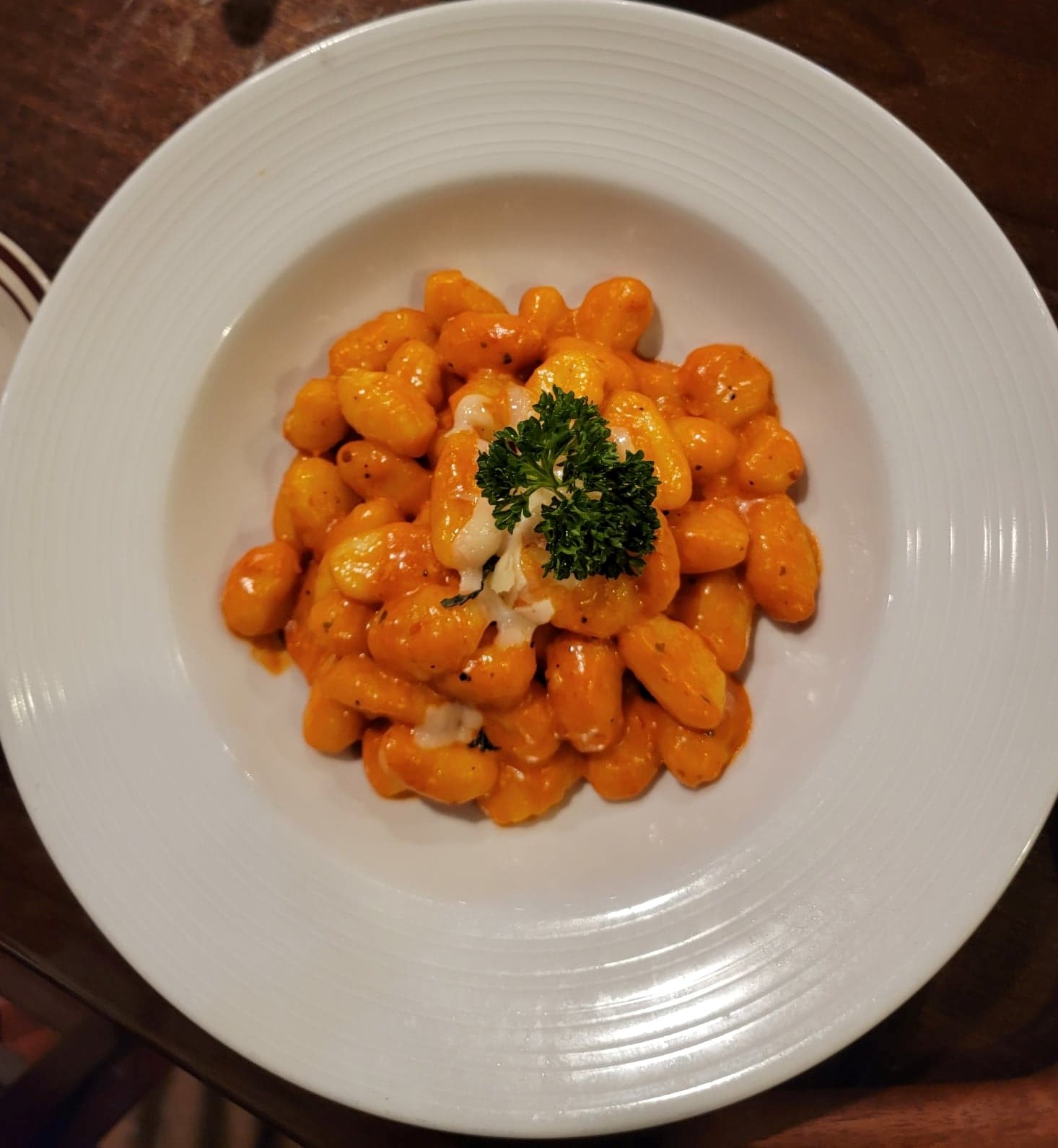 There is plenty of pasta to go around if you want it. We had the Gnocchi Alla Vodka – a dish filled with traditional Italian potato dumplings tossed in a creamy tomato vodka sauce. The very tender nuggets soaked up a perfect sauce. Just lovely.  Vegetarians will love the gemelli pasta tossed with broccoli, asparagus, spinach, and green peas in a light Alfredo sauce. It can be topped with chicken, sausage, chicken, shrimp, or salmon as desired. There is Pesto Genovese made with angel hair pasta served with homemade pesto sauce, Manicotti filled with ricotta cheese and topped with cream, tomato, or pink sauce. Pizza is prepared with fresh dough and sauces and topped with delicious toppings, then baked in a brick oven. We shared the Margherita pizza made on a house-made crust and topped with fresh mozzarella, hand crushed tomatoes, fresh basil, and drizzled with EVOO. It was fantastic. There are at least a dozen varieties to try. Gluten free crusts are also available.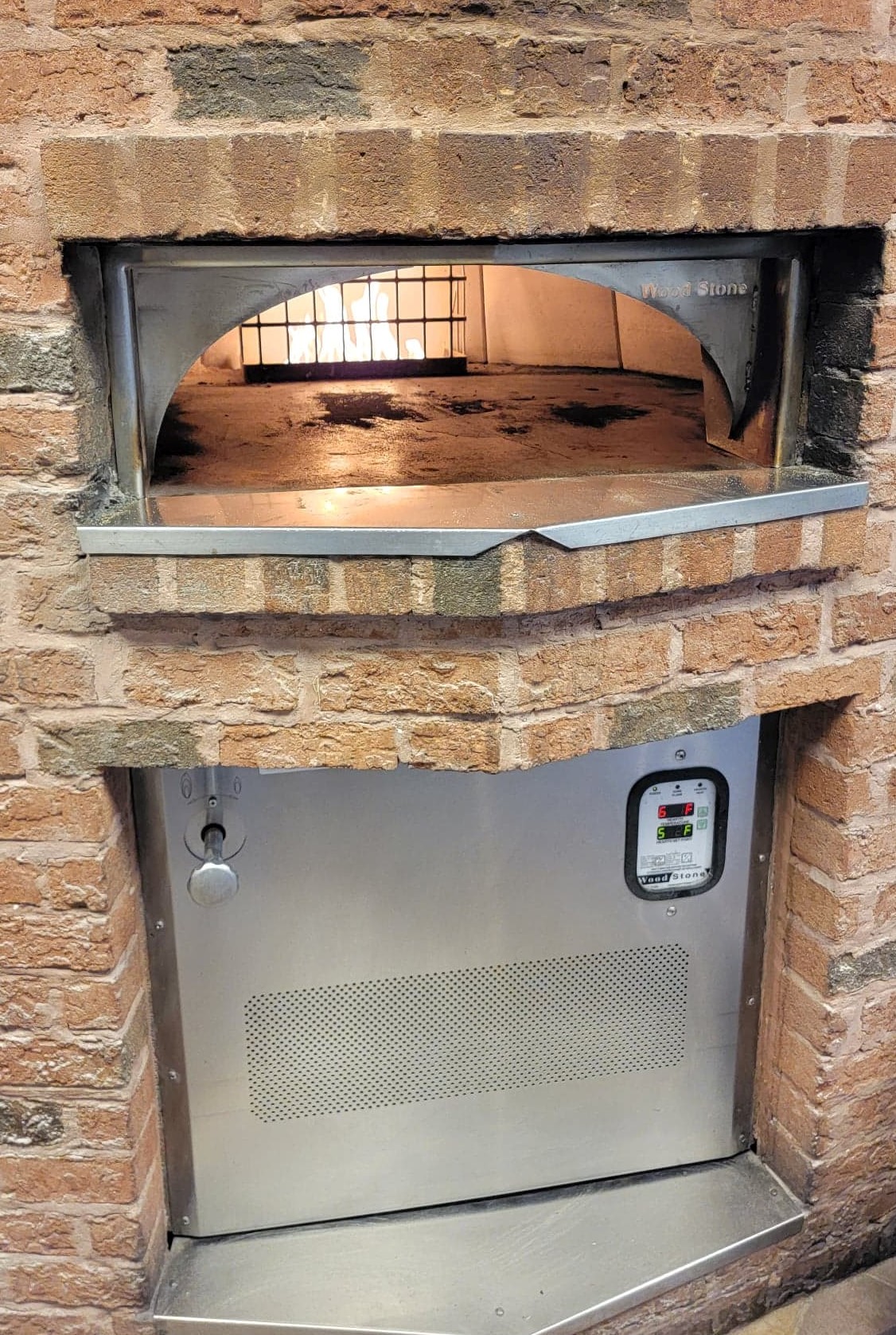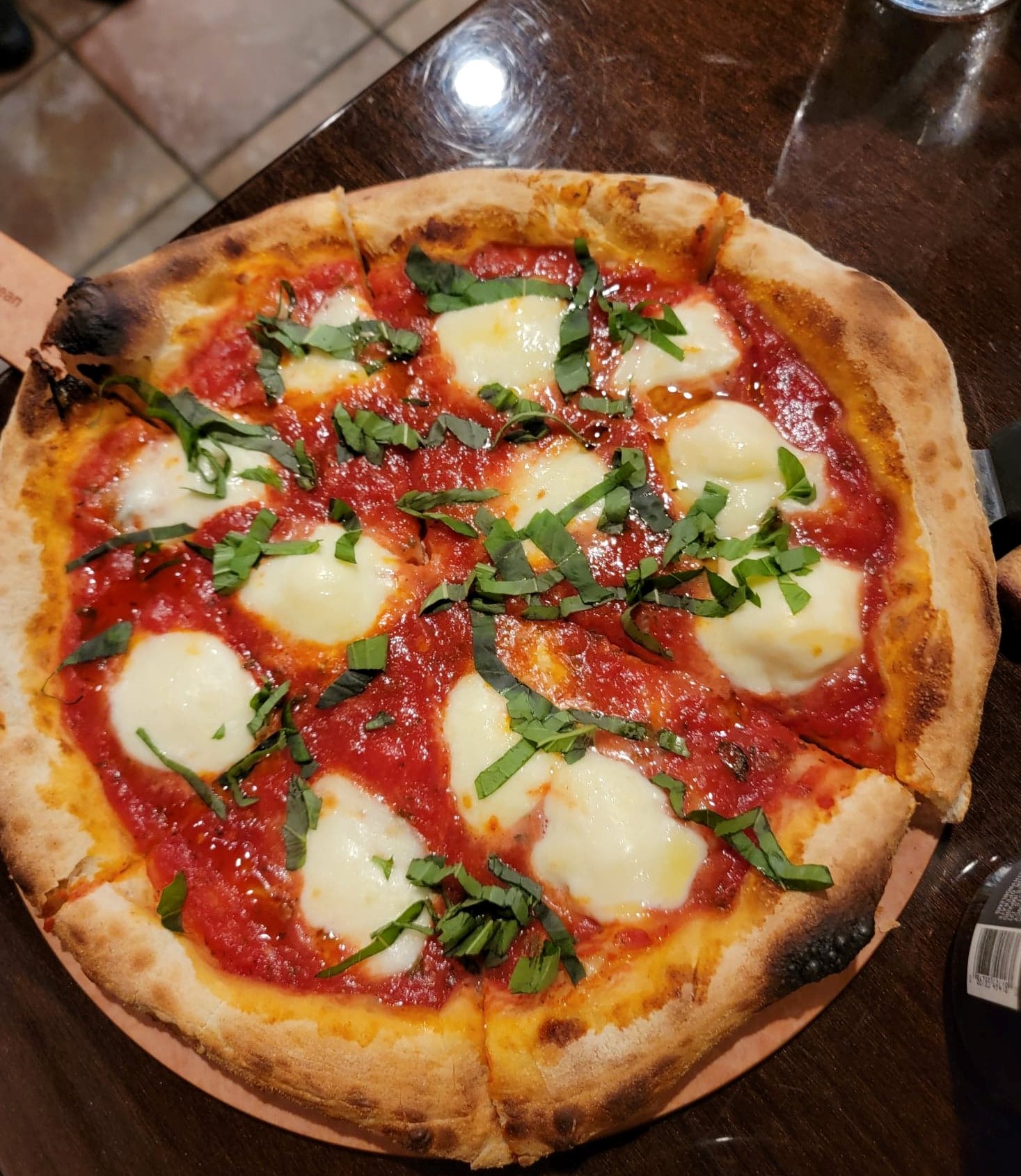 Dessert choices abound but your best bet is the Tiramisu. I've tried many versions, some over-soaked with espresso to the point of sogginess or coated with whipped cream. This is a tiramisu cloud. The slice is plated so beautifully, you may hesitate to eat it but don't. The lady fingers are soaked in espresso and layered with velvety mascarpone cream and dusted with cocoa powder.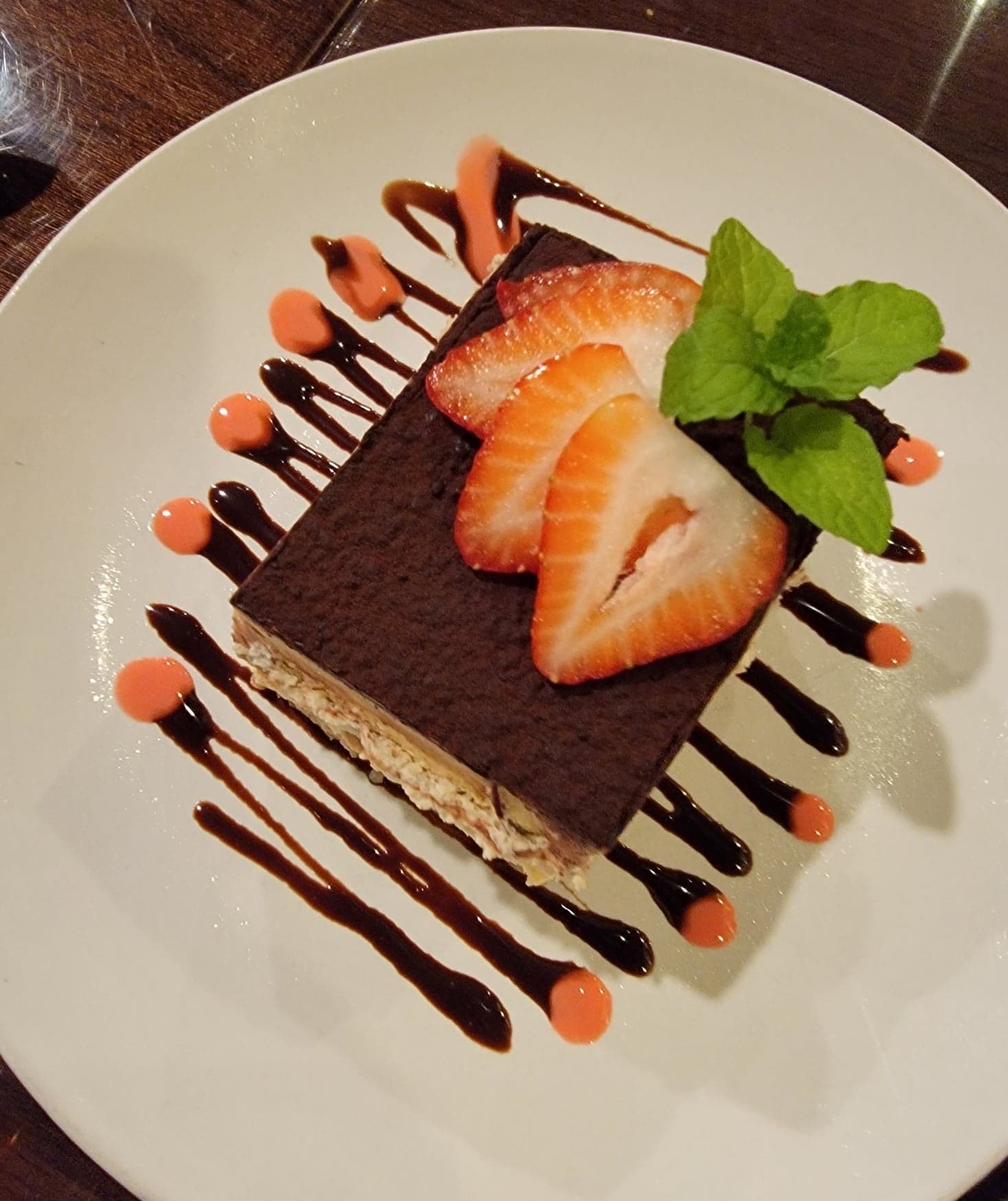 If you can't come from lunch or dinner, come for the Sunday brunch. The tables groan with an amazing assortment of dishes. Served from 10 am until 2:30 pm, it will be your own fault if you walk away hungry. Some of the highlights include a platter of house-smoked salmon, served with crème fraiche, capers, and chopped onions. So much better than what you find in those plastic packages at the grocery. Eggs Benedict are delicious. There is just enough of the hollandaise to tickle your tongue that enhances the perfectly cooked egg, ham, and English muffin. Did I mention the prime rib sliced perfectly, ready for a dollop of horseradish? There are a wide variety of pastas that are topped with a variety of sauces, meats, and seafood. Pick out your toppings and watch as your omelet is made to order. Or, get some freshly made waffles and French toast. You can go over to the pizza oven and get a piece of pizza. Desserts include an assortment of house-made cookies, meringues, and macaroons. There are a variety of cakes and a house-made flan that is amazing. As if there wasn't enough, there's ice cream and a huge platter of fresh fruit.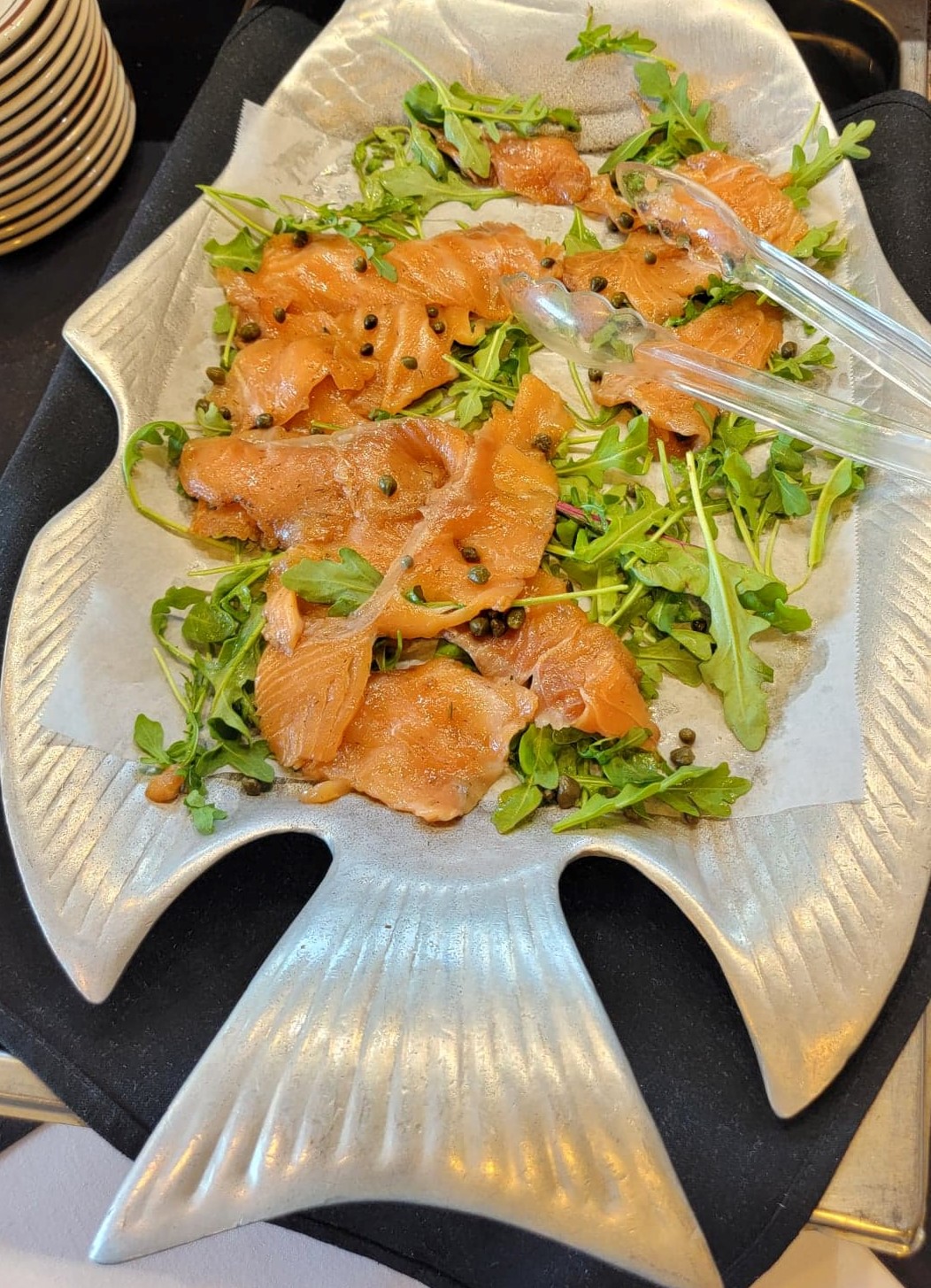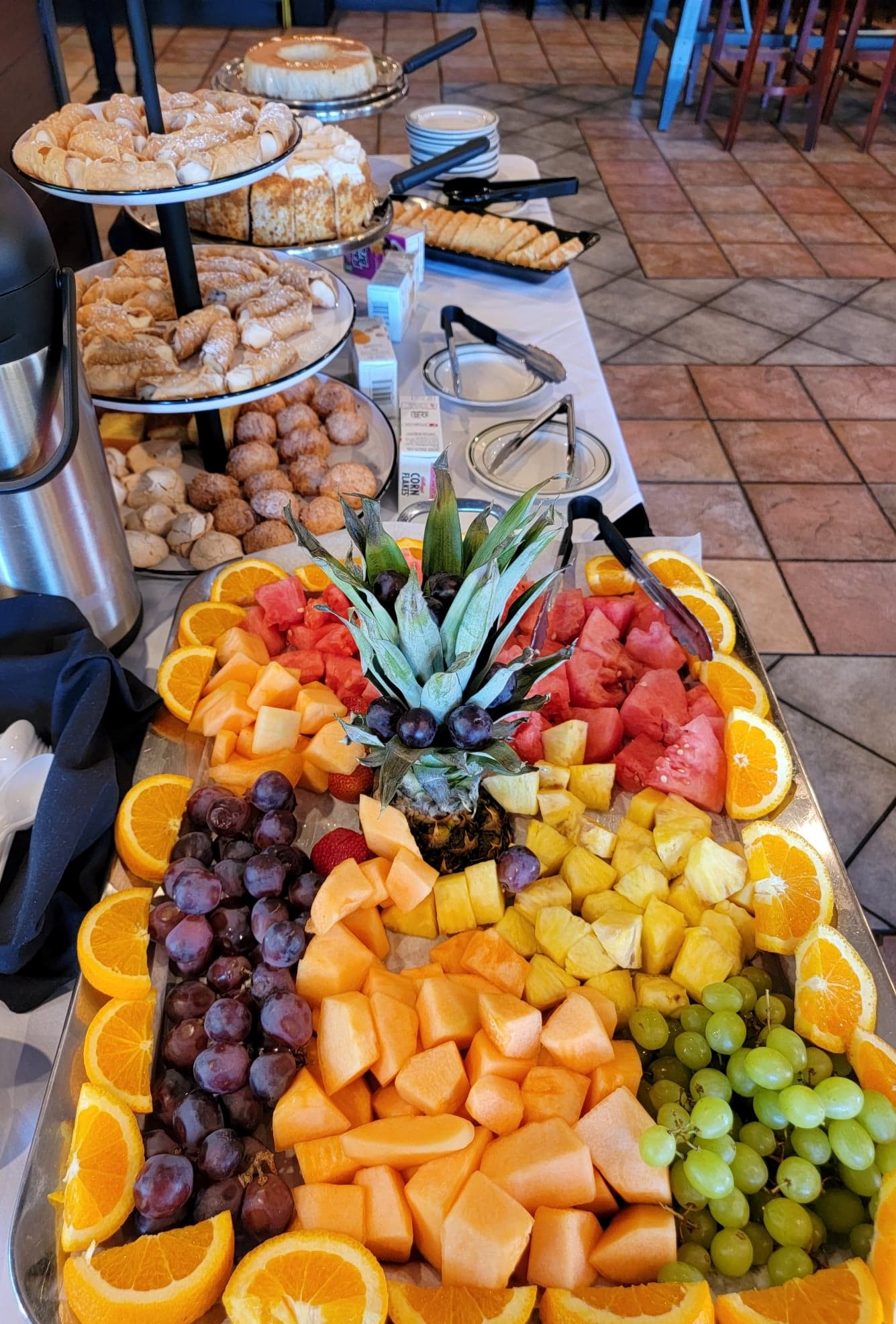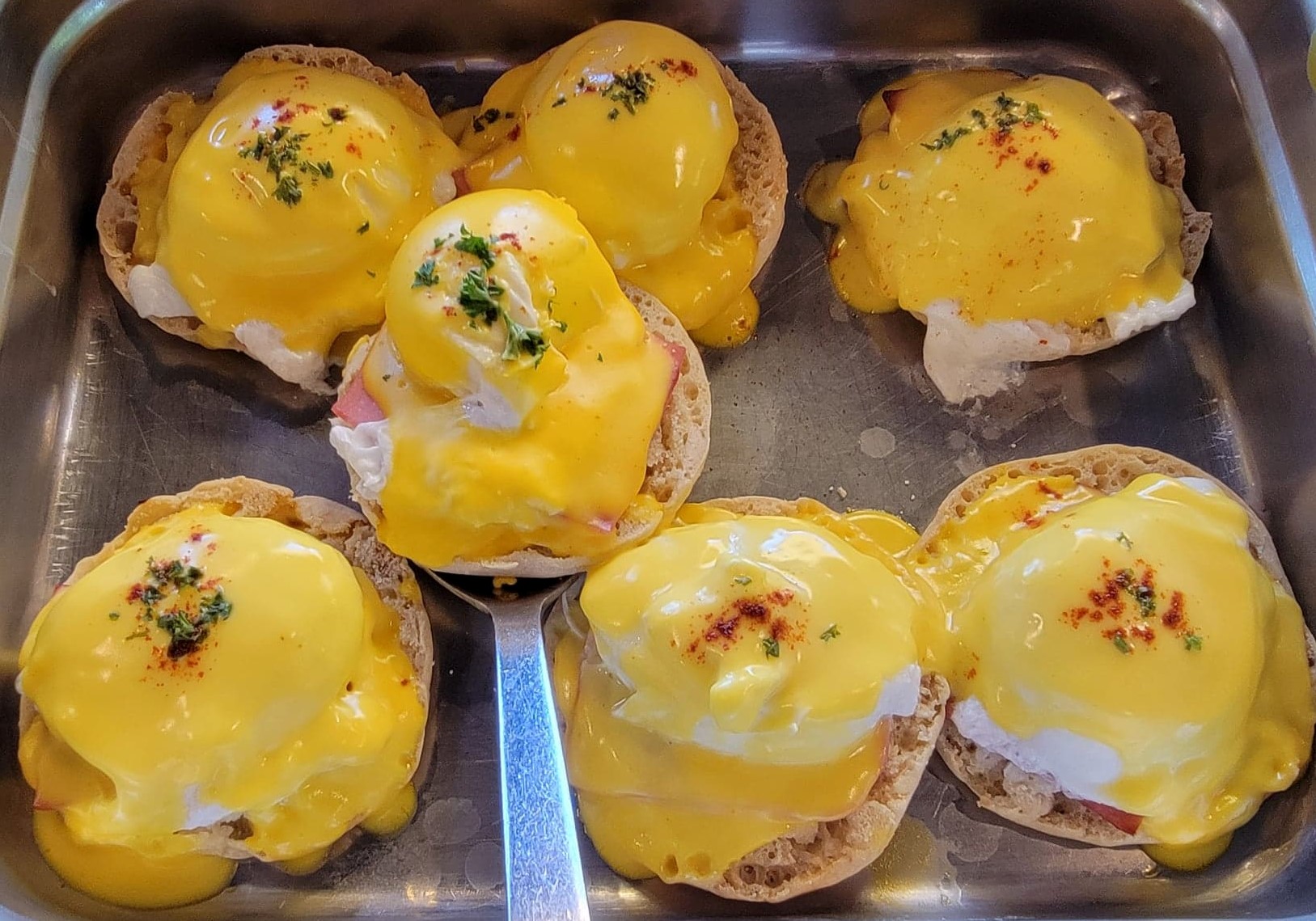 Melina and Gonzalo truly make La Fiamma live up to its motto: Eat, Drink, Enjoy!
Would you like to have your restaurant reviewed?  Contact [email protected]
ICYMI: Watch the Hustle Bustle of Old Town Alexandria from Mae's Market and Café