Eatz
Enjoy a Meal at Indochen, Now Open at the Hyatt Centric on King St.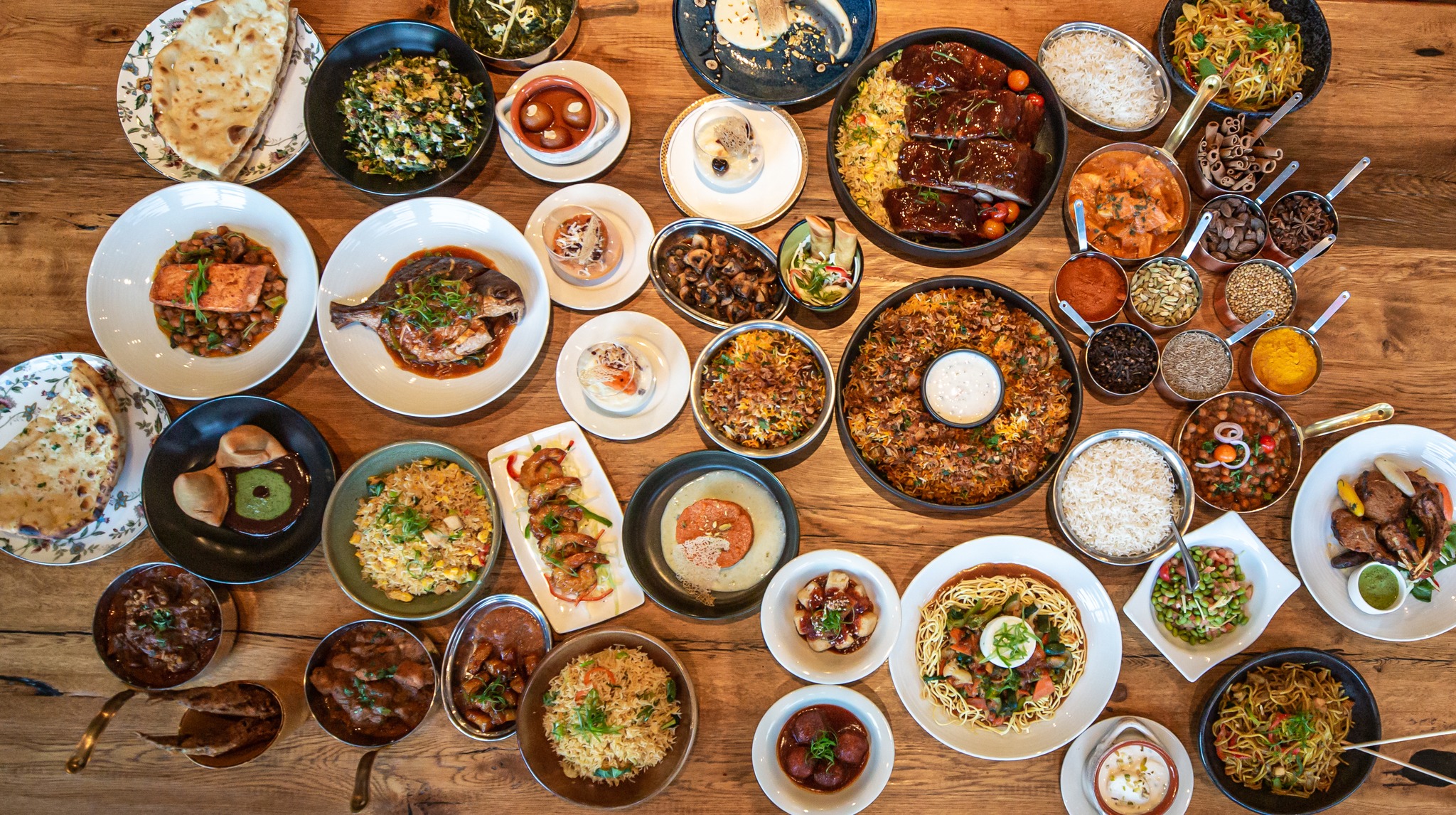 Alexandria, VA – Indochen is now fully operational for breakfast, lunch, and dinner at the Hyatt Centric, 1625 King St. The menu from Chef Ram Thapa features both traditional hotel menu items for breakfast, lunch, and dinner while also serving specialties of his experience in Indo-Chinese cooking.  Friends and partners, Ram Thapa, Kumar KC, Hari Lama, and Ashok Tamang took over London Curry House in 2018 and transitioned to Indochen in 2020, reflecting Chef Ram's first love in cooking- Indo-Chinese cuisine. And, his love shows in the dishes he is serving at both locations.
Many of your favorites from the Cameron Station location have made a successful transition to this new location. Chef Ram may have dialed down the heat but he has not dialed down the spices. The beauty of his cooking is his ability to bring the flavor forward in each dish. Items like rack of lamb and salmon benefit from his tandoori style seasoning and Indian spices.
Start your meal with a cocktail from the bar. The Aged Manhattan is a good choice for bourbon lovers. Made with 30 days barrel aged in American oak barrel whiskey, sweet vermouth, and bitters, the taste is smooth and mellow. Also check out their beer and wine menu. Try a Kingfisher, an Indian beer brewed by United Breweries Group, Bangalore.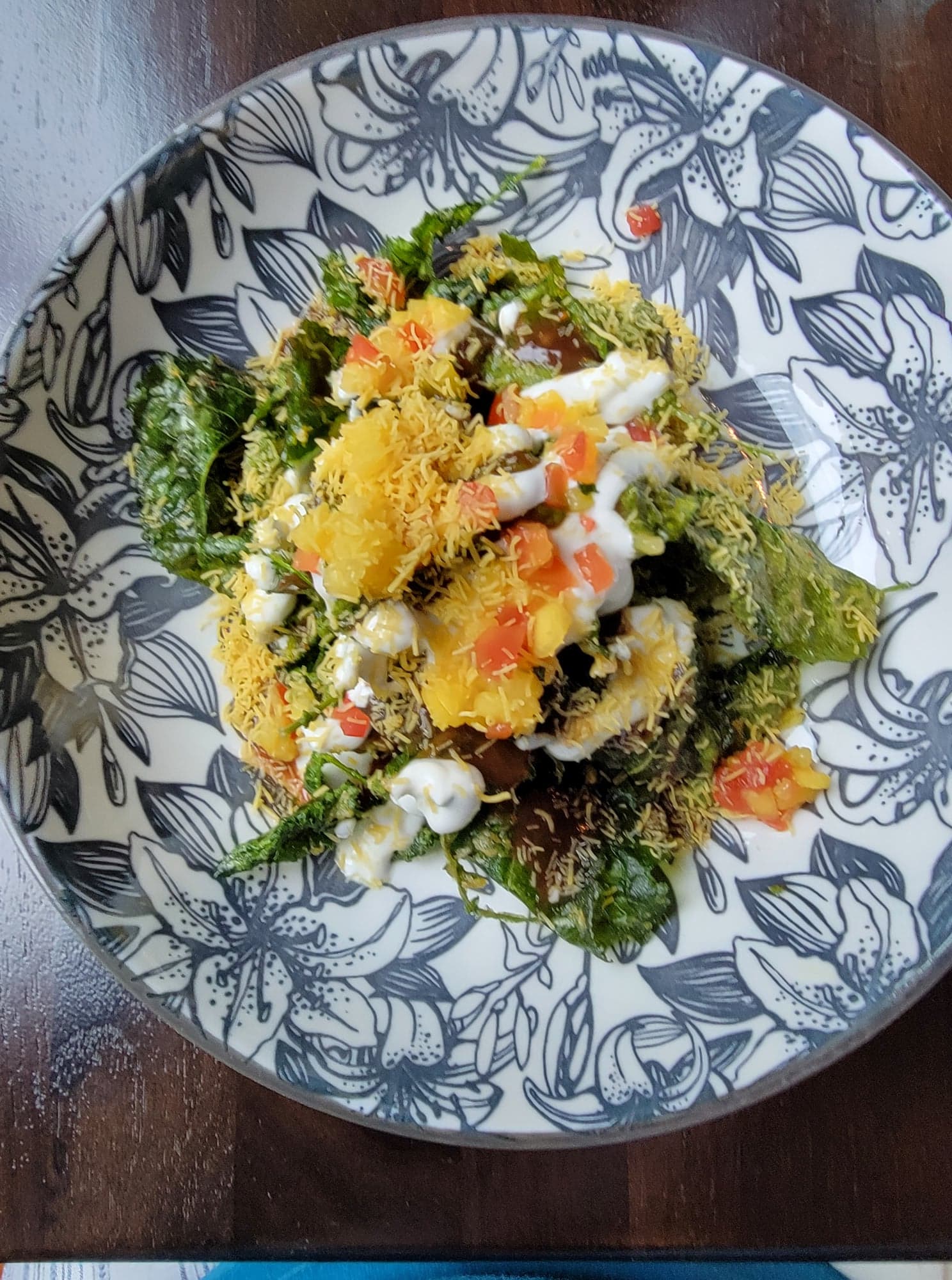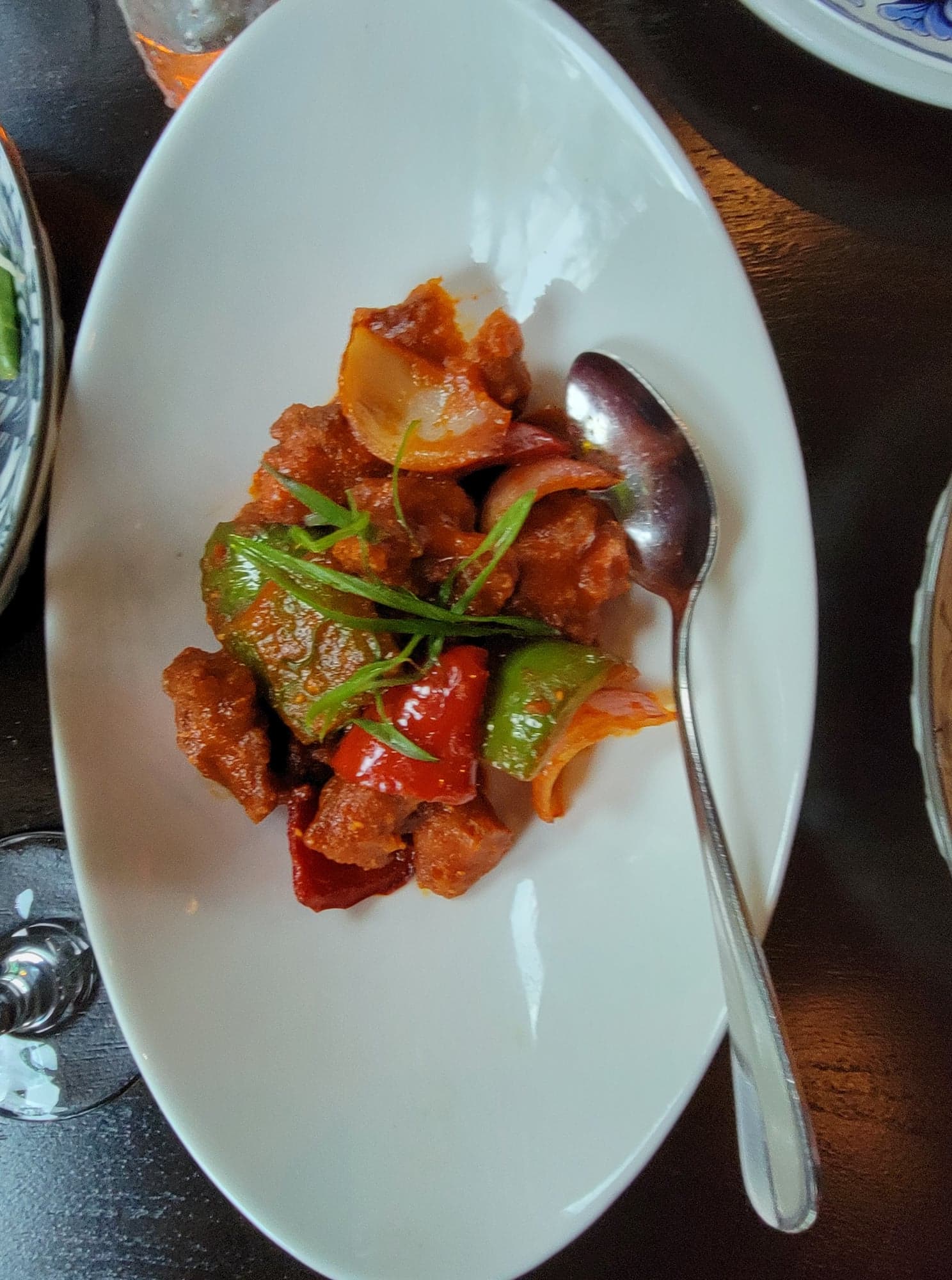 They say you eat with your eyes first and Chef Ram and his kitchen team do not disappoint. Each dish is a virtual work of art. Plates are so beautiful, you will want to drink in the picture before you take a bite. Appetizers and small plates abound. We tried the Crispy Baby Kale Chaat. Made with organic kale, mango, yogurt, mint, and tamarind sauce, it is a feast for the eyes and the tongue! Each bite is crispy, tart, sweet, herbaceous, and cooling. Absolutely a must try. Another great appetizer is the Chili Chicken. The chicken is crispy fried and tossed with bell peppers and a spicy chili sauce. What is wonderful is the interplay of the spices with the heat of the chilis and sweet taste of the chicken.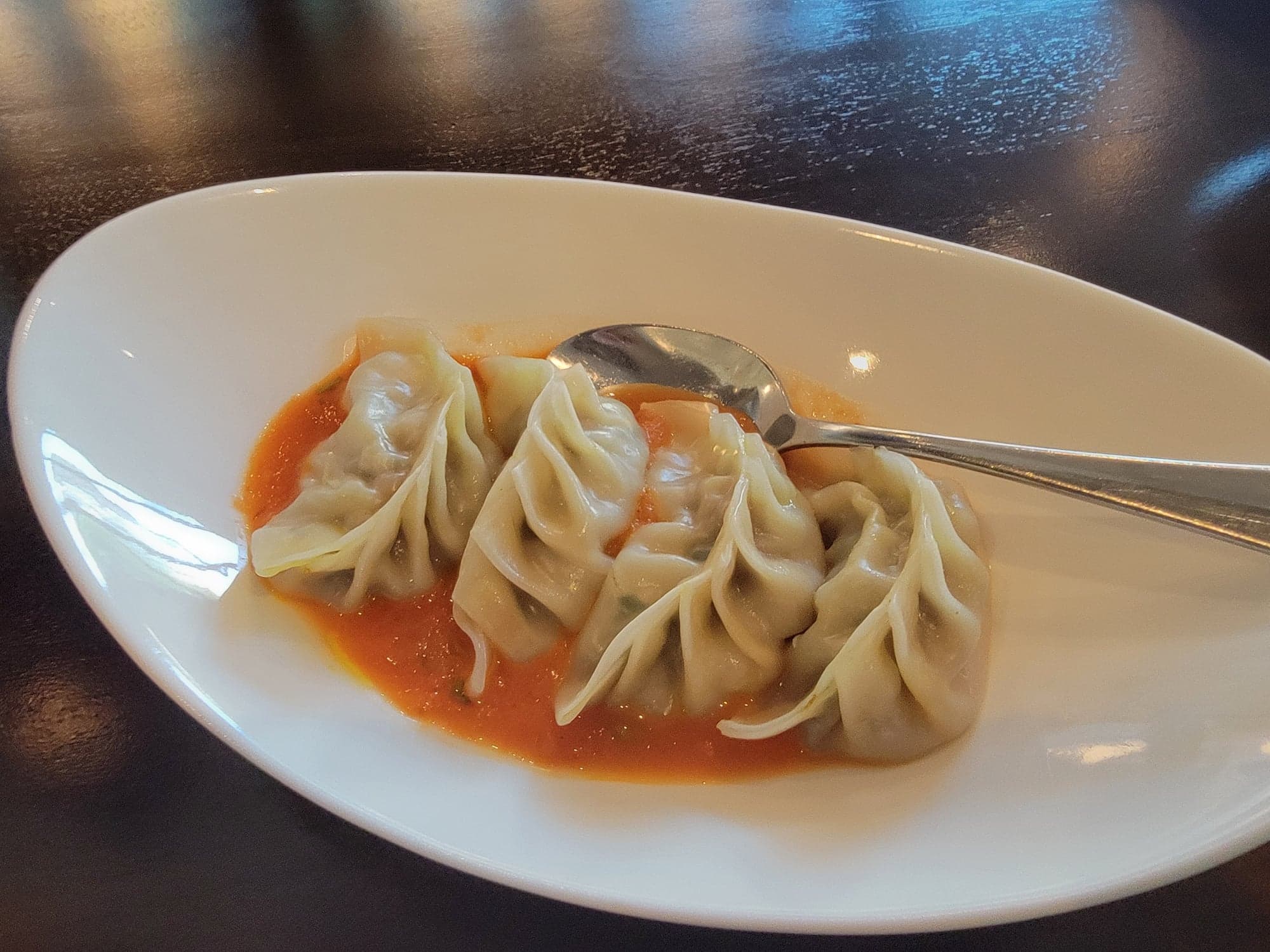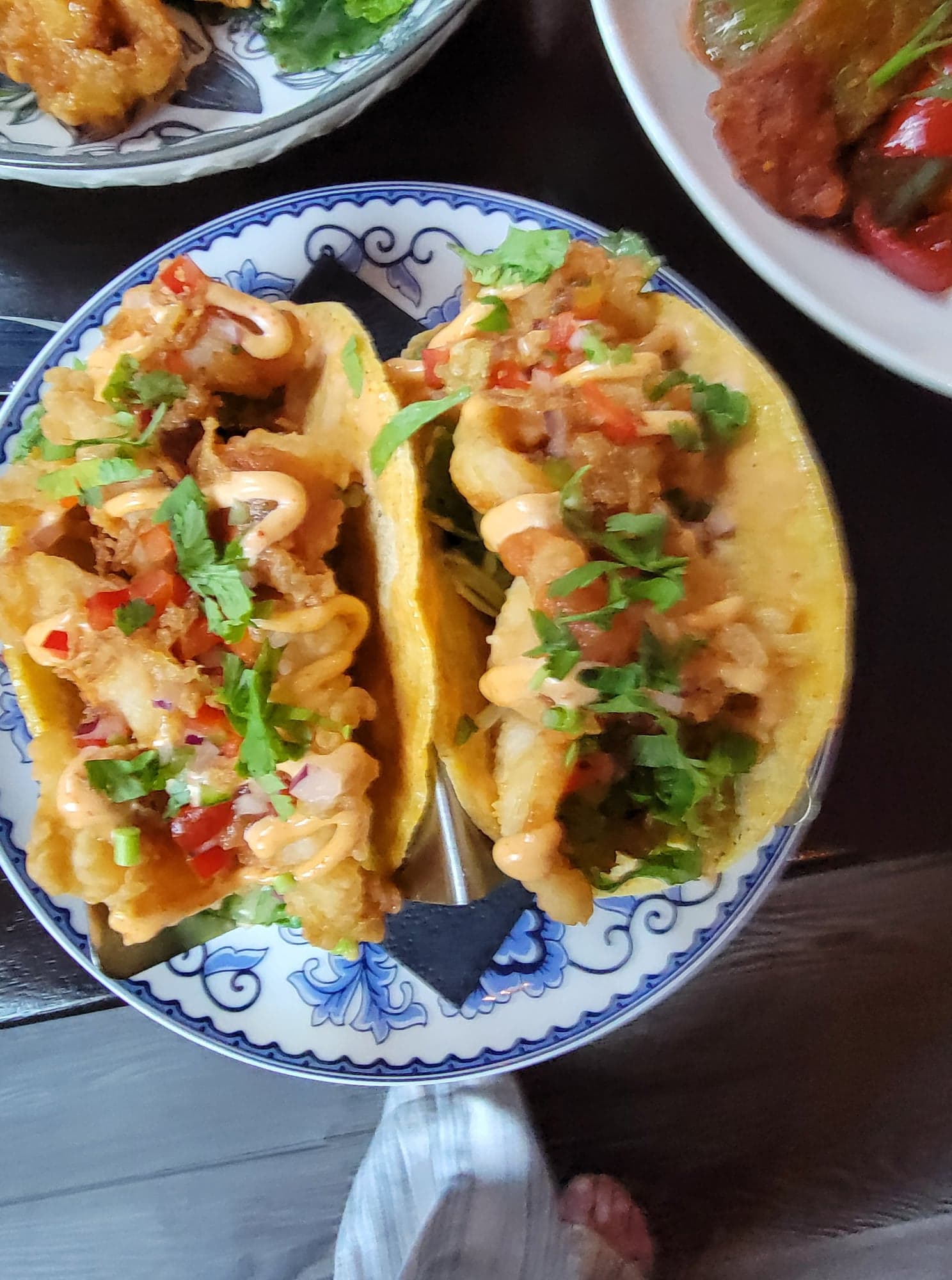 A favorite appetizer is the Dynamite Shrimp with crispy shrimp with an orange glaze. Again, Chef Ram displays his ability to bring a spice forward dish while not overwhelming your palate with heat. The dumplings, or momo, are available with chicken or lamb. Both contain spiced ground meat and are served with Indochen salsa. Yummy, if you love lamb, try these. You can make a meal on the Shrimp Tacos. Two crispy puffy shells are filled with crispy fried shrimp and topped with lettuce, mayo sauce, and house seasoning. Sharing may not be an option after your first bite.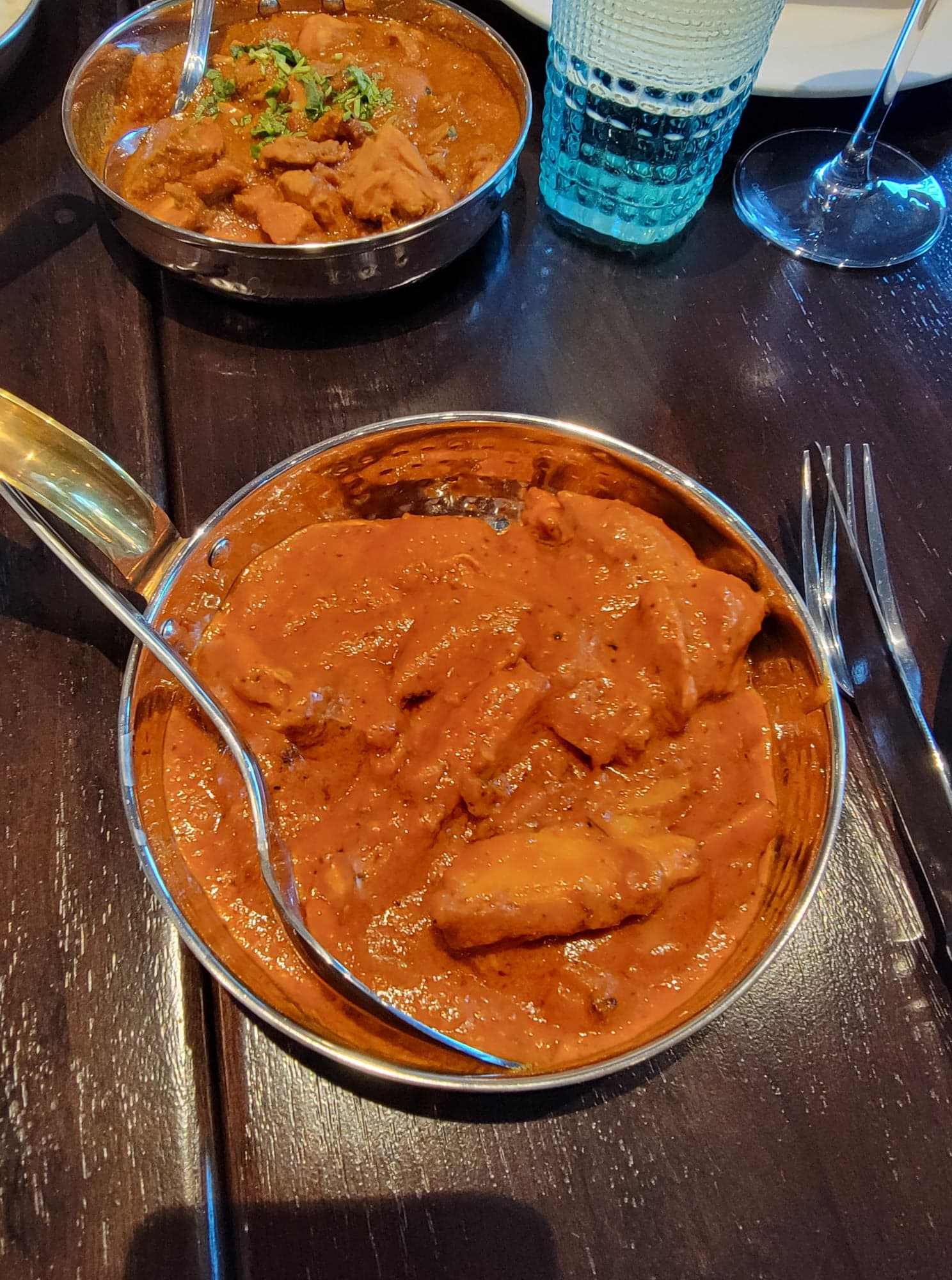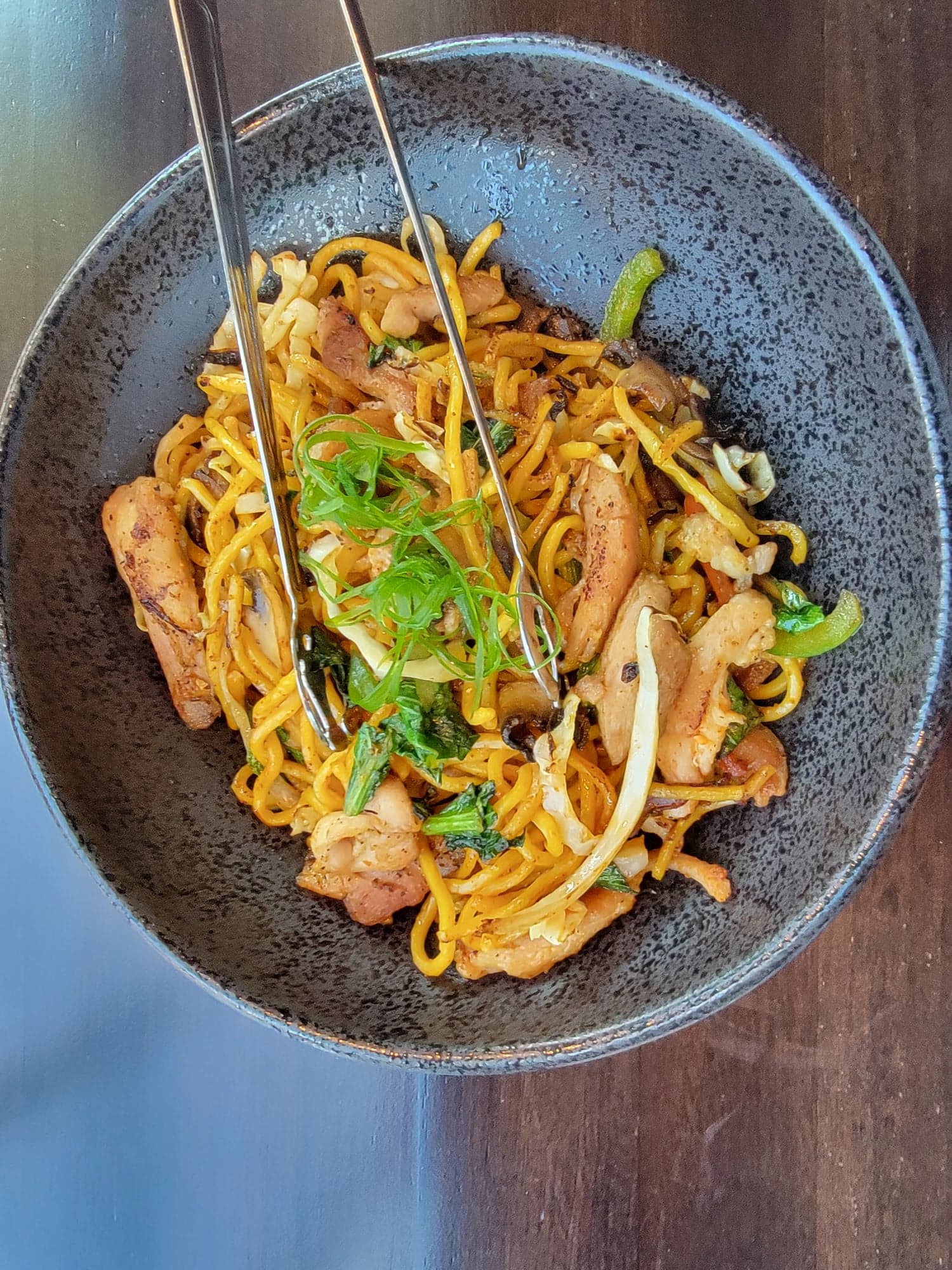 The Main Course menu provides so many choices but choose you must. The Butter Chicken is filled with pulled tandoori dark meat chicken in a creamy tomato and cashew sauce. This entrée will automatically top your comfort food list forever. The sauce is so nuanced. You are forced to sop up all of the sauce in the dish with your rice because you can't stop. A guest said that she would never be able to eat Butter Chicken again, unless it was at Indochen. The Chow Mein, available with a choice of veggie, chicken, or shrimp looks like your usual Chow Mein from the local carryout but that's where the similarity ends. The dish is filled with stir-fried fresh noodles, garlic, soy sauce, and a dash of Indian spices. The noodles are tender, the veggies are soft yet crisp, and the flavor will taunt your taste buds with a subtle heat.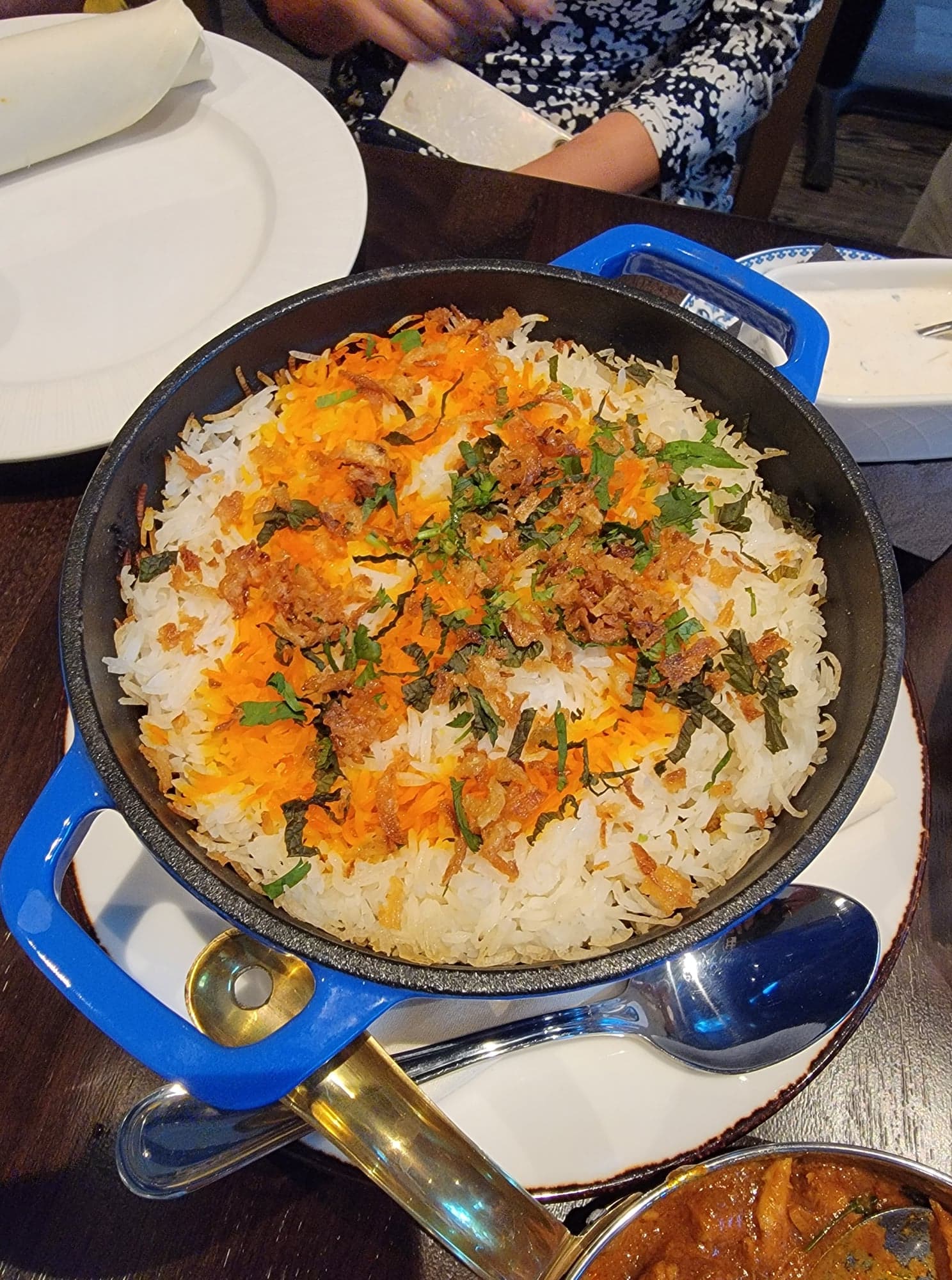 A dish you will not want to share is the Chef Special, Rack of Lamb. Order the chops medium to medium rare. These blushing pink chops are marinated in a tandoori spice rub with ginger and garlic, and served with a small salad. If you like lamb, you will love these. They are beyond description. Lamb lovers can also choose the Lamb Roggan Josh made with braised lamb, caramelized onion yogurt, and blessed with Indian warm spices. The rice is there to sop up all of that delicious sauce. A special made for two is the Chicken or Lamb Biryani. The dish is served in a casserole dish that is filled with aromatic basmati rice, yogurt, and biryani spices. Dig deep into the dish to reach the meat. The dish has both spice and heat, be sure to enjoy the cooling yogurt raita on the side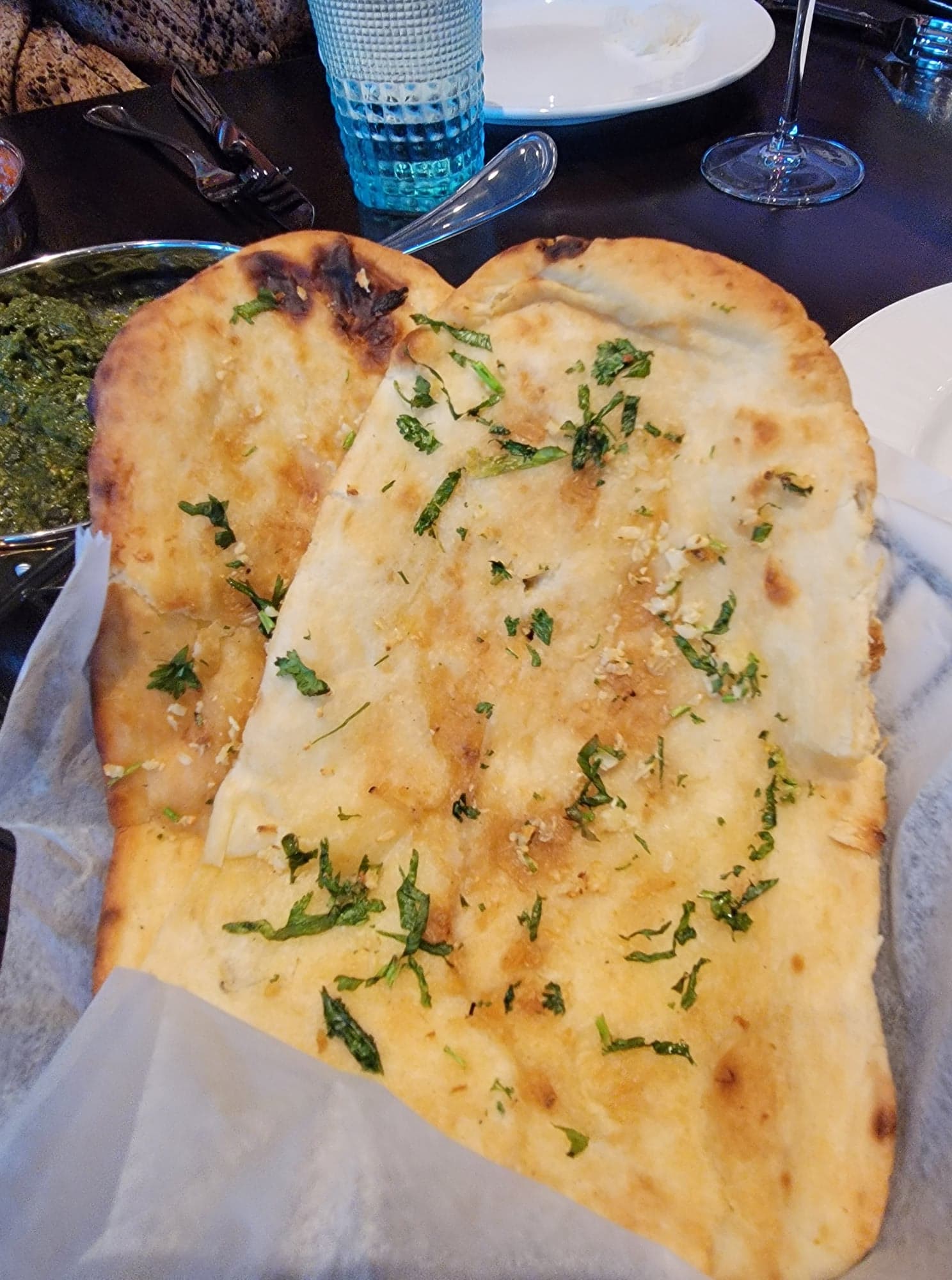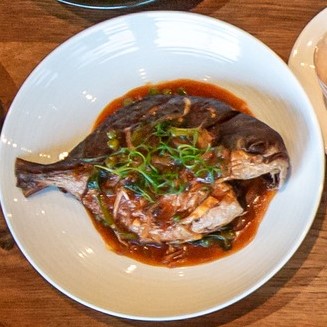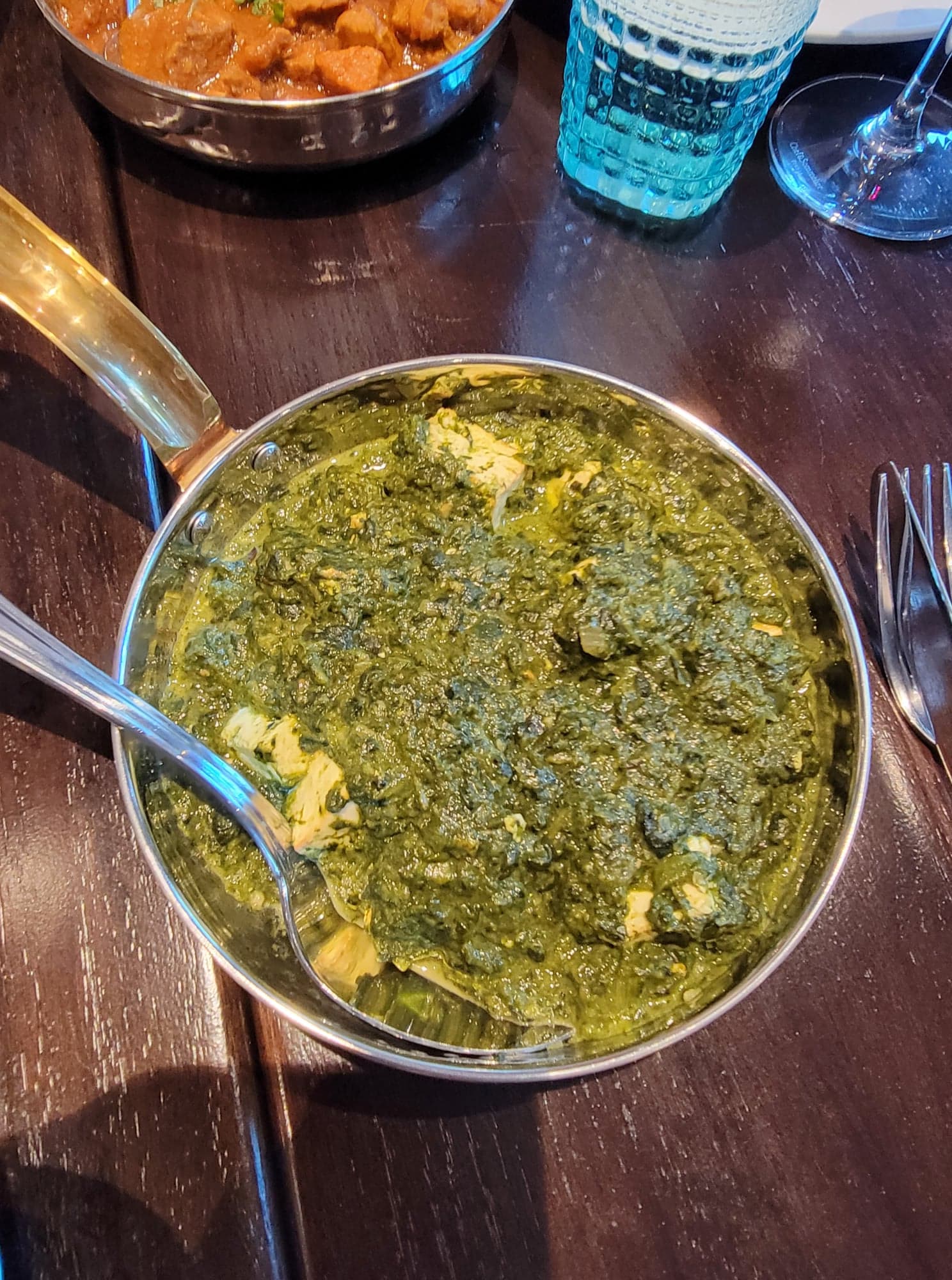 Fish lovers have many choices too. The Fish Mandarin features a pan-fried whole pompano in a vegetable Mandarin sauce. The fish is both crispy and tender. The sauce compliments the sweet white Atlantic fish. A side of the garlic naan is a great side for the fish. Salmon is available several ways. The Chef Special salmon is fubbed with houses spices and served with chickpeas and mushrooms. The Salmon Tikka Masala cooked in the tandoor is served with a creamy onion tomato sauce. Simple and enjoyable. Vegetarians can be comfortable with their many choices on the menu. The Stir Fry Vegetable offers a variety of fresh veggies stir-fried with soy, garlic, and chili. The Chow Mein has a choice of veggie (or shrimp for pescatarians). The Fried Rice is made with basmati rice and stir-fried fresh veggies (or shrimp for pescatarians with Indian spices. Other dishes include the Chickpea Curry with braised white chickpeas in a tangy tomato sauce. The Palak Paneer is made with spinach, house-made Indian cottage cheese, and tempered with cumin and garlic. Again, Chef Ram shows off his knack for adding the right amount of spice balanced with heat. By the way, the kitchen is very happy to turn dishes into Vegan friendly options when asked.
Desserts were still a work in progress when we dined there. One offering is the Gulab Jamun, an Indian dessert of fried dough balls soaked in a sweet, sticky sugar syrup lightly flavored with rose. Topped with an amazing house-made yogurt, the dessert is both sweet and slightly tart. Ask the kitchen if they have any fresh fruit. If so, ask for a bowl of fruit topped with that yogurt. It is spectacular (and this from someone who is not in love with yogurt).
Indochen at the Hyatt Centric is open for breakfast 7 am to 10 am, lunch 12 noon to 2:30 pm (Tuesday to Sunday), and dinner 5 pm to 9 pm (Tuesday to Sunday). The bar is opened from 3 pm until 9 pm. You cannot go wrong with anything on the menu. Each dish from the kitchen reflects the love of cooking of Indochina – the tastes you'll want to experience again and again.
Would you like your restaurant reviewed? Contact [email protected]