Z-Oneology
Last Call: The Canneys Welcome the New Owners of Sunset Hills and 50 West
By Kelly MacConomy
On a sultry summer Sunday in June, Z~Oenology, along with longtime Sunset Hills Estate Club members Kathy and Craig Stuart (who have been to over 200 Virginia wineries) and vineyard owner Mike Canney, were wagging the chin in the pavilion of the historic Wenner farm-winery property. Mike called me aside to give me a scoop.
What journalist can resist the prospect of a big-news heads up? But the possibility of a super-secret in the winery biz was all the more elusive. I like to guess. So my first thought was he sold the winery. 50 West, Sunset Hills' sister winery in Middleburg, had been on the market for awhile. Nope.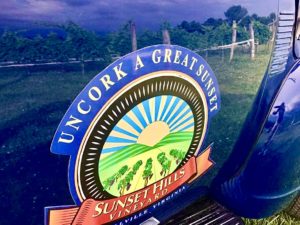 Mike, who used to race, owned ten cars, a 1953 Chevy 3100 truck and a 1940 Model A John Deere tractor so the odds were good he had added to the collection. That wasn't exactly news – at least not for a wine column. So my second guess was that he bought another winery. He had been keeping an eye open for a new property to develop. No, not a new winery.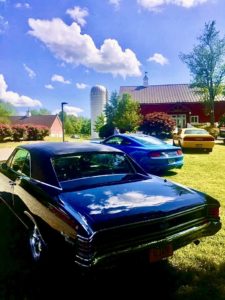 Three times is the charm! Sunset Hills Vineyard had been voted Best Winery 2022 in Loudoun by readers of the Loudoun Times for the third year in a row. Given there are 50 and counting wonderful wineries and tasting rooms in Loudoun County, this three-peat was no small feat.
Interviewing Mike about the latest Canney coup (50 West had made the 2022 Governor's Case for their 2019 Ashby Gap red blend), I asked him if he ever thought about selling the whole shebang and sailing around the world – or some such pastime that thirty-plus years of hard work and kickstarting 13 businesses earns you. Mike replied that he enjoyed the farming aspect of vineyard ownership. But that at this point he wanted to own the winery, not work it seven days a week year round.
Little did I know as we chatted about how to celebrate Sunset's hat trick that a deal was pending in the pipeline to sell not only 50 West but Sunset Hills Vineyard and all affiliated properties as well. I was sworn to secrecy about the Best Loudoun Winery trifecta until the winners were officially announced to the public. Mike kept silent regarding the wineries deal by a non-disclosure agreement attached to the sale negotiations.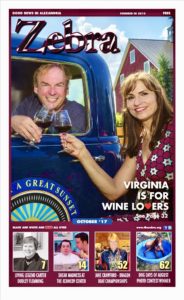 We parted company when Mike had to get back to business. The next day I got a text from Diane and Mike telling me they had sold both 50 West and Sunset Hills Vineyards. After the shock subsided a smidge, curiosity set in. The following weekend I was introduced to the disarmingly charming and graciously unassuming new owners Katie and Chris Key.
Chris grew up in Sterling. Katie is from Modesto, California. The couple met at a wine-tasting event in Mendocino. Being both enthusiastic oenophiles, wineries were a definite destination east and west. Once in 2009 while visiting the DMV, Chris took Katie to Sunset Hills for their first Virginia winery date.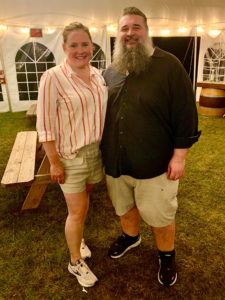 The Keys were impressed with the caliber of the wine, revisiting Sunset Hills often with friends and family upon relocating in Virginia permanently in 2012. Much in the manner by which Mike and Diane got into the wine-making game, upon the sale of their tech company Katie and Chris began to look at properties suitable to start their own vineyard and winery.
Building a winery brand and planting a vineyard from the ground up takes years. Z~Oenology planted a block of Viognier grapes several years back whose fruit is only now bottled as wine. (Do try the 2020 Sunset Viognier. It's quite quaffable!) Katie and Chris looked in Fauquier and Rappahannock but hoped to stay closer to their homes in Great Falls and Bluemont. They didn't want to wait five or six years to build, seeking  vines that would yield fruit ready for the press.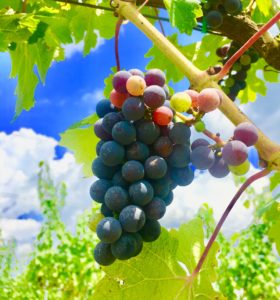 Sunset Hills appealed to the Keys on numerous levels, both sentimental and pragmatic. Mike explains that sustainably and paying it forward, growing grapes for the greater good, were paramount to the establishment of both wineries. Sunset Hills is solar powered, making wine from water kissed by sunlight, vine to wine. The rooftop solar panels create almost 75 percent of their electrical power demand. And both SHV and 50 West have two car-charging stations apiece.
The Canney's progressive environmental proactivity were tipping points for Katie and Chris. As Mike notes, "Loudoun County especially, but the greater Washington, DC area included, is populated by well-educated residents who appreciate our endeavors re: sustainable growing practices and lowering the carbon footprint of wine-production. Wine has been made for thousands of years but the industry is only now catching up to the effect of climate change, advocating for minimizing environmental impact – from vineyard management and making the wine to bottling and distribution.
Canney continues, "Agritourism has become big business. People like to see the fruit growing from bud break to harvest. They want to be a part of the experience, to meet the people who grow the grapes and blend the wine. Our Winemaker for a Day events were always a sellout. And our award-winning winemakers have all gone on to start their own winery or lead the wine production at some of the most prestigious vineyards in Virginia. We're all about authenticity and take exceptional pride in our estate-grown vintages."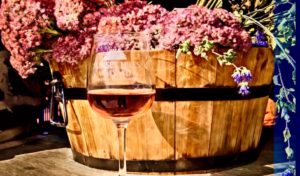 The 50 West property listing came with a contingency that wine production remain dependent upon Sunset Hills for three years to deplete the stored inventory. Wanting to hit the ground running, Katie and Chris made Diane and Mike an offer that they couldn't refuse for all their Virginia properties and both farm-winery businesses.
Throughout the month of July the Keys hosted wine-club soirées for members to be introduced to "the new Diane and Mike" as they initially were affectionately called. With five wine clubs and over 2,000 members, Katie and Chris had a lot of hands to shake and names to remember.
At the Estate Club (the original and oldest SHV wine club) event Diane and Mike introduced Katie and Chris as the perfect partners to carry on the legacy begun by the Canneys over twenty years ago when they planted their first grapevines in 1999 and painstakingly restored the 1800's Amish-built-and-renovated barn that houses the SHV tasting room. Chris and Katie both are extremely business savvy, with Katie complementing the power couple's management chops per her public relations expertise. They plan to enhance production, elevate the winery experience, and build the brand bigger and better than ever.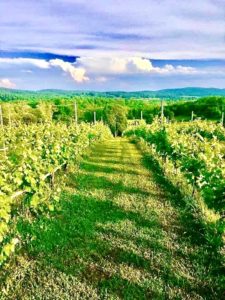 The Keys are ready to roll out the bottled 2021 vintages crafted by winemaker and vineyard manager Jason Burrus and poured by the SHV and 50 West crew along with the veteran leadership of Wine Ambassadors David Parker (Sommelier certified) and Audrey Siler (WSET certified), Tasting Room Manager Aubry Fisher, and Wine Clubs Manager Kevin Donley.  Let's raise a glass of Rosé (Sunset Hills or 50 West) to the Canneys and the Keys. Congratulations to all. And…. Cheers!
Z~Oenology note: Stay tuned for the latest red-blend label from Sunset Hills called The Elegant Lady, the vino finale of the Canney winery dynasty era. Ooops! Was that supposed to have been a secret?
Breaking News: Since this article was published, Sunset Hills Vineyard tasting room manager Aubry Fisher has been named director of operations for Sunset Hills and 50 West Vineyards. "We are going to build something amazing, y'all! Join us for the ride."