Press Release
Del Ray Vintage & Flea Market Named Best in Virginia
Market collaborates with AWLA for pet adoption this Saturday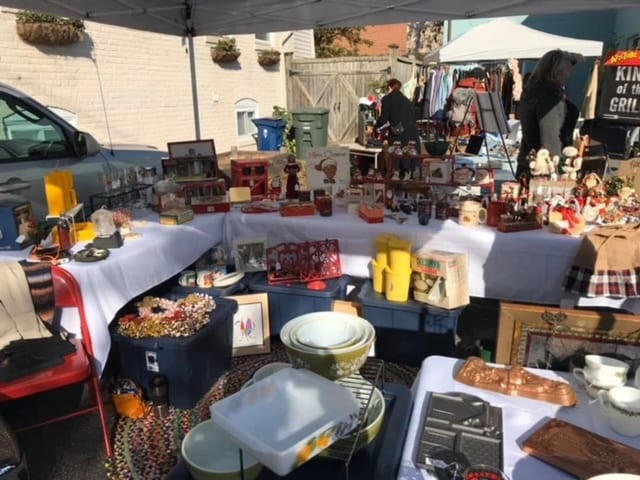 ALEXANDRIA, VA -The Del Ray Vintage & Flea Market has been named Best Flea Market in Virginia by Domino magazine in their Summer 2022 issue ("From Flea to Shining Flea"). Cited for its inventory of "groovy '60s scores – flower-power wall art and macramé plant hangers," the Del Ray market was chosen along with 49 other state-best markets as well as the District of Columbia. Domino magazine is the 'ultimate guide for a stylish life and home,' according to its website. The American home magazine has been a quarterly print and digital publication since 2005.
This weekend, the flea market is also welcoming the Animal Welfare League of Alexandria's "WAGGIN' WHEELS" mobile adoption unit. On Saturday, August 13, visitors will be able to meet and greet adoptable pets looking for their forever homes. AWLA will bring dogs and cats alike and the unit will be parked in the Salvation Army back parking lot amongst flea market vendors. The market will be held from 9am-2pm in two adjacent lots at the corner of Mt. Vernon and E. Bellefonte Avenues in the Del Ray section of Alexandria. The adoptable animals will be meeting visitors from 9:30-11:30am.
The Del Ray Vintage & Flea Market was started in 2019 by Amy Eggers and Dr. Lauren Fisher. Since then, it's grown to feature more than 50 vendors on a monthly basis. The market is always held the second Saturday of the month, all year long. Vendors sell a variety of vintage, antique, thrift, artisan and more – plus locally roasted coffee and baked goods. The Rocklands BBQ food truck has become a permanent fixture of the market as well, rounding out the selection for shoppers.
Volunteer Gardeners Growing Organic Vegetables To Support Alexandria Food Center