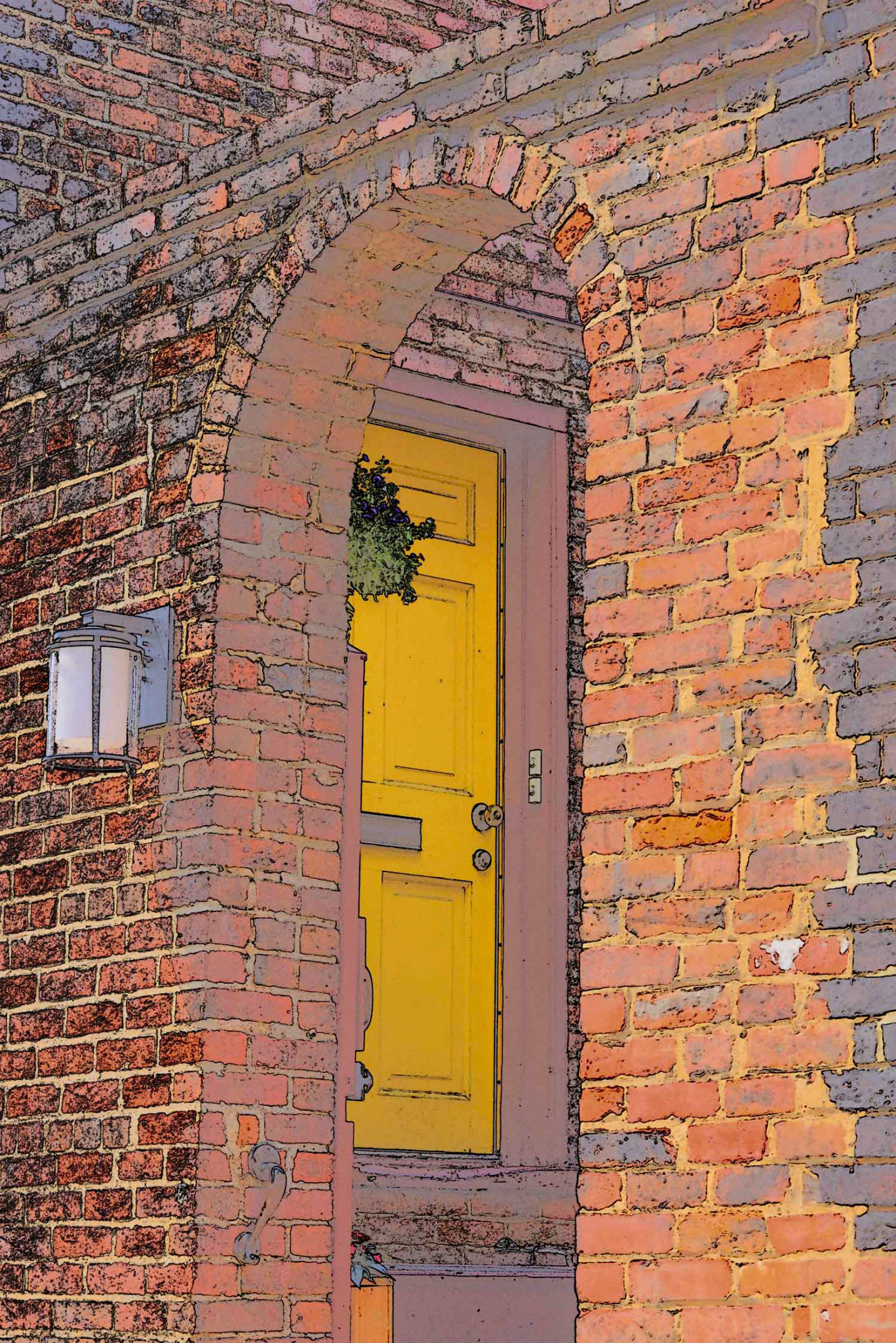 Alexandria, VA – "Spend the night with me and I'll make you breakfast in the morning," said Les at an Alexandria Chamber of Commerce breakfast meeting. At those meetings, each of us would stand and introduce ourselves with a single sentence. Les had a bed and breakfast room in his home.
I didn't spend the night, but those words slumbered in my mind and were part of why I considered repurposing my garage into a guest room.
In late December 2004, I waited for a contractor to measure my garage and give me an estimate for turning it into a room. I had three potential uses for the room, maybe four. The photography business was slow at the time. I thought we might need to give up renting space and use it as an office. It would, of course, be useful for visiting friends and family. I had just taken up mosaic art, and it could become my work studio. Or it might become a bed and breakfast rental and generate some income. The bed and breakfast option won.
I've never forgotten one of my first guests, a young man from Iowa. His parents had a long-distance moving company and dropped him off while on the way to deliver furniture elsewhere. I was concerned when they unloaded ten boxes of stuff and a huge TV. The room had been converted from a single-car garage and didn't have a lot of storage space. His mom cried a bit when they parted. I said I'd look out for him, although I didn't know how. It turned out he didn't need looking after.
Ryan didn't bring his car (he didn't want to risk damaging it in D.C. traffic). He would start work on Monday at the McMillan Reservoir that supplies most of D.C.'s municipal water. According to Wikipedia, "… in 1991, the 25 acre McMillan Reservoir site, located between Michigan Avenue, North Capitol Street, and First Street in Northwest Washington, D.C., was designated a DC Historic Landmark. In 2000, and again in 2005, it was placed on the List of Most Endangered Properties."
I was daunted by just the thought of using public transportation to get from Rose Hill in Fairfax County to upper northwest D.C. Not Ryan. He told me how he had walked to the nearby library on Saturday, picked up a bus schedule, then taken the bus to the Huntington Metro Station and the train to Metro Center to learn the connections.
It reminded me of my first coming to Washington, the excitement of discovery, feeling like an explorer. Then, when I was young, finding new paths, making new friends, and learning a new job was better than okay. It was what I craved.
Ryan turned out to be a blessing. When I came home from shooting a portrait one Sunday, he was unexpectedly weeding the backyard. By the end of the day, we had filled eight bags with lawn refuse. Last I heard from him, he was working as a volunteer installing water filtration systems in Africa.
Alexandria and Fairfax County have zoning regulations covering short-term rentals under 30 days. My guest room is only available for rentals of 30 days or more, so it's not an option for most vacationers.
What kinds of people use it? One woman interned at the Smithsonian Museum while working on her Ph.D. Her husband and daughter remained in Switzerland, where he was working. We have stayed in touch, and she visited with her daughter when the family reunited in New York a couple of years ago. A man needed a dust-free place to stay for a couple of months while his home was renovated. One couple rented it for out-of-town family coming to help with a new baby. A recent guest was downsizing. She had just sold her home and needed a place to stay while searching for new permanent quarters. One of my daughters bought some jewelry online from her jewelry-designing daughter. My most recent guest, a rising senior at Virginia Tech, was interning with the Alexandria City government for the summer. His commute to Eisenhower Avenue from Rose Hill was a breeze!
During the demolition phase of the conversion, a doorway from the breakfast area to the garage was uncovered when the wallboard was torn away. I asked the contractor to leave the doorway's frame and add a back wall and shelving. At the time, I just liked the idea of retaining an architectural element of the original home built in 1954. Now I also like the idea of doorways as openings into possibilities.
Mosaic Artist/Photographer Nina Tisara is founder of Living Legends of Alexandria and a 5-Star Airbnb host.