Community News
New Affordable Family Housing Community Waypoint Opens at Fairlington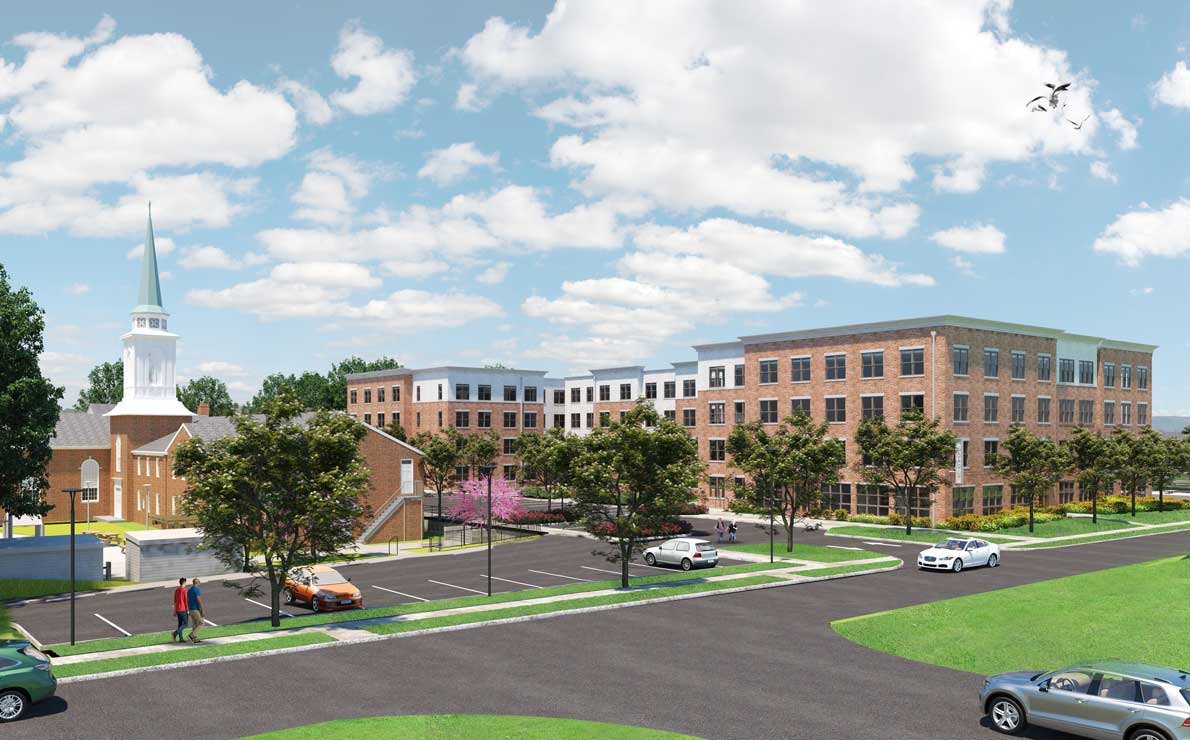 ALEXANDRIA, VA–"There's No Place Like Home" — for 90 potential new households at The Waypoint at Fairlington.
Located near King Street, and next to the Bradlee Center, Waypoint offers apartments ranging from three studios, 12 one-bedroom, 49 two-bedroom, and 17 three-bedroom apartments for households whose income is at or below 60% of the area median income (AMI). There are also nine (9) deeply subsidized apartments through the City of Alexandria.
This project was born in 2016, as the brainchild of the Fairlington Presbyterian Church (FPC), to extend its social justice mission. FPC began consideration of proposals to develop their underutilized parking lot, followed a year later when their congregation and faith leaders chose Wesley Housing* to redevelop the lot into high-quality, affordable housing. With the project now completed, this community offers safe housing for low- to moderate-income working families and individuals, with numerous resources nearby, and also provides amenities such as free WiFi, a community room, business center, and playground/parking access.
Managed by Wesley Property Management and Wesley Housing's on-site resident services team, they offer year-round programs and services for residents in the areas of housing stability, education, health & wellness, and community engagement. In addition, local partner Our Stomping Ground, will provide case management and supportive services to residents with developmental disabilities.
The following people, in addition to the congregation of FPC, are acknowledged in playing significant roles toward the success of The Waypoint at Fairlington: Shelley Murphy, President/CEO, Wesley Housing • Reverend Juli Wilson-Black, Pastor, Fairlington Presbyterian Church • Mayor Justin Wilson, City of Alexandria • Helen McIlvaine, Director, Office of Housing, City of Alexandria • Jill Norcross, Community Outreach Regional Manager – Northern Virginia, Virginia Housing • Sandra Powell, Senior Deputy Director of Community Development and Housing, Virginia Department of Housing and Community Development • Ed Delany, Senior Director, Community Finance, Capital One • Greg Pearson, Project Manager, Harkins Builders, Inc.
*Wesley Housing is a leading, premier, nonprofit developer in NOVA and DC which has been working to provide affordable rental housing for individuals and families for nearly 50 years. Over that time, they have acquired or developed over 2,800 rental units, providing quality housing for thousands of at-risk individuals and families each year. Wesley Housing supplements housing with supportive services to build up the lives of its residents, including low- and moderate-income families, older adults, and individuals with disabilities and/or chronic disease. For more information, you can visit https://wesleyhousing.org/ and follow @WesleyHousing on social media.
This report has been updated. The time, date, and location of the ribbon-cutting were removed upon request because the event is not open to the public.
[SEE ALSO: Gadsby's Tavern to Host Mystery in the Museum Interactive Fundraiser]