Community News
Events Calendar
Gadsby's Tavern to Host Mystery in the Museum Interactive Fundraiser
Oct. 15, 2022, 7:30pm, complete with desserts, coffee, and bubbly! See below for tickets.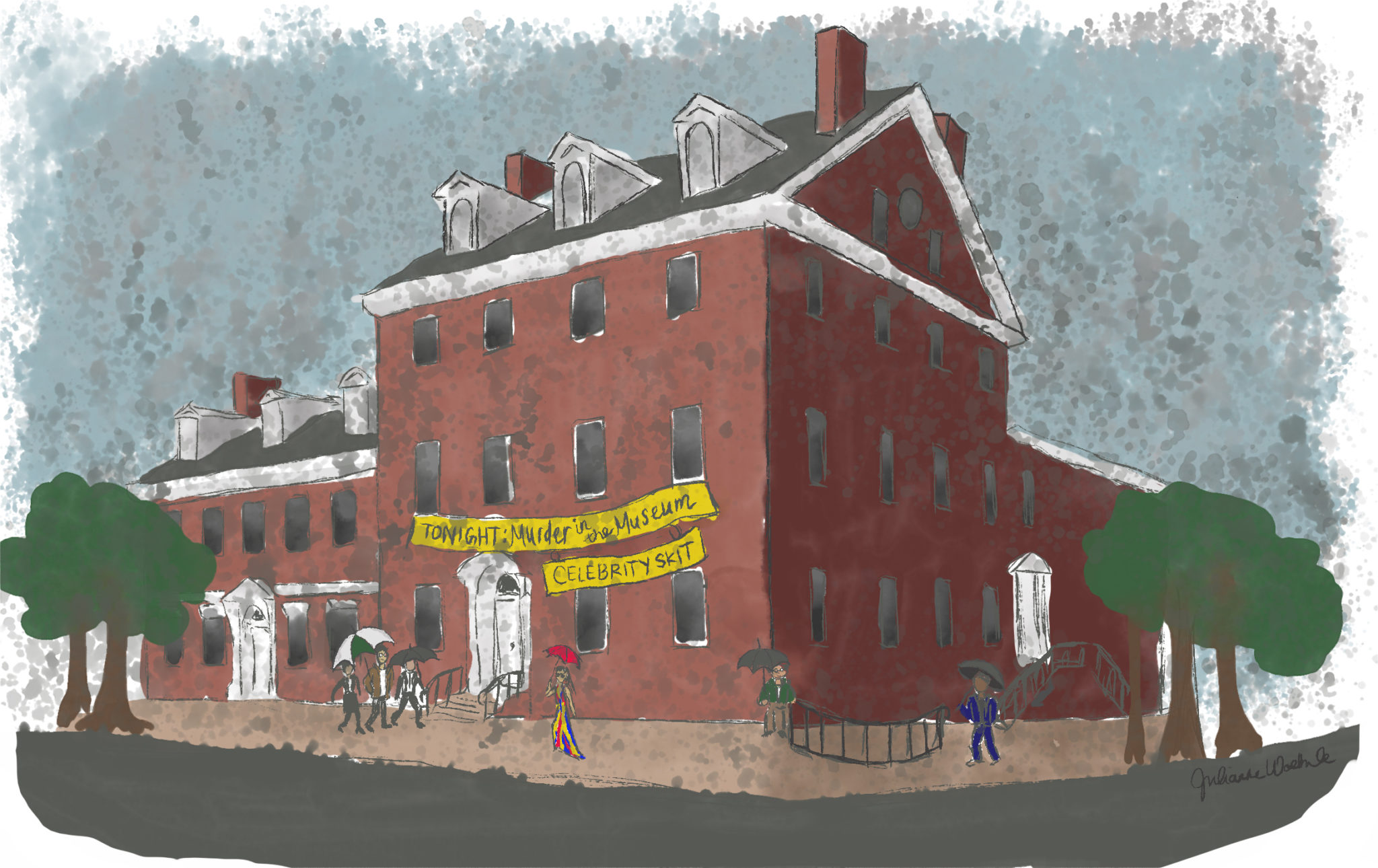 ALEXANDRIA, VA–On Saturday, October 15, the Gadsby's Tavern Museum Society (GTMS) will host Mystery in the Museum, a two-hour interactive "Who Done It" complete with dessert, bubbly, and coffee, as well as a very original raffle. Each guest will also go home with a free copy of John Wasowicz's new book inspired by the evening's play, Gadsby's Corner. All proceeds from the evening will go to benefit Gadsby's Tavern Museum.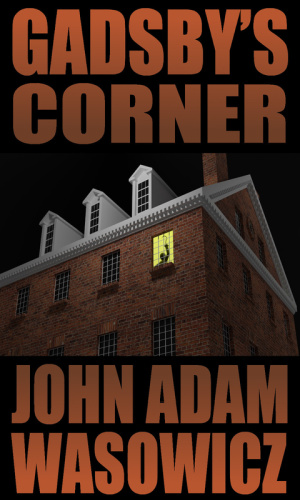 Wasowicz, locally renowned author of many Alexandria-based novels—Dangerfield Island, Slaters Lane, Roaches Run, Jones Point—has returned with a fifth story, but this time it did not begin as a traditional novel. In 2020, Wasowicz contacted GTMS in hopes to organize an event promoting his already published works. GTMS countered with a Mystery in the Museum evening. Wasowicz's vision came together quickly: his books would be acted out by a few local celebrities and narrators of his book. A live audience would attend and get to watch the table read and experience his books on a newly personal level. Then, COVID-19 canceled it all.
What was Wasowicz to do with this inspiration without an outlet and almost two years of free time? Well, he turned that idea into a script, and that script into a full-scale book, Gadsby's Corner. Finally, in 2022, when the world was healthy enough, GTMS reached back out to Wasowicz: they were ready to host the event once more, but this time bigger and better.
"It originated as an idea to try to have a panel to talk about my books," details Wasowicz. "That evolved into a play, then a book, then a free giveaway."
At 7:30pm on October 15, guests will enter the museum and be led upstairs to the very ballroom, where once the Founding Fathers passed the night away. There they will find delicious desserts, bubbly, and coffee. As everyone is settled, the two hosts, Nikisha Kozik and Jimmy Meritt of Old Town Ghost Tours, will begin telling ghost stories.
A few minutes into their tales, the pair are interrupted by a several angry guests, but seem perplexed as to the source of their anger. Then suddenly, Nikisha falls unconscious—'Is she dead?' everyone wonders. Jimmy is terribly troubled when Ralph Peluso, Zebra's Literary Editor, intervenes to help capture the culprit.
You will have to buy a ticket to find out the rest.
Each actor for the evening is a professional. In addition to Meritt and Kozik, guests will see WETA Classical announcer Nicole Lacroix; radio and television personality Derek McGinty; social media influencer and artist Ciera Shine; media producer Jim Cuddy; and voice actor Sharon Wilkinson.
"Three out of the five actors have narrated my books," explains Wasowicz. "All five are very comfortable talking in front of crowds. That is what they do. Everyone was enthusiastic about it when I asked them. They are looking forward to a fun filled evening. No one is the least bit nervous."
As the play wraps, the mystery is solved, and the actors have taken their bow, the two raffle prize winners will be revealed. Both John and Ralph have offered to name a character after the lucky winners in their upcoming books. Each guest will leave with a complimentary copy of Gadsby's Corner signed by each member of the cast.
Tickets to the two-hour event are $100/person and are available at the QR code below or www.gadsbystavernmuseum.us/events/mystery_night.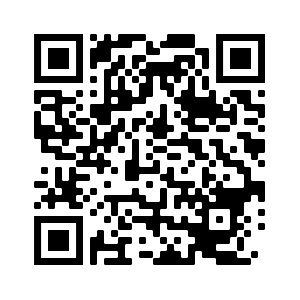 After a dream, a plan, a dashed-plan, a year of writing, and then a new plan, Mystery in the Museum is set to be something more than John and GTMS could have imagined. The plan is coming to fruition for everyone.
"I am excited that there is so much enthusiasm on part of the museum society and all of the crew. Everyone thinks it is going to be a hoot," asserts Wasowicz. "I am looking for a fun time. I am looking for the audience to be engaged, entertained, and surprised; for people to come away from it saying, 'That was so much fun, let's do it again.' We will see what happens!"
The Gadsby's Tavern Museum Society  is a nonprofit, all volunteer organization of civic spirited citizens who are dedicated to raising funds for the preservation, enhancement, and interpretation of Gadsby's Tavern and its history; as well as the promotion of its many educational, cultural, and outreach programs. It also help keep the spirit of the Tavern alive by holding events – such as this Mystery in the Museum skit – where Americans have been gathering for over 200 years.
For more information on Mystery in the Museum, scan the QR Code in the image below. For more information on Gadsby's Tavern, visit https://www.alexandriava.gov/GadsbysTavern/. For a list of all of Wasowicz's works, visit https://www.amazon.com/John-A.-Wasowicz/e/B00O2LFQTI%3Fref=dbs_a_mng_rwt_scns_share.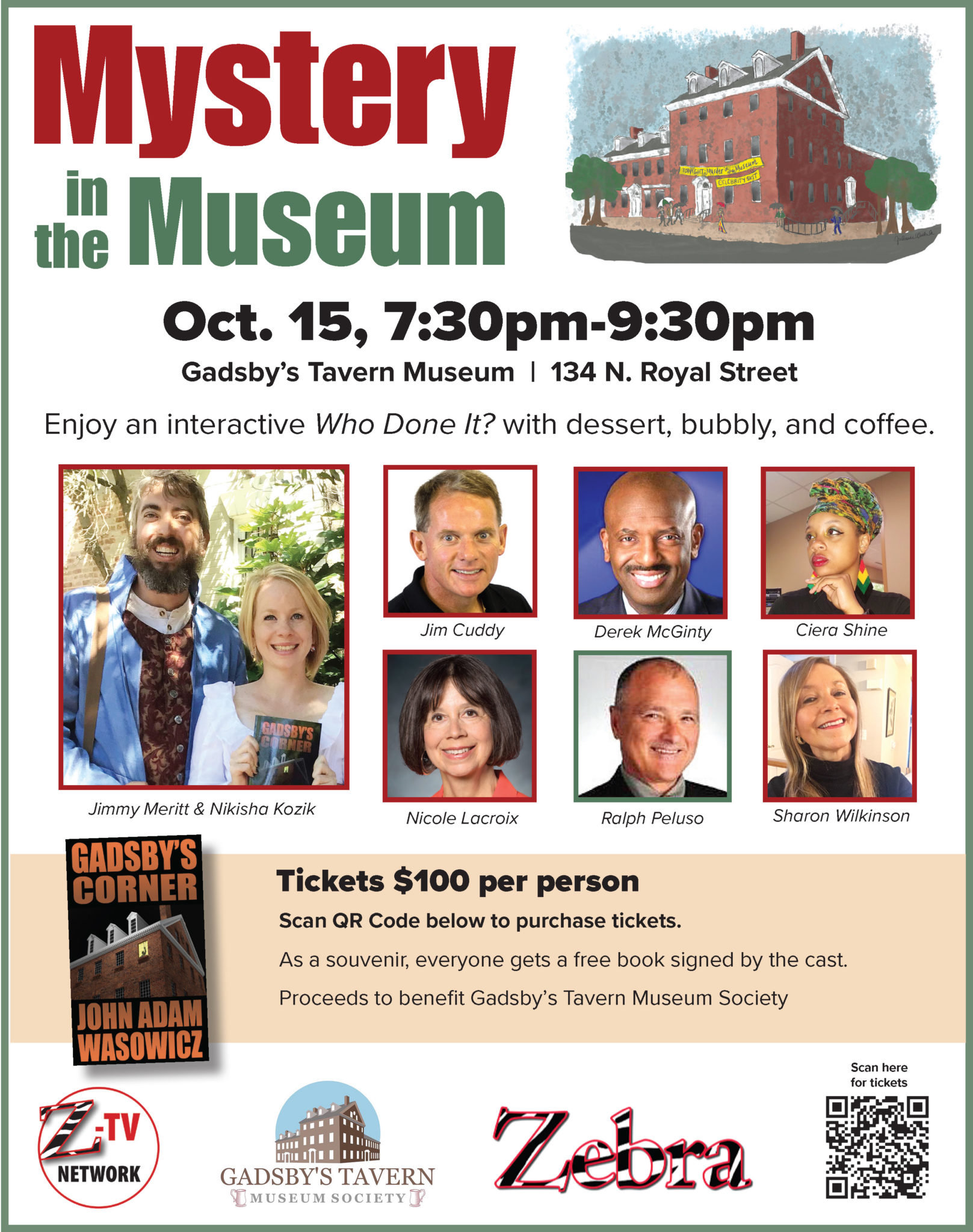 SEE ALSO: History: Guided Tour's of Gadsby's Tavern Return to Alexandria