Transportation
Last Chance to Ride the Water Taxi for Free for your Morning and Afternoon Commute
The City is working with TES to secure the alternative commute through the Metro delay.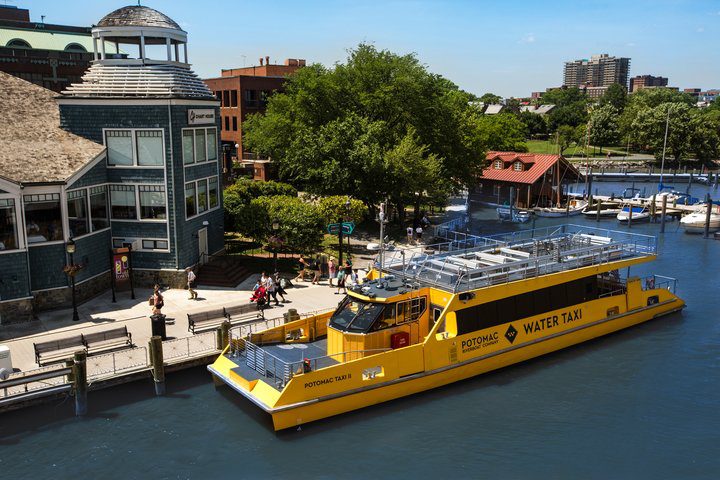 ALEXANDRIA, VA–On Friday, Sep. 30, Metrorail delayed the Potomac Yard project due to structural discovery issues. Prior to the delay, commuters were offered alternative transportation on DASH Bus, Metro shuttles, Virginia Railway Express(VRE), and the Water Taxi. This delay will shut down Metro services between Braddock Road station and Pentagon City station, offering shuttles between the two, through Nov. 12; it will also postpone the opening of the Potomac Yard station until 2023.
Metrobus, DASHBus, and VRE will continue their services as an alternative to the Metrorail. The Water Taxi will continue its free morning and afternoon commute offerings, paid for by the City of Alexandria, and extended through Thursday, November 3rd, according to Thomas Hamed, Transportation Demand Management Coordinator for Alexandria.
So all aboard! For the next three weeks, Alexandria residents will have their last chances at this free, feasible alternative for their morning work commute to DC. Gliding to work by boat is just one of many alternatives such as car, bus, or bike. Alexandrians can let the taxi's captain take over the driving as they enjoy the ride or catch up on emails during the Potomac trip.
Mayor Justin Wilson, who has ridden the water taxi himself many times, notes, "It's a great option, very relaxing, and a nice way to begin a work day."
Since September 12th, the city of Alexandria Transportation and Environmental Services has been covering the costs of all commuter tickets, which are available day of and onsite only, through City Experiences, who runs the Potomac River Water Taxi Service, to DC for commuters. The newly added morning commute times are the following: from Alexandria (departure times at 6:40am and 8:00am) and the Wharf (departure times at 6:05am and 7:20am. Travelers are encouraged to arrive 10 minutes before the departure time.
The City of Alexandria is working with Metrorail to mitigate disruption and help residents and visitors make travel plans during these periods. The complimentary service is being offered while major Metrorail construction of the Blue and Yellow lines takes place. The project began September 10 and was to be completed by October 22nd; it has now been pushed through Nov. 12.
"It has always frustrated me that we are one of the few metro areas in the world that has water and doesn't use it for commuting purposes. These metro shutdowns have given us the opportunity to experiment!" Mayor Wilson says as he encourages residents to take this limited time offer.
According to the WMATA (Washington Metropolitan Area Transit Authority) website, this is one of two large Metrorail projects that will impact rail service in Alexandria during portions of 2022 and 2023. With this first one this Fall, Metro will temporarily suspend rail service south of the National Airport station as it works to connect Alexandria's new Potomac Yard station with the rest of the system.
"Metro will connect new tracks to 'tie in' the new Potomac Yard Station to the Metrorail system and ensure proper signal integration. This multi-week project will require the closure of six Blue and Yellow line stations south of Reagan National Airport through November 12th. Once additional testing and training are completed, Potomac Yard Station is expected to open early next year.
[SEE ALSO: What's in a Name: An expose on Virginia Tech's history]