Press Release
Mark Your Calendar: Alexandria Boy Scouts Holding Scouting for Food Drive Nov. 12
Drive gathers food for ALIVE! and other nonprofits supporting people in need
ALEXANDRIA, VA -Alexandria-area youth of the Boy Scouts of America's Colonial District will hold their 34th annual Scouting for Food drive on Saturday, November 12. Local residents are invited to leave bagged donations on their doorstep by 8:30 a.m. that morning for pickup by the Scouts. Held annually prior to Thanksgiving, Scouting for Food is an important program for many local food banks which rely on it to stock shelves for the upcoming holiday months when demands are the greatest.
On the weekend of November 5, Scouts will canvass neighborhoods across Alexandria and surrounding areas placing notes on doors reminding residents about the Scouting for Food pick-up to take place the following weekend. An example of the note is pictured below.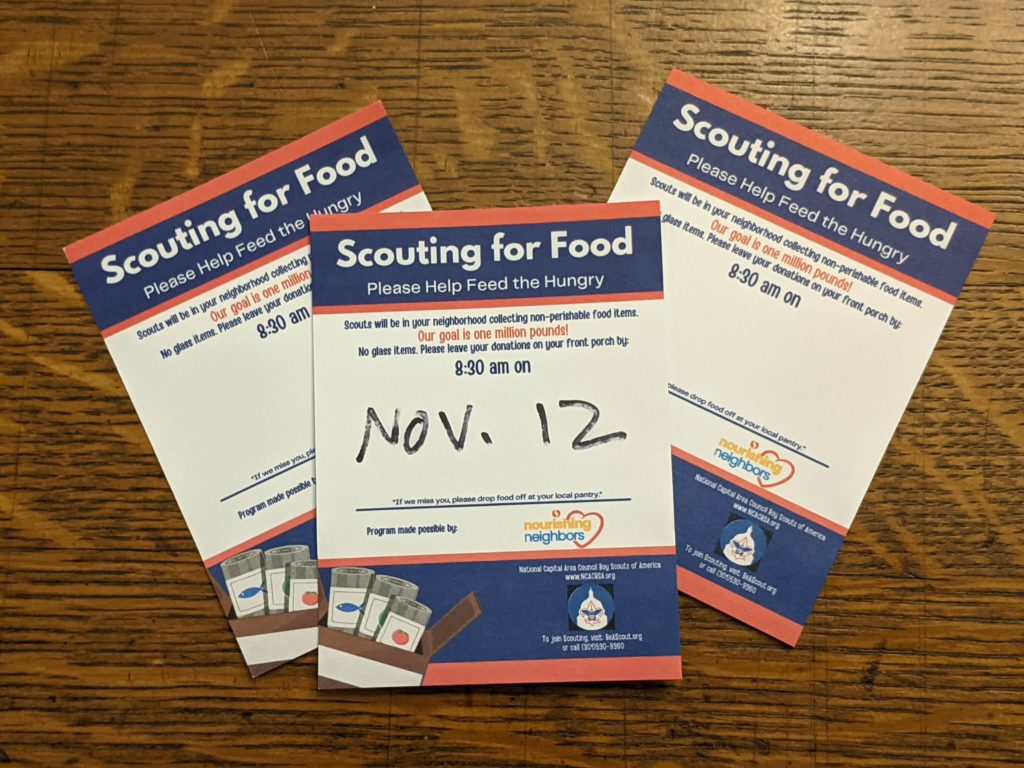 In Alexandria, donations collected through Scouting for Food will be directed to local food banks including ALIVE! (Alexandrians Involved Ecumenically), United Community, Koinonia Foundation, Lorton Community Action Center, and Groveton Baptist Church Food Pantry.
"We are so grateful for the generous food donations from our friends and neighbors in the Alexandria area," said Ken Barrett, District Chair for Alexandria's Colonial District of the National Capital Area Council. "Scouting for Food helps local families in need and teaches our Scouts the importance of directly serving the community."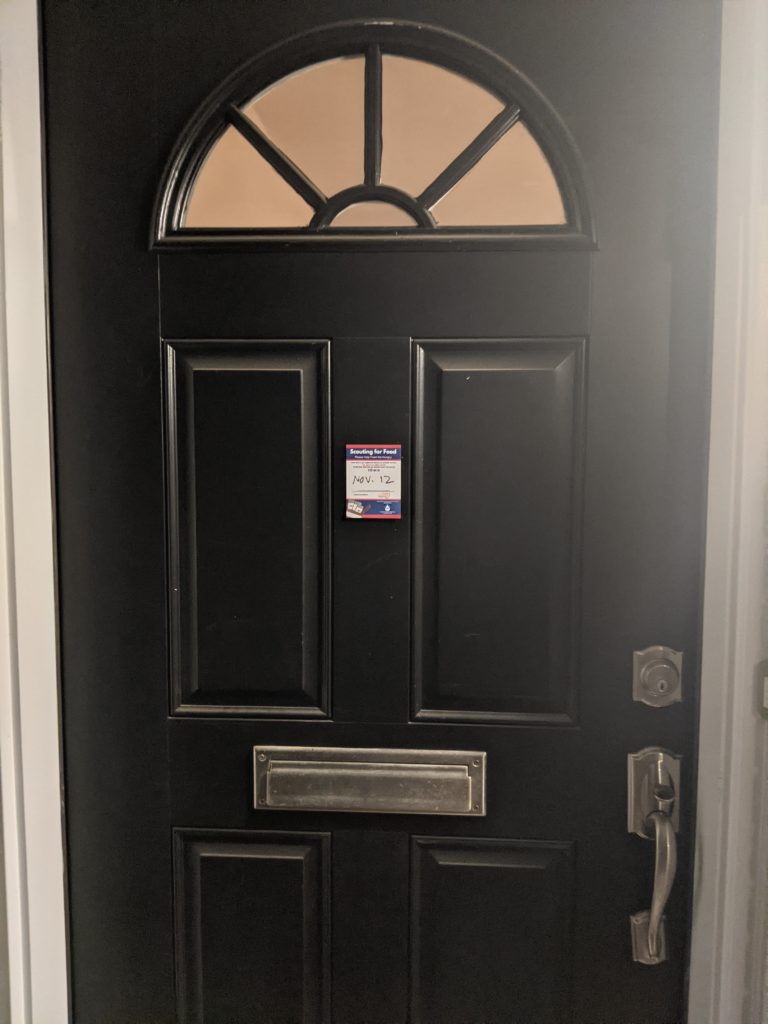 Items in highest demand include the following items. Note that, for storage and transport, residents are asked to please avoid glass containers.
• Canned protein (tuna, salmon, chicken, peanut butter).
• Soups and stews (beef stew, chili, meat-based soups).
• 100% fruit juices (all sizes).
• Grains (pasta, whole grain pasta, rice, brown rice, boxed macaroni, and cheese); cereals (multi-grain, low sugar cereals, oatmeal).
• Canned vegetables.
• Canned fruits.
• Condiments.
• Hygiene products (diapers, toilet paper, tissues, soap, toothpaste).
Barrett noted that during last year's Scouting for Food drive, Scouts collected 52,594 pounds of donated food in Alexandria. "With the need in Alexandria so great, we hope to top that number this year," Barrett said.
In the instance of food placed on a porch that is not picked up, residents may reach out to [email protected] until Saturday, November 19, to coordinate a missed pickup. Additional questions on donations may be directed to Vincent Kiernan, [email protected], 703-507-0234.
# # #
About Boy Scouts of America & National Capital Area Council
Boy Scouts of America provides the nation's foremost youth program of character development and values-based leadership training, which helps young people be "Prepared. For Life."Ⓡ The Scouting organization is composed of 2.2 million youth members between the ages of 5 and 21 and approximately 800,000 volunteers in local councils throughout the United States and its territories. For more, please visit www.Scouting.org.
About the National Capital Area Council
The National Capital Area Council (NCAC) is one of the oldest and largest councils in America. In addition to counties in Maryland, the District of Columbia, and U.S. Virgin Islands, the Council incudes the Virginia counties of Arlington, Caroline, Culpeper, Fairfax, Fauquier, King George, Loudoun, Prince William, Spotsylvania, and Stafford as well as the independent cities of Alexandria, Falls Church, Fairfax, Fredericksburg, Manassas, and Manassas Park. For more information, please visit www.NCACBSA.org.
About the Colonial District
The Colonial District encompasses more than 1,700 youth registered in 48 Scouting units — including Cub Scout packs, Scouts BSA troops, Venturing crews and other units — in the city of Alexandria and the Alexandria, Mount Vernon, and Lorton portions of Fairfax County.
City of Alexandria Ranked Among Top 50 Best Places to Live in the U.S.