THEATRE
Synetic's 'Dracula' is Sexy and Slick
ARLINGTON, VA – Just in time for us to get our spooky senses aroused for Halloween season, Synetic stages a revival of one of their classics. The opening, wherein Count Dracula vanquishes the Turks to defend his Transylvanian homeland in a sensory-explosive battle, may be one of the company's most spectacular. Known for their magnificent fight scenes (performers are trained in fight choreography), this one is an explosion of dramatic warfare unleashed from the depths of depravity. Underscored by eerie narration, a terrifying demon spirit and a trio of Dracula's wives undulating to the strains of Gregorian choirs and electronica, English solicitor, Jonathan Harker travels via coach to the Count's castle to obtain Dracula's signature in a land deal. He is led by the Count's three wives who transmogrify into Harker's horses spiriting him away to his doom.
When Harker returns to his lover, Mina, in Edwardian London, we find the female vampires mingling with London society at a grand ball, replete with a dance of the coffins and with the prime intention of – oh, well, let's just say what you were already thinking – biting their necks and turning them into future vampires. In a scene straight from the Theatre of the Absurd, they capture Mina's friend, the beautiful and feisty Lucy, absconding her body back to the castle and the lustful, Count who finds her to his "taste."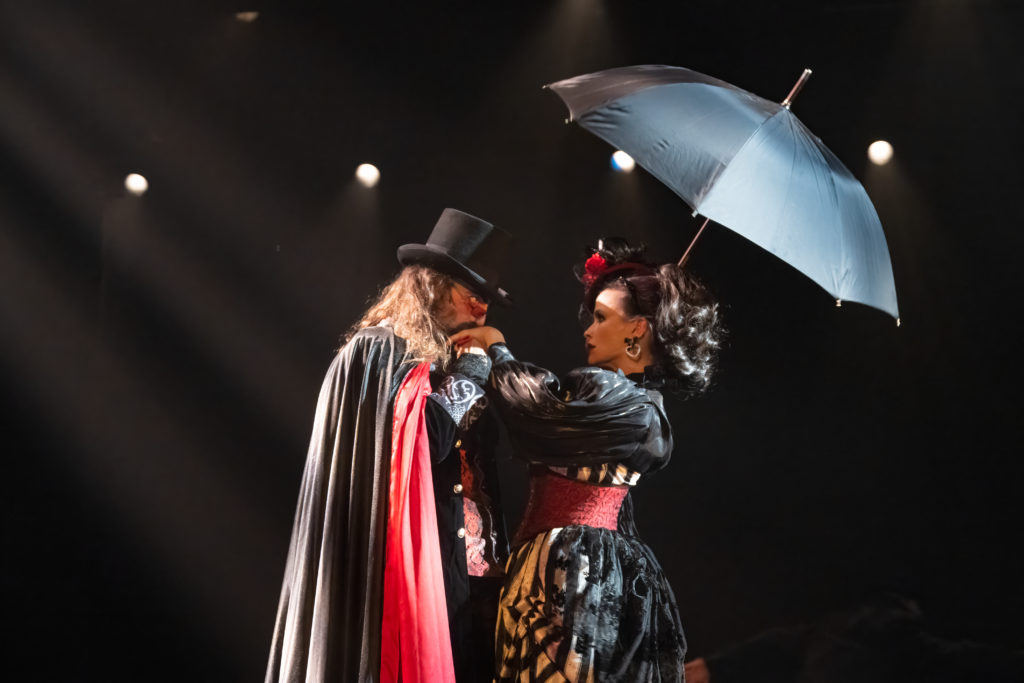 Ghouls and grave hunters pepper the sinister landscape as the blood-thirsty vampires follow their sexual desires in a dizzying whirlwind of fantastic dance and dramatic displays of mortal combat. Lighting, too, plays a key role. You'll notice scenes lit as though in an Old Dutch masterpiece with shafts of golden light falling on the victims as though they are bathed in heavenly rapture.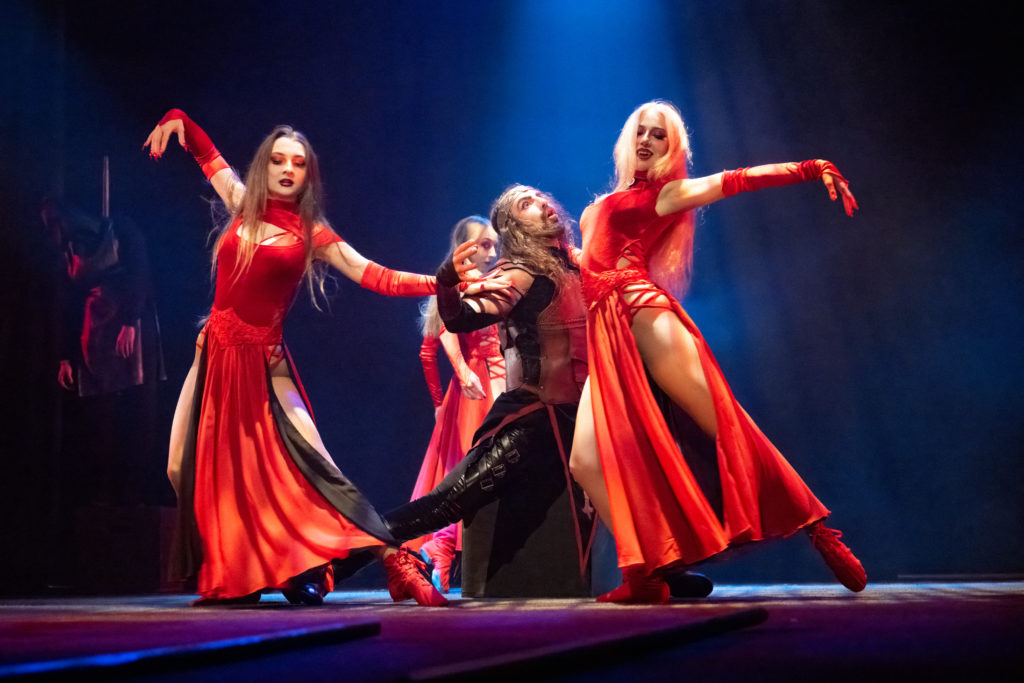 Who will be Dracula's next victim, and who will be saved from his sanguineous clutches, are the burning questions for zombie lovers to deduce. Meanwhile, you will most assuredly find a lot to "chew on" in this seductively mordant interpretation of Bram Stoker's classic tale rendered as erotically salacious as it is bloodthirsty.
Most assuredly NOT for the kiddies, although there is a smattering of oddly out of place tongue-in-cheek humor that tends to disrupt the ghoulish vibe.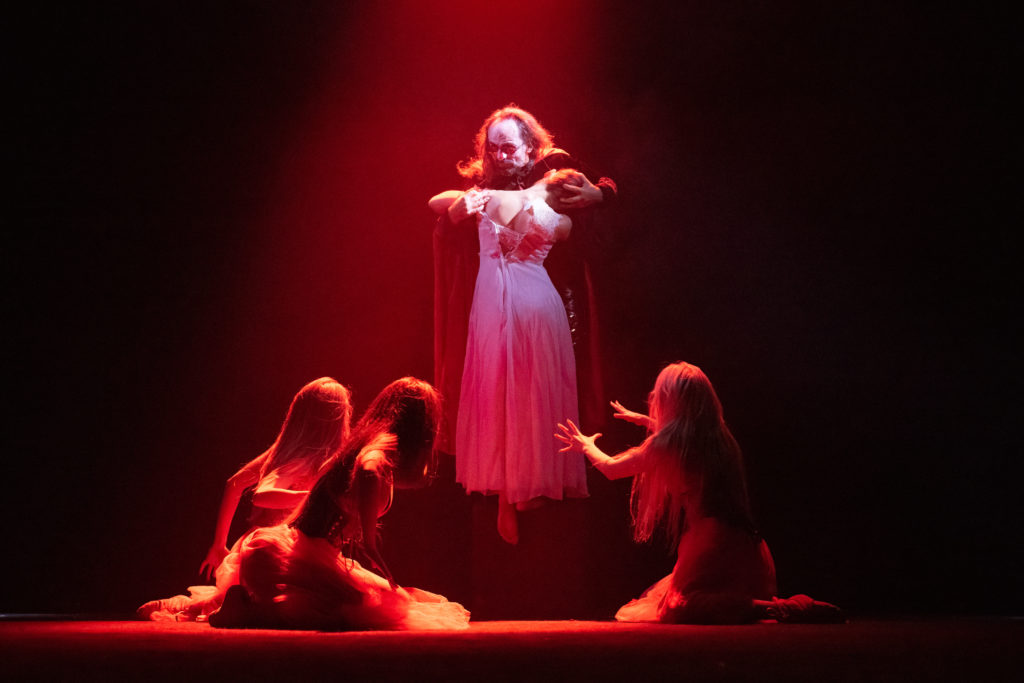 Directed by Paata Tsikurishvili; Choreographed by Irina Tsikurishvili; Fight Choreography by Vato Tsikurishvili; Assistant Director and Sound Design by Irakli Kavsadze; Adapted by Nathan Weinberger; Resident Composer Koki Lortkipanidze; Costumes Designed by Kendra Rai; Lighting Design by Ian Claar.
Starring Dan Istrate as Dracula; Jacob Thompson as Jonathan Harker; Renata Loman as Van Helsing; Nutsa Tediashvili as Mina; Rachael Small as Lucy; Philip Fletcher as Holmwood; Irakli Kavsadze as Renfield; Pablo Guillen as Dr. Seward; Justin J. Bell as Quincey; Lev Belolipetski as Captain; Rodin Ruiz as Villager; Maryam Najafzada as Dracula's Wife; Irene Hamilton as Dracula's Wife; and Anna Tsikurishvili as Dracula's Wife.
Through November 6th at Synetic Theater at National Landing, 1800 South Bell Street, Arlington, VA 22202. For tickets and information visit www.Synetictheater.org or call the box office at 703 824-8060.
Flashy and Fabulous 'Guys and Dolls' Blows the Roof Off at the Kennedy Center