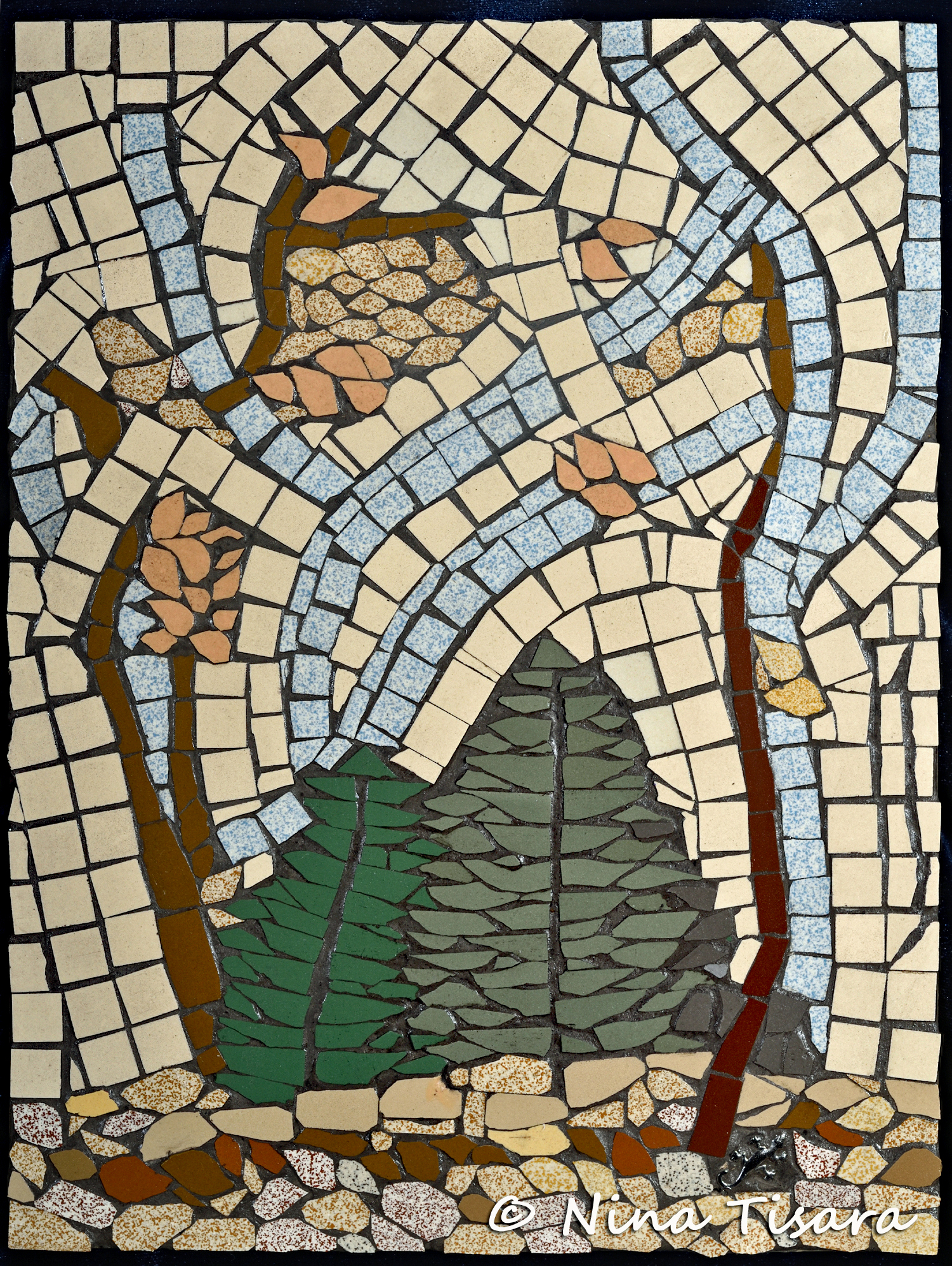 by Nina Marshall (now Nina Tisara), initially written for her children when they were young.
Alexandria, VA – When we left off last month, Little Pine asked his friend Sugar Maple for help coming up with a costume to wear to the Halloween party that Little Pine was hosting.
"Now wait a moment," said Sugar Maple. "I think I've hit on something. You have invited Snow, haven't you? Well, we could wait for Snow to come and fill up your branches, and you could be a cloud."
"Thanks for trying," said a very disappointed Little Pine. "But clouds just aren't part of Halloween."
"Well then, you could be a…a…a ghost! You can't beat a ghost for Halloween," said Sugar Maple.
"I think you've got it. Oh, I just can't thank you enough," said Little Pine. "I thought and thought, but I couldn't think what to do. Oh, but you have a wonderful idea. Let me tell Mother about it."
Little Pine told Mother Pine about the costumes Old Oak and Sugar Maple and Yellow Poplar were planning. Then he told her of Sugar Maple's suggestion. "I sure hope it snows soon. Do you think Snow will come soon, do you, Mother?"
"She might," said  Mother Pine. "Halloween is only two days away, but Wind is not far away either and sometimes he carries Snow along with him.  We'll just have to wait and see."
It's hard to wait when you are just a Little Pine and planning your first Halloween party. But there was nothing else Little Pine could do. He went over all his plans for the party. When Wind came, he would ask him to make music for the guests to dance to. He would hope Snow was with him or would come soon afterward. There would be berries and acorns to eat. Everything was planned. There was nothing to do but wait for Wind and Snow.
Mother Pine was right when she said North Wind was not far away. He came the very next day and stopped right at their patch of woods. He greeted the trees and ruffled their leaves like the old friend he was.
"North Wind, I have an invitation for you and a favor to ask of you too,"  said Little Pine. He was so excited he dropped some of his needles. "We're having a Halloween party tomorrow. Can you stay? Will you be our music? Please say yes, please."
"Tomorrow, you say? Well, yes, I believe so. Yes, I can stay until Halloween and I think I can rustle up some music for you to dance to. Is this your first party, Little Pine?" asked North Wind.
"Yes, it's my first party, and I want to look fine for Halloween. Red maple is dressing as a colonial lady, Yellow Poplar will come as a field of yellow tulips, and Old Oak has a brown bear costume.  North Wind, if you could call Snow, I could come dressed as a ghost, and then I would look fine too. Could you call Snow for me?"
Now North Wind was still.  "Little Pine, I don't know. Snow is following behind and she might catch up in time for your party. But she might not." North Wind yawned and, without another word, settled in the tree tops to rest. He was very tired from his trip.
Halloween day came. North Wind was rested and full of bluster and blow. He woke Little Pine with a nudge and rushed to Red Maple, shaking her branches. "Wake up, everyone, it's party day," he called. "Wake up, Old Oak. Up, up, Poplar Tree. This is a special day."
Sugar Maple was beautiful. The weather had been perfect for her and her leaves formed the most lovely ball gown any tree had ever had. Poplar tree had done a good job of turning yellow, though some of his leaves stayed green, and he thought he looked more like bananas than tulips. Old Oak shook out his branches, covered with shiny brown leaves, and thought, I'm not a bad-looking old tree after all. "Are you ready everyone?" he yelled.
"No, no," called Little Pine, "not yet. I have no costume. Oh, where is Snow? Mother, you have the party without me. I won't come without a costume.  It's not fair. It's just not fair."
"Come along, Little Pine," his mother told him. "It will be a nice party even without Snow, you'll see. You'll look fine just as you are."
North Wind tuned up. He whistled through the leaves, and as he did, the trees danced. Red Maple, Old Oak, and Poplar Tree whirled and twirled. Even Little Pine was caught up in the fun. They danced into the afternoon. North Wind blew and blew. "Hold up," Red Maple called as the sky darkened, "my leaves, my leaves are falling off." North Wind didn't hear and kept right on blowing. "Oh dear," said Poplar Tree, I've no costume left. North Wind, don't get so carried away or you'll carry me away too!" Old Oak looked down sadly at the others. He, too, had only a few shiny brown leaves left of his bear's suit.
Mother Pine saw Little Pine smiling and hanging on tightly to his needles. He was thinking, I'm not a bad tree after all. Just then, Snow came and rushed to greet North Wind. Snow danced and Snow flew. North Wind carried her and blew her and threw her at the trees. Snow hugged Little Pine's needles. Little Pine looked at himself and shouted, "I'm a ghost. I'm a ghost, and you did it. Thank you, Snow. Thank you, North Wind. Oh, Mother, look at me. I really am a fine tree now."
Just then Little Pine noticed the other trees. All the trees were covered with snow. Each and every one! They all looked like ghosts, shining silver and white in the early moon's light.
Now Little Pine had to think really hard. He did, and this is what he thought;
Red Maple is a beautiful tree when she is covered with red and yellow leaves and looks like a colonial lady dressed for a ball, and she makes a fine-looking ghost.
Poplar, too, is a beautiful bunch of bananas or tulips and still, he makes a wonderful ghost.
Old Oak is a proud and beautiful tree when he is full of brown, shiny leaves and looks like a bear. And he is beautiful when he is covered with snow.
And I am a fine beautiful tree too. I am beautiful with my green needles and I am beautiful when my needles are filled with snow.
Little Pine had grown very tired. It had been the most exciting day of his whole life. Mother Pine watched him fall asleep under her lowest branches and was pleased with the many new things he had learned and what a fine tree he was growing up to be.
Mosaic artist/photographer Nina Tisara is founder of Living Legends of Alexandria.
###
Sidebar:
Calling Young Artists (up to age 18)
You are invited to submit your illustrations for my story, "Little Pine's Halloween," for possible publication in a future edition of The Zebra.
Part 1 of "Little Pine's Halloween" was published in the October edition, which you can find on the Zebra website: thezebra.org. This is the conclusion of the story.
Your illustrations for my story may be in any two-dimensional medium (drawing, painting, photography). They should be sent by email to [email protected] by November 20.
Each submission must include contact information (phone and email address), the artist's name and age, and, if the art is selected for publication, whether it should be identified by full name, first name only, or initials only.
ICYMI: Annual Del Ray Halloween Parade Sees Classic and Creative Costumes