Press Release
Alexandria Sheriff's Deputy Michael McGhee Named Crisis Intervention Team Deputy of the Year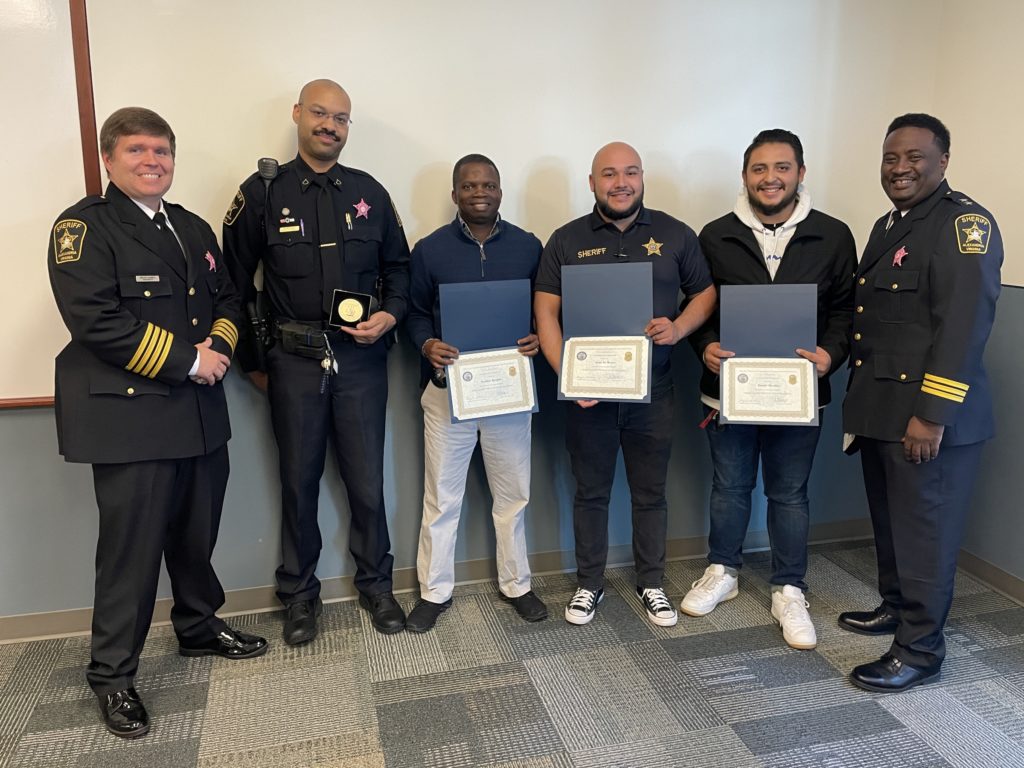 ALEXANDRIA, VA -Alexandria's Crisis Intervention Team (CIT) Steering Committee recently recognized Alexandria Sheriff's Deputy Michael McGhee and other public safety professionals for their outstanding work as members of the Crisis Intervention Team.
Sheriff Sean Casey presented Deputy McGhee with a plaque for being named CIT Deputy of the Year during an October 21 ceremony at police headquarters. At the same event, three deputies were also recognized for completing a week of CIT training and becoming new CIT members.
Deputy McGhee was named CIT Deputy of the Year for his extremely effective use of CIT knowledge and for his genuine concern for those in custody. A CIT member for five years, Deputy McGhee regularly uses his specialized skills working with inmates at the Adult Detention Center, particularly with those in the Critical Care Mental Health Unit where he is assigned as the primary deputy.
Because inmates in that unit experience various mental health illnesses and issues, it can be especially challenging but Deputy McGhee is able to calmly interact with them and help them de-escalate when they are having difficulties. His patient and professional demeanor coupled with his calm presence and compassion help to reassure inmates and avert potentially volatile situations. Inmates trust him and when one does have an issue with a fellow inmate, Deputy McGhee helps them work out their differences and find their own resolutions. Deputy McGhee also encourages his colleagues to pursue CIT training, knowing that it will be beneficial to staff and inmates alike.
The newest Sheriff's Office members to join the Crisis Intervention Team are Deputy Ayodeji Ajeigbe, Deputy Juan Reyes, and Deputy Daniel Mendez who received CIT certificates and uniform pins at the same ceremony. Through their 40 hours of training, CIT members learn skills such as suicide intervention and verbal de-escalation techniques, explore the role of the family in the care of a person with mental illness, and receive legal training in mental health and substance abuse issues. CIT members also participate in role playing exercises based on real-life scenarios and spend a day visiting mental health and substance abuse inpatient and outpatient treatment facilities where they can engage in one-on-one dialogue with mental health consumers.
CIT was developed in collaboration with the Department of Community and Human Services, Police Department and Sheriff's Office to help improve staff interactions and outcomes with persons with mental illness and substance abuse disorders. Alexandria's program includes staff from all first responding agencies to ensure that a comprehensive, City-wide approach is in place to assist those with mental illness.
Currently more than 80 Sheriff's Office employees are CIT certified and use their specialized skills in the William G. Truesdale Adult Detention Center, at the Alexandria Courthouse and in the community.
Del Pepper Named Grand Marshal for Alexandria Scottish Christmas Walk Parade