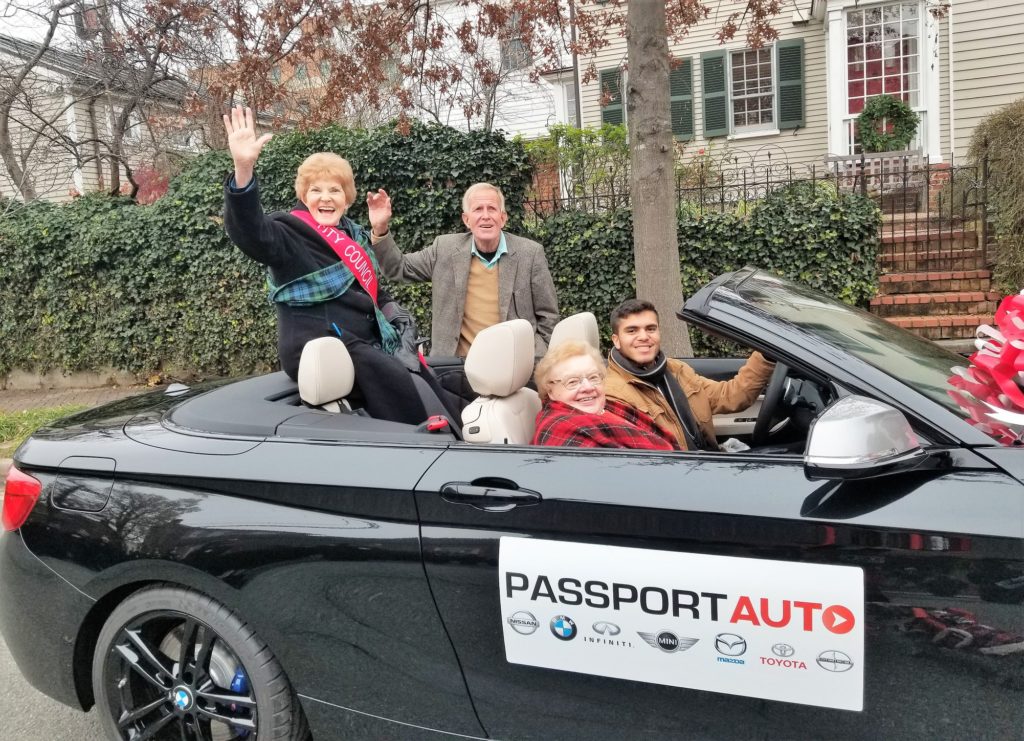 ALEXANDRIA, VA – Campagna Center and Visit Alexandria announce the selection of Redella "Del" Pepper as the Grand Marshal for the 51st Annual Alexandria Scottish Christmas Walk Parade taking place on Saturday, December 3, 2022.
Pepper's selection as Grand Marshal recognizes her status as the longest-serving member of Alexandria City Council with more than 36 years of service to the community. Pepper was elected to City Council in 1985 and served through January 1, 2022. Pepper held the designation of Vice Mayor from 1996 to 1997, 2003 to 2006, and again from 2007 to 2009.
In her many years of service, Pepper has worked on expanding public transit, environmental protections, and educational opportunities for families across the socioeconomic spectrum. She moved to Alexandria in 1968 and currently resides in the West End of the City.
As Grand Marshal, Pepper will kick off the parade festivities and lead the delegations from the step-off point at the corner of S. St. Asaph and Wolfe Street, progressing through Old Town Alexandria and concluding in front of Market Square on King Street. More than 100 community groups will join the celebrations.
This year marks a new partnership between Campagna Center and Visit Alexandria with support from the City of Alexandria to produce the beloved holiday tradition. Visit Alexandria is assuming logistical responsibilities for the event. Preserving the biggest holiday weekend experience ensures the continuation of a key economic driver for the city's small business and hospitality communities and preserves a historic signature event that is a source of civic pride.
With the support of Visit Alexandria in executing the annual parade, Campagna Center can remain committed to serving children and families and placing the mission of the organization at the center of all its efforts. Campagna Center will continue to host the annual Taste of Scotland and partner with volunteers to support the Alexandria Scottish Christmas Walk Parade.
Learn more about this year's Alexandria Scottish Christmas Walk Parade at ALXScottishWalk.com.
ABOUT CAMPAGNA CENTER
Campagna Center, Alexandria's leading not-for-profit organization, equips children and families with a comprehensive set of tools they need to thrive. The mission of Campagna Center is to deliver exceptional educational and social development programs for children, teens, and adults. Since 1945, Campagna Center has served the community by offering a range of programs that foster a dedication to learning to over 2,000 children and families on a daily basis.
ABOUT VISIT ALEXANDRIA
Visit Alexandria is the nonprofit tourism marketing organization for Alexandria, Virginia. Voted one of Travel + Leisure's Best Cities in the U.S. 2022 and Southern Living's Best Cities on the Rise 2022, Alexandria hums with a cosmopolitan feel and a walkable lifestyle—a welcoming weekend escape next to our nation's capital. Founded in 1749, Old Town Alexandria is the nation's third oldest locally designated historic district, boasting more than 200 independent restaurants and boutiques alongside intimate historic museums and new happenings at the waterfront. At the heart of it all is bustling King Street, a walkable mile recognized as one of the "Great Streets" of America. Walk in the footsteps of George Washington and America's Founding Fathers while learning about Black history and African American changemakers that have shaped the history of Alexandria and the U.S.
Donley Family Named Grand Marshals of 47th Annual Alexandria Turkey Trot