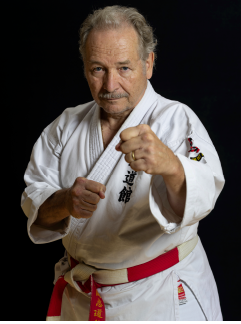 ALEXANDRIA, VA – After more than 50 years of continuous practice and teaching, Alexandria karate instructor Robert Roberto Curtis was promoted to Grand Master 9th Degree by his instructor Seikichi Iha, 10th Degree, in Okinawan Shorin Ryu Shidokan Karate. Grand Master Seikichi Iha is recognized by the Okinawan government as an Intangible Cultural Asset, and at 90 years old, he is believed to be the oldest living Okinawan Karate
Master.
Sensei Curtis has practiced with Grand Master Iha since 1979 and has been an Alexandria resident since 1982.
Sensei Curtis currently trains a community of passionate, adult martial arts students in Okinawan self defense karate at the Virginia Dojo in Franconia. His style of karate and teaching focuses on developing automatic responses to deter attackers. These highly effective, natural responses depend on technique rather
than strength, so they work for anyone — man or woman, old or young — regardless of
size and strength.
The Virginia Dojo, which Sensei Curtis co-owns with longtime student and instructor, Denise Coursey, 3rd degree, is unique because it's a karate school for adults. Classes are developed and taught for adult learners of all ages and abilities. Both Sensei Curtis and Ms. Coursey believe karate can be practiced your whole life, and Ms. Coursey is particularly passionate about bringing more women into the martial arts. Virginia Dojo's
students range in age from late teens to early 70s. Nearly 40% of the students are women.
For information on how to train with Grand Master Curtis at the Virginia Dojo, visit
www.novadojo.com.