THEATRE
A Wintery Fable Enchants All Ages at Synetic Theater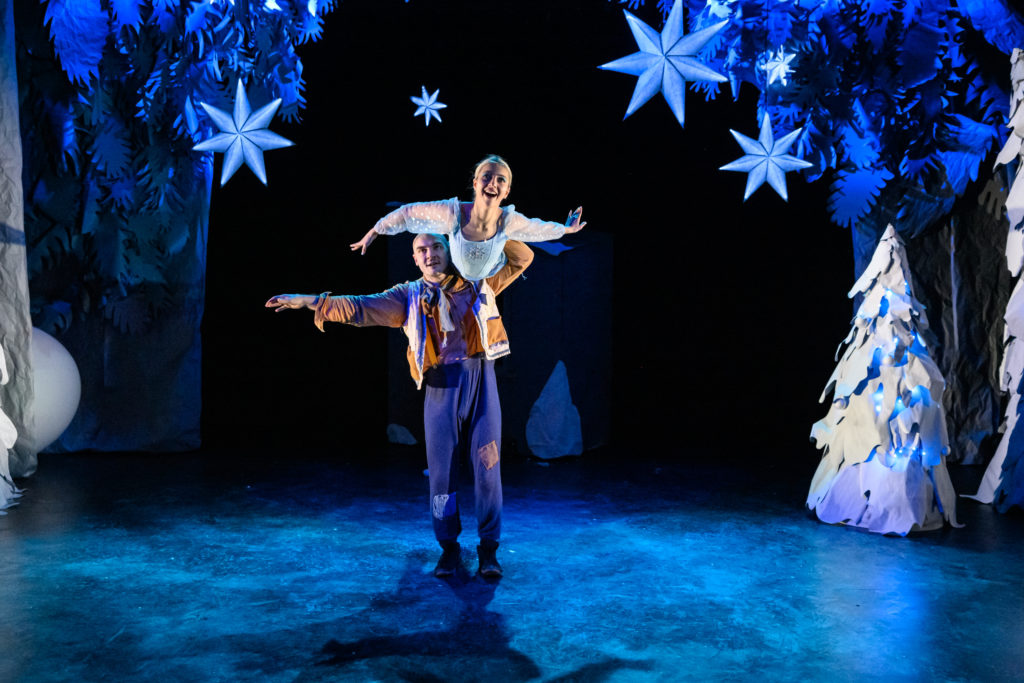 ARLINGTON, VA – Drawing on a centuries-old fable, Director and Helen Hayes Award-winning Choreographer, Irina Tsikurishvili, channels the troupe's earliest performance experiences in America when they worked strictly in the grand tradition of mime. The Snow Maiden harkens back to those times with a wordless and original interpretation of the classic tale which inspired Danish author, Hans Christian Andersen to write "The Little Match Girl." Thankfully, this newly minted version is a charming story that leaves out the darker themes of earlier versions. This enchanting two-hander features a boy who lives by himself in a tiny cottage in the woods and a little girl with magical powers who represents the traditional granddaughter of Grandfather Frost.
Set to a background of Christmas carols (I heard "O Tannenbaum", "Noël" and "We Wish You a Merry Christmas") and classical music, the boy (played by Vato Tsikurishvili) builds a snow maiden (Maryam Najafzada – a leading light in the Azerbaijan Ballet Theater) who amid a forest of towering, snow-covered pine trees, springs to life. Together they explore the frozen forest making snow angels, having snowball fights, and playing hide and seek.
In a particularly beautiful scene, the little girl teaches the boy how to ice skate. Their gliding motions, enhanced with spectacular over the shoulder lifts, spins and flips put me in mind of Olympic skaters Torvill and Dean who revolutionized ice dance. But they were on ice! not on a wooden stage. It boggles the mind how these two performers convince us they are skating on ice. Glittering stars in a dark blue night sky lead us to dream of the holidays in snow-laden forests and the possibilities that wishes can come true if we believe.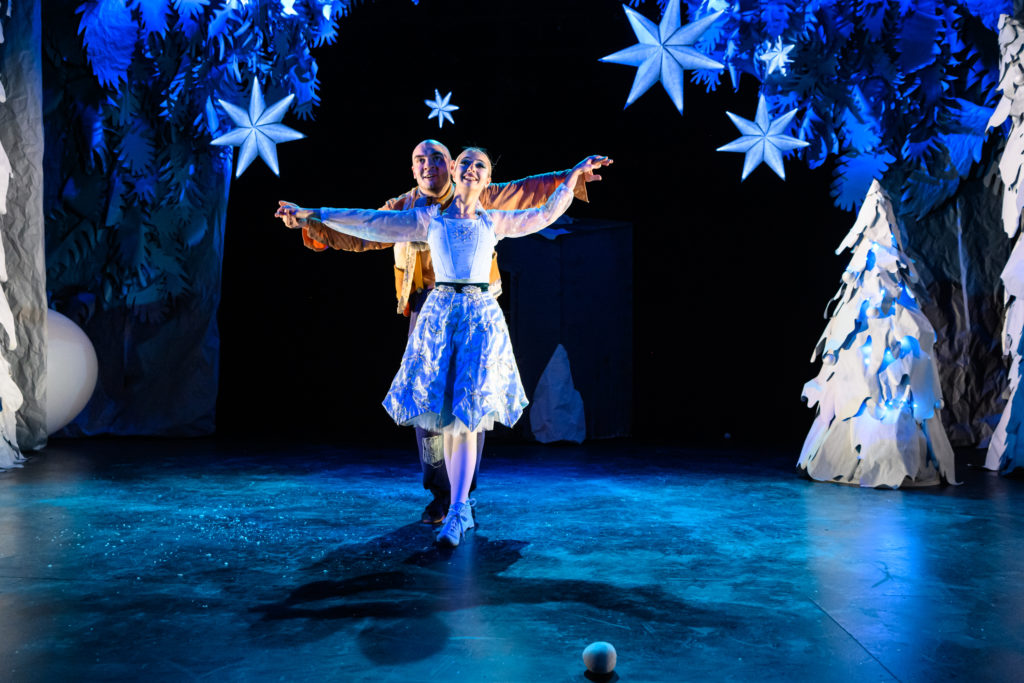 A wintery jewel box of a production that springs to life just when we need it most. Ideally suited for children and the grownups who take them.
Highly recommended.
Resident Composer Koki Lortkipanidze; Production Designer Aleksandr Shiriaev; Costume Designer Kasey Brown; Lighting Designer Peter Leibold VI; Technical Director Phil Charlwood; Sound Engineer Matthew Datcher.
Through December 23rd at Synetic Theatre, 1800 S. Bell Street, Arlington, VA 22202. For tickets and information contact the box office at 703 824-8060 x 117 or visit www.SyneticTheater.org.
A Perfect Production of Sondheim's "Into the Woods" at Signature Theatre