Business News
Community News
Music, Mimosas, Mingling – Celebration at Chamber ALX State of Business Annual Meeting
Quick Speeches, Recognition, Appreciation, and Awards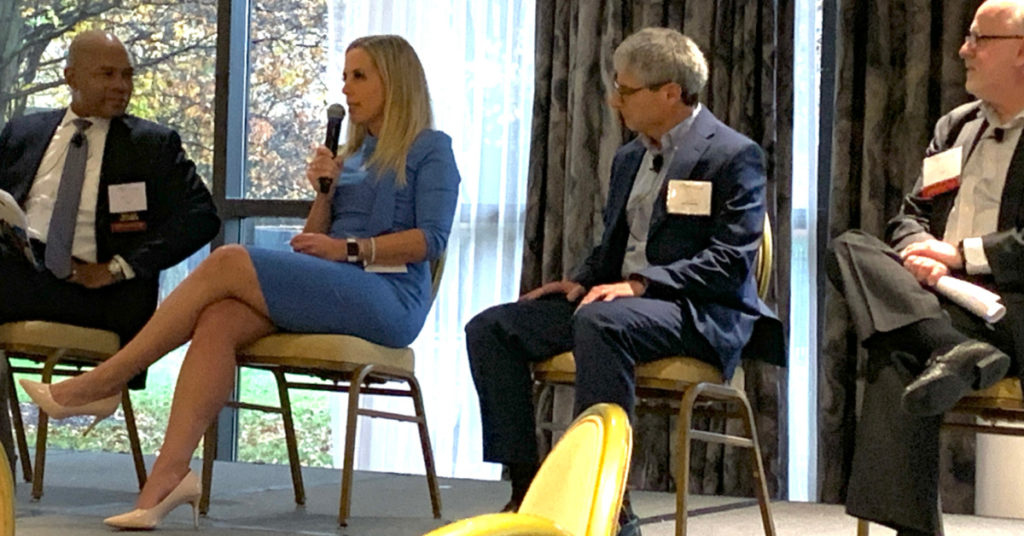 ALEXANDRIA, VA – The Alexandria Chamber of Commerce recognized award winners and reviewed the 2022 business year as members attended the annual State of Business meeting on December 6th  at the Hilton Alexandria Mark Center.
Joe Haggerty, Alexandria Chamber of Commerce CEO, welcomed guests to live jazz and mimosas at the breakfast meeting, where attendees were able to network prior to the meeting. 
Presented by Truist Bank, the State of Business Meeting's moderator Cassisus Priestly led the morning introducing an interesting format for the speaker session. The presentation used Pecha Kucha (pronounced Petch-aa Koo-chaa) style, which means "chit-chat" in Japanese, and adheres to a 6-minute, 40-second presentation per speaker. Each speaker had 20 slides for 20 seconds each. 
First Dr. Lauren Fisher (Co-Owner and Clinical Psychologist at Del Ray Psych and Wellness) spoke about Employee Wellness Trends in the workplace environment. 
"A little bit of lightness and laughter, making time for connection, and all things that are good for your nervous system would be helpful with reducing stress and making people feel heard and valued. This creates a culture of respect," said Fisher.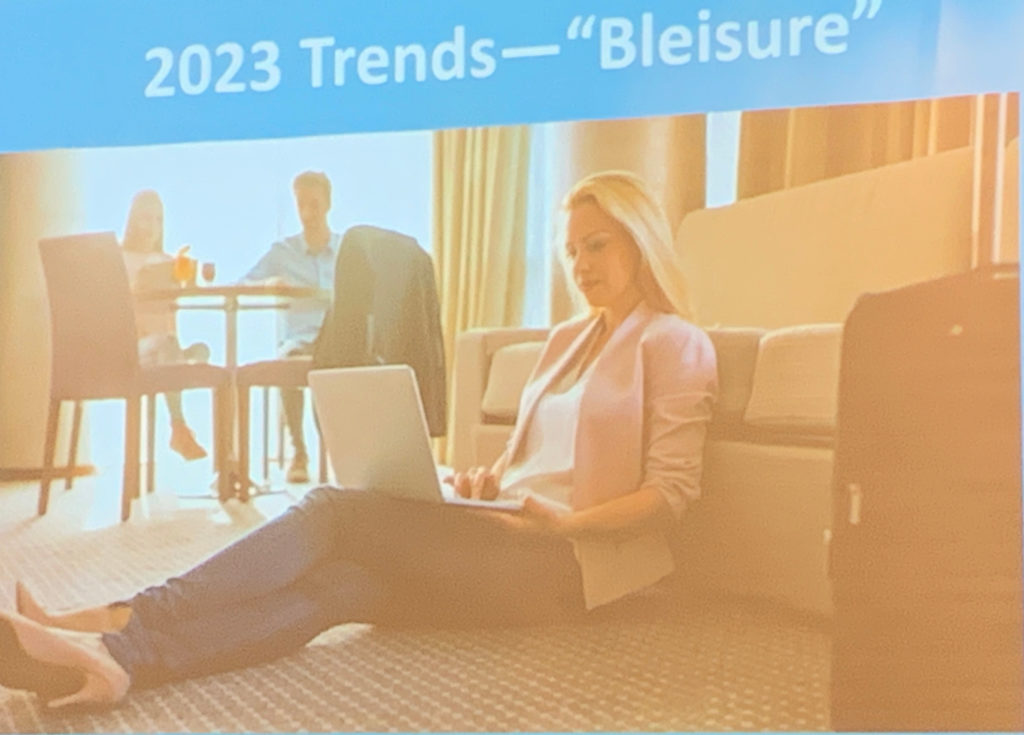 Tom Kaiden (COO Visit Alexandria), was next and shared on the trend of "bleisure" (blend of business and leisure while employees travel). While business travel has increased over  30% since 2021, leisure travel has remained somewhat constant. People are blending work with leisure by bringing their partners and families along with them on business trips.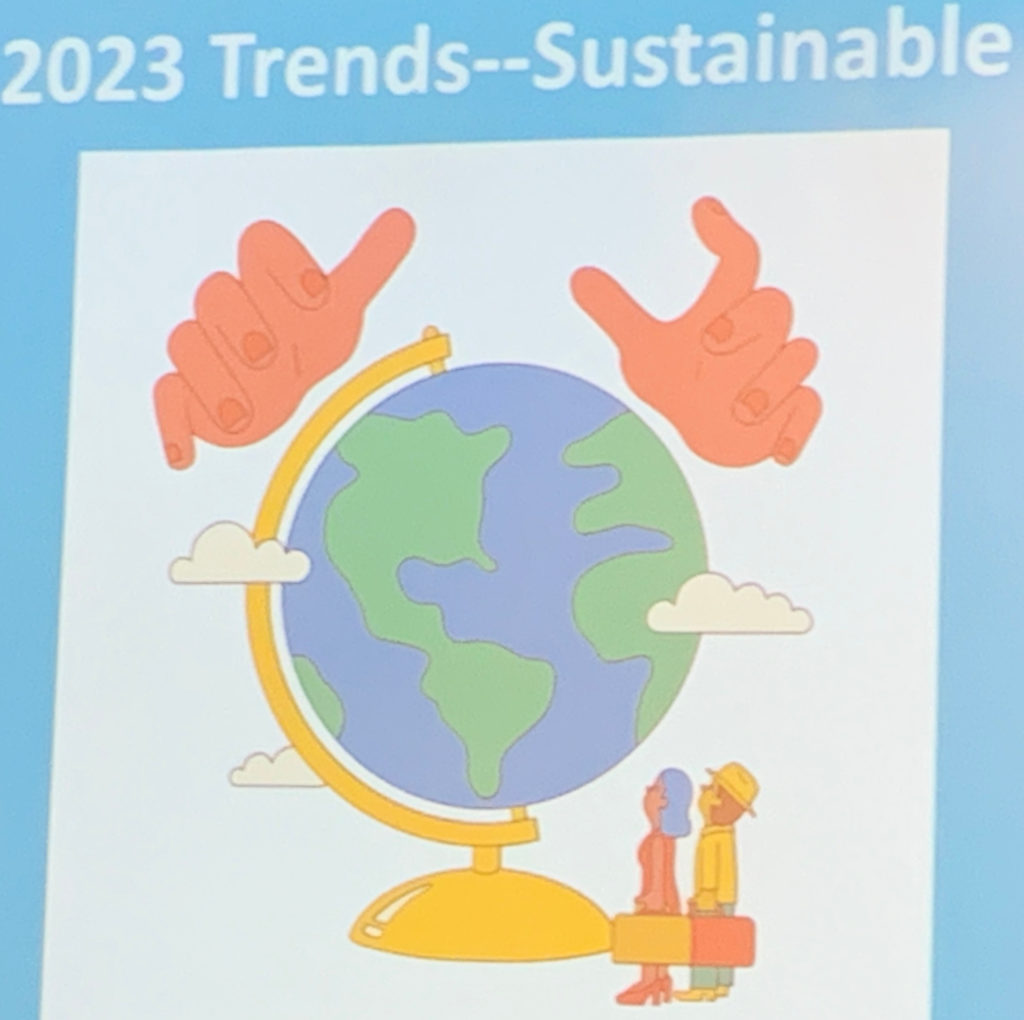 Lastly, an economy update was given by Richard J. Levinson, Investment Manager with Truist Advisory Services.
"You know the old saying that recession is when others are unemployed, and depression is when you are unemployed," said Levinson to the audience, which lightened the mood as he spoke of a possible slight recession forecast in the coming year.
Angela Hartley, 2022 Chair for the Alexandria Chamber, spoke about the 2022 year in review, Presented in July by The Patterson Group, the "40 Under 40" had 270 attendees. She also highlighted that 53 awards were presented to police, fire, sheriff, and 911 communications personnel, June's Valor Awards (presenter Inova Alexandria Hospital), and October's Best in Business Awards (Burke and Herbert Bank).
The Chair's Award was given to a well-deserved member, Andrew Palmieri, of Saul, Ewing, Arnstein and Lehr, LLP, for his numerous years of service and wearing of several committee hats. The Staff Award was deservedly presented to Ann Harbour (CareFirst/BlueCross/BlueShield).
Outgoing 2022 Board Members were appreciated and thanked for their dedication to the board. They included Will Alexander, Stephanie Beyer Kirby, and Karen Pallansch.
The 2023 Board Members were welcomed: Sunny Blanco (United Bank), Garrett McGuire (AT&T), Jatrice Martel Gaiter (Volunteers of America), Michael Babin (Neighborhood Restaurant Group), Melanie Johnson (MGM National Harbor), and Lisa Katic (Wine Gallery 108).
Presenting Event Sponsor Truist Financial was accompanied by Gold Sponsors Greenhill and United States Senate Federal Credit Union, Silver Sponsor Cotton & Company, and Patrons Tartan Commercial Properties, and Walsh, Calucci, Lubeley & Walsh, PC.
[SEE ALSO: Alexandria Native, Navy Sailor Adonis Lowery Visits Reagan Presidential Library]