Zebra Misc
New Alexandria Police Officers, Deputy Sheriffs Graduate from Criminal Justice Academy
More Protection and Safety for Alexandria and Surrounding Communities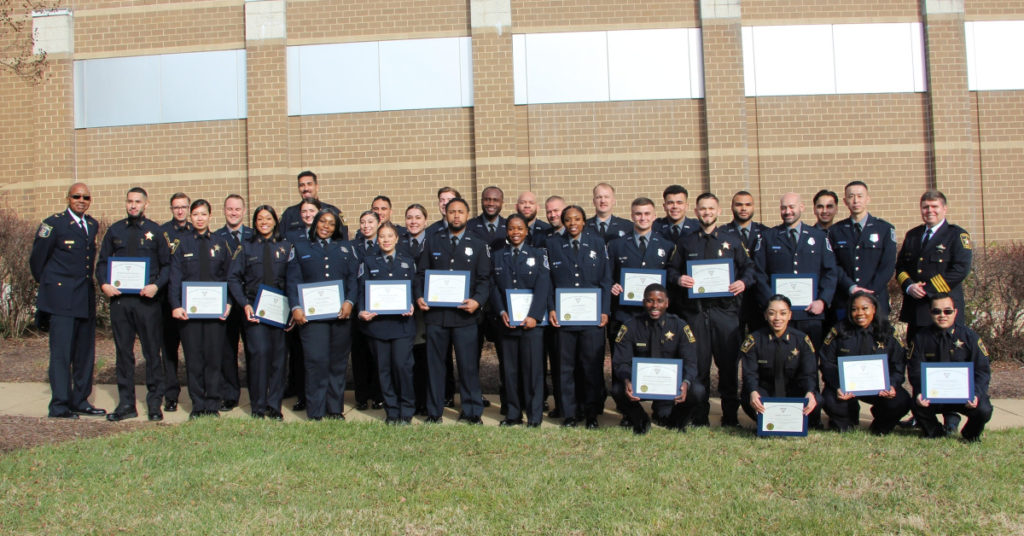 ALEXANDRIA, VA – Thirty-one new Alexandria law enforcement officers – 21 police officers and 10 deputy sheriffs – graduated from the Northern Virginia Criminal Justice Training Academy on December 19. Sheriff Sean Casey, Police Chief Don Hayes, and members of their command and training staff attended Session 147's graduation ceremony at the Schlesinger Center on the Alexandria Campus of Northern Virginia Community College.
Sheriff Casey and Chief Hayes extend their congratulations to Officer Michael Bowlin, Officer Dominick Chambers, Deputy Prakaykeaw Chuenjaichon, Officer John Cox, Officer Al Davis, Deputy Thyshown David Esperience, Officer Geovany Flores, Officer Ryan Gaskill, Officer Jacqueline Guerra, Officer Emmanuel Gyamfi, Officer Chelsea Henry, Officer Hennessiss Hernandez, Deputy Skyler Johnson, Officer Evelyn McNamara-Jeffrey, Deputy Nicholas Layton, Deputy Ricardo Marquez-Argueta, Deputy Jessica Meekins, Officer Jesus Moriel, Officer Malik Moten, Officer Steven Navas Gomez, Deputy Alexandra Nixon, Deputy Daniel Osmanovic, Officer Oscar Portillo, Officer Chad Ralls, Officer Sadaiah Robbins, Deputy Jaida Rose, Officer Jack Silvernale, Officer Natashah Squires, Officer Jeff Y. Sun, Deputy Huu Colton Thomas, and Officer Michelle Vasquez Quintanilla.
The new law enforcement officers successfully completed 20 weeks of training, including emergency vehicle operations, firearms training, defensive and control tactics, crash investigation, de-escalation techniques, basic legal training, and other important areas of study. Deputies also completed additional training in jail operations, courthouse security, and civil process.
Several Alexandria members of this class distinguished themselves and played a part in the ceremony itself. Officer Cox and Deputy Meekins were both part of the Honor Guard that presented the colors as the ceremony began. Officer Cox also received the prestigious Thomas L. Shaw Award which is given to the outstanding class member, and Deputy Meekins was selected as a class vice-president. 
Additionally, Officer Henry won top honors among female recruits in physical fitness, with Deputy Meekins and Officer McNamara-Jeffrey taking second and third place respectively. Officer Moten finished in second place among male recruits in physical fitness and Officer Cox took third place in emergency vehicle operations. 
Finally, Master Deputy Curran Thorne, an Alexandria deputy assigned to the Academy, received the David Vice Award which is presented to the outstanding academy instructor as determined by a vote of the recruits.
Alexandria's Session 147 graduates include 11 women and 20 men, with 15 having higher education degrees. Several members speak more than one language including Spanish, Chinese, and Thai, and have various heritages representing backgrounds of at least 11 different countries including the United States, England, Mexico, China, Thailand, Ghana, Honduras, Vietnam, Trinidad and Tobago, El Salvador, and Jamaica.
 In addition to the Alexandria Police Department and Alexandria Sheriff's Office, the Northern Virginia Criminal Justice Training Academy also serves the Arlington County Police Department, Arlington County Sheriff's Office, City of Fairfax Police Department, City of Falls Church Police Department, City of Falls Church Sheriff's Office, George Mason University Police Department, Leesburg Police Department, Loudoun County Sheriff's Office, Manassas City Police Department, Manassas Park City Police Department, Middleburg Police Department, Northern Virginia Community College Police, Purcellville Police Department, Washington Metropolitan Area Transit Police, and the Metropolitan Washington Airports Authority Police. [SEE ALSO:  ALIVE! in Alexandria Awarded $1.5 Million to Purchase Dedicated Food Storage Warehouse]