Community News
Cover Story
Trending
Ukrainian Family Flees War and Chooses Alexandria as New Home
Family of Three Safe, Thankful, and Hopeful for Future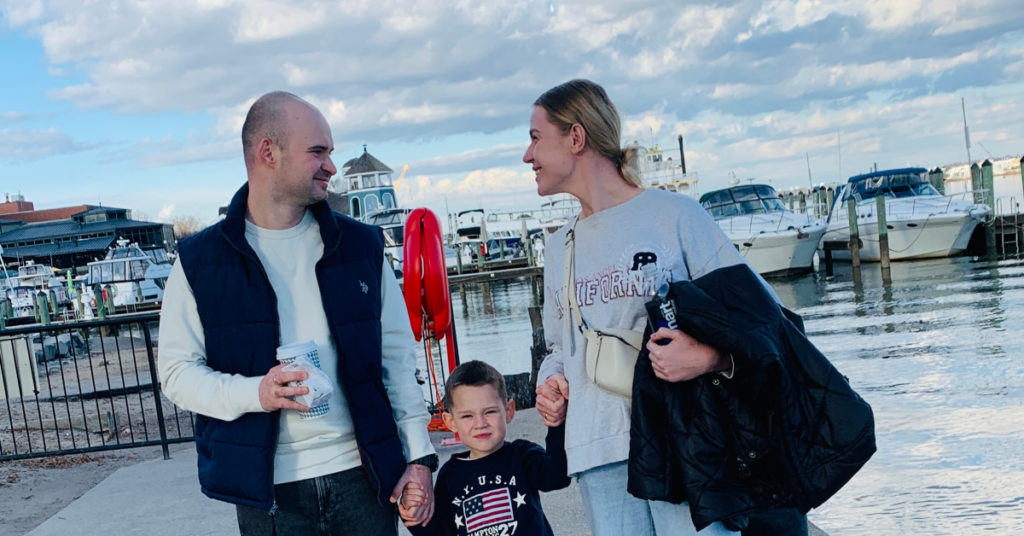 ALEXANDRIA, VA – Three suitcases and the will to survive. That is all the Varenytsia family took with them when they fled Ukraine four months ago. 
I spent last Thursday with psychologist-turned-professional photographer and videographer, Natalia Varenytsia, her husband Oleh Varenytsia, and their four-year-old son Demian. As we walked the length of King Street on a sunny afternoon, the couple described their family's  harrowing journey as they escaped for their lives and their future, their appreciation and gratefulness for being safe, and the generosity of others. 
"What We Were Told" – 
Natalia and Oleh spoke of the days leading up to the war.
"The 'Circus' [referring to American and foreign news media] was ahead of them [Ukrainian government], saying that the war would start in January or early February and that Russia would attack because they were finding troops at the borders," said Natalia. "But no one believed this would happen."  (She was referring to the Ukrainian people.) 
"There's a reason why the government said nothing to people," said Natalia. Their leaders would tell them to 'stay calm' in an attempt to prevent a massive panic. They were told that the Russian troops stationed at the Ukrainian-Russian border were 'only doing drills' so the Ukrainian people would not become alarmed. 
The War Begins –
"We were staying in Kyiv visiting relatives when the war broke out last February," the couple explained. They returned to their home in Ternopil, west of Kyiv before rushing to Lviv, which lies just outside of the Ukraine-Polish border.
While in Lviv, Oleh was helping the Ukrainian army on a regular basis in order to provide supplies to the community. People were in dire need of food, medicine, diapers, water – items that were impossible to come by in the war-stricken land. But then, aid organizations began arriving on a daily basis to help the citizens.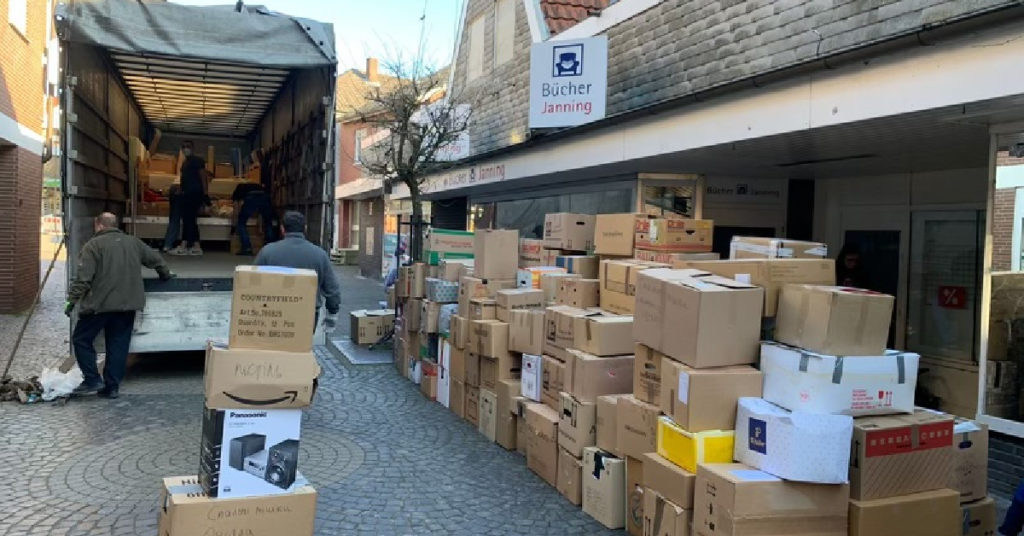 Oleh, an HR and finance professional, soon found himself in training with the Ukrainian military, learning how to use combat weaponry. He had volunteered to be part of a citizens' group that unloaded truckloads of supplies for neighborhoods.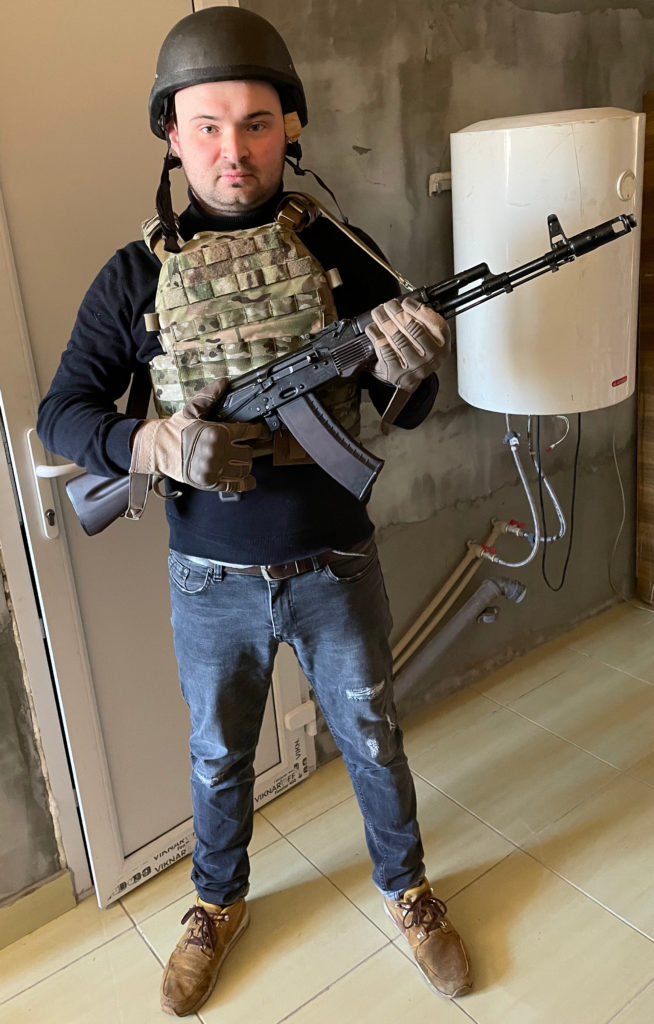 Geared up in fatigues and body armor, Oleh used his assigned weapons in regular target practice, just in case he encountered enemy assaults. He needed to be constantly aware of his surroundings and ready to defend if needed.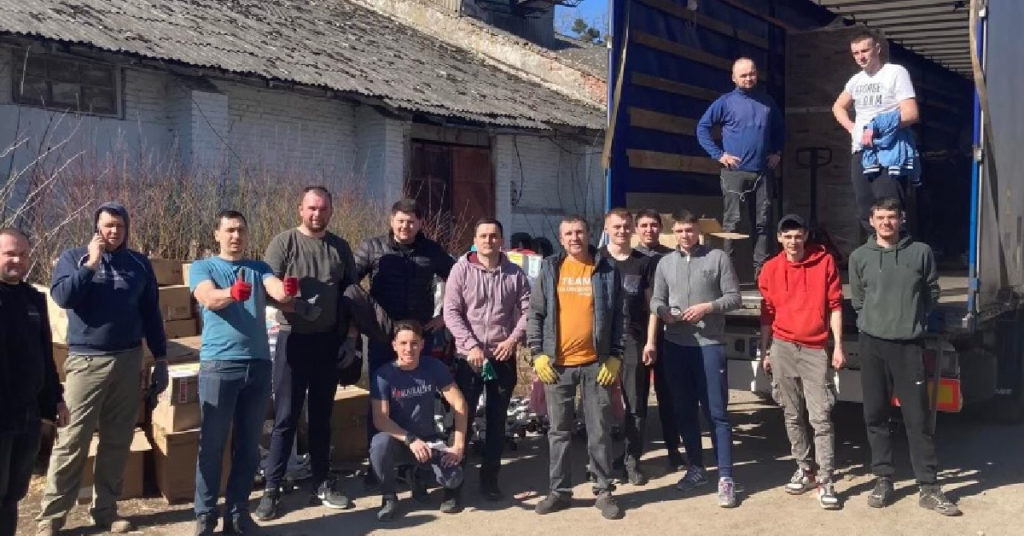 As the war raged on in the following weeks, they consistently heard and saw military planes. And they could hear bombings. 
"Now there are no planes flying overhead in Ukraine. All air traffic has stopped since it is wartime," says Natalie.
During this time, Natalia and their son Demian – who at the time was three years old – stayed in Poland briefly, but then returned home to Ternopil to be with Oleh for a short while. They decided it was then time to leave Ukraine because the war was escalating, and they feared for their lives.
"We left everything there in our Ternopil home," said Oleh, referring to their apartment and his profession as a recruiter, placing employees at jobs throughout Poland and Germany.
Crossing over the Polish-Ukrainian border again to aid-relief organizations, the family was assisted in attaining safe flight to the U.S. Once here, they lived with Natalia's fraternal twin sister in Fredericksburg for a few months before deciding to settle in Alexandria.
Adjusting to the United States —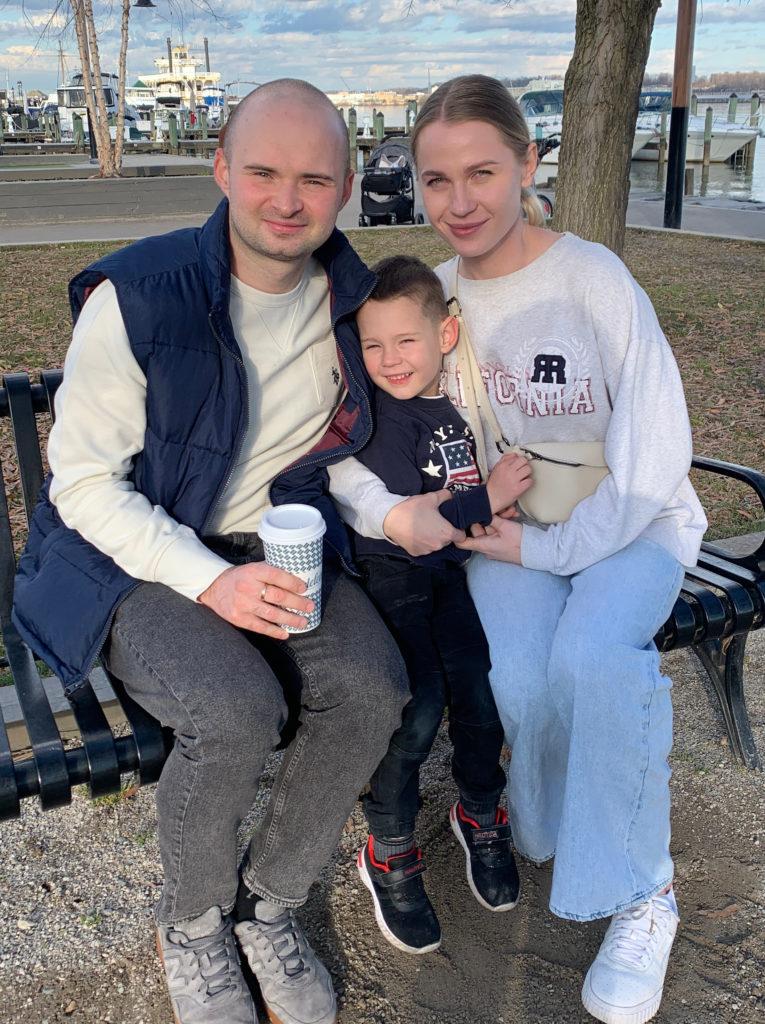 As they prepared for their journey to the U.S, they could hardly wait to arrive and "prepare for the usual, make new friends, [learn how to] communicate with people, and of course, find a job," said Natalia.
In the short amount of time that they have been in the States, Natalia has already established her own photography website. Husband Oleh Varenytsia also is engaged in photography and videography. In addition, they recently began their own soy-beeswax candle-making business called Denawick, featured on Etsy. Their designs and styles are unique to the marketplace, and they hope to gain new customers soon.
Transitioning to life in Alexandria, though, has presented big challenges to Oleh and Natalia, one of which is sticker shock. The cost of living for basic items, food, childcare, everything, they say, is so much higher here than in Ukraine. In Ukraine, childcare and preschool are free.
"Adaptation to life and to new people, to be honest, is very expensive, for real," said Oleh. "People here from other countries say that if you ask [for something] in the U.S., they give with one hand but then take with two," they said with a laugh.
When they lived in Fredericksburg briefly, they realized the challenges of travel for people who are without a vehicle.
The distance to travel here in northern Virginia "is difficult- at home we could travel by bus in 15 minutes from one side of the city to another," said Natalia. 
"You don't have [your] own car – it's [a] problem," said Oleh. They recently were able to get a car. 
Shortly after their arrival, their first Thanksgiving was spent with a U.S. military family that befriended them. They chuckle when they say "it is called "Friendsgiving," and describe how that family also has given them a bed for Demian, table and chairs, other furniture, and household items. They are amazed at the kindness and generosity of Americans they have met. And thankful, always thankful. 
Hope for the Future —
The Varenytsia family smiles throughout the afternoon as they express to me how much the new aid program has meant to them. A chance to be safe. A chance to make a living. A chance to raise their young son in peace.
Uniting for Ukraine, which was enacted by the Biden administration on April 21,2022, provides an opportunity for Ukrainian citizens and their immediate family members who are outside the United States to stay within the U.S. temporarily for a two-year parole period. Ukrainian participants in Uniting for Ukraine must have a supporter in the United States who agrees to provide them with financial support for the duration of their stay in the United States. That person for the Varenytsias was Natalia's twin sister.
I asked Oleh and Natalia when they thought the war would end. 
"The old people say the war will end in a few weeks, or a few months. That is their belief, their hope," said Oleh. He was referring to the rapid 2014 takeover of Crimea by the Russian government, when they stated that the 1954 recognition of Crimea to the Ukrainian SSR was a "mistake".  
"We believe," said Oleh, in describing his family and younger generations' beliefs, "it could last many more months, even a year or more. We just don't know. It is impossible to tell."
For now, immediate goals are clear for the couple.
"We need to work, to find jobs, and [grow] our candle-making business [in addition to the photography business]," says Natalia. Their hope remains high about succeeding in their livelihoods. Also, they want to quickly improve their grasp of English. 
They smile when they talk of simple pleasures. Daily scenes such as the seagulls swooping over the water and the boats docked at the Waterfront that Demian delighted in as we stood soaking up the sunshine. 
I described the Potomac River and crossing the Woodrow Wilson Bridge, in order to get to Maryland, across the water. As I pointed to the MGM, I searched my brain for a word to describe gambling, and soon, they nodded in approval. They understood me. Apparently, "gambling" is a universally-recognized word.
"We have all that we have for life," says Natalia. "Some plates, some cooking dishes." They worry about their son, Demian, who has not yet learned the English language and isn't able to talk to other kids." 
He speaks of his teachers and friends back in Ukraine, and his parents say he understands that they had to leave to be safe, although not all things. He remembers the airplanes and the noise back in his home in Tenipol. So do his parents.
"When we hear some noise, we think 'what is it, what is it?' We feel uncomfortable. Just now we are used to airplanes [living in the States] because in Ukraine there are no airplanes [anymore], only military planes," said Natalia in speaking of her homeland.
"Sometimes he asks us 'is it Russian, is it Russian?' when he sees planes in the sky [nowadays]," said Oleh. At that point, they reassure him that they are not Russian planes, and that they are safe here in the United States.
Looking Forward –  
I ask them what they are looking forward to now that they live in the U.S.
"We want to visit Los Angeles, Chicago, and New York. We never thought we'd be living here – but now we are for at least two years. We want to see these places," said the couple. Their U.S. government-issued passes give them temporary respite and work authorization. What lies after that time period remains to be seen.
The afternoon wraps up with hugs and warm wishes. I tell them I have no doubt they will succeed in their photography/videography business, their candle-making business, and Oleh finding an HR job. I know the people of Alexandria are giving, kind, and generous; they feel deeply, they care for others, they are community.
[Editor's Note: Please reach out to [email protected] to connect to the Varenytsias, or visit Natalia and Oleh's website or Instagrams directly if you want to help them in adjusting to their new home in Alexandria. Thank you.]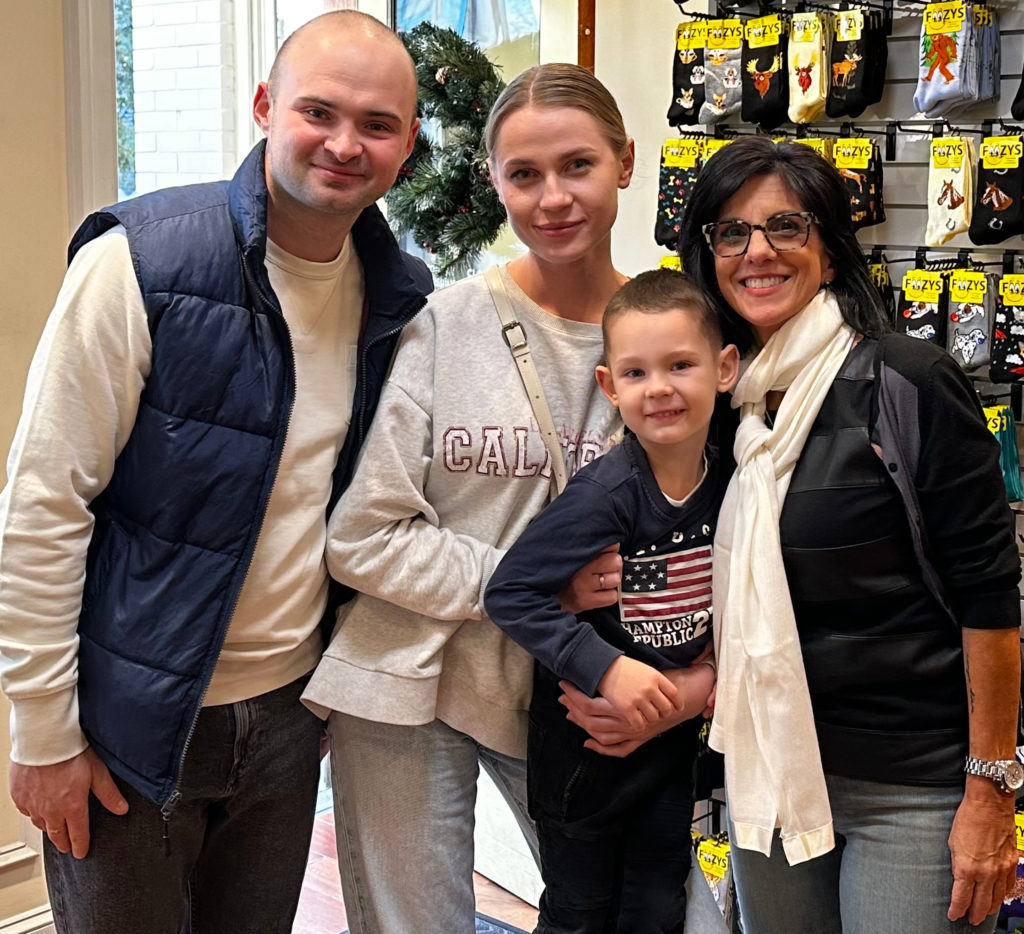 [SEE ALSO: Alexandria Restaurant Week: Online Menus]