THEATRE
'Sister Act' Wows 'Em at The Little Theatre of Alexandria
Now playing through Feb. 4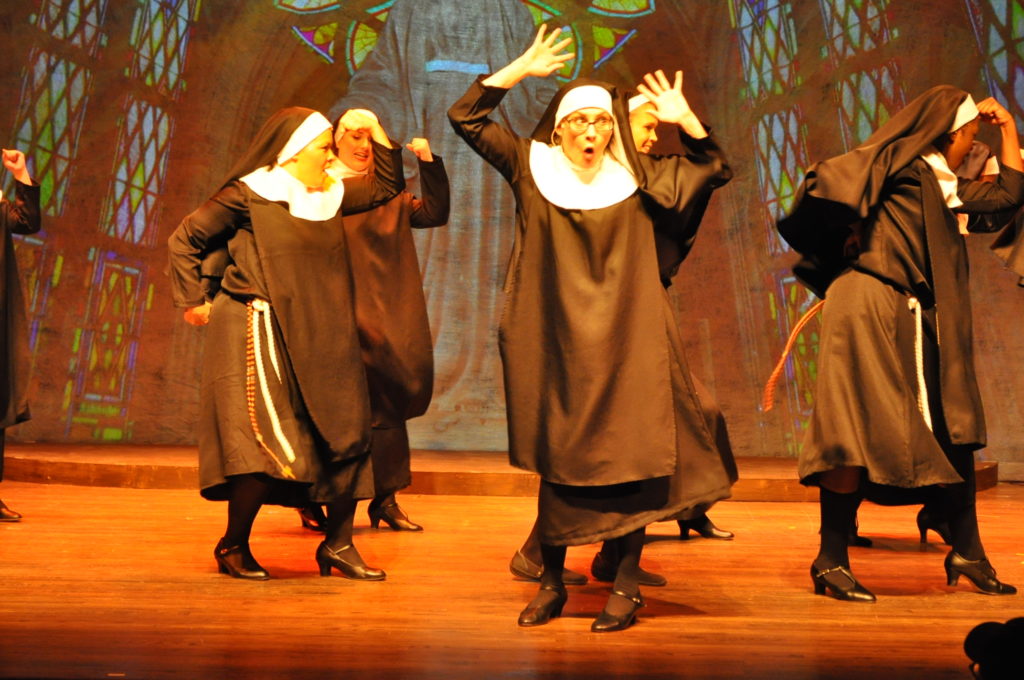 ALEXANDRIA, VA – When a club singer witnesses a murder committed by her gangster boyfriend, she is forced to go on the run rather than be murdered herself. Deloris Van Cartier (Ashley Williams) is a bougie-cool, flashy diva, used to struttin' her stuff and havin' her way… but not this time. Through videos, Director Mike J. Baker Jr. (more on him later) shows her racing through familiar Old Town locales, including dodging out the iconic wrought iron gates of this very theater, until she is delivered to the doors of the Queen of Angels convent in South Philly and into the reluctant arms of its strict Mother Superior (Christine Maxted).
When I saw 25 scenes listed in the program, I was floored. How will they achieve so many scene changes? It can't be done. Yet, through the use of a full-stage scrim with a 4Wall rear projector, combined with Switcher and VMIX technology, the miracle of transporting the audience from the cloisters of the cathedral (actually both interior and exterior stills of Alexandria's St. Mary's Church) to street scenes, a seedy bar, a police station and animated backgrounds to reflect a disco, all converge seamlessly to achieve what one would think utterly impossible. This sophisticated, mixed media technology is down to director Baker, whose background at Bravo and productions with the National Arts affords him the experience and knowhow to pull it off. "Everything I know about TV and theater went into Sister Act," he told me.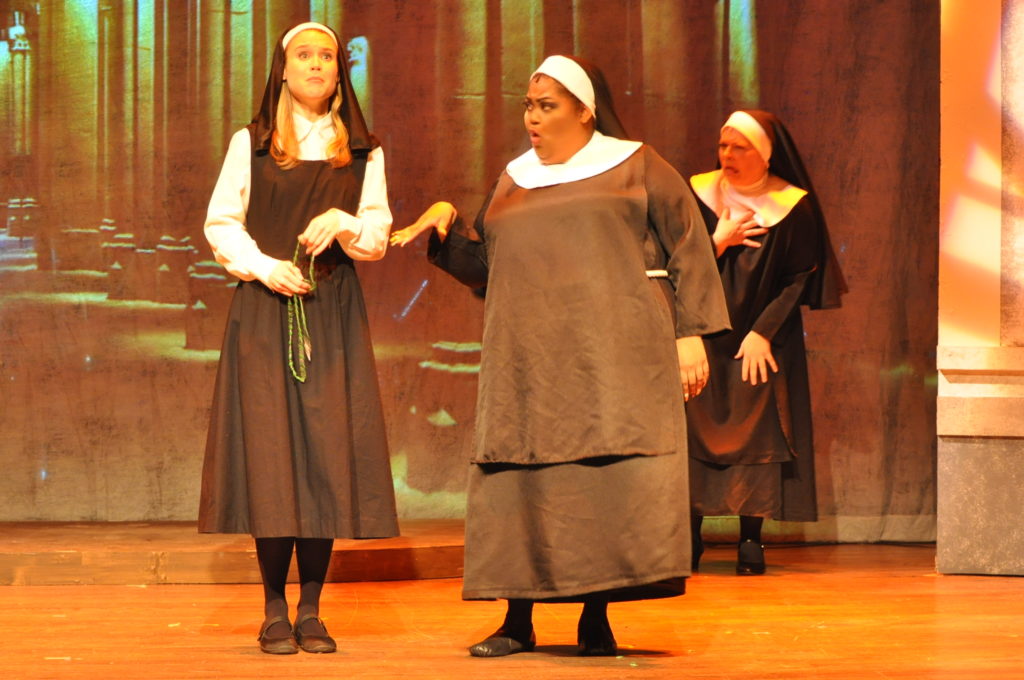 Equally as exciting is Broadway-caliber Ashley Williams in the lead. Where has this actor/singer been, I wondered, wishing I were a theatrical agent. "Sign here, please!" I heard myself thinking. With an extraordinary, soulful and powerful voice that could be heard as far as King Street, and with acting chops to match, she had the entire audience in her thrall from the get-go. Williams' voice was well matched by Maxted whose vocals were as pure and dulcet as Julie Andrews'. I would gladly have followed her across the Alps.
To say these two fabulous women were the biggest draw in this musical, would be to give short shrift to a tremendous cast who sang, danced and showed off their comic timing to a tee. Imagine 14 nuns, one Mother Superior, a Monsignor and Deloris all on stage at the same time and all in sync, then you'll pretty much have the picture of a powerhouse show that will have you jumping out of your seat with the rest of the audience. Add a 20-piece orchestra conducted by Colin Taylor and cached behind the scrim to provide an exhilarating sound to back up this wonderful cast.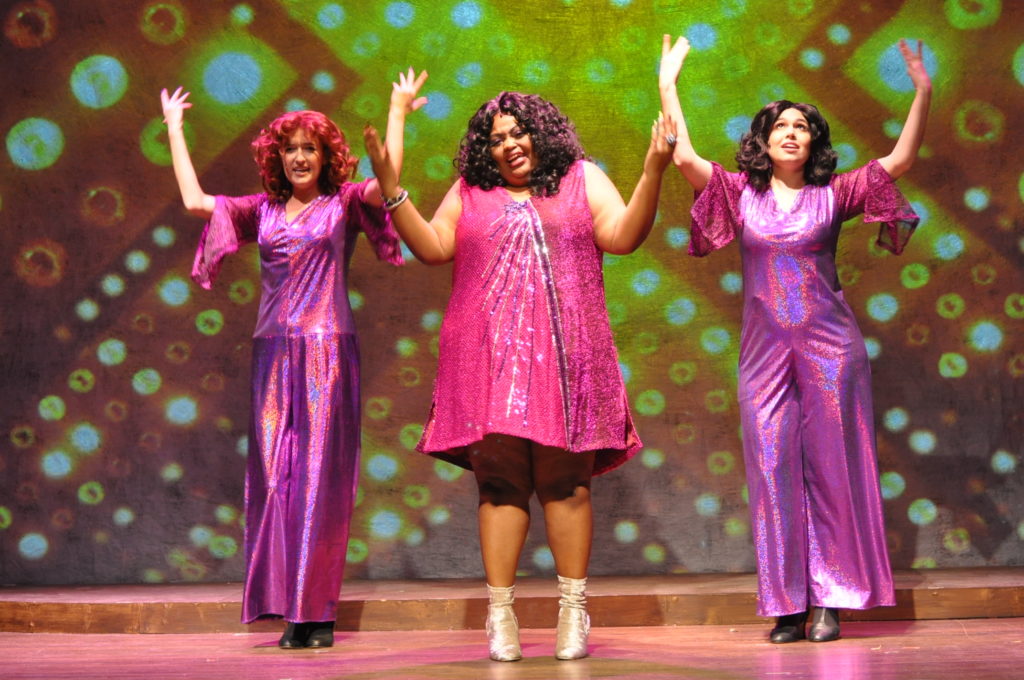 The morning after opening night I received notice of this year's WATCH Award nominations. LTA received 52 noms for their last season far more than any other community theater. Their eagerness to stage these big shows, their ability to seek out and find superb talent, as well as their professional production capabilities are reflected in not only this tremendous show, but also in their entire season to date.
Highly recommended. If I gave out stars, which I do not, they'd have five stars in a neat row.
With Odette Gutierrez del Arroyo as Michelle and Paola; Jenni Philp as Tina; Paul Caffrey as Curtis; Luke Martin as Ernie; Evan Zimmerman as Joey; Alonzo Cook as Eddie; Allison Meyer as Sister Mary Robert; Gina Tune as Sister Mary Patrick; Jennifer Reynolds as Sister Mary Lazarus; Margaret McGarry as Sister Mary Martin-of-Tours; Jennifer Levy as Sister Mary Theresa; Peter Fannon as Monsignor O'Hara; and Sandy Kozel as News Reporter.
Including an ensemble with Gifty Amponsem, Claire Aziza, Maria Ciarrocchi, Aja Goode, Julianna Laseter, James Miller, Josie Morgan, Bob Thompson, Lourdes Turnblom, and David Valderrama.
Produced by Kadira Coley and Alan Wray; Set Design by Julie Fischer, Lighting Design by Ken and Patti Crowley; Sound Design by David Correia; Costume Design by Jean Schlicting and Kit Sibley.
Now playing through Feb.4. For tickets, visit thelittletheatre.com/tickets. Little Theatre of Alexandria is located 600 Wolfe St.