Community News
Visit Alexandria Launches Rebrand and New Destination Advertising Campaign
The "Best Kept Shh!" campaign offers visitors an unconventional glimpse at what makes Alexandria so special

Alexandria, VA – Visit Alexandria yesterday unveiled its first rebrand since 2013 and a fresh new advertising campaign at its annual "What's New in Alexandria in 2023" event held on Thursday, Jan. 26 at the Alexandria History Museum at The Lyceum.
The "Best Kept Shh!" campaign, featuring updated branding, kicks off on March 1 and rolls out through the spring with a dedicated landing page and advertising across social media, print, YouTube, Connected TV, out-of-home, and digital display channels. Visit Alexandria launches the new brand with a clean, contemporary logo that includes a water-inspired element, accompanied by refreshed brand colors and fonts. This new visual identity reflects the progressive spirit of the City of Alexandria and evolution of the Old Town Waterfront, dining and shopping scene, diverse neighborhoods, inclusive history and more.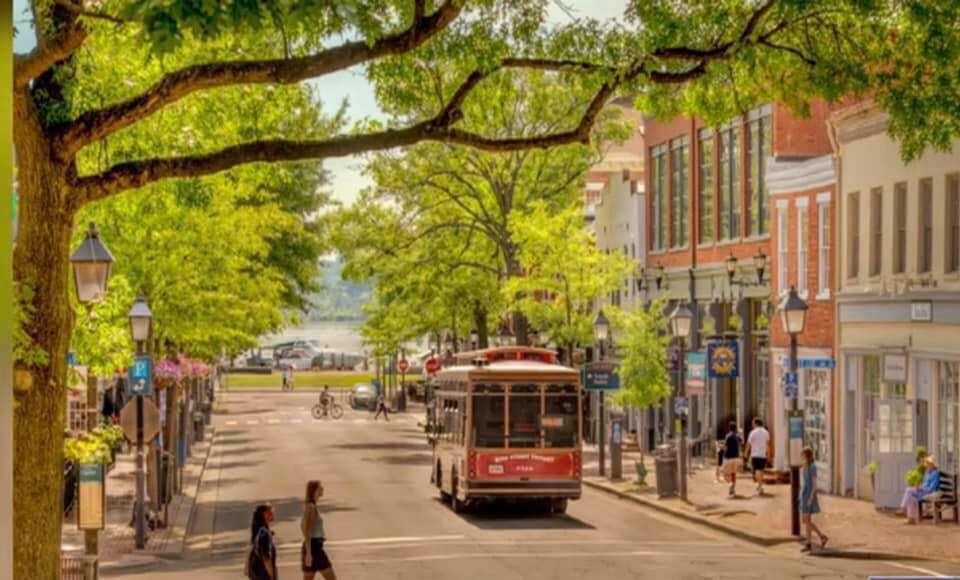 "Our new logo is logo is sophisticated yet inviting and embraces our identity as a waterfront city that is continually evolving," said Patricia Washington, President and CEO of Visit Alexandria. "Even as our brand changes, we're continuing to highlight our city's historic character both visually and in our storytelling with a bold new destination advertising campaign that will surprise people and offer potential visitors a glimpse at all there is to know and love about Alexandria."
A "Secret" Campaign Strategy
The "Best Kept Shh!" campaign is a nontraditional marketing campaign that seeks to grab attention and spark curiosity as it plays on the idea that Alexandria is so special, it might be too good to share. Video executions "bleep" or censor the word "Alexandria" in a humorous way to make viewers stop and wonder what is being said until it is revealed at the end of the ad. Print and digital banner executions depict a large "Shh!" and a semi-obstructed peek at a scene as it teases Alexandria's national travel accolades to entice people to reveal the hidden city name by visiting the website ItsTooGoodToShare.com, which will go live on March 1.
Due to the work of Visit Alexandria's PR team, Alexandria's national profile as a must-visit destination continues to rise year-after-year with recognition from Travel + Leisure among the Best Places to Travel in 2023 and Best Cities in the U.S. 2022 and Condé Nast Traveler among the Top 5 Best Small City in the U.S. 2022. Research studies demonstrate that these rankings make a real difference in influencing travel decisions and while Alexandria's proximity to Washington, D.C. is a major asset, it's becoming more evident that Alexandria can stand out on its own as well. The new campaign leans into Alexandria's sense of discovery and playfully suggests potential visitors will ultimately want to keep the destination to themselves.
The campaign rollout will include:
Creative services from 1 Trick Pony, an independently owned creative branding, design and advertising agency based in Philadelphia that has worked with a variety of brands including Virgin, Disney and Hard Rock.
Digital, print, out-of-home, YouTube, Connected TV and digital display, complemented by organic and paid social media.
Target markets including overnight travelers within a 5-hour drive radius.
More than $200,000 in paid advertising during the initial 4-month flight, with plans to resume again later in 2023.
ABOUT ALEXANDRIA, VA
Recognized by Travel + Leisure among the Best Places to Travel in 2023 and Best Cities in the U.S. 2022 and voted a Condé Nast Traveler Top 5 Best Small City in the U.S. 2022, Alexandria is a welcoming weekend escape on the Potomac River, minutes from Washington, D.C. Founded in 1749 and boasting the nation's third oldest historic district, Alexandria hums with a cosmopolitan feel. Stroll Old Town Alexandria's King Street mile to find more than 200 independent restaurants and boutiques plus intimate historic museums and new happenings at the waterfront. Explore vibrant neighborhoods beyond Old Town, trace George Washington and the Founding Fathers' footsteps and follow the stories of Black Americans who shaped the history of Alexandria and the United States.
Connect with Visit Alexandria!  
Web:                    VisitAlexandria.com
Facebook:           VisitAlexandriaVA
Twitter:               AlexandriaVA
Instagram:          VisitAlexVA
Hashtag:             #visitALX
FOR MORE: Alexandria's GW Birthday Parade To Highlight 100 Years of Masonic Memorial