THEATRE
'Boston Marriage' is a Snappy, Salty Victorian Comedy by David Mamet Now at Dominion Stage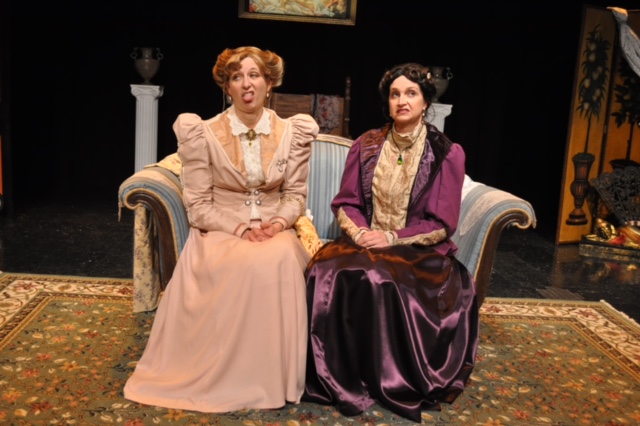 ARLINGTON, VA – For those of you unfamiliar with Dominion Stage, the longest-running community theater in the DMV, it is located on the fringes of National Landing in Fairlington. A little more than three years ago they merged with Port City Playhouse, another local community theater. Both companies are proud of their mix of contemporary, traditional, diverse and historically under-represented stories to reflect local community interests. Their motto is "Anything but Predictable" and that's exactly what their audiences have come to expect.
With that in mind I returned (after a long absence) to see their current production of Boston Marriage by prolific author and Pulitzer Prize-winning playwright, David Mamet best known for Glengarry Glen Ross, The Postman Always Rings Twice, Speed-the-Plow, and a wealth of other award-winning plays and screenplays.
Quoting from the program, a Boston Marriage was, historically, "the co-habitation of two wealthy women, independent of financial support from a man." The termwas used in New England in the late 19th and early 20th century. Some of these relationships were romantic in nature and might now be considered a lesbian relationship, while others were not, according to Wikipedia.
Anna (Elizabeth Keith) is mistress to a married man who provides her with everything she needs to live in grand style. When her best friend Claire (Heather Plank) comes to visit, the two women have opposing interests in mind. Claire wants Anna to set up a liaison in her home and Anna is understandably jealous of Claire seeing another woman. Convincing Anna to go along with it takes nearly the entire first act. Although Claire disapproves of Anna's cushy arrangement with her sponsor, she is eager to avail herself of its perks. "Men! What can we do with them?" she asks. "One thing!" declares Anna.
This clever three-hander combines the intricacies of Victorian Era etiquette with the salty dialogue of plundering pirates. It is absolutely, eyebrows-raised hilarious to watch these two begowned and bejeweled ladies intellectually argue the merits or worthlessness of Victorian social structure and its stringent mores while flinging around curse words more appropriate to an Army barracks. In a particularly funny bit, an exercise in sensuous pie-making by Claire prompts Anna to say, "Claire! You pagan slut!" – the insults here are as frequent as they are acerbic.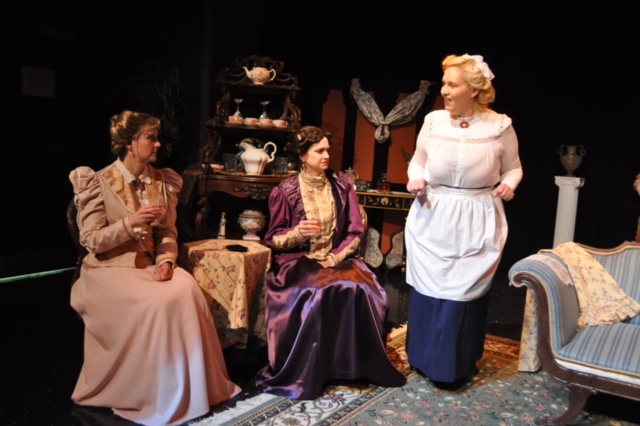 Catherine, played by Nancy Somers who recalls the great Carol Burnett's iconic role as a maid, is Anna's housekeeper – a neurotic Scotswoman whose country ways are anathema to the ladies' indelicate ears. Between the three women you'll hear some of the snappiest, silliest, and high-minded repartee heard on a stage. It's like a tennis match with insults in lieu of balls. Director Matthew Randall keeps the pace on rapid dial until you feel yourself in free-fall and Charles Dragonette's set design is so picture perfect I wanted to leap out of my chair and snatch a few scones from the tea service or pour myself a sherry from the breakfront just to keep up with the velocity of verbiage. I loved this fine cast whose characters are well-developed and whose comedic timing is rapid-fire.
Although the action takes place in a single day (no wonder it's on fast-forward!), you'll find yourself deep in the middle of planning a séance, enjoying the fashions and mores of the period, and plotting a tryst as thick as clotted cream. Heaven forfend!
Produced by Rachel Alberts with Lighting by Ken and Patti Crowley; Sound Design by Jon Roberts; Hair and Makeup Design by Rebecca Harris; Set Design by Charles Dragonette with assistants David Hyman and Alan Wray. Period costumes provided by The Little Theatre of Alexandria.
Through February 11th at Theatre on the Run, 3700 South Four Mile Run Drive, Arlington, VA 22206. For tickets and information on performance dates, visit www.DominionStage.org.
This review has been updated.
'Ride the Cyclone' is a Thrilling and Captivating Journey at Arena Stage