THEATRE
'Sunset Boulevard' Glows With Hollywood Glamour Starring Broadway Royalty Stephanie J. Block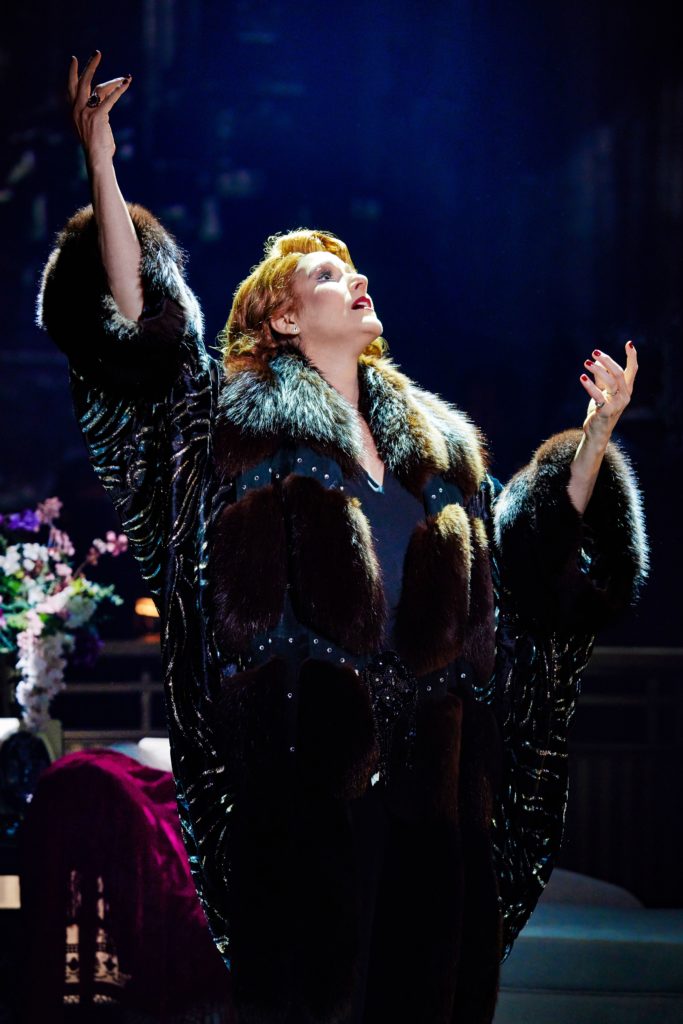 WASHINGTON, DC – The Kennedy Center's Broadway Center Stage productions differ from a Broadway production in that the orchestra here is smack dab on stage with the performers who are major Broadway luminaries. These performances rely neither on complex set designs nor a wealth of props (although creamy white velvet fainting couches feature prominently here) but on the talents of the performers, the plot, the music, the powerful strains of the full Kennedy Center Opera House Orchestra, and the thrill of these hot-ticket shows. That said, this short run features no less a luminary than Stephanie J. Block in the lead role of the glamourous Norma Desmond in Andrew Lloyd Webber's multi-Tony winning Sunset Boulevard. Ms. Block is so beloved a performer that a standing ovation with accompanying hoots and whistles follows her every number.
If you're unfamiliar with the plot it's set in Hollywood in the 1940's and based on Billy Wilder's 1950 film noir classic starring Gloria Swanson and William Holden. Here a backdrop of black & white movie stills and old clips sets the mood of the period and a pair of grand staircases leading up to the rafters fill opposite sides of the stage.
The big draw is Stephanie Block who won her most recent Tony Award for her role in The Cher Show for "Best Leading Actress in a Musical". Block has garnered innumerable awards and the playbill features a bio as long as my arm. Audiences show their adoration with standing O's after each number she belts out with her powerful voice and commanding stage presence. Block could sing the phone book, if we still had them, and fans would rush to witness it. Here she is bracketed by other leading B'way stars and the whole equals the sum of its supporting actors' parts. What you can expect to hear is stunning voices with a notable Webber score.
Sunset Boulevard is a sordid story of ageism, sexism and raw power in Hollywood – former leading ladies are put out to pasture; young, movie star-handsome, aspiring actors who long to hang out with the Hollywood elite to further their careers and fill their pockets; and the cruelty of studio heads wielding excessive power over their stable of impressionable actors. Is it relevant? You betcha. Refer to the recent Harvey Weinstein incident and the #MeToo movement for background.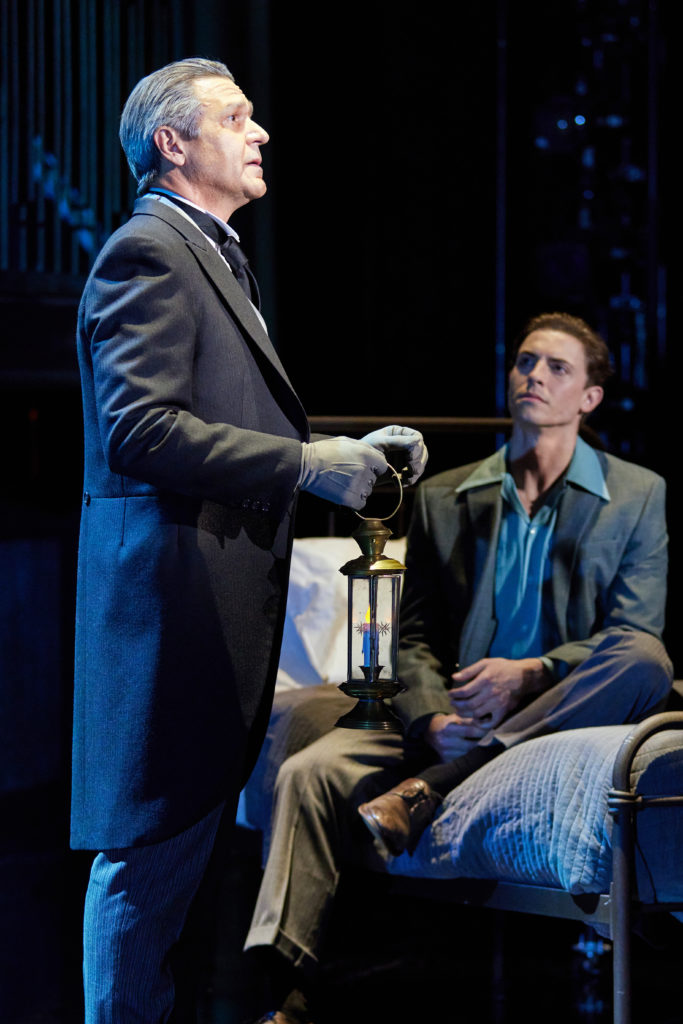 Norma is kept in the dark by her butler, Max Von Mayerling (Nathan Gunn) who fake-writes her fan mail and encourages her desire to play Salome in a script she has written and that her boytoy, Joe Gillis (Derek Klena), is revising while being held hostage in her Beverly Hills mansion. Joe plays her game, reluctantly at first, "I'm touched by her folly.", later fulfilling her every desire while enjoying the perks of the luxe life. His alternate love story is his business relationship with Betty Schaefer (Aul'i Cravalho), a wannabe screenwriter who eventually becomes his main squeeze. Just so you know, if you didn't already, there is a happy ending.
Also starring Paul Schoeffler as Cecil B. DeMille; Michael Maliakel as Artie Green; Kevin Pariseau as Sheldrake; Tyley Ross as Manfred; and Lance Roberts as Sammy. A fifteen-person ensemble gifts us with even more dancing and singing.
Music by Andrew Lloyd Webber; Book and Lyrics by Don Black and Christopher Hampton; Directed by Jeffrey Finn; Scenic and Production Design by Paul Tate dePoo III, Costume Design by Alejo Vietti; Lighting Design by Cory Pattak; Music Direction by Ben Cohn; Choreography by Emily Maltby.
Through February 8th at The John F. Kennedy Center for the Performing Arts, 2700 F Street, NW, Washington, DC. For tickets and information call the box office at 202 467-4600 or visit www.Kennedy-Center.org.
For Block fans: Block will be starring in Kennedy Center's upcoming Into the Woods. The show runs from February 23rd through the 28th. Check the website for dates and times.
'Boston Marriage' is a Snappy, Salty Victorian Comedy by David Mamet Now at Dominion Stage