SPORTS
3 Alexandria High School Wrestlers Make State Championships in Virginia Beach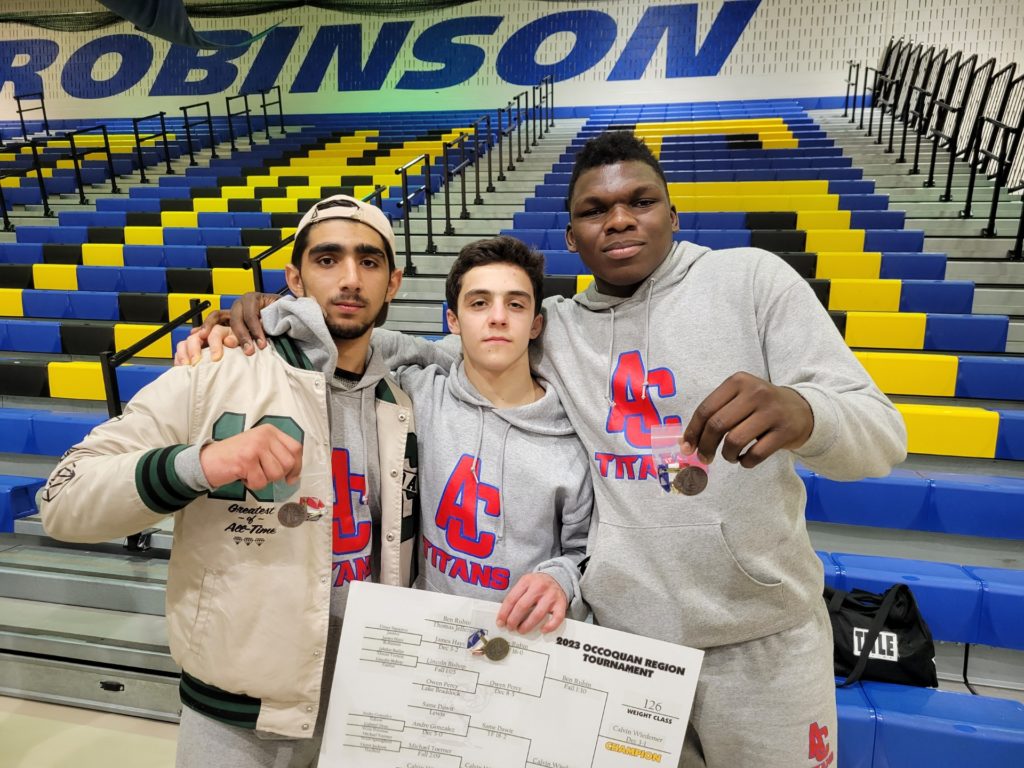 ALEXANDRIA, VA -Competing for a state championship is the dream of every Virginia high school wrestler. For Alexandria City High School (ACHS) senior Calvin Wiedemer, that dream was realized this season. Almost as gratifying, he was able to share the experience with two teammates and his longtime coach.
"Last year, I brought one teammate down as an alternate," Wiedemer said. "This year, having two other teammates who were competing, and having Coach Marshall there, made the whole experience a lot more fun."
Before the three ACHS wrestlers made it to the state championships in Virginia Beach, they first needed to finish in the top four of their weight classes at the district level. They then needed to finish in the top four of their weight classes at regionals.
Wiedemer, who lost his sophomore season to Covid-19, finished first in the district and regional rounds. Although his loss to the eventual 126-pound state champion meant he fell short of his ultimate goal, the co-captain's third-place finish at the state championships capped a season that included 44 wins, including 34 by pins, which destroyed the previous ACHS record of 20 pins.
"Calvin showed great development over the years," said Titans Head Coach Chris Marshall. "He went from not being able to decisively pin an opponent when he first joined our program in the eighth grade to setting the school record."
Wiedemer, who has been wrestling since he was 10 years old, will wrestle next year at Washington & Lee University. "It's bittersweet for me," said Wiedemer. "I'm excited about moving on, but sad that I won't be on this team, being taught by Coach Marshall."
Joining Wiedemer in Virginia Beach was Bassem Sliti. Unlike Wiedemer, who began wrestling for the Titans in eighth grade, this was Sliti's first year on the Alexandria City varsity team. The 157-pound athlete, who has drawn college interest from Bluefield University and Marymount University, won a match in Virginia Beach after finishing third at the district and regionals.
Sliti came to wrestling after years of training in karate, Brazilian jujutsu, and boxing. Marshall said that the senior, who hopes to pursue a career in mixed-martial arts, showed terrific work ethic and dedication: "The time he spent preparing for districts, and then between districts and regionals, focused on his skills, really paid off."
While Wiedemer and Sliti graduate in June, Marshall, who just completed his 13th year coaching at ACHS, said that he is especially excited about Juelz Peters returning to the team next year.
"The growth he showed between last year and this year was tremendous," said Marshall. "Although this was his first year on varsity, he learned how to watch videos of his matches in order to learn from his mistakes and improve."
The 285-pound sophomore placed third at the district and regionals and won a match in Virginia Beach.
Help Alexandria High's Lacrosse Booster Club Raise Funds To Support Boys and Girls Teams