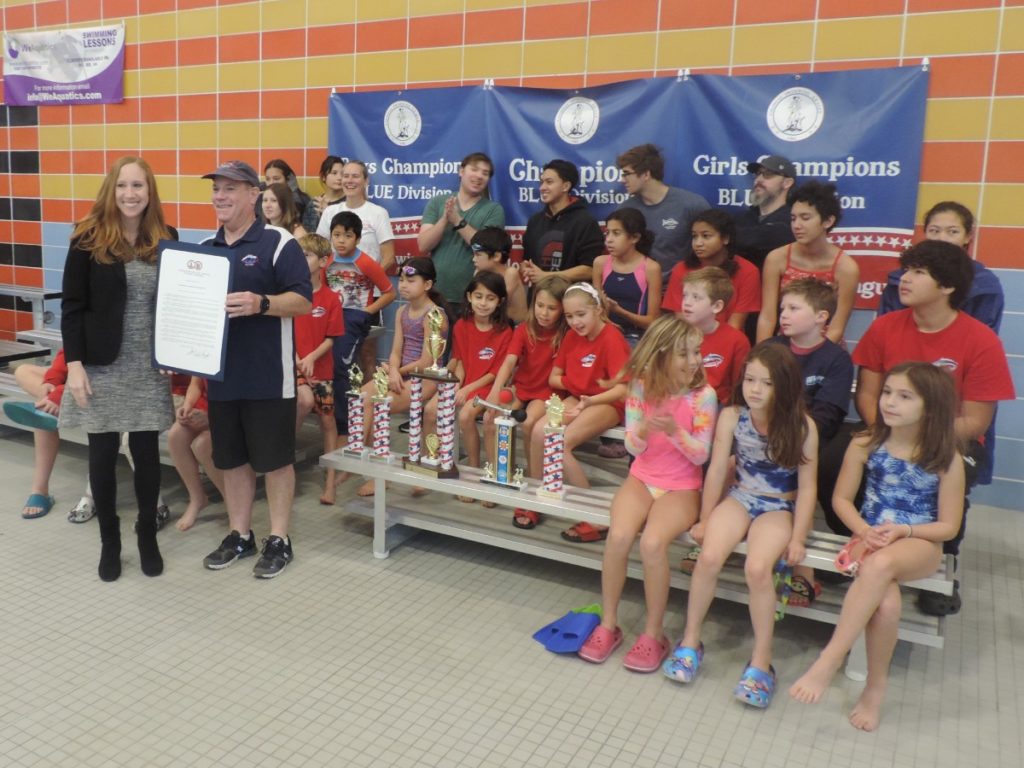 By Marisha Goldhamer
ALEXANDRIA, VA — Following an undefeated 2022 season in the Colonial Swim League's blue division, the Chinquapin  Wahoos have been promoted to the white division, where they will face the Ashburn Farm Barracudas, Burke Centre Stingers, Fort Myer Squids and South Riding Stingrays.  Head Coach Dennis Burstein is back at the helm to nurture new and returning swimmers.
Any Alexandria area child 5-18 years of age who can swim 25 yards (one length of the pool) unassisted is eligible to join the squad. Daily practices kick off May 30 at Chinquapin and move to the Old Town Pool – where the team hosts its home meets – in mid-June. Register now online via the Alexandria Department of Recreation.
The Wahoos have enjoyed a busy off-season. In October, swimmers were honored at an Alexandria City Council meeting where Mayor Justin Wilson signed a proclamation celebrating the successful 2022 season and the team's commitment to promoting youth fitness.
The team hosts regular stroke clinics at Chinquapin Aquatics Facility, and in November, Delegate Elizabeth Bennett-Parker stopped by the pool to present a Commending Resolution she passed through the Virginia General Assembly. The state honored the team for its collective and individual wins in 2022, as well as its inclusivity – recruiting swimmers from across the city.