Community News
Obituaries
Obituary: Mollie Bass Abraham, 96, an Alexandria Living Legend and Community Guiding Light
Early Activist for Equal Pay and Women's Rights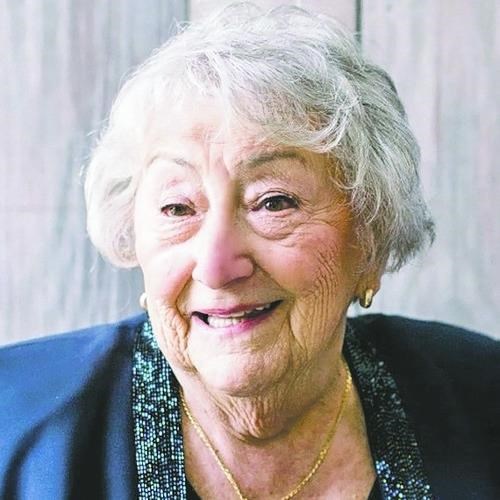 ALEXANDRIA, VA – On Saturday, March 25, 2023, Mollie Bass Abraham passed away at her home surrounded by her family and friends. Mollie was born in Baltimore, MD on June 2, 1926, and moved to Alexandria, Virginia with her newly-wed husband, Meyer H. Abraham, in 1949. Meyer predeceased Mollie on November 12, 1999. Mollie and Meyer continued to live and raise their family in Alexandria, where Mollie became actively involved in politics and various other causes, in addition to actively supporting her children's efforts in school and their extracurricular activities.
Mollie's passions were many. From the days of racial segregation to the equal rights amendment, Mollie was on the frontlines. She was instrumental in founding the Alexandria chapter of the National Organization for Women and served as the Virginia state coordinator. She was Chair of the Commission for Women for two terms, advocating equal pay and retirement benefits.
During the school years of her three children, she served on several PTAs and crew boosters. In 2001 she received the Marguerite Payez Leadership Award, the highest honor of the Commission for Women's Salute to Women Award, for life-long dedication to leading, advocating and helping women and others.
In 2011, Mollie was named an "Alexandria Living Legend" an acknowledgment of her significant contributions to the quality of life in Alexandria. Mollie was an active member of the City's Democratic Committee and for many years was a poll worker. She served as president of the Brookville-Seminary Valley Civic Association and supported her synagogue, Agudas Achim, located in Alexandria, serving two terms as president of the Sisterhood and establishing a "teen club" during her children's teenage years. During these years, Mollie worked for Common Cause, an organization with an innovative, pragmatic, and comprehensive pro-democracy agenda.
Mollie was a guiding light and touchstone for her children, Lynn Abram (the late Donald J. Abram) and Mark (Laura) Abraham of Alexandria, VA and Philip Abraham from New Britain, CT; her grandchildren, Mary Reid (Alexandria), David Abraham (Tobi, Ashburn, VA), Madeline Bates (Kyle, Arlington), Rachel Roudik (Robert, Alexandria), Thomas Abraham (Dobbs Ferry, NY), Jonathan Abraham (Brooklyn, NY), and Nathan Abraham (Japan); and her great-grandchildren, Ryan and Turner Reid (Alexandria), James and Sara Abraham (Ashburn, VA), and Mollie and Brooks Roudik (Alexandria).
The funeral will be held at Agudas Achim Congregation, 2908 Valley Drive, Alexandria, VA on Wednesday, March 29, at 2 p.m. with interment to follow at Agudas Achim Cemetery, 1033 South Payne Street, Alexandria, VA. The family will sit Shiva on Wednesday, Thursday, Sunday and Monday, with evening minyan. More details are available at www.jeffersonfuneralchapel.com.
Those wishing to acknowledge Mollie, in lieu of flowers, are welcome to make a contribution in her name to Agudas Achim Congregation, Feminist Majority Foundation or a good cause of their choice.
[Editor's Note: This obituary is reprinted from The Washington Post and The Legacy Obituary site]
Trending in Alexandria News: Egyptian Restaurant Opens in Old Town Paying Homage to Owner's Grandmother