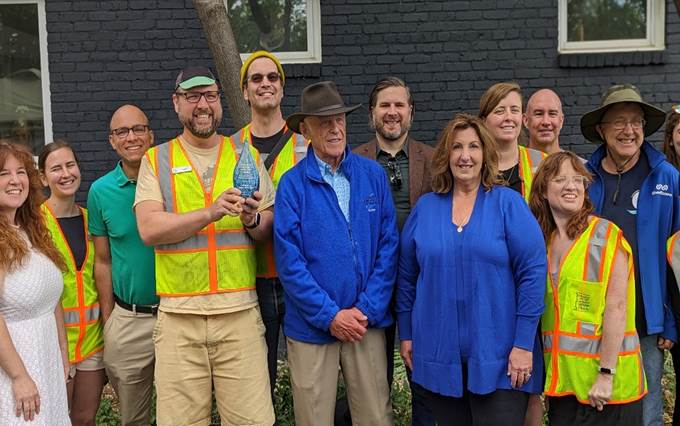 ALEXANDRIA, VA – Yesterday afternoon (April 23) Alexandria's Environmental Policy Commission and Alexandria Renew Enterprises (AlexRenew) presented the 2023 Ellen Pickering Environmental Excellence Award to The Friends of the Mount Vernon Trail (Friends). The group is dedicated to the ongoing maintenance and improvement of the Mount Vernon Trail.
Secretary and treasurer for AlexRenew's Board of Directors Bill Dickinson presented the award during DelRay's GardenFest. In attendance were Congressman Don Beyer, Mayor Justin Wilson, Vice Mayor Amy Jackson, and Councilmembers Alyia Gaskins and Sarah Bagley.
The Pickering Award, named for the late conservationist, honors " community members who demonstrate a commitment to protecting the environment and preserving local natural resources," reads the AlexRenew press release.
Friends works to protect natural resources on the Trail and organize clean-ups that remove invasive plant species. Without this maintenance,  native vegitation would be destroyed, depriving wildlife of food sources. Volunteers work nearly every weekend to also remove bush Honeysuckle, English Ivy, and kudzu. The process saves trees and permits the growth of native plants.
Founded five years ago, the group became a philanthropic partner of the National Park Service in 2020. Since that time, it has led 118 volunteers events. More than 1,900 volunteers have donated over 5,000 hours to make sure that the Trail can be enjoyed by present and future generations.
The Mount Vernon Trail was founded by Pickering and her friend, Barbara Lynch. At 18 miles long, it stretches from the Mount Vernon Estate to Roosevelt Island.
Alexandria Sheriff's Office Introduces Wellness App for Employees