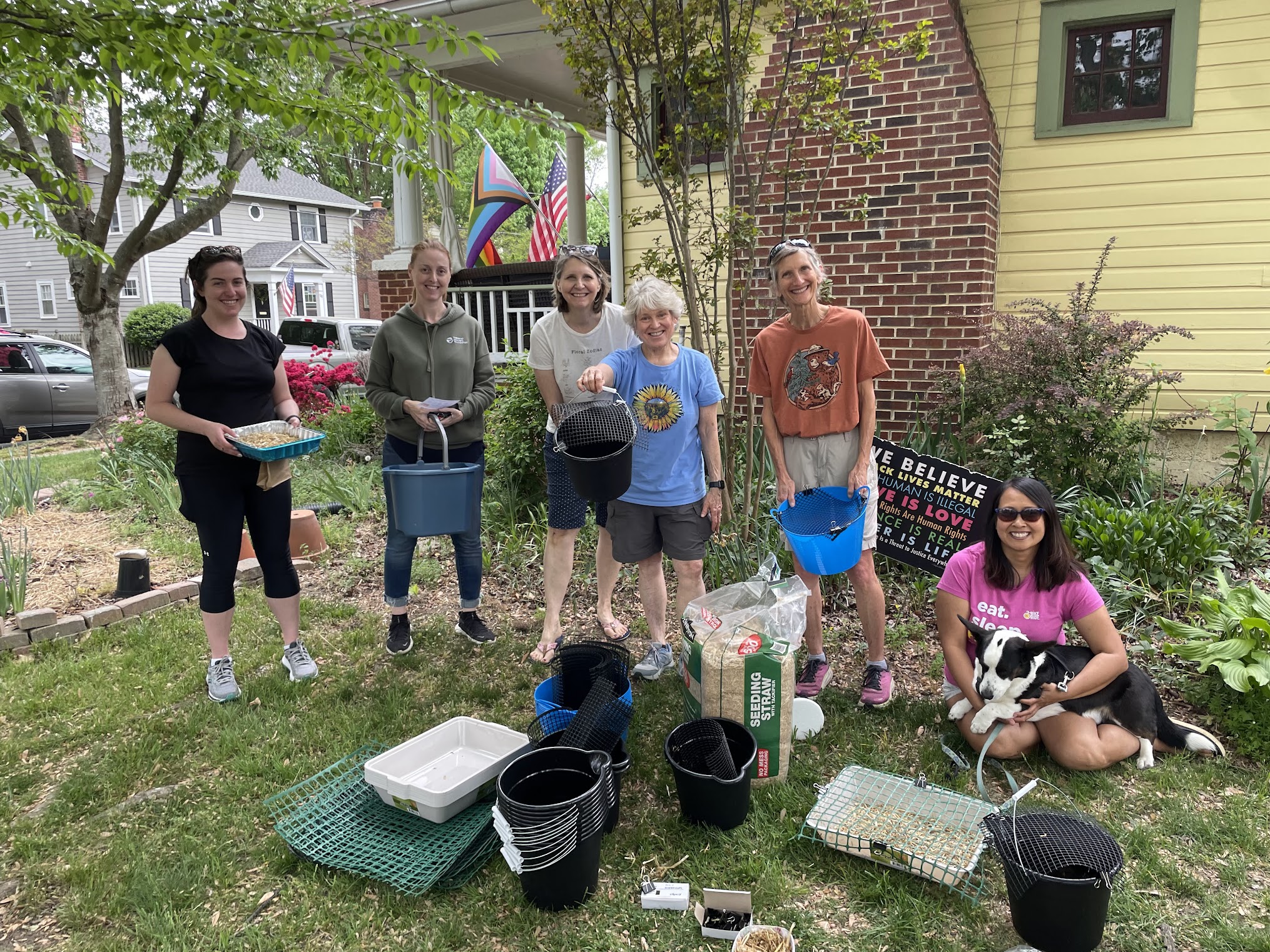 Alexandria, VA – Summer is nearly upon us. Warm breezes blow through full trees, and the oppressive pollen is finally starting to fade. Unfortunately, from the bushes, another threat lurks: mosquitoes. 
These not-so-friendly pests are the bane of any summertime lounger's existence. But one neighborhood group in Alexandria has hatched a plan. Gretchen Steenstra and Connie McCabe, two Del Ray residents, along with a group of their neighbors, have decided to make their own sustainable mosquito traps under the name "Project No Bites." On Earth Day, Gretchen, Connie, and four others put together a workshop on their street.  They taught their neighbors how to build these traps and gave them the materials to do so. 
Connie and Gretchen gave away about 160 buckets. By providing the materials free, Karin Fangman, a neighbor involved in the project, said they hoped to move the barrier of entry "down to zero." Each bucket covers an area of about 200 square feet, so overall the workshop provided refuge for around 40 homes. 
The recipe for the trap is simple. Take a bucket (really any container will suffice) and fill it with some straw and water. After a couple days, once the straw has fermented, add a quarter of a "Mosquito Dunk." This is a cheap, biscuit-like substance found in any hardware store. And voila! A wonderful, mosquito-free summer awaits. The only active ingredient in the dunk is a bacterium that affects only mosquito larvae, meaning there are no chemicals harmful to humans or pets.
It can decrease mosquito populations by nearly 90% and only needs to be refreshed every 30 days. You can add any type of netting or mesh over the bucket This prevents wild animals like squirrels and birds from stealing the hay or drinking all the water.
The Virginia Audubon Society offers a more in-depth tutorial on how to build these traps on their website. The initial idea was inspired by entomologist Doug Tallamy, a University of Delaware professor of agriculture who founded the environmental organization Homegrown National Parks.
The mosquitoes, attracted by the fermenting recipe, lay their eggs in the water.  (Thanks to the "dunk," they will never hatch.) Since mosquitoes do not roam far from the spot where they are born, this preventive method's effectiveness improves based on the number of neighbors who participate. Gretchen and Connie have established a secure no-mosquito perimeter by communicating and collaborating with their neighbors, ensuring garden beds and alleyways are guarded by buckets. During past summers, they turned their street into a no-bite safety zone. 
Of course, the method is not foolproof. But compared to alternatives, this method is superior in almost every way. It costs less than ten dollars per household to make (four buckets, dunks, straw, mesh, and clips). This is a bargain compared to the money per season spent on spraying. (Imagine what you can do by saving a couple hundred dollars.) It is more effective than the aforementioned method, lowering populations massively. Spraying usually kills just 10% of live mosquitoes and requires constant re-treatment.
The "dunk" method is far better for the environment too. There is no collateral damage with this method. The good bugs – like honeybees and fireflies – are completely unaffected, whereas even organic pest control solutions often kill all types insects crucial to local ecosystems.
One neighbor who stopped by the workshop said she was choosing to use it because she has a child and doesn't like the idea of them playing in pesticides.
The buckets work best when pushed under bushes and in dark areas, so there is no risk of an eyesore in your yard. 
Connie and Gretchen are happy to help you set up a workshop in your neighborhood, and help you prevent yourself against summer pests – contact the Zebra for details!
For More: Alexandria Coworking Space, ALX Community, Holds Surprise Appreciation Day