Community News
Yellow Line Roars Back into Alexandria Sunday Morning, May 7, after an Eight-Month Closure
"It's been a long eight months for Alexandria commuters, but we are excited to get back the "short route" across the Potomac," says a jubilant Alexandria Mayor Justin Wilson.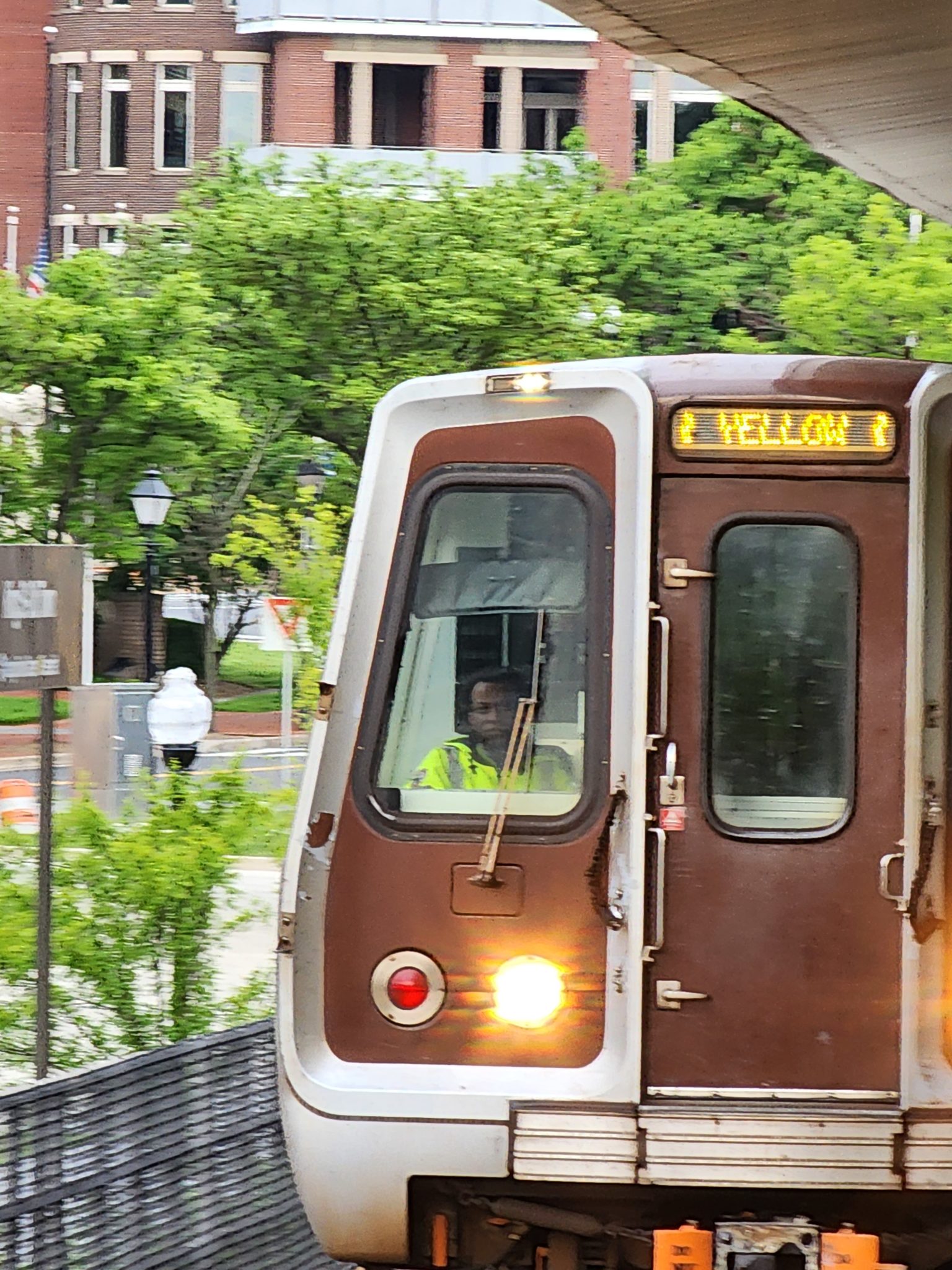 ALEXANDRIA, VA – At exactly 7:30 this morning, the Yellow Line shook itself off, crawled out of mothballs, revved up its engine, and roared into the King St-Old Town Metro Station. The Yellow Line went dormant eight months ago to repair the aging tunnel and bridge across the Potomac River. Those structures were erected in the 1970s and were deteriorating. With the Yellow Line out of service, Alexandria riders were forced to board the Blue Line across the river, which easily lengthened an average trip by 15 minutes. 
"It's been a long eight months for Alexandria commuters, but we are excited to get back the 'short route' across the Potomac," a jubilant Alexandria Mayor Justin Wilson posted on his Facebook page. The Yellow Line provides a faster, more direct connection for customers between Virginia and downtown DC, including travel to and from Reagan National Airport.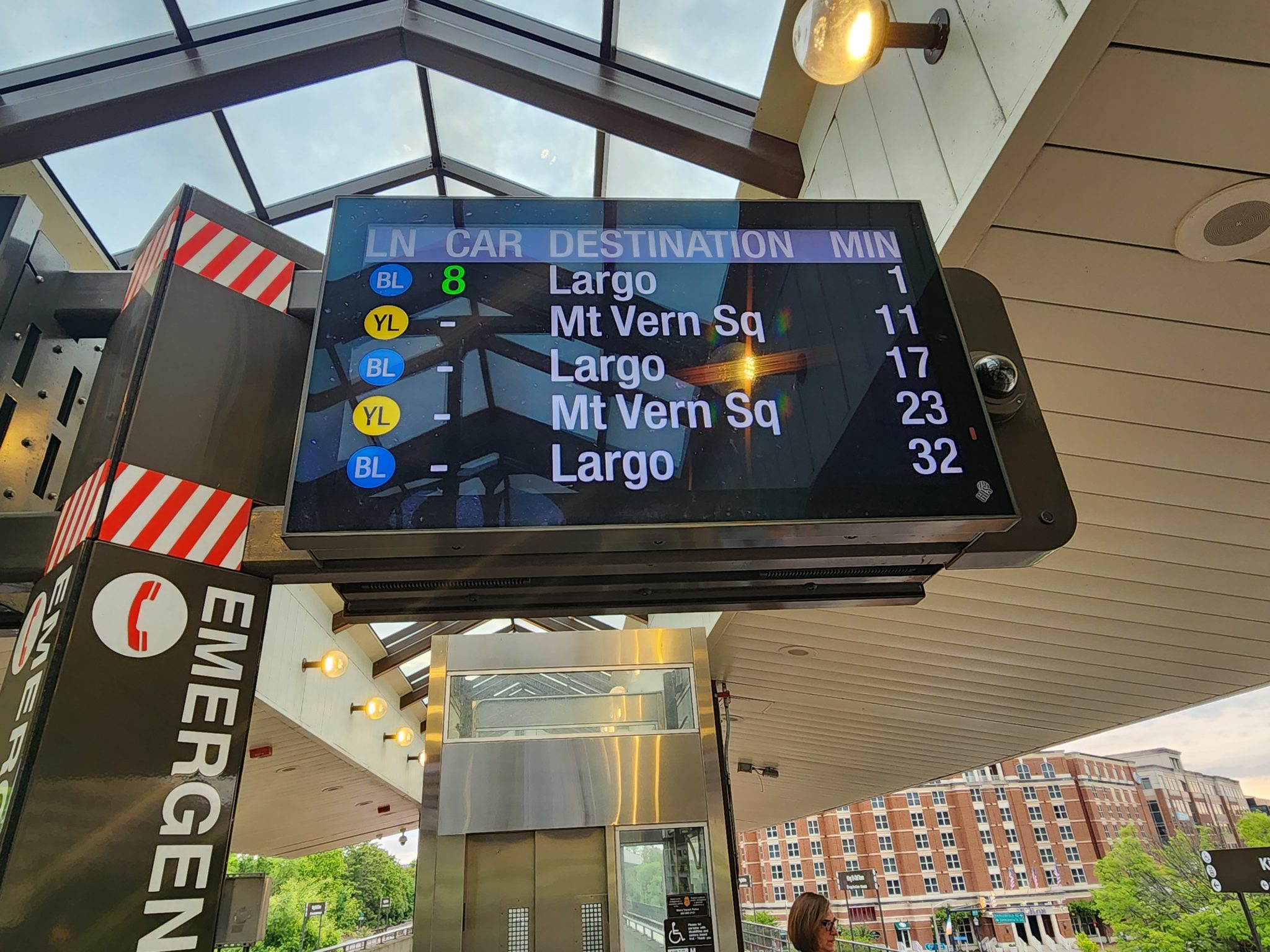 May brings two significant Metro developments. The first began this morning when the long awaited Yellow Line started running again. The second is the highly anticipated opening of the brand new Potomac Yard station on Friday May 19.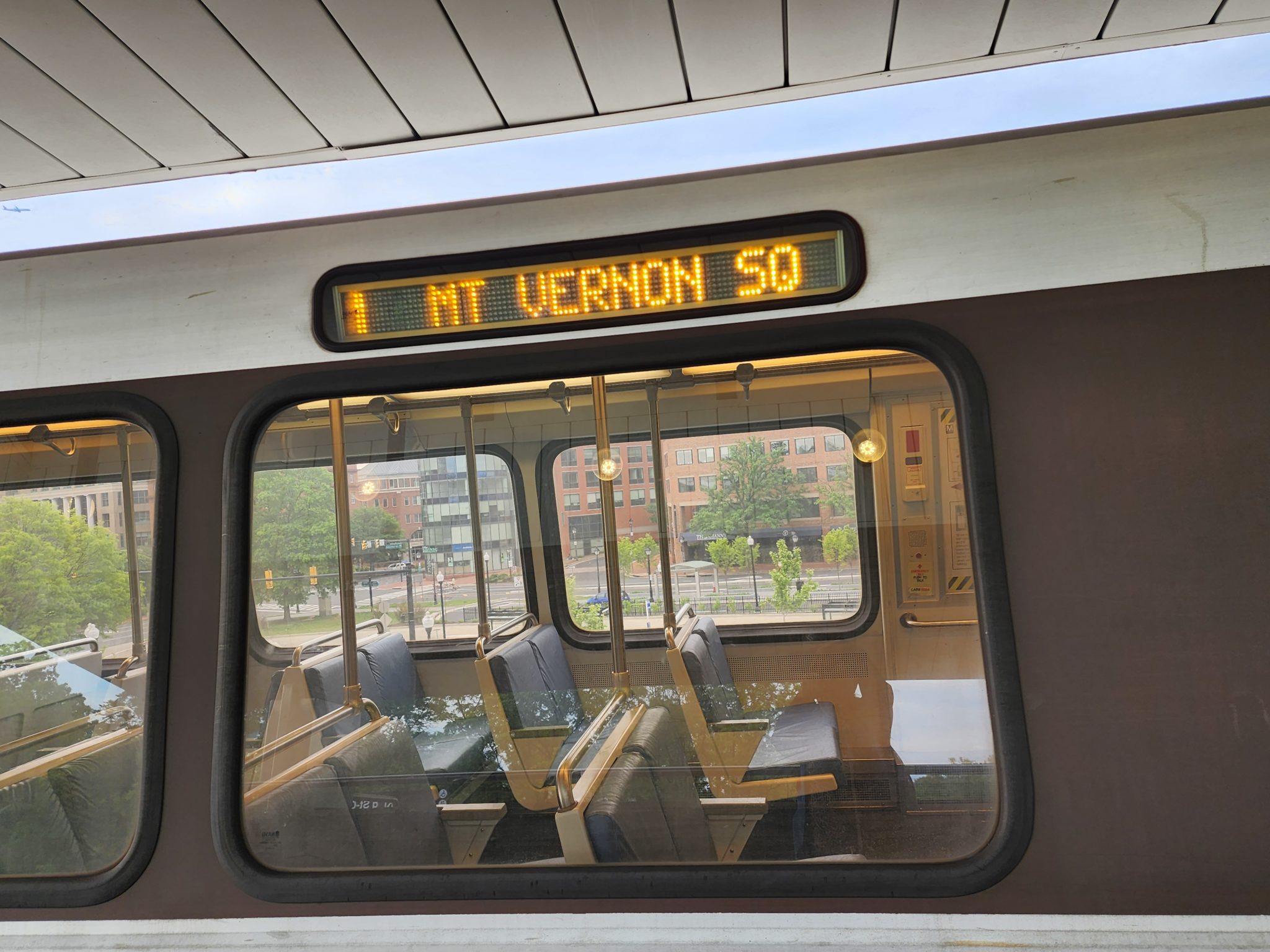 Yellow Line Schedule
Yellow Line trains will initially operate every eight minutes weekdays from 6 a.m. until 9 p.m. for the first month between Huntington and Mount Vernon Square, and every 12 minutes all other times and on weekends. This is a 60 percent increase in train service since last fall. In June, service will improve to eight minutes all day, seven days a week.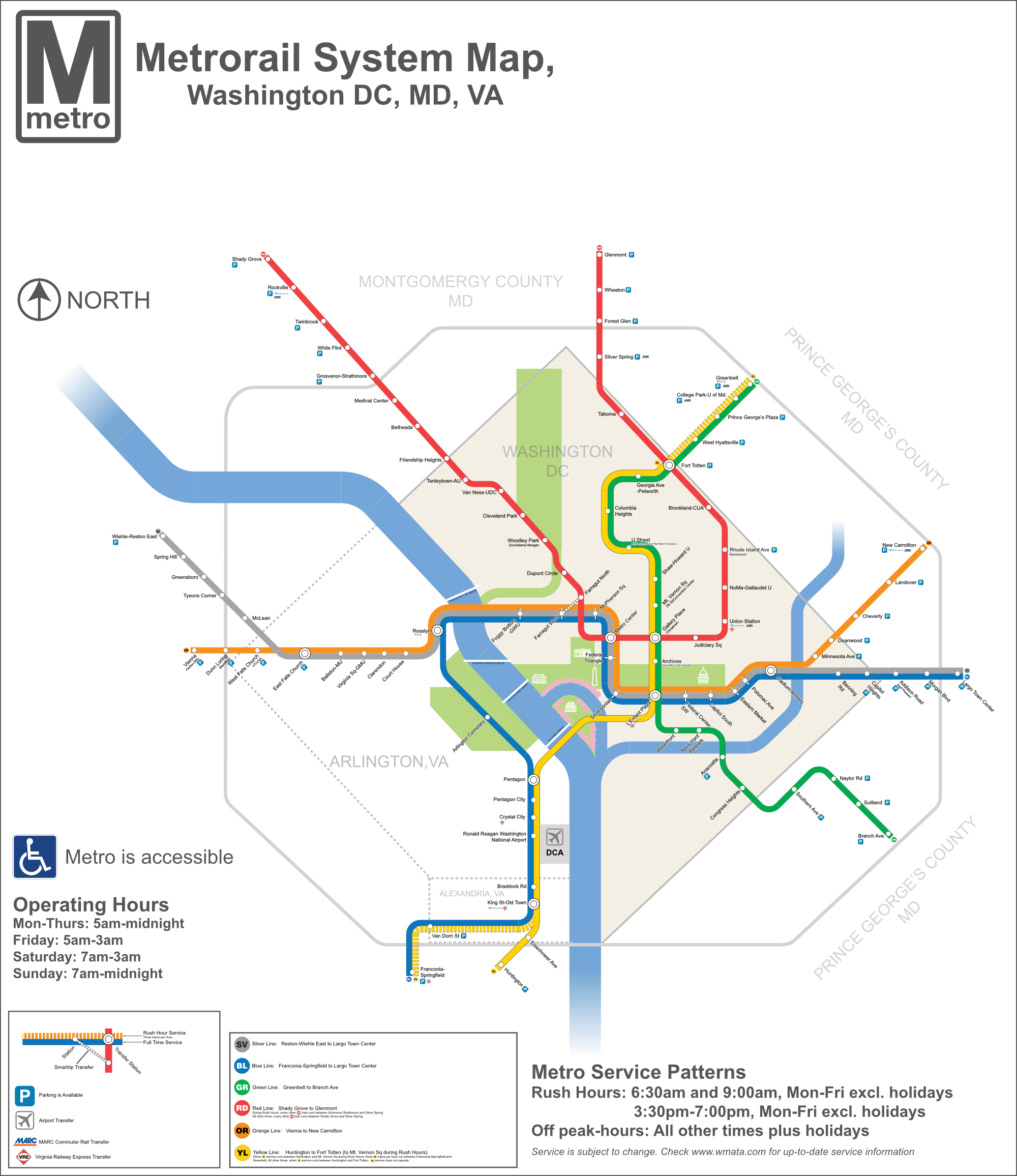 Metro workers greeted passengers this morning with a bright yellow tote bag that contained maps, and information on the Potomac Yard Metro station opening in two weeks. There were few passengers standing on the King Street Metro platform an hour after sunrise as the first Yellow Line in eight months hurtled into the station. Alexandria resident Kristine Mariano had just gotten off the Yellow Line and was headed to the bus terminal below.  
Mariano noted that she had to figure out some complicated bus routes to get to Huntington when the Yellow Line shut down eight months ago. She is grateful for alternate routes and the comfortable coach bus provided to get her from Point A to Point B. Nevertheless, it was a hassle.  
"At the beginning, we had to figure out at the last minute that the Yellow Line wasn't running," Mariano explained. "There were several days that you were late to work. And then we had to figure out which detour to take and that was an inconvenience. I spoke with other WMATA customers and heard their complaints." 
As the next Yellow Line rounded the bend, Mariano grinned. "It's great that the Yellow Line is back! Eight months is a long time."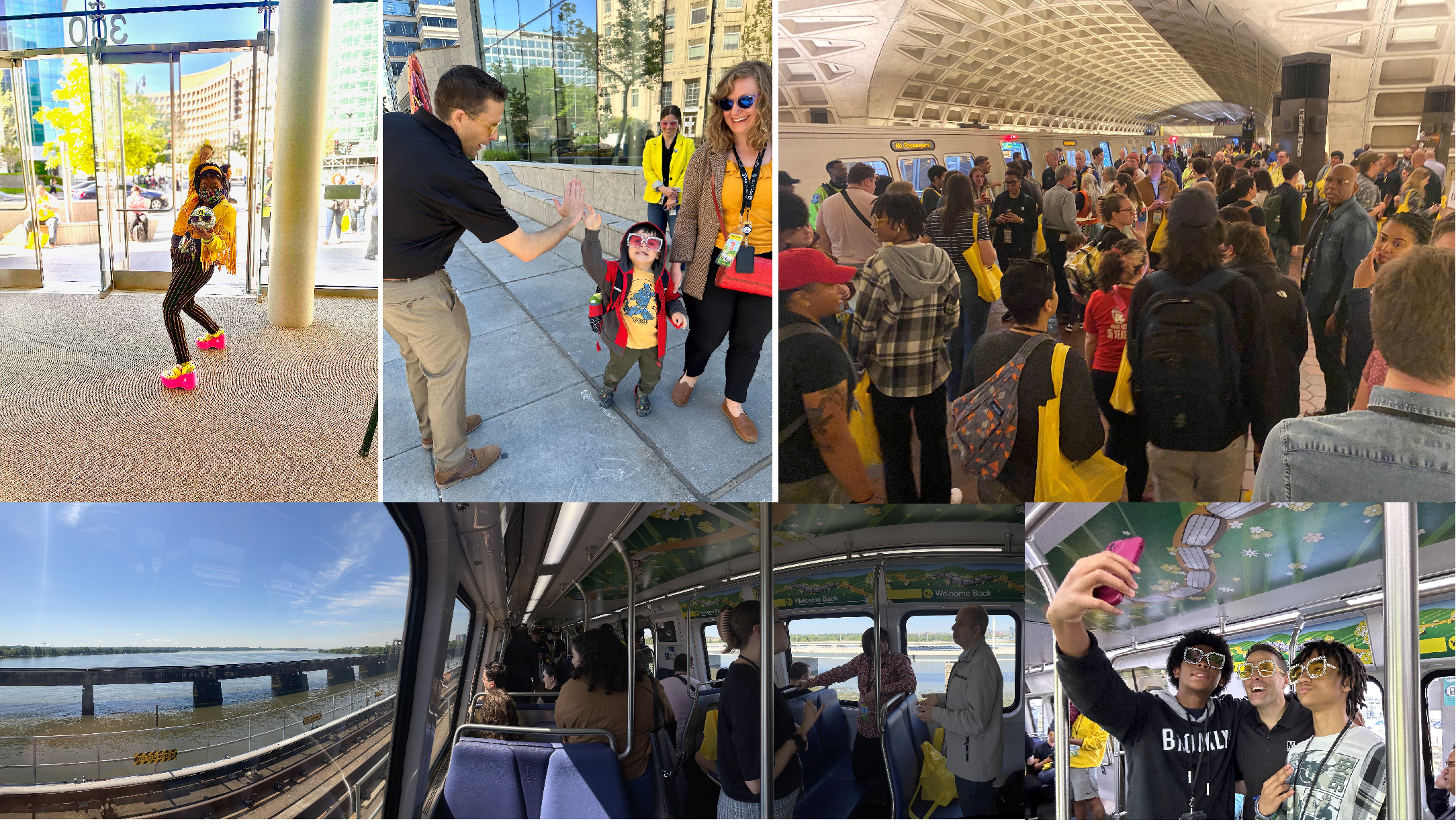 The Nuts and Bolts
The $384 million construction project included replacing more than 1,000 individual steel plates held together by more than 12,000 bolts and mitigating water leakage into the tunnel.  
"This was incredibly difficult work, with construction crews working around the clock to reconstruct the steel lined tunnel and repair the bridge. The tunnel today is like new again and built to last for decades to come," declared Metro General Manager and Chief Executive Officer Randy Clarke. "Thank you to our customers who took shuttle buses and endured longer commutes so that we could get this critical safety work completed."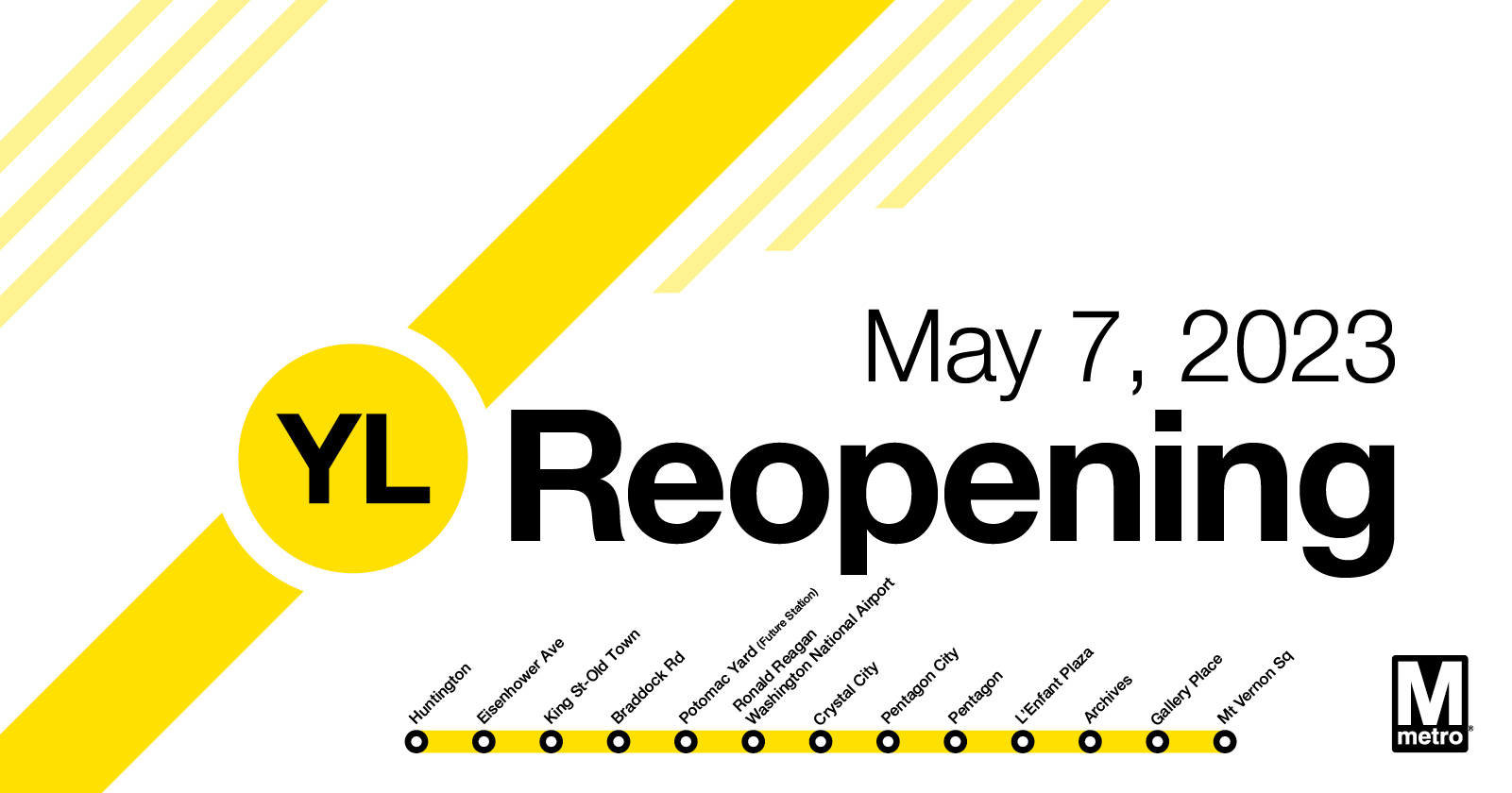 During the closure, Yellow Line stations have been served by additional Green Line trains with special Blue+ service operating between Huntington and New Carrollton. With the Yellow Line back in operation today, Blue+ service has been discontinued. Likewise, you will no longer have the option of hopping onto free shuttle buses. Metro will continue bus service between Mt. Vernon and Potomac Park (VA-DC Shuttle 3 route) using the existing schedule until new Route 11Y service begins on June 26, 2023. Normal express bus fares will apply.  
Yesterday Metro customers and employees got a sneak peek before the Yellow Line reopened. Metro selected 50 customers from more than 480 submitted Yellow Line haikus for a chance to participate in the inaugural ride across the Potomac, complete with Elton John glasses, Yellow Line M & M's, and other memorabilia.  
The real test of how good this feels comes tomorrow morning. As the bright yellow sun dawns, so does the Yellow Line. On the first day of the work week, commuters will swell the Alexandria Metro stations. As they will race breathlessly up the escalator, hearing that familiar ding dong and hoping they can make it before the train barrels out of the station, they will undoubtedly breath a deep sigh of relief. No more excuses to the boss, harried explanations of a much longer commute. It's been eight months. A very long eight months. 
TRENDING: Potomac Yard Metro Opens in Alexandria Friday, May 19, 2023