Community News
The Good Kind of Inflation: Big Bounce America Pops Up in Washington DC Area!
Fun for All Ages!!
ALEXANDRIA, VA – Rome was not built in a day, but Big Bounce America was inflated in one. Within six minutes, the world's largest bouncy castle, which spans an impressive 16,000 square feet, was up and running. It is a glorious spectacle of fun and one that can be visited by anyone local in the DMV. Located near the Rosecroft Raceway,  6336 Rosecroft Dr, Fort Washington, MD 20744, approximately 7.5 miles from Alexandria. Big Bounce America has set up camp from now until June 11th and welcomes all ages to enjoy.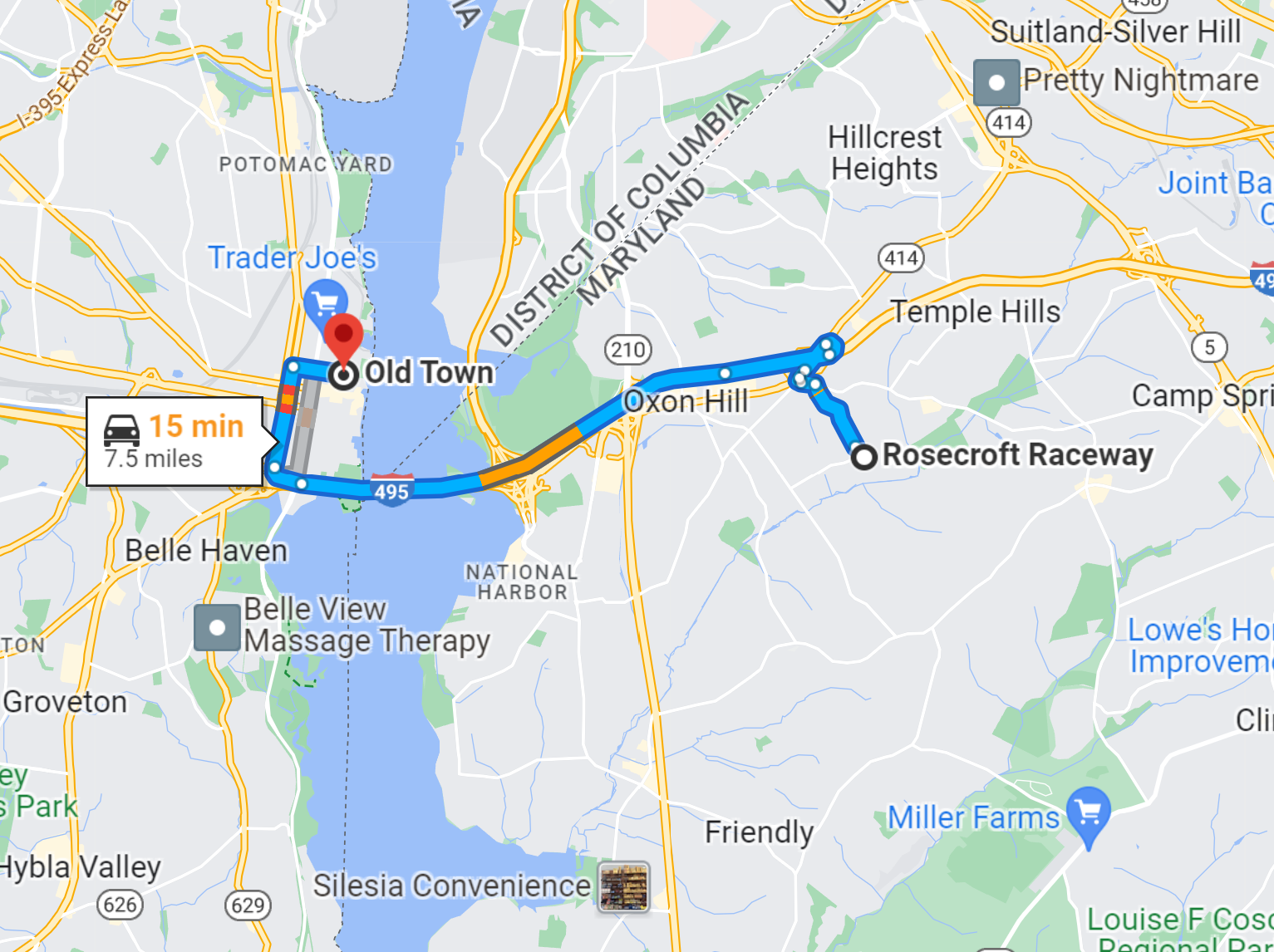 This bounce-themed festival holds several attractions but is best known for its award-winning castle. The inflatable majesty is something that can only be appreciated in person. When one enters the glistening, multi-colored spires, even the grumpiest of frowns will crack into a smile.  Housed inside the castle are ball pits, slides, obstacle courses and even a DJ stand. Fun additions to the bouncing, like confetti, bubbles, and even a snow machine, decorate the palace. All entrants are guaranteed a fun forty-five minutes in the castle, which can hold over 300 people, and are granted unlimited access to the six other large, bouncy attractions.
New Sports Arena Debuts at Big Bounce America DC
The different bouncy villas include scaled up versions of what can be found in the castle. There is a gargantuan slide and an obstacle course 900 feet long. The latest addition is the sports arena, which makes its debut here in Maryland, and is teeming with fun. Its large central courtyard is flanked by four activity zones: inflatable basketball hoops, a climbing tower, a wrecking ball, and even some fun and safe foam jousting. As Sophia Wilson, the Chief Operation Officer of The Big Bounce America, says, "We need more fun in the world! After the times we've just gone through, we invite you to kick those shoes off and let loose for a while."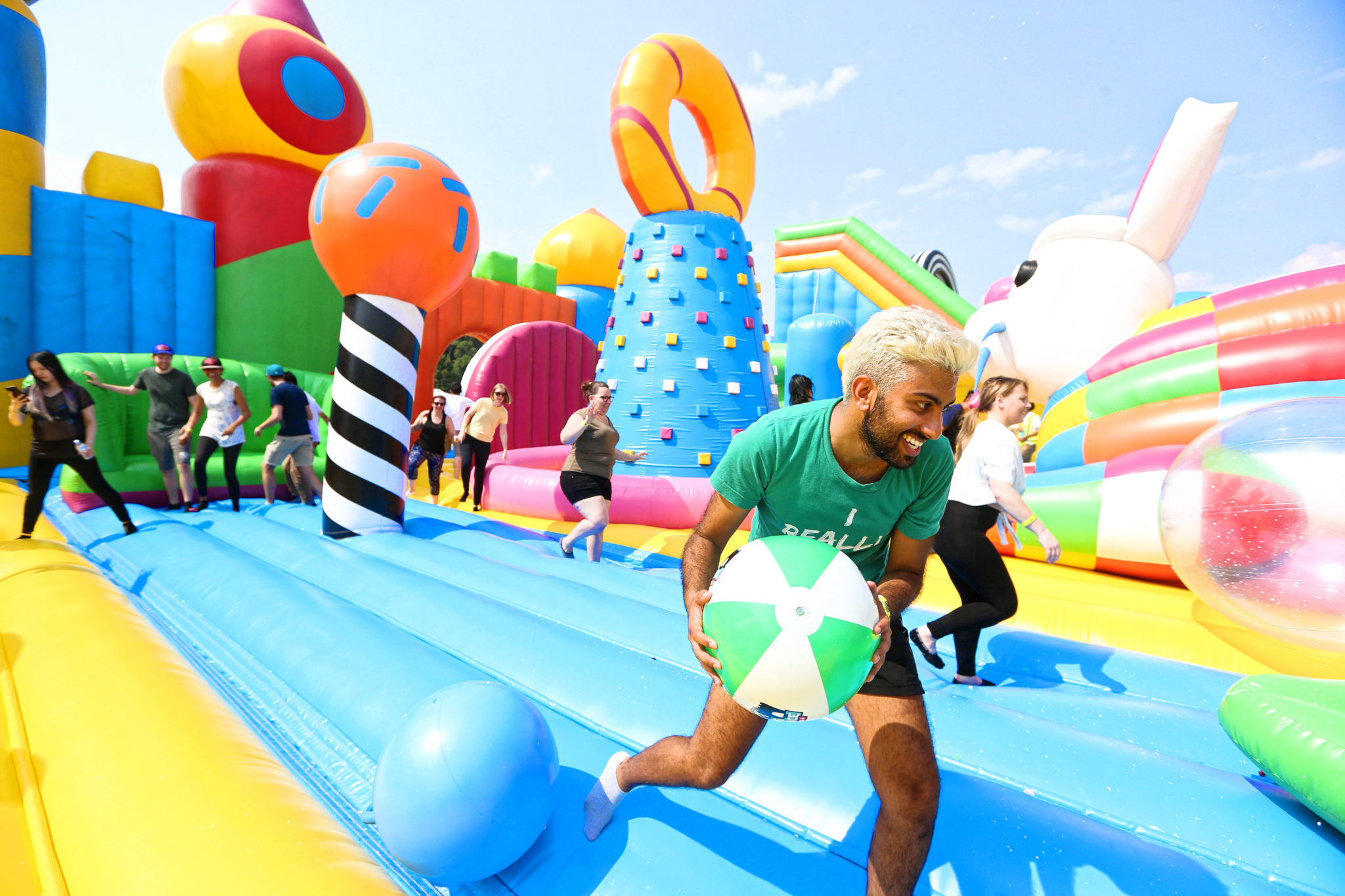 The space themed zone of the park hosts massive, inflatable aliens, space krakens and astronauts. The neon colors and zany creatures, mixed with the zero-gravity-like bouncing, makes for an out of world experience. The obstacle course, which is jam packed with cushy hurdles and disruptors, promises a hectic and hilarious mad dash. The record time for the obstacle course is two minutes and 52 seconds – are any Zebra readers up the challenge?
Stay Hydrated
The bouncing can be exhausting, and so it is crucial to stay hydrated. Large inflatable pavilions exist with shaded seating and water stations. The summer here is hot enough – bouncing just makes it hotter, so hydration is key. There is a collection of food, drink and even ice cream stands located in the back of the park, as jumpers are sure to work up an appetite.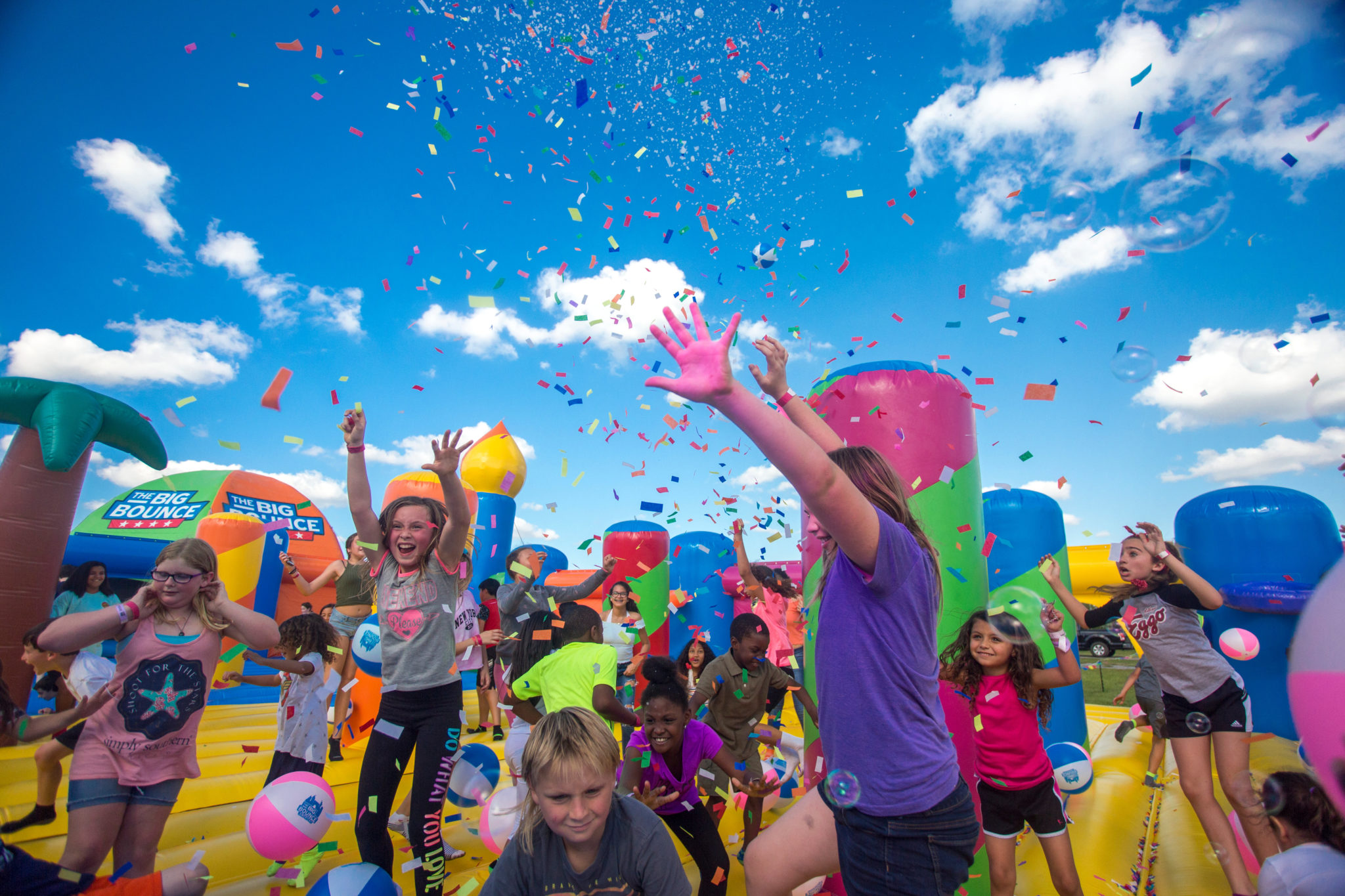 Billy Jamison, Tour Manager for Big Bounce America, stressed that this experience "is not just kid oriented. It's for all ages." This reporter concurs – just trapsing around on the site tour was a highlight of the week. To remain inclusive and safe, the park uses time slots to organize the bouncers by age groups, with younger children going in the morning, and older kids in the afternoon. There is even an adults-only session that happens at night – why shouldn't everyone get a chance to have some fun?
Tickets guarantee a three-hour time slot in the park. Only those who plan on bouncing need a ticket, guardians of children do not need to pay, unless they plan on going on the inflatables themselves (which is a requirement for children 3 and under).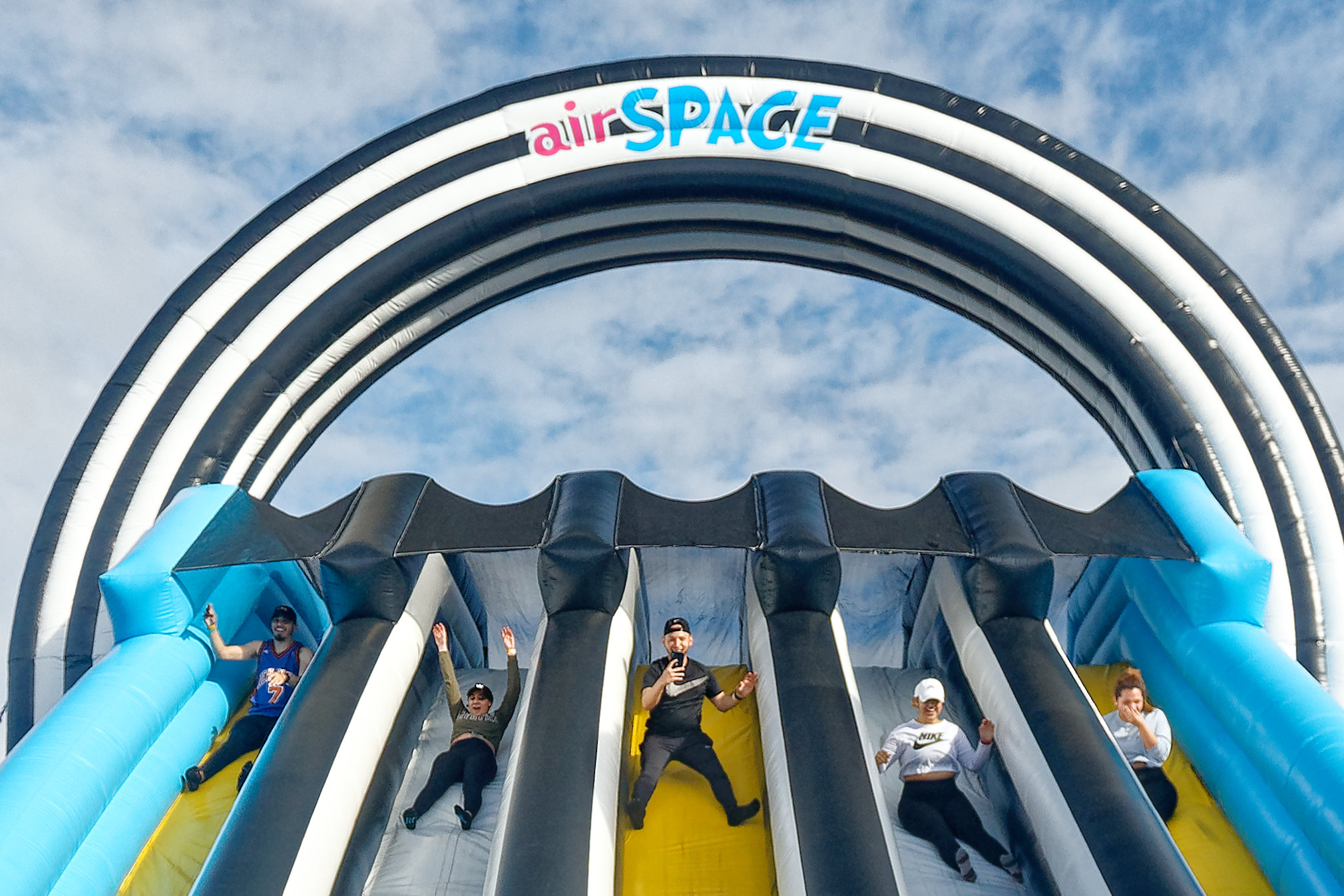 How It All Started
The history behind this empire of bounce is relatively simple- two friends, who after bouncing in their backyard, wondered why there wasn't a place dedicated to this simple pleasure. Now, just a few years later, there are three roving exhibits which visit 20-30 cities a year, traveling as far as Australia. In the Maryland location, which has been a huge success in previous years, they expect over 4,000 visitors in a single weekend. After June 11th, they will head north to Buffalo, and then onward to Canada. But for now, they remain here, just a hop, skip and jump away from anyone who wants a little fun.
In Alexandria News: New Interactive Tool Identifies Public Art in Alexandria, Virginia