Community News
Alexandria Hosting City and USA's Birthday Celebration Saturday, July 8
Admission is free! Festivities at Oronoco Bay Park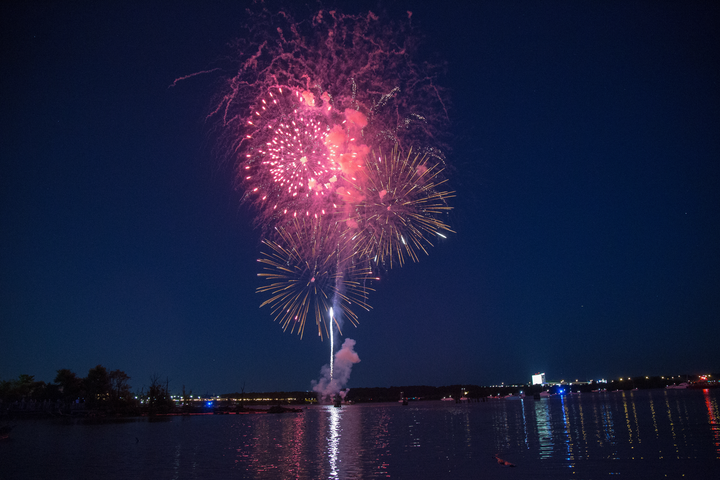 ALEXANDRIA, VA – The City of Alexandria will celebrate its 274th and the USA's 247th birthday on Saturday, July 8, at Oronoco Bay Park (100 Madison St.). The event includes music, cupcakes, and activities, ending with the Grand Finale — a fireworks display at 9:30 p.m. Admission is free!
Scheduled activities for the celebration include the following:
6 p.m. – Performance by Three Man Soul Machine
7:30 p.m. – Welcome by NPR's Suraya Mohamed

Announcement by Town Crier
Remarks by Mayor Justin Wilson
Poetry by Alexandria Poet Laureate Zeina Azzam

8 p.m. – Distribution of birthday cupcakes by members of City Council
8:30 p.m. – Performance by the Alexandria Symphony Orchestra
9:30 p.m. – Grand finale fireworks display with Alexandria Symphony Orchestra performing 1812Fireworks Vantage points:

Canal Center Plaza (Center Canal Plaza)
Rivergate Park (2 Montgomery St.)
Oronoco Bay Park (100 Madison St.)
Founders Park (351 North Union St.)
Waterfront Park (1A Prince St.)
Point Lumley Park, (1 Duke St.)
Windmill Hill Park (501 South Union St.)
Fords Landing boardwalk (99 Franklin St.)
Jones Point Park (Jones Point Drive)
George Washington Masonic Temple (101 Callahan Drive)
Other Activities include hands on arts from the Office of the Arts' Mobile Art Lab, Information tables by Alexandria Library and the Office of Historic Alexandria, and solar powered charging stations provided by Dominion Energy.
Food Truck vendors will be available for the public along Pendleton Street, featuring Alexandria's variety of flavors with new and old favorites!
Oronoco Bay Park has lawn seating, and participants are encouraged to bring their own lawn chairs and blankets. Food vendors will be on-site with a selection of hot food and cool treats. Grilling, smoking, tents, and large or staked umbrellas are not permitted. If groups or families are separated, an area for lost persons will be located at the City stage. Please leave pets at home and be mindful of your neighbors by refraining from smoking at this event.
Visitors are encouraged to bike, walk, or take alternative public transportation. For a list of garages and parking lots in the Old Town historic district, visit Where to Park in Old Town. Handicapped-accessible parking will be available on the 500 block of N. Fairfax St.
In case of inclement weather, the event will be rescheduled to Sunday, July 9, at 6:00 pm.
Visit alexandriava.gov/birthday for more information or call the Special Events Hotline at 703.746.5592.
Special thanks to the 2023 City Birthday Activation Team for help with selecting this year's lineup of food vendors and the opening music act. The Activation Team is an ad-hoc group designed to provide opportunities for Alexandria, its communities, and its creative talents. Thanks to Nicole McGrew of Threadleaf and chair of the Alexandria Chamber of Commerce, Margaret Townsend with Old Town North Community Partnership, Luis Labra, deputy director with Alexandria Library, and James McClellan, dean of the College of Liberal Arts with Northern Virginia Community College in Alexandria West.

For inquiries from the news media only, contact the Office of Communications & Public Information at [email protected] or 703.746.3969.
For reasonable disability accommodation, contact [email protected] or call 703.746.5590, Virginia Relay 711.  [SEE ALSO: Volunteers Needed for July 4 Celebration]