SPORTS
Alexandria's Chinquapin Wahoos Face South Riding in Competitive Races at July 1 Meet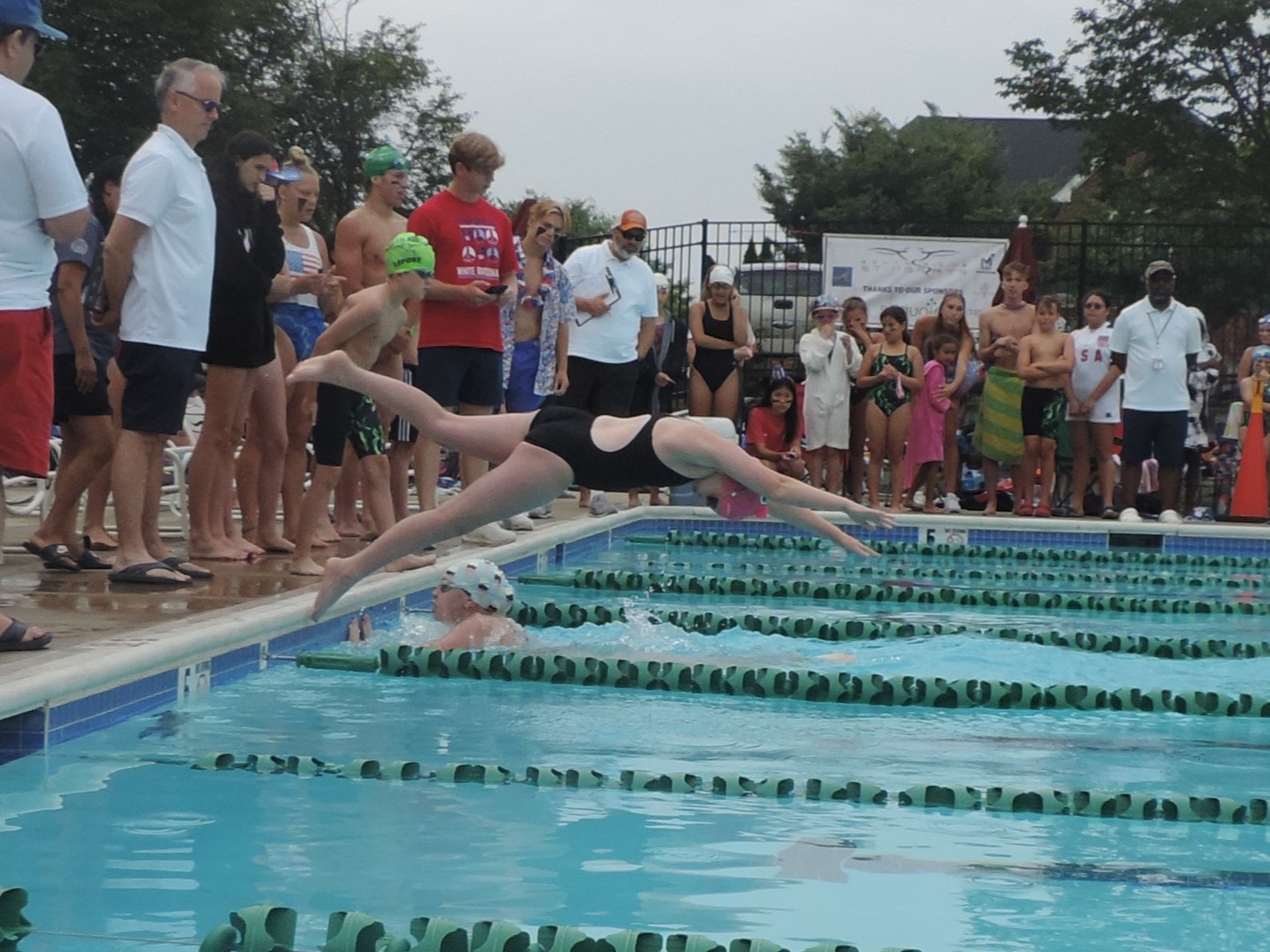 By Marisha Goldhamer
ALEXANDRIA, VA –The Chinquapin Wahoos, Alexandria's only public swim team, traveled to Chantilly to face the South Riding Stingrays on Saturday,  July 1. The Wahoos faced a deep Stingrays team who came out on top 262 points to 189.
With seven points awarded for each relay win, the Wahoos fought hard in every race. The most thrilling relay of the day was won by the 11-12 girls squad of Grace Wittmer, Freya Montes de Oca, Ellie Medina and Micaela Zuinga. Anchor Zuinga came from behind in the freestyle leg to win by just over a second with a time of 2:41.21 in the 200-meter medley relay.
"There were a lot of close races, but when you win one like that, it's special," Wahoos head coach Dennis Burstein said.
The 11-12 girls added to their relay points with a second-place finish by Wittmer in the 50-meter backstroke (42.38) and freestyle (33.32). Medina touched third in freestyle (34.97) and second in butterfly (35.35) with Zuniga third (40.59). Montes de Oca grabbed a key third place point in breaststroke (46.62).
Three of the boys' squads also snagged relay wins. The 8 and under squad won the 100-meter medley by combining Max Postow, Daniel Freinberg, Santiago Madalo and Lawson Blais for a time of 2 minutes 6.64 seconds. The 13-14 boys won the 200-meter medley thanks to Alex Wittmer, Alex Guevara, Chris Paz and Nicholas Rodriquez in 2:21.69, while the 15-18 boys took the 200-meter medley through Jonathan Ramsdell, Jolan Foronda, Mikal Helms and Bodie Lauinger in 1:58.68.
The Wahoos opened the meet with an exciting win in the 200-meter mixed age and gender medley in 2 minutes 16.76 seconds. Guevara led off in backstroke, Foronda took the lead in breaststroke, Medina held in butterfly with Isabel Martorana closing as the freestyle anchor.
Both the boys – Sawyer Blais, Karon Moten, Wittmer and Lauinger – and girls – Annelynn Dahlstrom, Grace Wittmer, Camila Zuniga and Catherine Cox – mixed age squads won the 200-meter freestyle relays.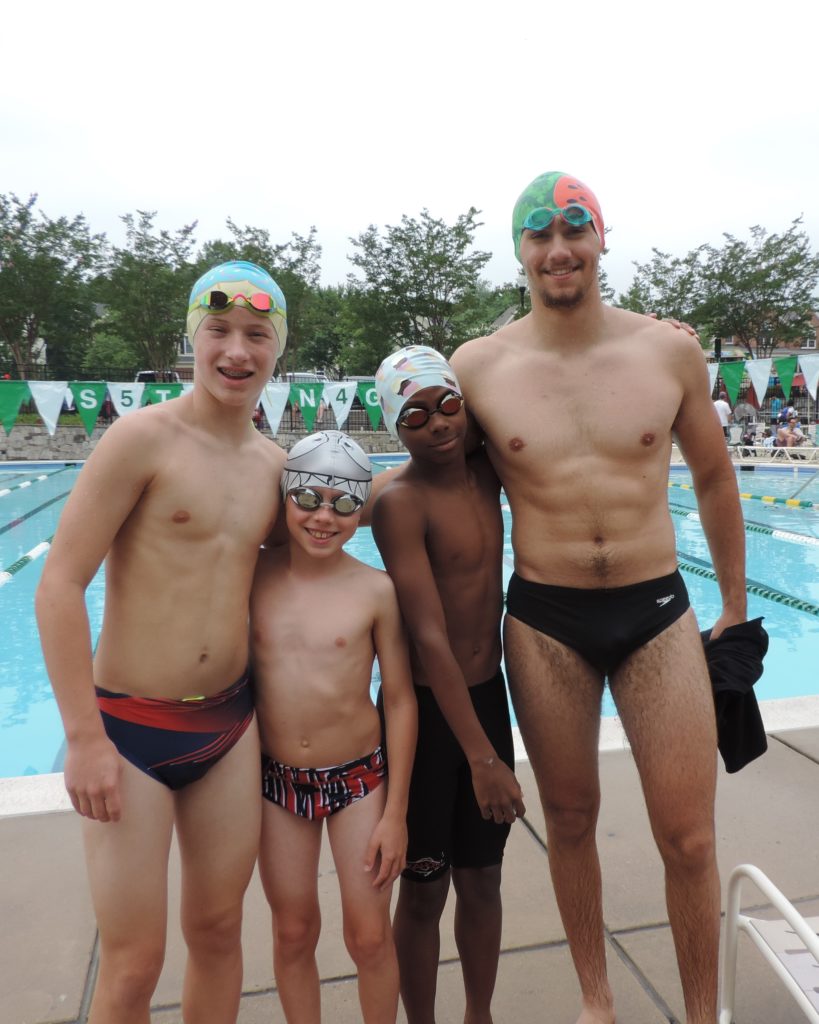 In the individual competition, Bennett Sherry turned in another stellar meet for the 8 and under boys. His 22.28 second backstroke win in the 25-meter race was the fastest time put up this season across the Colonial Swim League. Same with his 24.63 second winning time in the 25-meter breaststroke. He also led a Wahoos 1-2 in the butterfly finishing ahead of teammate Derrick Grajkowski (27.28).
The youngest Wahoos boys remain tough to beat, with Postow (19.70), Grajkowski (20.03) and Malado (23.39) sweeping the 25-meter freestyle. Sherry was joined on the backstroke podium by Grajkowski (27.92) and Malado (28.70) and in breaststroke by Freinberg (35.01) and Postow (41.05).
Karon Moten also swam a league-leading time with his decisive 35 second win in the boys 11-12 50-meter backstroke. He won the 50-meter butterfly in 36.23 seconds and picked up a third place point in the 50-meter freestyle (31.69).
The 11-12 boys saw additional points from Christopher Billips with a third-place finish in breaststroke (43.27) and Rodney Gardner in third in butterfly (36.68).
The 9-10 girls were led by Martorana who won the 25-meter butterfly in one of the closest races of the meet, finishing .05 seconds ahead of South Riding's Ellie Dobish. Martorana also won the 50-meter backstroke (49.57) and came second in the 50-meter freestyle (37.77).
Teammate Sophie Wharton snagged a third place point in the 50-meter breaststroke with a time of 1:00.89.
The 9-10 boys saw Sawyer Blais win the 50-meter freestyle in 38.81 seconds and come second in the 50-meter backstroke (48.44) and breaststroke (53.65).
In another thrilling race, nine-year-old Max Kessler-Gowell tied for first in the 25-meter butterfly. He and South Riding's Drew LePore touched in 21.37 seconds.
An additional winning butterfly came from Alex Wittmer in the 13-14 division (33.92). Wittmer also scored a point for third in the 50-meter freestyle (30.38).
His relay teammate Guevara touched third in the 50-meter breaststroke (41.01) and went 2-3 with Wittmer in backstroke.
The oldest Wahoo boys showed dominance in the 50-meter breaststroke with Foronda first in 32.41 seconds, just ahead of Ramsdell (32.81) with Helms in third (35.15). Foronda also scored a second-place finish in the 50-meter butterfly (28.71).
Lauinger came second in the 50-meter freestyle (26.33) and third in the 15-18 backstroke (31.72).
In the senior girls division, Cox won the 50-meter butterfly in 35.59 seconds, came second in the 50-meter freestyle (32.45) and third in the 50-meter backstroke (38.46).
The Wahoos girls also earned points through the efforts of Madison Forde and Winnie Cloninger who went 2-3 in the 8 and under 25-meter freestyle. Cloninger came second in backstroke (26.53) and Forde second in butterfly (29.53).
The 13-14 girls brought contributions from Camila Zuniga who was second in butterfly (38.93) and third in backstroke (40.58), Ansley Godfrey who was third in the 50-meter freestyle (34.14) and Julia Davis who touched third in breaststroke (46.71).
The Wahoos next face the Burke Centre Stingers on July 8 at the Old Town Pool in Alexandria. [SEE ALSO: Chinquapin Wahoos Open Swim Season at Alexandria's Old Town Pool]