Mount Vernon Matters
Karen Corbett Sanders Honored for Service as Mt. Vernon District Representative on the Fairfax County School Board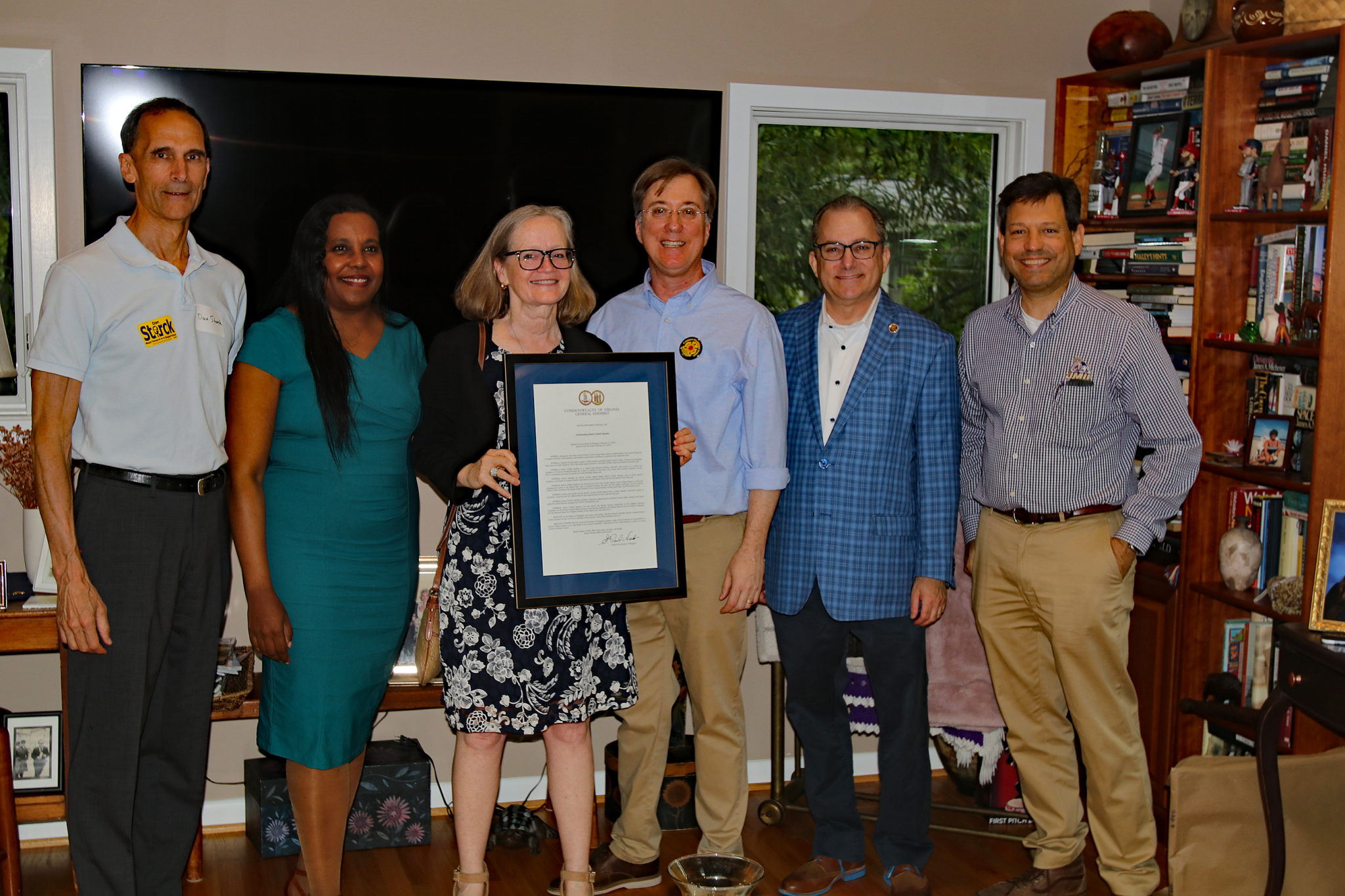 Alexandria, VA – State Del. Paul Krizek (D-44th) presented a resolution from the Virginia General Assembly commending his friend and former high school classmate Karen Corbett Sanders for her years of service representing the Mount Vernon District on the Fairfax County School Board at a May 13 event at his Hollin Hills home.
The resolution states:
"During her two terms on the Fairfax County School Board, Karen Corbett Sanders  has worked diligently to support teachers, staff members, and students and promote excellence in and out of the classroom."
Corbett Sanders, a Mount Vernon native, attended Fairfax County public schools, graduating from the former Groveton High School in 1979. Since first being elected to the school board in 2015, she has served as chairman, vice chair, budget chair, and legislative liaison.
The resolution notes that even before service on the school board, Corbett Sanders "was an active parent, volunteer, and leader in a parent-teacher association, school booster club, and the Girl Scouts of the USA."
In addition, she chaired the visionary task force for the original Mount Vernon High School site that today serves as a community site for a senior center and more.
In her role as a school board member, the resolution states, "She ably met the unique challenges faced by Fairfax County Public Schools as the largest school division in the Commonwealth, serving more than 185,000 students."
Outside school board responsibilities, Corbett Sanders also served the Mount Vernon community on the THRIVE Advisory Committee for the Fairfax County Redevelopment and Housing Authority, the Quality Board of Inova Children's Hospital, and the Regional Board for Virginia Odyssey of the Mind.
Elected officials attending the presentation included Mount Vernon Supervisor Dan Storck, State Del. Charniele Herring (D-46th), and State Sens. Adam Ebbin (D-30th) and Scott Surovell (D-36th).
ICYMI: City of Alexandria Attorney Joanna Anderson To Retire