Agenda:Alexandria
Citizens' Corner
Music
Jade and Friends to Perform at the Galactic Panther Art Gallery August 5th
Get ready for a Night of Music, Art, and Fun at the Galactic Panther Art Gallery!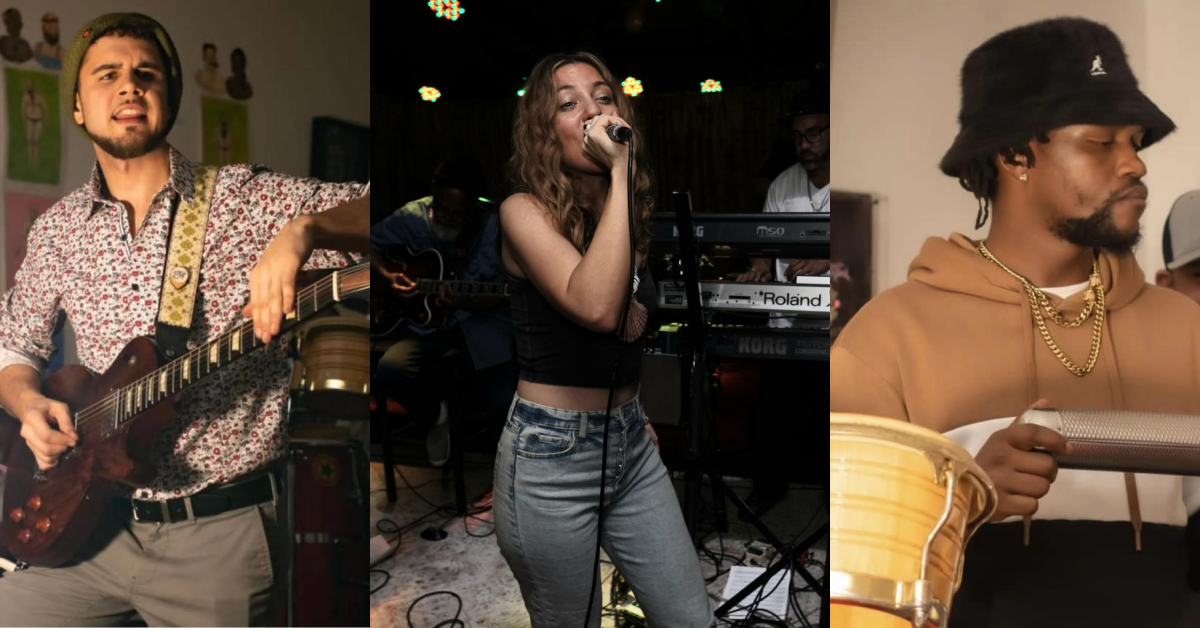 Alexandria, VA – On Saturday, August 5th, the Galactic Panther Art Gallery will host a night of music, art, and fun. From 7 to 11 pm, live music will be performed at the Galactic Panther for all the enjoy, including reggae-pop artists and live DJs. 
The event will feature reggae-pop star Jade Tremba, an international singer and independent artist backed by her friends, who are all musically inclined themselves. Tremba hails from Harper's Ferry, WV, and is a jack of all trades when it comes to music. She writes her music, records her songs, and plays with artists all around the DMV area. 
The night will begin with a special DJ performance by the band Burning Fire, then followed by Jade & Friends, which will include Jade and her "Shamans of Sound" –  bandmates Navisa & Sleepwalker.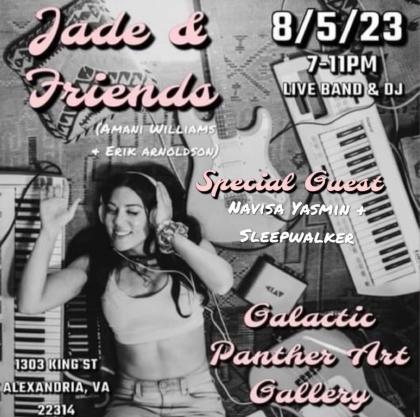 Jade's father was a minister and needed someone to play instruments at their church, so Jade herself has always been surrounded by music. Jade loves her career, and since Covid, has done her own thing by becoming a recording artist and publishing her music. She was invited to the Galactic Panther Art Gallery to play at this music event, and along with her talented friends, will put on a show to remember.
Along with Jade, two music-writing artists will also be in attendance at the Galactic Panther Art Gallery this fine night. Amani Williams of the reggae band Burning Fire, and Erik Arnoldson will both be performing with Jade. Amani is from Richmond is a roots reggae artist, writer, and producer, and has collaborated with many musicians during his career. This includes legens like Josh David Barrett and Keith Porter of Itals.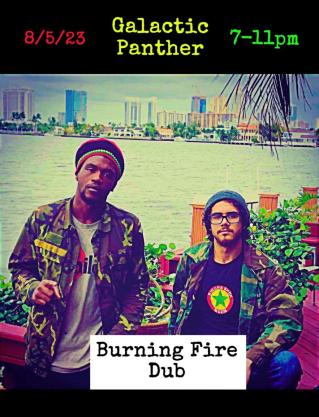 Erik traveled the country as a part of a hip-hop/rock band with Amani and has performed many solo acts with the Galactic Panther Art Gallery. Erik and Amani have spent all of covid locked in writing and creating music, and are excited to share the stage with Jade. Amani hopes that those in attendance "Come out with unity, love, and a willingness to hear the message that reggae music has to offer. But more importantly, I hope that everyone just comes ready to have a good time."
In addition to Jade's performance, Amani and Erik will both be Doing a DJ gig onstage for the first time in their careers. Both have their selections picked out and are ready to improv with their chosen songs, as well as offer those at the Galactic Panther a musical experience to remember. Erik stated that, "Both of us have our selections picked out, and are excited to experiment with them. We're also excited to be performing with Jade, who is a close friend of ours, and extremely talented in her own right."
Doors to the event open at 6 pm, and the music itself starts at 7. Tickets are $20 each, and alcohol will be provided. For more information, check out the Galactic Panther's and Jade's Facebook posts HERE.
FOR MORE: City of Alexandria Fall Recreation Program Registration Begins Aug. 9