Community News
Press Release
Alexandria's West End Business Association Hosting First Best of the West Aug. 5
WEBA honoring restaurants and businesses in the West End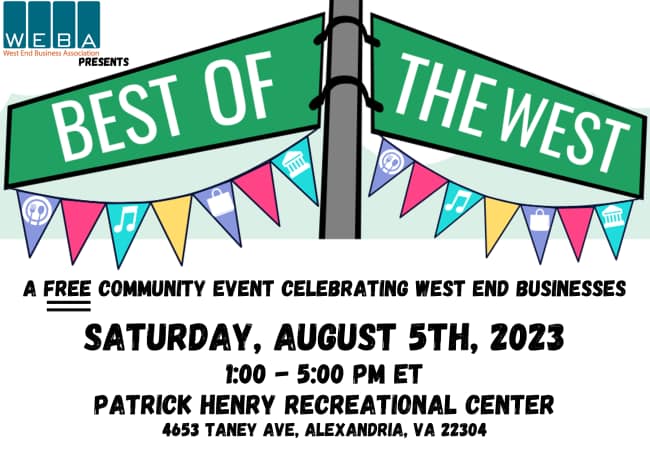 ALEXANDRIA, VA –West End Business Association (WEBA) is hosting its inaugural Best of the West event celebrating the restaurants and businesses on the West End of Alexandria.
"We are excited to be hosting our first-ever Best of the West," said WEBA President Mary Ann Burstein. "Other parts of the city and region have these celebrations and we hope that this event fosters greater community spirit and pride amongst West Enders."
The event will be held on Saturday, August 5th, 2023 from 1:00-5:00 PM at the Patrick Henry Recreation Center, located at 4653 Taney Avenue, Alexandria.
"I'm really looking forward to showcasing our neighborhood's businesses to other neighbors and folks from around the city," WEBA Vice President James Lewis. "We would be remiss if we failed to thank the Alexandria Economic Development Partnership (AEDP) and Visit Alexandria for their support in making this event possible."
Complimentary tickets are available at https://www.eventbrite.com/e/best-of-the-west-tickets-681725147267. [SEE ALSO: City-Wide Food Drive Collects Over 33,000 Pounds of Food for Alexandria's ALIVE!]