Alexandria History
Historic Alexandria's Junior Docents and Budding Archeologists Had a Successful Summer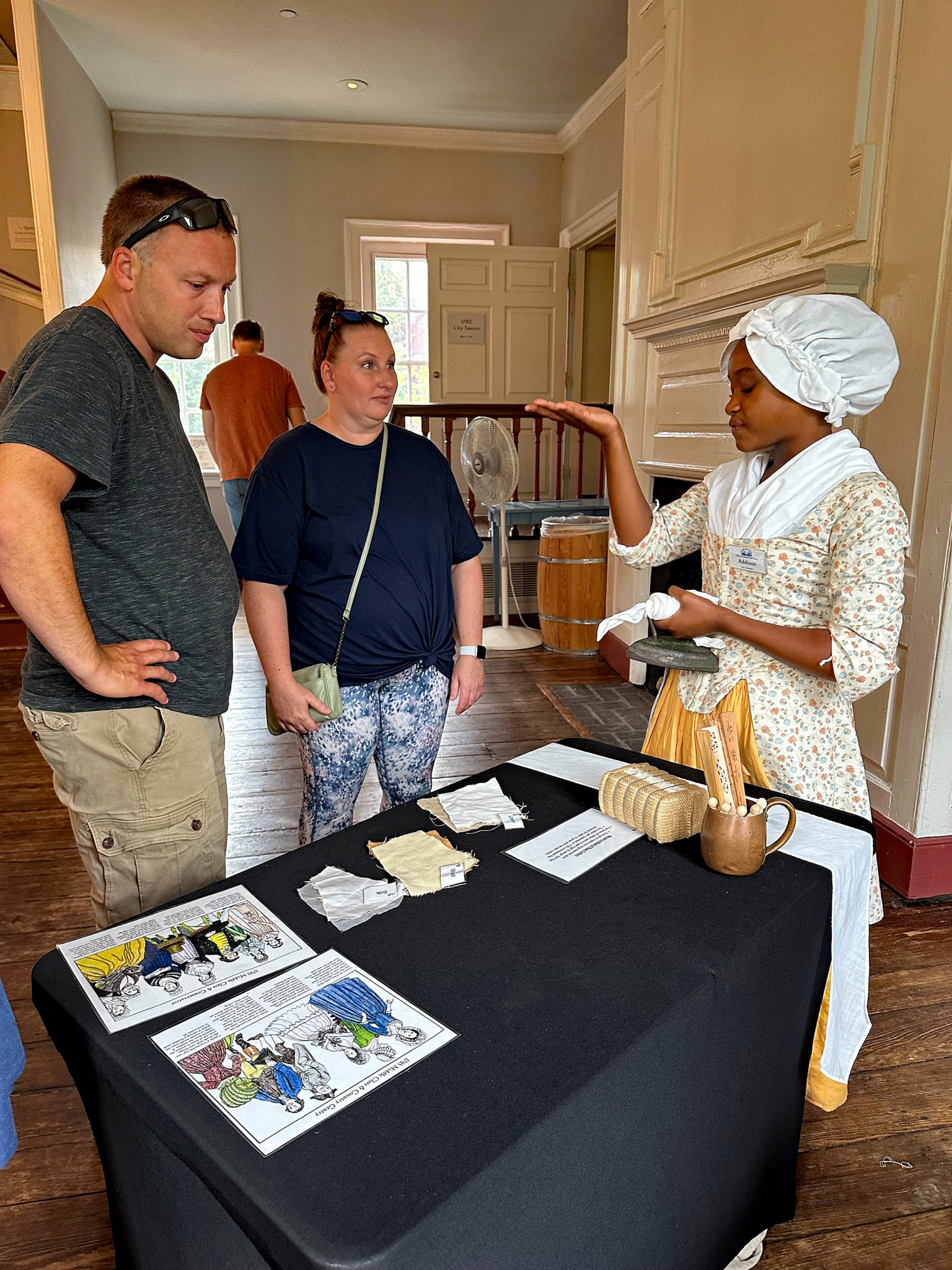 From the Office of Historic Alexandria
Alexandria, VA – Learning doesn't end on the last day of school. That was certainly the case for those who signed up for the Office of Historic Alexandria's Archaeology Summer Camp or the Gadsby's Tavern Museum's Junior Docent program this year!
In July, sixteen campers, ages 12 – 15, took part in the weeklong Alexandria Archaeology Summer Camp at the Shuter's Hill Site (44AX175) on the grounds of the George Washington National Masonic Memorial. The Shuter's Hill Site was once the location of John Mills', and later Ludwell Lee's, late 18th-century plantation, the summer home of Benjamin Dulany during the 19th century, and borders the location of the Civil War Fort Ellsworth.
Each year, City archaeologists welcome new Alexandria Archaeology campers to the Shuter's Hill Site and share the research question guiding that summer's excavation. They learn professional archaeological methods and procedures in the field and lab. They then put together an open house at the end of the week to share their discoveries with friends, family, and the public.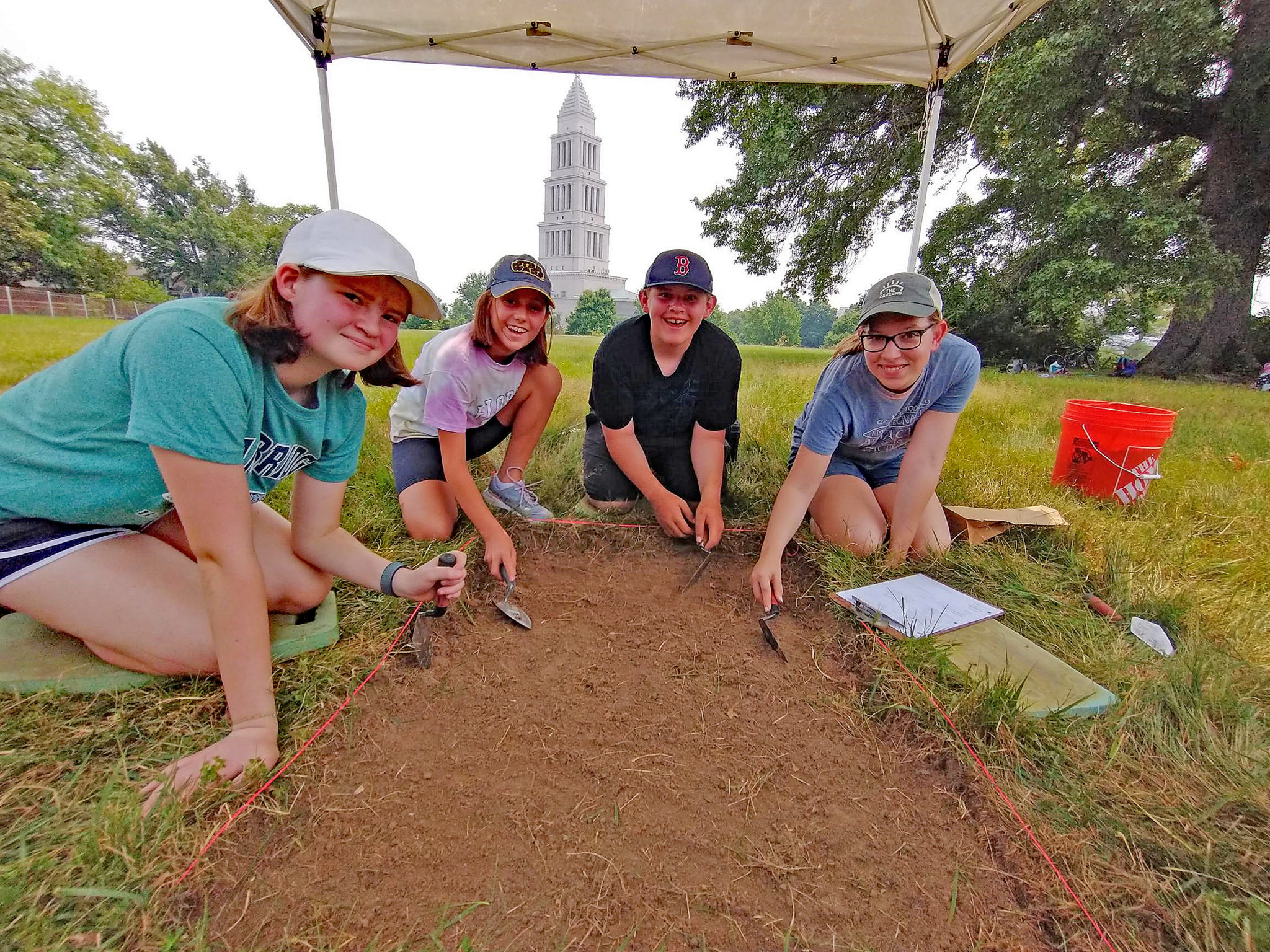 Campers work alongside professional archaeologists every step of the way as they excavate new areas of the site that have never been seen before. Each camper's field notebook is quickly filled with their observations for each layer or strata of soil. This stratigraphy shows natural events like flooding and cultural events like putting in a new road, plowing a field, or backfilling an old cellar. Their observations about changes in soil color and texture and the artifacts they encountered ensure that no evidence is lost during excavation.
Thanks to generous support from the Friends of Alexandria Archaeology, one camper was given a scholarship to attend, and two interns received stipends to help facilitate the camp. One grateful parent wrote, "Thank you so much for…lead[ing] them through both technical "method" activities and research analysis. Each of them will experience museums with many more facets of appreciation about how the objects got there and how records and interpretive signs were created. I'm sure 'light bulb' moments will connect them to your curriculum for years to come."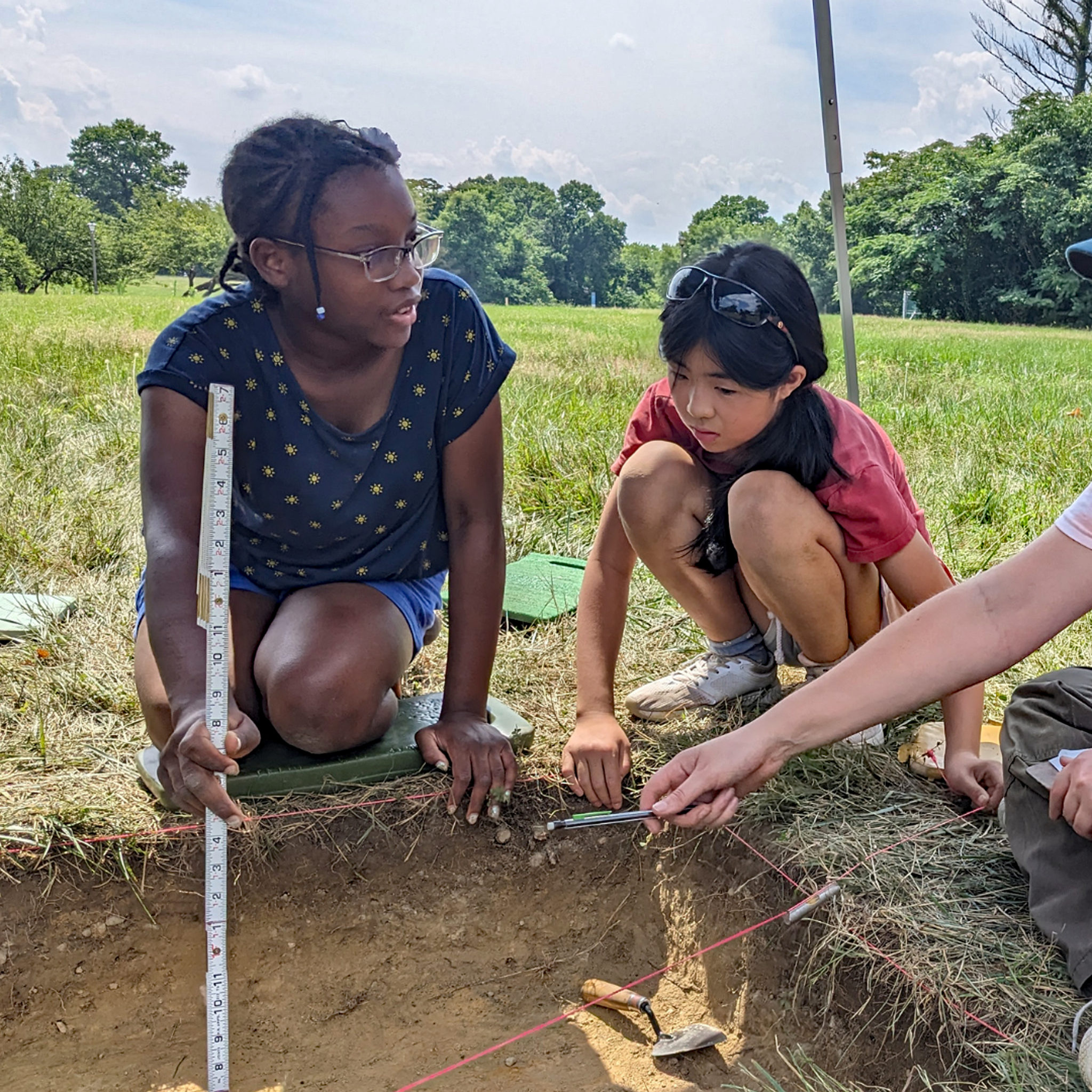 Over the years, the camp has cultivated a new generation of young archaeologists. Thanks to unique experiences like these, past campers have gotten degrees in archaeology, anthropology, and historic preservation. Learn more about the upcoming educational events by following Alexandria Archaeology on Facebook and Instagram or visiting the free museum on the third floor of the Torpedo Factory Art Center.
Junior Docents at Gadsby's Tavern Museum have made history cool amid summer's heat. At their historic chocolate-making station, located in the famous ballroom where George Washington danced at his last two Birthnight Balls, children in grades four and up taught visitors how to use ancient Mesoamerican tools like the metate and mano to turn cacao beans into 18th-century-style sipping chocolate.
Guests explored the pre-Hispanic origins of sipping chocolate, as well as its value and connection to early Alexandrians, and could try their hand at the process. When did you last use a winnowing basket to remove the shells from cacao beans?
Each Sunday this summer, these young historians filled the museum with their passion for interpreting history, engaging in conversations about the role of the two taverns in late 18th- and early 19th-century Alexandria society.
In addition to chocolate, the Junior Docents explained the work required to maintain the tavern. If you think laundry is a pain today, the 18th-century clothing station demonstrated how much harder the task was in 1785.
Visitors heard about the dangerous process required to keep the linens clean and could try out an antique iron while learning about the care and wearing of clothing in the late 1700s. Have you ever admired the outfits from a popular historical film or television show? Gadsby's Junior Docents explained how the shape of clothing changed throughout the first years of our taverns, so you could discern whether those costumes were accurate for the period.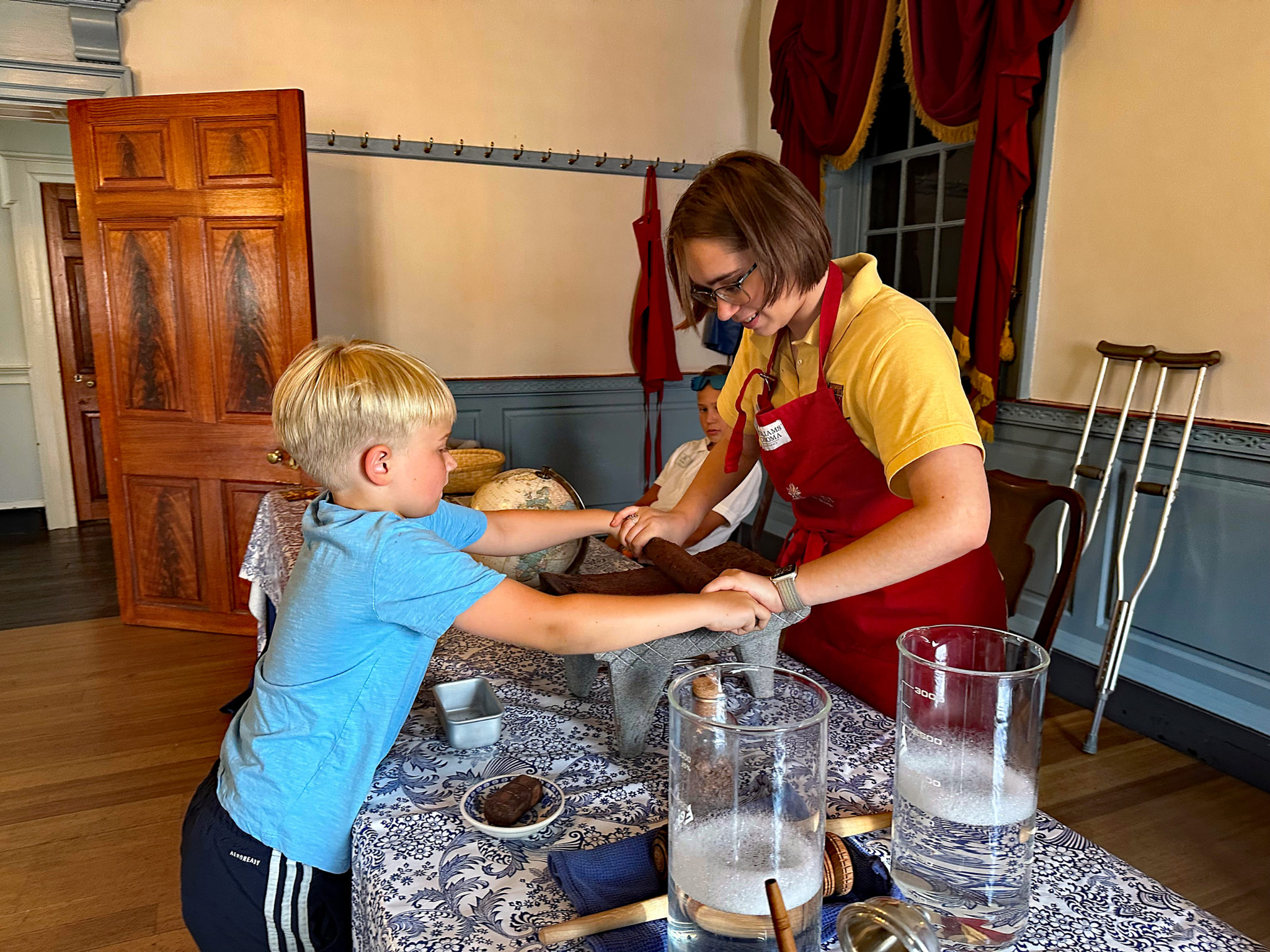 The Junior Docent program has engaged tourists and locals for over a decade. Junior Docents audition and train to provide interpretation of our historic space at stations throughout Gadsby's Tavern Museum. Participants gain public speaking experience and offer a unique perspective of history. Returning Junior Docents can work up to serving as Peer Mentors for younger docents. Junior Docent Peer Mentors provide guidance and encouragement while learning management and coaching skills.
Some Junior Docents with years of experience have become interns for the Office of Historic Alexandria. You can meet some of them at outreach booths in the community, festivals, and other events during the school year. However, summer is the time to catch these inspiring young people in action as they were this summer and will continue to be. The Junior Docent program runs from March to September. Information will be available at alexandriava.gov/gadsbystavern at the beginning of the new year.
ICYMI: NAACP's Alexandria Branch Welcoming Congresswoman Jennifer McClellan as Keynote Speaker for Freedom Fund Gala