Community News
City of Alexandria Pauses to Reflect on 9/11 22 Years Later in Market Square Ceremony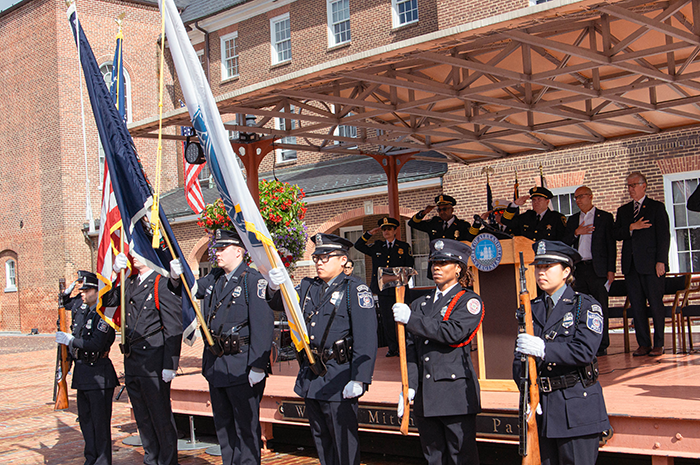 ALEXANDRIA, VA – In a solemn hour-long ceremony in Market Square this morning, City of Alexandria leaders, first responders, and the public gathered to remember the events of Sept. 11, 2001, the lives lost, and how our country was forever changed.
In his remarks, Mayor Justin Wilson highlighted the importance of unity in times of need, bringing the past into the present.
"The most important thing that came out of the 9/11 experience was that national unity that we saw in the immediate aftermath," he said. "I would argue in the 22 years since, we haven't seen it again. That unity is one of the most important lessons of 9/11 and the reason that we have gatherings like today."
The ceremony also recognized the heroism of first responders and civilians that day. Representing the public safety departments that responded to calls for help were Police Chief Don Hayes, Sheriff Sean Casey, and Assistant Fire Chief Andrew L. Duke.
"We may wear different uniforms, but there is something inside us that beats on the same heartbeat," said Hayes. "We are one Alexandria and one public safety."
Congressman Don Beyer (D-VA) spoke as well. He mentioned that before that fateful day, it had been six decades since an attack on American soil. Noting that 9/11 did indeed change lives, he said, "I believe history has a direction, and that direction is forward. Keeping 9/11 in our hearts and minds will inspire us to keep moving forward." [SEE ALSO: Beyer Subaru Donates $7,500 to Hybla Valley Elementary]